C3 Chevrolet Corvette Exterior
C3 Corvette Exterior Parts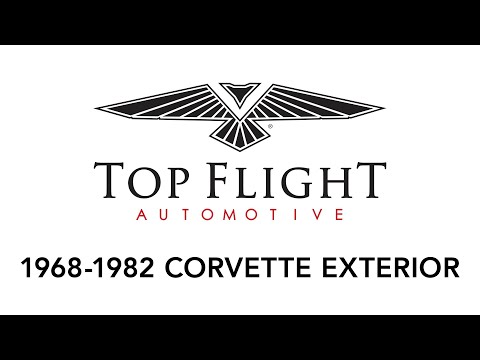 Third-generation Corvettes are known for their distinct shark-like appearance, lightweight fiberglass construction and exceptional performance capabilities. If you own one of these 1968-1982 Corvette models, you understand the importance of keeping it in mint condition.
Bring your ride back to a factory-fresh state with C3 exterior parts from Top Flight Automotive. We have components compatible with every C3 model year.
Importance of C3 Exterior Parts
Your C3's exterior condition is the first thing people notice about your Corvette. Collectors, competition judges and fellow sports car enthusiasts will spot even small signs of deterioration in seconds. Maintaining a flawless exterior is a must for ensuring your C3 stands out for the right reasons. 
Exterior damage like rust and scratches can also decrease your C3's collector and resale value. Over time, exposure to sunlight and moisture contribute to wear and tear on your C3's exterior. If you're involved in a minor collision, the impact can leave behind noticeable dents. 
Restore your C3 to show-ready condition with high-quality replacement parts from Top Flight Automotive. You'll find a range of C3 exterior parts to help you rebuild your Corvette from the ground up.
Get C3 Corvette Body Parts From Brands You Trust
With over 1,300 C3 Corvette exterior parts available, Top Flight Automotive helps you restore a variety of surfaces and systems on your vehicle's exterior. We stay up to date with the latest technology in the industry to give you access to more Corvette parts than other stores.
We offer you C3 exterior components from a long list of trusted brands that are hard to find on a single platform:
Al Knoch
American Custom Industries
Auto Accessories of America
Brand Motion
Coffman Corvette
Corvette America
Corvette Rubber
Covercraft
Detroit Speed
Fender Gripper
General Motors
Kee Auto Top
Lectric Limited, Inc.
Metro Moulded Parts
Onyx
Oracle Lighting
Prothane
Trim Parts
Buy a Wide Variety of C3 Corvette Body Components Online
Turn to Top Flight Automotive for C3 Corvette body parts organized by category. Your 1968-1982 sport model will call for various replacement parts throughout its life. We keep your projects manageable with a growing parts collection consisting of:
C3 Corvette aero and body kits
C3 Corvette body panels
C3 Corvette bumpers
C3 Corvette convertible tops
C3 Corvette cross members and braces
C3 Corvette decklid components
C3 Corvette doors
C3 Corvette emblems
C3 Corvette exhausts
C3 Corvette frames
C3 Corvette glass
C3 Corvette hoods
C3 Corvette license plate frames
C3 Corvette trunk lids
C3 Corvette Body Panels
Your C3 body panels form your Corvette's distinct shape and protect its internal components. Instead of making frequent repairs to damaged body panels, consider buying a replacement panel to streamline the restoration process and give you the best results. 
At Top Flight Automotive, we carry C3 Corvette fiberglass body panels manufactured by industry-leading brands like American Custom Industries (ACI). These high-quality panels provide an original equipment manufacturer (OEM) fit with durable properties that make them even more resilient than Chevrolet factory panels.
We supply a range of body panels, including one-piece front and rear panels, hood surrounds, side panels, rear upper decks and quarter panels. If you need individual components, we have valances, panel support pieces and hardware to suit all your needs. 
C3 Corvette Body Kits
Give your C3 a racing-style look and feel with a body kit from Top Flight Automotive. From lower valances and spoilers to side skirts, we sell kits that enhance your C3's aerodynamic capabilities and boost its performance. 
Our selection includes body kits with fiberglass components precision-designed to fit your C3's stock body. You'll get the custom look you want for your Corvette with the perfect fit for a simplified installation process.
C3 Corvette Bumper Components
Your car's front and rear bumpers are its first line of defense against minor collisions and impacts. If your C3 bumpers have seen better days, consider purchasing a replacement from Top Flight Automotive. We carry full bumper replacements, mounting kits, bumper brackets and other essential components. Many of the bumper products we sell are manufactured to fit your C3 without exterior modifications.
C3 Corvette Frame Parts for Sale
Cater to your 1968-1982 Corvette's exterior with body mount frame components available online. Perform repairs on your vehicle's frame knowing you can access the hardware, bushings, mount shims and plugs to keep surfaces intact.
Need to replace the small frame components necessary for a smooth drive? Shop frame components to eliminate rattling sounds coming from underneath your sports car.
C3 Corvette Hood Components Online
Top Flight Automotive enables you to repair or replace the hood on 1968-1982 'Vettes. Purchase a fiberglass hood assembly that meets your expectations for durability, aerodynamics and style. Many of the replacement hood assemblies we carry from Corvette America, American Custom Industries and Auto Accessories of America fasten in the same locations as OEM technology.
Our site also features the small mechanical components you'll need to regain hood functionality. Swap out your hood latch tension springs with zero need to hunt around for compatible components. The hood area of your sports car is one of the first surfaces others see as you drive. Choose from stock-inspired hood styles as well as aftermarket hood designs to make your ride stand out on the track.
Contact Top Flight Automotive for C3 Corvette Exterior Body Parts
Browse our complete selection of C3 exterior parts today. We have the largest selection of Corvette parts and accessories anywhere. If you need assistance finding the right products for your C3, contact our team of experts today.
Can't find what you're looking for? Let us know and we can help! Contact Us