C7 Chevrolet Corvette Brakes
C7 Corvette Brakes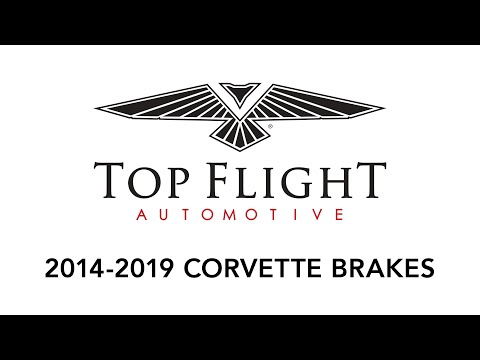 Making room for a C7 Corvette in your garage is an easy decision. These vehicles made their debut back in 2014 and still stand as some of the most aggressive-looking and -sounding performance cars on the market. If you're thinking about getting behind the wheel of a modern Stingray, you're in for an incredible experience with LT1 V8 engines, coupe and convertible body styles, and over 450 horsepower for tearing up the race track.
At Top Flight Automotive, we want you to be in full control of your C7 Corvette. That's why we stock our online store with C7 disc brake systems, components and more for smooth navigation. Take your vehicle to the next level with products that help you stop on a dime, turn and regulate speed on life's next adventure.
Importance of the C7 Corvette Braking System
Select vehicles in the C7 lineup are capable of reaching speeds over 200 mph. With that kind of power, you need reliable disc brakes to prepare for anything in the distance. Fortunately, Top Flight Automotive allows you to customize your vehicle to match your exact preferences for braking response, feel and efficiency.
Our experts are Corvette enthusiasts just like you, so you'll find industry-leading products from manufacturers like Baer Brake Systems, American Car Craft, Hawk Performance and more across our inventory. Place an order for the following kits, parts and systems compatible with your 2014-2019 Corvette:
Complete disc brake kits
Performance brakes
Calipers and covers
Brake pads
Brake booster covers
Master cylinder covers
C7 Corvette Disc Brake Systems and Kits
Corvette brakes undergo constant stress. Drivers should update their stock braking system if there is a sudden change in performance, components are starting to warp or the vehicle was involved in a minor collision. For those in search of the perfect brake setup, Top Flight Automotive partners with Baer Brake Systems for C7 front and rear disc brake kits.
The brake kits on our online store showcase slotted rotors for dissipating heat. Most listings from Baer Brake Systems are manufactured using lightweight aluminum and include 6-piston calipers for stiffness at the feet. Choose from multiple rotor dimensions to create your desired level of brake torque with complete kits including:
Brake calipers in red, black or silver.
Pads.
Brake hoses.
Installation hardware and mounting brackets.
C7 Chevrolet Performance Brake Kits
Top Flight Automotive introduces C7 owners to off-road brakes ideal for the track and competition. Equip your 2014-2019 base Stingray with a braking system modeled after the iconic Z51 package. Featuring bright red calipers and high-performance brake pads, these packages let you unleash the true power of your vehicle when cornering around tight bends.
Chevrolet Performance brake upgrades enhance brake torque up to 57% for the ultimate behind-the-wheel experience. Minimize brake fade with C7 Corvette brakes that adapt to extreme temperatures.
Contact Top Flight Automotive for C7 Corvette Brakes
Top Flight Automotive specializes in interior and exterior parts for multiple generations of Corvettes. We're a member of the Extra Mile Brands family of companies and have a 40-year history of assisting the Corvette community with the industry's best replacement parts and upgrades. 
Trust us for quality C7 brakes, brake lines, calipers, rotors and more. Most orders are eligible for same-day shipping after processing. For more information about fitment or any of our products, contact us online today!
Can't find what you're looking for? Let us know and we can help! Contact Us