C4 Corvette Wheels, Rims and Tires at Top Flight Automotive
Save With Our C4 Wheel & Tire Packages at Top Flight Automotive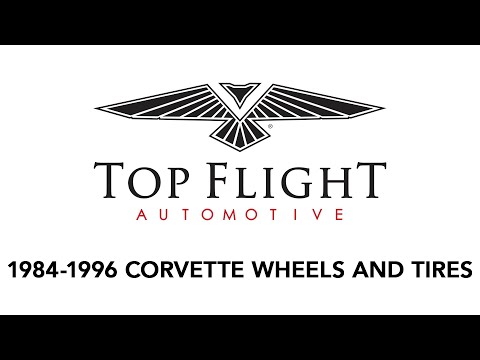 C4 Corvette Rims
The C4 Corvette saw production runs by Chevrolet between 1984 and 1996. This line of sports cars was pivotal in the development of today's Corvette models with a sleek exterior, downward bowing appearance and elongated body for aerodynamics and speed. Even into the 21st century, those in the Corvette community try to purchase these vehicles as they are an effective way to enter the market with LT1 engines, twin-turbo packages and 300 horsepower capabilities.
No matter if you just acquired your first C4 Corvette or want to upgrade original components, Top Flight Automotive is your one-stop-shop for C4 wheels, rims and tires. Your Corvette can only offer you optimum performance and handling when you equip vintage models with the proper tools. Whether you own a convertible, 40th-anniversary edition or ZR1, no one keeps your C4 Corvette up and running like Top Flight Automotive.
C4 Corvette Wheels and Rims for Sale
Top Flight Automotive makes it easy to shop for Corvette parts by make, model and year. We cater to the C4 generation with a variety of replica style wheels for ZR1 models. All of our reproduction products are engineered to meet or exceed the original specifications of the Chevrolet factory and offer a custom solution for your driving applications.
Suitable for Corvette model years 1984-1996, Top Flight Automotive has C4 Corvette wheels for sale in the following finishes:
Chrome
Black machined lip
Silver machined lip
Polished
C4 Corvette Wheel Styles
Enjoy the look of modern Corvette releases? Fortunately, Top Flight Automotive enables C4 model owners to select wheel styles of C5, C6 and C7 generations, including C4 Corvette black wheels. If you are restoring a vintage C4 ZR1, consider the following style options for an all-new look:
Deep dish chrome wheel sets
Black machined face
Black wheel set with red stripe
Black satin
Professionals at Top Flight Automotive want to help you bring your restoration vision to life. If you are unsure of which C4 model you have, our experts are happy to help you identify your Corvette for compatible wheels, rims, tires and more.
C4 Corvette Wheel and Tire Packages
Top Flight Automotive keeps the restoration process seamless for our customers. Regardless if this is your first restoration project or you are looking to save time and money, our online store supplies wheel and tire packages at your convenience. By ordering a wheel and tire bundle, all you have to do is bolt-on wheel configurations upon arrival.
Wheel and tire packages at Top Flight Automotive include:
Wheel selection: Choose from C5-, C6- and C7-inspired styles for your C4 Corvette.
Tire selection: Top Flight Automotive stocks compatible tires for C4 models from manufacturers such as Michelin and Nitto.
Mounting and balancing: Experts at Top Flight Automotive mount and balance your wheel and tire selections free of charge. This allows you to simply bolt on your order after shipping. We include all necessary hardware, including lug nuts, locking lugnuts and center caps.
Shipping: Our crews ship directly to your home, garage or work station for installation.
C4 CORVETTE WHEEL CENTER CAPS AND SETS
C4 Corvette variants left the Chevrolet factory with stylish accents located along stock rims. Wheel center caps are famous in the Corvette world, as they help drivers showcase their specific model year with generation logos and themes. If your C4 Corvette's center caps show signs of deterioration or are missing, Top Flight Automotive carries cost-friendly replacements from Auto Accessories of America.
Dress up your C4 Corvette's wheels with accessories in sleek colors such as black and chrome. These products install toward the middle of your vehicle's rims near lug nut connections for an eye-catching appearance. It used to be a challenge to find historically accurate wheel center caps for Corvettes out of production, but our experts can help you order designs individually or as a set.
Discover wheel center caps with the following imagery for your restoration project:
C4 Crossflags
35th Anniversary wheel center caps
40th Anniversary emblems
1996 Collectors Edition Crossflags
Chevrolet bowties
C4 CORVETTE LUG NUT COVERS AND KITS
Corvette owners require reliable wheel hardware for a secure fit. When changing out your vehicle's rims, it can help to have a backup set of lug nuts that are clean and free from corrosion. Luckily, Top Flight Automotive supplies complete lug nut kits and covers to keep your ride in pristine condition.
Our lug nut sets are the easiest way to order everything you need for wheel and tire maintenance in a 20-piece bundle. We can steer you toward lug nuts that install using tools you already have. Remember to add your choice of C4 lug nut covers to your cart to block out moisture, dirt and debris.
Lug nut products are available individually or in multi-piece sets alongside locks and valve stems.
Shop Online at Top Flight Automotive for C4 Corvette Rims, Wheels and Components 
Top Flight Automotive is the largest manufacturer and supplier of Corvette parts anywhere. Being part of the Extra Mile Brands Family of companies, we are proud to be members of a team serving the Corvette community for over 40 years. Most of our orders are available for same-day shipping after processing, which keeps your restoration schedule right on time.
For more information about our C4 wheels and rims, contact Top Flight Automotive today.
Can't find what you're looking for? Let us know and we can help! Contact Us