C2 Chevrolet Corvette Wheels & Tires
Save With Our C2 Wheel & Tire Packages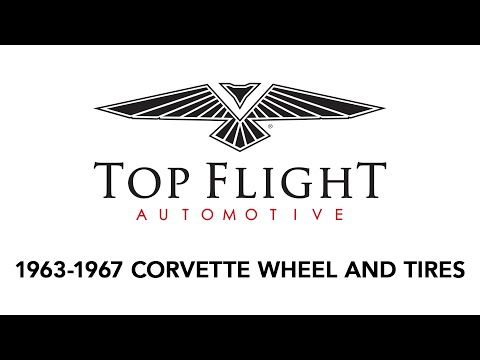 C2 Corvette Aftermarket, Replica, Knock-Off, and Production Wheels
The C2 Corvette generation represents a crucial piece of American history, as well as the glory days of Chevrolet production. Hitting the consumer market between 1963 and 1967, the Corvette sports car line introduced the Sting Ray name with options of 250 to over 300 horsepower by the end of its era. No matter if you own a coupe or convertible C2, you have one of the most valuable sports cars in the Corvette community to date.
Top Flight Automotive is passionate about restoration projects for classic and modern Corvette vehicles. From the C1 to the C8, our team keeps your Corvette up and running for years at a time. If it is time for a new set of C2 Corvette wheels, look no further than Top Flight Automotive for your restoration needs.
C2 Corvette Direct-Bolt Knock-Off Wheels
A vintage C2 Corvette is nothing without the signature knock-off wheels. As an iconic part of Corvette's history, knock-off wheels were a sensation for both racing and styling applications. Naturally lighter than other steel materials, knock-off wheels were seen in Chevrolet production models from 1963 through 1966 and caught the eyes of consumers across the United States.
Here at Top Flight Automotive, our team is knowledgeable about classic and modern Corvettes. Dedicated to generations of restoration, style and performance, our experts want to keep your vintage model up and running for years to come. With our selection of Corvette America original style and bolt-on knock-off wheels, you can upgrade or restore your C2 Corvette for a pristine match to production runs of the 1960s.
What Are Corvette Knock-Off Wheels?
Knock-off wheels were a staple of the automotive industry during the 20th century. The goal of the knock-off wheel was to keep setups attached to an automobile through components that would mount and balance together. As Corvette owners drive forward, parts of the wheel rotate and tighten for secure placement.
Prior to lug nut methods for attaching wheels, knock-off configurations were utilized on race tracks for quick tire changes in the pit. As Chevrolet continued to advance the Corvette, spinners and wheel accessories accompanied knock-off wheels for a unique appearance to their sport vehicles.
Corvette Original Style Knock-Off Wheels
Top Flight Automotive makes it possible to restore your C2 Corvette in the modern era. Achieve originality without breaking the bank with our exact replicas of factory optional 1963-1966 knock-off wheels. Top Flight Automotive recruited restoration professionals as well as NCRS judges to help us retool and create our own replica knock-off wheels.
The days of saving up for an original set of Kelsey Hayes stock wheels are over. By purchasing a Corvette America knock-off wheel set from Top Flight Automotive, you receive:
Four original style knock-off wheels
All necessary mounting hardware
Complete instructions for installation
Top Flight Automotive makes it easy to shop for restoration knock-off wheels, as we display kits by model year. Depending on your C2, purchase parts individually or as sets for a seamless installation process.
Our Selection of Corvette Direct-Bolt Knock-Off Wheels
Want the look of knock-off wheels with straightforward installation? Top Flight Automotive brings our customers original style knock-off wheels that bolt to your hubs. Corvette America Direct-bolt knock-off wheels are indistinguishable from production runs of the 1960s, but their innovative design allows for less maintenance and troubleshooting.
There is virtually no need for a hammer. Spinners mount to our patented wheel adaptors, and kits are compatible with the C2 Corvette generation. If you need assistance with direct-bolt knock-off wheels, our sales representatives are glad to provide input on the best methods for classic Corvette restoration.
C2 Corvette Wheels for Multiple Years
Top Flight Automotive saves you from searching multiple stores for compatible 1963-1967 Corvette wheels. Explore our selections online for all the second-gen Corvettes released during this era.
1963 C2 Corvette Wheels
We're your source for direct-fit replica wheels designed to look like original equipment manufacturer (OEM) technology. Get an entire set of C2 Corvette knock-off wheels brought to life by Corvette America. Many of our 1963 knock-off wheels bolt directly to your vehicle's hubs for a straightforward project.
1964 C2 Corvette Wheels and Parts
Choose from a variety of C2 Corvette wheels that work with the 1964 base models. Our replica knock-off styles from Corvette America are indistinguishable from OEM components. Purchasing a four-wheel set from our site is the easiest way to get everything you need to change out worn wheels, including the hardware.
1965 C2 Corvette Wheel and Tire Packages for Sale
Our inventory also features steel wheels for your 1965 'Vette. Add components that mimic the look of wheels from the 1960s and have a similar weight. The 1965 C2 Corvette steel wheels we carry meet or exceed the specifications of OEM technology regarding craftsmanship and durability.
You can also purchase stylish knock-off wheel and tire packages for 1965 Corvettes from our site. Some of our most popular 1965 wheel and tire packages made by Corvette America come with spinners. Choose from American-made 1965 Corvette wheels mounted with gold line, red line or whitewall tires.
1966 C2 Corvette Wheels Online
Top Flight Automotive is a one-stop shop for the 1966 C2 Corvette wheels and parts you need for an enjoyable ride. Whether you're in the market for lug nuts, valve stems, valve stem caps, wheel and tire assemblies, Corvette-theme spinners or other components, we're here for you.
Our inventory features everything you'll need to rebuild 1966 Corvette wheels completely. Browse our site to get ideas for races and make your sports car one to admire.
1967 C2 Corvette Wheels and Tires Available
Reimagine a 1967 'Vette using bolt-on technology that mounts to your vehicle efficiently. Top Flight Automotive site is your source for 1967 Corvette wheel and tire packages from Corvette America and Coker Tire. Help your sports car shine with new chrome wheels and all-weather tires.
Top Flight Automotive supplies you with the best wheels and tires for collectible vehicles like 1967 Corvettes. Be sure to browse our year-specific center caps featuring Chevy bowties and GM scripts.
Choose Top Flight Automotive for C2 Corvette Replica and Reproduction Wheels
Top Flight Automotive is part of the Extra Mile Brands Family of companies which has been serving the Corvette community for over 40 years. If you are performing a restoration project on your C2, shop our online store for spinner assembly sets, wheel and tire packages and accessories. Most orders are eligible for same-day shipping after processing, and our experts will assist you in identifying your vehicle for compatibility.
To receive more information about C2 aftermarket wheels, contact Top Flight Automotive today.
Can't find what you're looking for? Let us know and we can help! Contact Us