Accessories for C7 Corvette
C7 Corvette Accessories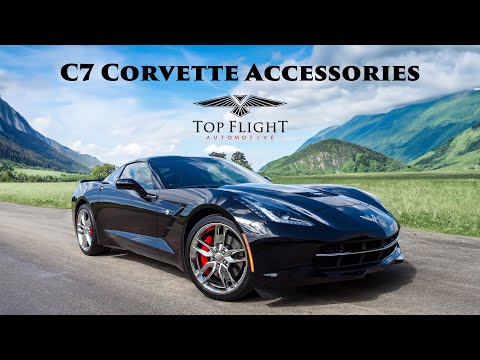 Owning a C7 Corvette model satisfies the need for incredible speed and handling. As the most recent Corvette generation from Chevrolet, this series is the first to use the "Stingray" name since the C3 back in 1968. Sports car enthusiasts adore the C7 for its fast and powerful Corvette configuration and anticipate the debut of the C8 for 2020.
The C7 hit the consumer market offering 455 horsepower in 2014, but accessories from Top Flight Automotive are the perfect way to customize your vehicle to your exact specifications. As the largest manufacturer of Corvette parts, Top Flight Automotive supplies accessories for both coupe and convertible C7 models at your shopping convenience. With the help of our experienced sales team, you can find all the aftermarket C7 Corvette accessories you need for the optimum driving experience.
Top Flight Automotive C7 Accessories
C7 Corvette accessories from Top Flight Automotive allow you to enhance your model inside and out. These vehicles leave the factory with remarkable capabilities, but there is always room for more with additional technology. When browsing our online store, customers can find aftermarket accessories for C7 Corvettes which include:
Backup cameras
Curb sensors
Emblems
Exhaust enhancements
Nose masks
Mud/Splash guards
And much more!
Transform your C7 vehicle with the help of Top Flight Automotive. Our experts are always available during normal business hours to guide you through the selection process of parts, accessories and more.
Corvette C7 Custom Car Covers
Whether you keep your Corvette indoors or outdoors, further protection keeps your vehicle safe from intense weather, temperatures and moisture. Top Flight Automotive provides custom car covers for long-term and short-term storage. Featuring front/rear hems, mirror pockets and C7 specific patterns, you can avoid damage from sun, snow, rain or sleet.
Car covers from Top Flight Automotive block dirt and other debris that can sit on your vehicle's exterior finish. With tie-down cables and locking mechanisms, your Corvette remains safe throughout the year.
Corvette C7 Cameras and Sensors
Eliminate blind spots with technology from Top Flight Automotive. Our inventory of LCD monitors, traffic and curb sensors and backup cameras help protect you from dangers on the road. Our assistance systems are available with vibration and warning sounds to indicate objects, pedestrians and other structures are too close to your Corvette.
C7 cameras and sensors at Top Flight Automotive can save you from potential collisions and exterior damage. Navigate through parking lots, neighborhoods and interstates with the help of assistive technology. Our kits are user-friendly and install quickly for immediate use.
Corvette C7 Mud and Splash Guards
If you own a C7 Corvette, you want to keep it clean after hours on the road. To prevent puddles and mud kicking up, Top Flight Automotive provides mud and splash guards for 2014-2019 Corvettes. Our guard accessories are made of carbon fiber materials and attach near the front and rear wheels to block unwanted filth from impacting your vehicle\'s paint job.
Contact Top Flight Automotive for C7 Corvette Accessories
A C7 Corvette is an investment worth protecting, and Top Flight Automotive provides accessories for safe storage, driving and parking. As part of the Extra Mile Brands Family of companies, our experts are part of a team that has been serving the Corvette community for over 40 years. If you need assistance matching accessories to your vehicle\'s make, model and year, our sales team is available to help during our hours of operation.
For more information about C7 accessories, contact Top Flight Automotive today or order your C7 Corvette Accessories on our site.
Shop More C7 Categories:
Can't find what you're looking for? Let us know and we can help! Contact Us