Chevrolet Corvette Tools & Garage
Corvette Tools & Garage at Top Flight Automotive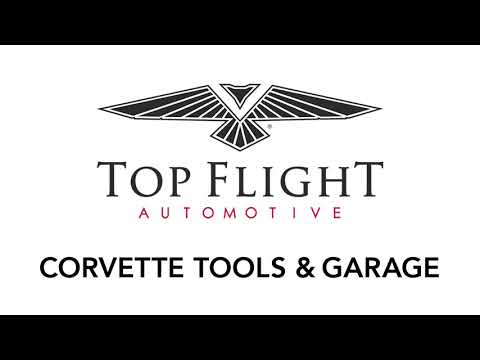 Chevrolet Corvette Tools and Garage
Working on your Corvette is an ongoing passion, and inspiration for a new project can strike at any time. Keep your workspace stocked with Corvette tools and garage items from Top Flight Automotive. Our catalog is always growing with the user-friendly parts and technology you need to improve your driving experience and personalize your workspace.
Widespread Parts for Corvettes Under One Wing
Our site is your central hub for all things Corvette, including maintenance tools and garage supplies. Whether you're preparing your sports car for the drag strip, daily driving, storage or a special occasion, you'll find the practical solutions you're after right here.
Our inventory is home to listings from reliable manufacturers. Shop a wide selection of parts and accessories:
Adhesives
Air compressors
Bluetooth speakers
Books
Brake hydraulics
Bumper bibs
Car covers
Carpets
Cleaning supplies
Dartboards
Decals
Diecast models
Interior paints and dyes
Jacks and supports
Oils and fluids
Safety equipment
Signs, posters, clocks and prints
Toolbox magnets
Corvette Bluetooth Speakers for Sale
Shop Bluetooth speakers to listen to your favorite music while you work on repairs and maintenance projects. You can even decorate your garage with speakers that resemble cans of motor oil. Our catalog features rechargeable and water-resistant technology.
Chevy Corvette-Inspired Books and Pamphlets
Looking for Corvette-themed literature? Top Flight Automotive is your source for numerous how-to guides for repairs and restoration jobs. Pick up model-specific books and pamphlets that dive into details about your sports car and create a unique aesthetic when you put them on display.
Many of the Corvette booklets we sell from Auto Accessories of America focus on electrical wiring, transmissions, carburetors, differentials, and small-block and big-block engines.
Corvette Car Covers for Sale
Cover the exterior surfaces of your Corvette for short- or long-term storage. We stock indoor and outdoor car covers featuring multiple layers. Prevent dust, sunlight and moisture from interfering with paint, trims and electronics.
Covers in our catalog come from reliable manufacturers like Auto Accessories of America, CA, Coverking, General Motors and JMS Chip. Find Corvette covers that make it harder for scuffs and scratches to accumulate. Covers for sale are made to fit Chevrolet Corvette generations thanks to custom mirror pockets and tie-downs.
Cleaning Supplies for Corvettes
Get Corvette wheel, tire, trim and paint cleaners through Top Flight Automotive. We support you during maintenance jobs with one-of-a-kind solutions developed by companies like American Racing, Scott Drake, Griot's Garage, California Car Duster and Auto Accessories of America.
Apply topical solutions on Corvette surfaces to lift dirt and give your vehicle an unmatched shine.
Partner With Top Flight Automotive for Corvette Tools and Garage Accessories
Taking care of your Chevy Corvette is easier with reliable tools and maintenance supplies. Depend on Top Flight Automotive for hundreds of listings that are well-received by the sports car community.
We keep a massive inventory of parts, and in-stock components are typically ready to ship the same day you order. Check out our selection of Corvette tools and garage accessories to get started.
Can't find what you're looking for? Let us know and we can help! Contact Us