C7 Chevrolet Corvette Exterior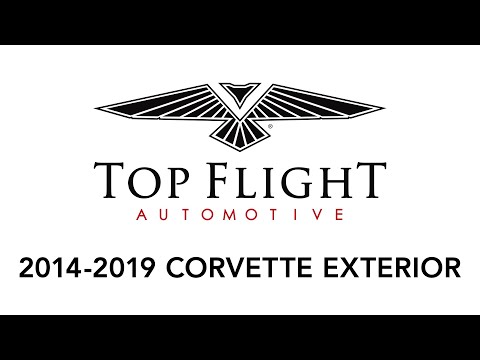 C7 Chevrolet Corvette Exterior
You'll need exterior replacement parts throughout your C7 Corvette's life. Top Flight Automotive is the right place to shop for components that help you fix a 2014-2019 model. Begin your do-it-yourself project on the right note with our massive library of C7 Corvette exterior parts from brands worth trusting.
Well-Designed C7 Corvette Exterior Components
At Top Flight Automotive, our professionals go the extra mile to carry solutions by premier brands that manufacture their products in the USA.
When you need reliable parts, turn to our exterior C7 catalog to see innovations from:
AMT Custom Designs
APR Performance
American Car Craft
Anderson Composites
Auto Accessories of America
Brand Motion
Chevrolet Performance
Corvette America
Coverking
Diode Dynamics
Fender Gripper
General Motors
Morimoto
NoviStretch
Onyx
ORACLE Lighting
ZL1 Addons
Choose Your C7's Year for Compatible Exterior Parts
The C7 Corvette exterior parts collection is organized by sport model year. Look at products online and know immediately whether they will work for your 2014-2019 Corvette. You can also use the search tools on the screen to find exterior components by subcategory, brand, color, price and material.
Some of the prominent C7 Corvette exterior parts we offer include:
2014-2019 C7 Corvette Car Covers for Sale
Protect your seventh-generation Corvette with several different exterior car covers available. Top Flight Automotive brings you selections from Onyx for indoor and outdoor use. Whether you drive a coupe or convertible Stingray, you can place an exterior cover over your vehicle made with multiple layers of material.
Onyx's 2014-2019 C7 car covers come with mirror pockets in the correct locations for a fantastic fit.
2014-2019 C7 Corvette License Plate Frames
Spruce up the back of your ride with license plate frames that attach to your Stingray in seconds. Integrate Chevy bowties, Stingray lettering, performance graphics and similar designs around the rear bumper. Top Flight Automotive sells numerous C7 Corvette license plate frames with carbon fiber inlays for a flashy appearance. Look through all-black and chrome license plate frames to create the look you want.
2014-2019 C7 Corvette Mirrors Online
Your vehicle's mirrors are subject to the elements, road debris, rocks and UV rays. When you're tired of looking at fading mirrors, choose Top Flight Automotive for replacement assemblies.
Check out the upgrade trims and mirrors we offer from American Car Craft for your seventh-gen 'Vette. Choose styles displaying yellow, red, white, blue, black, green or orange lettering scripts. Celebrate the Corvette brand with details other drivers will notice.
Work With Top Flight Automotive for C7 Corvette Exterior Components
Enthusiasts on the road and track notice the look of your vehicle. Give them something to admire with a wide range of aftermarket components for 2014-2019 Corvettes. Whether you want to return your vehicle to its original equipment manufacturer (OEM) appearance or customize surfaces to your liking, we can help.
Choose Top Flight Automotive for your C7 Corvette exterior components!
Shop More C7 Categories:
Can't find what you're looking for? Let us know and we can help! Contact Us