C1 Corvette Parts For Sale - 1953 to 1962
C1 Corvette Parts and Accessories at Top Flight Automotive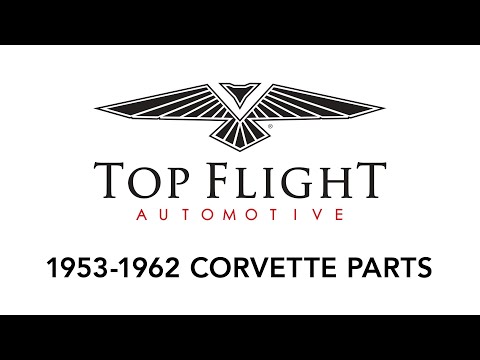 Top Flight Automotive is home to the largest selection of Corvette restoration, style and performance parts on the market today. Serving the Corvette community for over 45 years with a staff that speaks fluent Corvette. We are passionate about Corvettes, and understand that each generation offers something special. We'll guide you through restoration or upgrade projects from start to finish. When it's time to mod or restore your Corvette…choose Top Flight Automotive!
C1 Corvette Parts for Sale
A classic C1 Corvette is an investment worth holding on to. Debuting back in 1953, the C1 transformed the way consumers viewed the sports car as makes displayed an entirely new look to the market. These "dream cars" carry a unique elongated two-door style that has only appreciated over decades due to limited production runs into the 1960s.
Owning a C1 Corvette is like driving a piece of American history as these vehicles offer a behind-the-wheel experience like no other. If you currently have a C1 Corvette, no one can guide you through the restoration and repair process quite like Top Flight Automotive. As part of the Extra Mile Brands Family of companies, our experts have been serving the Corvette community for over 45 years.
Whether you are fixing up a vintage vehicle or want to upgrade components for performance and handling, Top Flight Automotive stocks Corvette parts for 1953 to 1962 models and beyond.
1953 to 1962 Corvette Parts
Here at Top Flight Automotive, we want to assist our customers in the restoration and repair of C1 vehicles. Our goal is to build relationships with clients by connecting you to reproduction parts engineered to meet or exceed original specifications. When it comes to C1 vehicles, most of our inventory is dedicated to bringing your Corvette back to factory-condition to maintain both character and value.
By browsing our online store, you can find the following C1 Corvette parts for projects large and small:
C1 Corvette Bumpers and Hardware
The C1 series is unmistakable for anyone in the Corvette community. C1 Corvettes have a signature convertible body style with stunning chrome accents, rounded headlights and a smooth finish from hood to trunk. Fortunately for our customers, Corvette parts at Top Flight Automotive focus on both mechanical and cosmetic features.
If your C1 model requires exterior repair, we supply front and rear bumpers for vintage Corvettes. As the largest manufacturer of Corvette parts anywhere, you can discover replacement license plate bolt kits, trims and moldings specific to your vehicle. Performing restorations with the help of Top Flight Automotive keeps your C1 in pristine condition inside and out.
Bumpers and hardware on our online store behave similar to original parts from the 1950s and 1960s. Mechanisms for opening and closing sections of your vehicle are available for a variety of restoration projects.
1953-1962 C1 Corvette Door Parts Online
Top Flight Automotive carries interior door panels and related parts you can use to rebuild 1953-1962 Corvette door assemblies. Channel the looks of original equipment manufacturer (OEM) door surfaces according to your budget. Achieve the classic waffle-pattern look synonymous with C1 'Vettes.
Depending on your preference, you can purchase C1 Corvette door panels that have metal trims fastened for you.
C1 Corvette Emblems Available
C1 Corvettes are decked out with a variety of branding emblems. Thanks to Top Flight Automotive, you can replace badges and emblems that go missing over the years. Click through our C1 emblem collection to find interior and exterior emblems made by Auto Accessories of America, Corvette America and Trim Parts.
We're here for you with Cross-Flag, fuel injection and Corvette lettering script emblems for your next project. We also carry a variety of speed nut kits to keep your badges and emblems secure.
C1 Corvette Exhaust Systems
The exhaust systems across old and new Corvettes wear and tear over years of use. For optimum performance, Top Flight Automotive professionals can introduce you to parts that improve C1 models under the hood and throughout the undercarriage of your vehicle.
We supply our customers with popular exhaust replacement parts for vintage Corvettes. Consider the following restoration parts for your C1:
1953-1962 C1 Corvette Interior Carpets
Say goodbye to stains and ripped flooring materials when you rely on Top Flight Automotive for C1 Corvette replacement carpets. Our store features direct-fit carpet sets in OEM colors to place throughout your cabin.
Upgrade your 1953-1962 C1 interior with carpet options showcasing historically correct foam backings, heel pads and bindings. Count on Top Flight Automotive for tough C1 carpets manufactured by Auto Custom Carpets.
C1 Corvette Mirror Parts for Sale
Prioritizing visibility is essential in a C1 Corvette. Top Flight Automotive is your source for the exterior mirrors you need to operate your sports car confidently. Get circular mirrors that sit on top of C1 doors to help you see both sides of your automobile.
Some of our side mirrors from Auto Accessories of America come with mounting kits to replace broken mirrors seamlessly.
First-Generation Corvette Wheels and Tires Online
Keep your 1953-1962 C1 Corvette riding smoothly with a range of wheels and tires available through Top Flight Automotive. We sell complete wheel and tire assemblies by Coker Tire along with all the hardware necessary to keep your wheels fastened.
Shop for the perfect set of white wall tires to ensure your C1 'Vette stays ready for action. You can complete your project with Corvette-themed valve stem caps to make sure your components keep consistent air pressure. From chrome accent wheel spinners to lug stud kits, we're your one-stop shop for a wide range of C1 Corvette wheel and tire parts.
Shop Top Flight Automotive for C1 Corvette Parts
1953 to 1962 vintage Corvettes are some of the most valuable sports cars in American history. Our experts would love to help you bring your C1 Corvette to factory condition through our restoration, repair and performance parts. If you are unsure about compatible parts for your specific model, our team can assist you during normal business hours of operation.
For more information about C1 Corvette parts, be sure to call Top Flight Automotive today or shop online for the 1953 to 1962 C1 corvette parts you need.
Can't find what you're looking for? Let us know and we can help! Contact Us