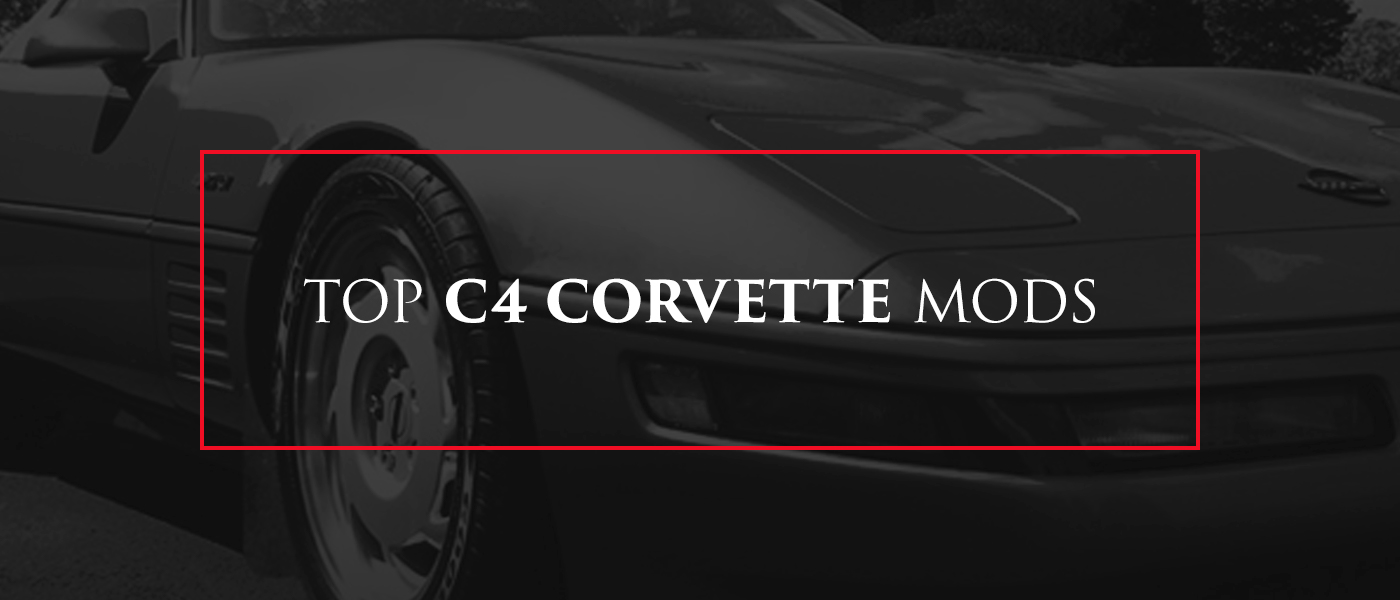 Chevrolet released the C4 in 1983, and the generation ran until 1996, with many Corvette enthusiasts loving the return of higher performance engines and convertible body-style options. The new modern styling and other performance improvements made this Corvette generation a favorite of many Corvette owners. Though the generation ended more than 20 years ago, C4 owners can still find several mods and upgrades they can use to restore their C4's look, improve its performance or change its styling.
If you want to know how to start C4 Corvette restoration and modification, start by learning more about some of the best C4 Corvette aftermarket parts and mods.
Best C4 Corvette Upgrades and Mods
When you first try to upgrade your Corvette, you might be overwhelmed by the number of options on the market today. Since C4s are so popular, you can find modifications for almost everything, but a few mods stand out from the pack. Options like brake systems, suspension mods, exhaust systems, cold air intakes and adjustable fuel pressure regulators can all improve a Corvette's performance. Other popular upgrades for aesthetic and performance purposes include body parts and kits and wheel and tire packages.
Find out more about what to upgrade on C4 Corvettes: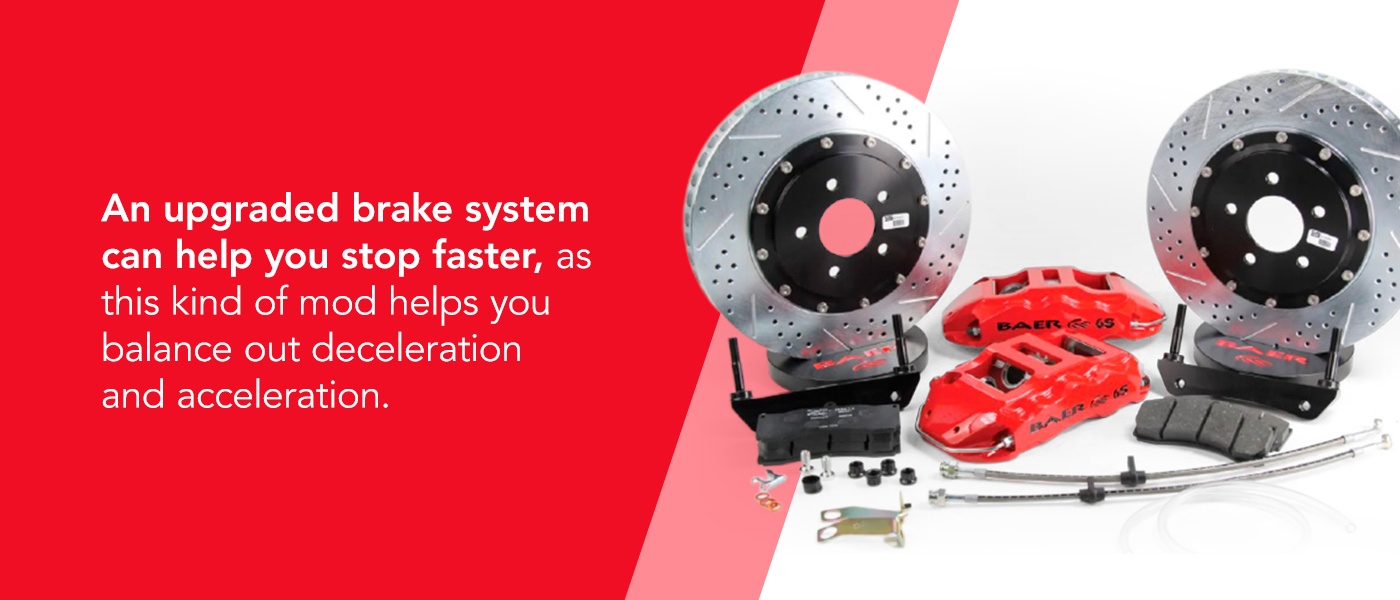 1. Brake Systems
Even unmodded, the C4 has an incredible amount of power and can hit high speeds. With all of this power under the hood, many C4 owners choose to upgrade their braking systems. An upgraded brake system can help you stop faster, as this kind of mod helps you balance out deceleration and acceleration. If you've modded your Corvette's performance to upgrade its horsepower, you'll especially want a new brake system to account for the extra horsepower.
New brake systems are some of the best C4 Corvette modifications because they give you more control behind the wheel, especially when you're traveling at high speeds. Some C4 owners like to replace their older brakes with new ones featuring slotted or drilled rotors designed to cool the brakes better. This extra cooling reduces wear on your brakes and helps them operate more efficiently. You might also want to invest in bigger calipers to give the vehicle greater stopping power and thicker pads.
You can also invest in full brake system kits compatible with your Corvette. If you regularly take your car to the race track or drive it daily, Power Slot Rotors are an ideal fit, as they add extra integrity to your braking system and dispel harmful hot gases more efficiently. To upgrade the look of your C4 Corvette's brakes, you can add brake caliper covers. You can find these covers in yellow, red and black, as well as those with famous Corvette lettering and scripts.
2. Suspension Mods
As C4 Corvette suspensions are older, they're likely to have worn-out parts needing replacement. Things like sway bar links, tie rods, ball joints and control arms can all wear down over time, causing your suspension to have trouble handling corners and turns as well. Additionally, worn-down shocks and stock springs can lose their effectiveness over time, with decreased handling and ride performance occurring as a result. A suspension system with damaged or less effective parts reduces your Corvette's stability and your ride quality.
You can find many different suspension parts that meet or exceed original specifications to help restore the performance of your Corvette's suspension. Original equipment (OE) reproduction parts are especially popular among Corvette owners who want their car to feel like it just came out of the factory. Buyers who want to upgrade their C4 and get more performance can select from various C4 suspension kits and mods.
Performance-grade suspension kits can take your suspension to the next level. These kits give you a more stable and responsive feel while driving, helping you take corners and winding backroads with ease. You can also add adjustable gas pressure shock absorbers or an upgraded front suspension system to absorb bumps and uneven terrains better. Additionally, some Corvette owners enjoy race springs that lower their car, giving it a more aggressive look and improving handling and acceleration due to better aerodynamics.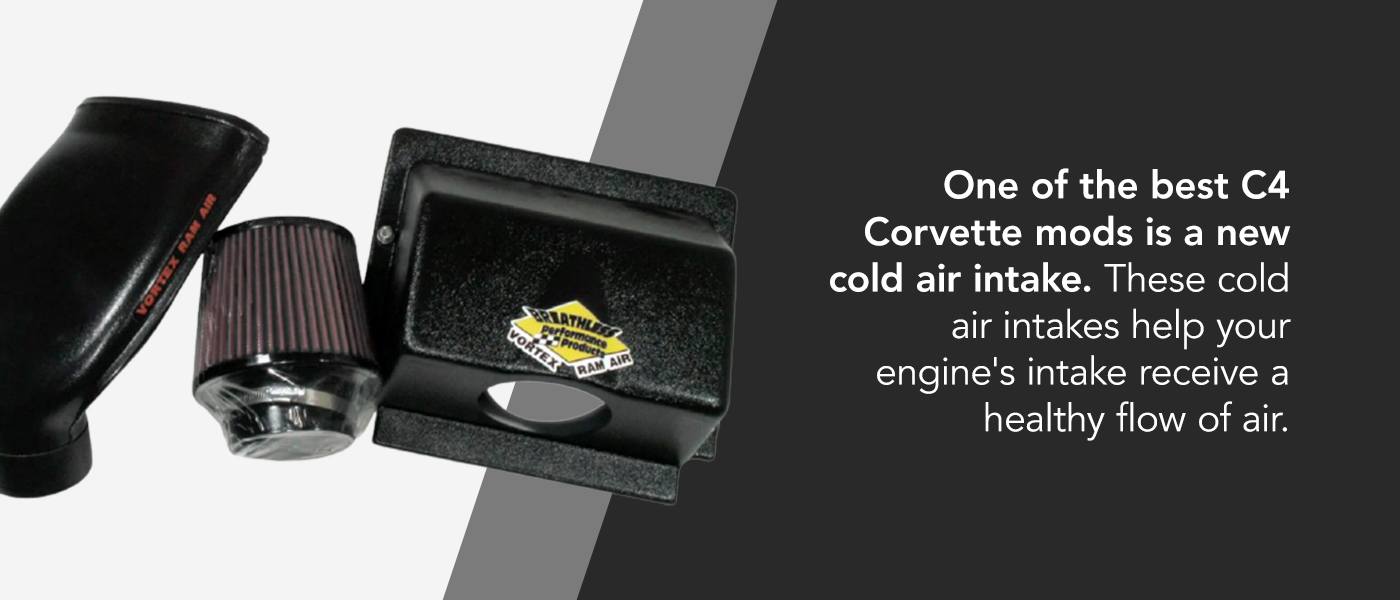 3. Cold Air Intakes
One of the best C4 Corvette mods is a new cold air intake. These cold air intakes help your engine's intake receive a healthy flow of air. Without a cooling flow of air into your engine, your Corvette won't perform efficiently, potentially even suffering damage over time. If you want to get the most power out of your engine, it needs a consistent stream of unrestricted intake air to flow into relevant engine cylinders at optimal temperature.
An aftermarket cold air intake is a great choice for improving your Corvette's air intake flow. These intakes are a significant upgrade over stock units, as they can draw in a larger volume of air and lower the air's temperature while it's delivered into the engine. When a cold air intake cools the air, the oxygen becomes denser due to the colder temperatures, making combustion in the engine much more volatile.
If you want to see a C4 Corvette horsepower increase, you'll want more volatile combustion. Since cold air intakes improve your engine's combustion and efficiency, you can see significant horsepower increases, with some raising your engine's performance by 22 horsepower. This increase in horsepower can greatly improve your Corvette driving experience, as you can push the performance-oriented car harder and reach higher speeds. Alongside the performance increases, many Corvette modders love how easy and fast cold air intakes are to install.
4. Wheels and Tires
Many Corvette owners see new wheels and tires as essential C4 Corvette upgrades. On a functional level, the right tires help your Corvette maintain its traction on the road and help you keep your control over the car. Some of the top C4 restoration parts for Corvette owners who want the classic feel of an original car are OE wheel and tire packages. These packages reproduce the stock feel and look of the original tires and wheels.
Owners wanting to get more performance out of their Corvette turn to modified packages designed to lower the weight of the Corvette's wheels or modify its traction. Wheels with lower weight improve the car's rotational mass, making the car accelerate faster. If you want to take your Corvette out on the race track, you might want to opt for street performance or performance track tires. Both of these tire types grip the road with less firm tread and get hot faster.
Besides the performance benefits, you can also choose Corvette wheels in various styles to give your Corvette a fresh new look. You can find Corvette wheel styles in black satin, black machined face, black wheelset with a red stripe and deep-dish chrome wheelsets. Other wheels and rims finish options include polished, silver machined lip, black machined lip or chrome. You might also want to add Corvette wheel center caps with classic imagery, such as C4 crossflags, Chevrolet bowties 40th Anniversary emblems and 1996 Collectors Edition Crossflags.
5. Replacement Exhaust Systems
One of the classic C4 Corvette upgrades comes in the form of replacement exhaust systems. Stock C4 exhaust systems can be fairly restrictive, leading to a lack of free-flowing air. While you can replace stock exhaust systems with OE reproductions when your older system breaks down, many Corvette owners turn to more breathable, performance-oriented replacement exhaust systems.
These upgraded exhaust systems are some of the best C4 performance mods, as they allow more air to come into your engine. Like cool air intakes, exhaust systems help your engine receive more air and reach optimal combustion. By making your exhaust more breathable, you can raise your Corvette's horsepower significantly. Additionally, if you use your C4 for racing applications, you can add straight pipe systems to make your Corvette really roar.
Many replacement exhaust systems also come in stainless steel to reduce rust and raise their durability. Since older exhaust systems are prone to corrosion, upgrading to more durable parts installed close to exhaust manifolds, such as pipes and catalytic converters, can lower the amount of maintenance you have to perform on your Corvette. These exhaust systems can also reduce the noise your Corvette puts out, and if you notice unpleasant cabin smells, you might be able to remove them by upgrading your exhaust.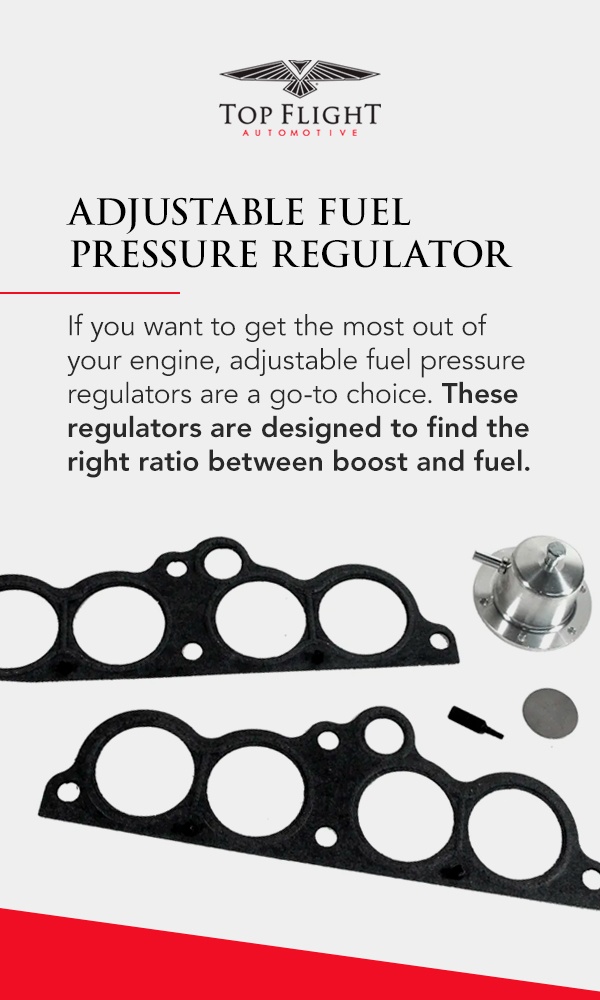 6. Adjustable Fuel Pressure Regulator
Another one of the best C4 Corvette aftermarket parts is an adjustable fuel pressure regulator. When you want to get the most out of your fuel and raise your engine's performance, your engine must receive fuel at the right pressure and maintain that pressure in several different circumstances. Older fuel delivery systems can deliver your fuel at nonoptimal pressures, leading to decreased fuel economy and horsepower. Additionally, these older fuel delivery systems can clog your fuel system and make your Corvette require more maintenance.
If you want to get the most out of your engine, adjustable fuel pressure regulators are a go-to choice. These regulators are designed to find the right ratio between boost and fuel. To accomplish this goal, they feature a diaphragm that controls the regulator's bypass valve ball seat, opening or closing it at the appropriate times to ensure your engine steadily receives fuel.
Many performance-oriented Corvette owners turn to fuel pressure regulators to help improve their vehicles' horsepower and fuel economy. Using these regulators can mean spending less time at the pump and adding power to your driving experience. You can also tune these regulators to achieve peak performance from your Corvette. Since adjustable fuel pressure regulators can help your fuel system reach its optimal performance. That's why they're some of the best C4 Corvette performance parts you can invest in.
7. Body Parts
Body parts are some of the best C4 Corvette mods, as they allow you to adjust the appearance of your Corvette to suit your tastes. They can also improve your Corvette's performance by making its exterior more aerodynamic. You can purchase several kinds of body parts for your Corvette, such as spoilers, fenders, roof panels, door components and bumpers. These parts can restore the look of a C4 or allow you to adjust its appearance.
Many of these parts also come in more aerodynamic designs and lighter weights compared to their stock counterparts. When you use these types of parts, you make it easier for your Corvette to reach top speeds. Additionally, replacement door panels are some of the most popular body parts as they're one of your Corvette's most eye-catching features. You can purchase door panels made out of flexible fiberglass materials featuring stylish accents and a look suitable for a race track.
If you want to improve the safety of your Corvette, adding aftermarket urethane or fiberglass front and rear bumpers can be a great choice. These bumpers better absorb impact in minor collisions, helping to keep you safe and the rest of your vehicle unharmed. You can also find bumpers with C5 styling, giving your C4 more futuristic looking. The best bumpers will mount to your Corvette's original components to make installation easy and not require physical modification.
8. Body Kits
Similar to body parts, body kits allow you to change the look of your C4 and receive some incredible performance benefits. Typically, you can find widebody and ground effects body kits, with either option coming with some incredible performance and aesthetic benefits. These body kits are designed for various C4 models, with paint-match options and easy installation.
Many C4 ground effects body kits are made out of fiberglass materials to decrease your vehicle's weight, helping you improve your fuel economy and power. These ground effects also lower your vehicle without putting your exhaust components at risk, giving your vehicle a much more aggressive appearance without needing to change the suspension. Additionally, the lower ride can improve your vehicle's aerodynamics, helping it accelerate faster and cut through the wind.
Additionally, many Corvette owners love widebody kits since they increase the width of their car. With a wider Corvette, modders can increase their car's tire size and add upgraded rims. This increased tire size helps your Corvette receive better downforce and grip while out on the road. With more grip and downforce, your Corvette can go faster, and you receive more control over your car. These widebody kits also give your car an eyecatching appearance, sure to turn heads whenever you take it for a spin.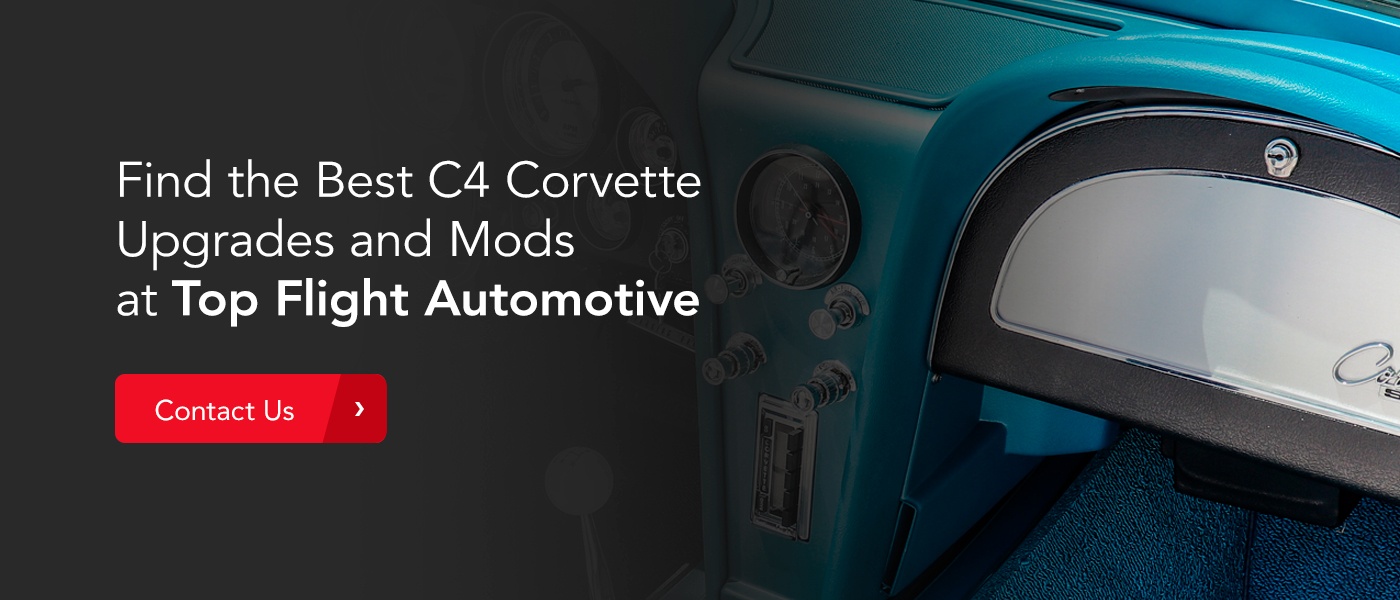 Find the Best C4 Corvette Upgrades and Mods at Top Flight Automotive
Now that you know where to start C4 restoration and modification, turn to Top Flight Automotive for all your C4 Corvette upgrades. Since we have the largest Corvette product portfolio worldwide, you can find almost any C4 performance or aesthetic mod you want for your Corvette on our site. We offer same-day shipping on most orders, and we regularly ship products overseas, helping you receive your Corvette mods as fast as possible. With an expert sales staff, we can help you find the perfect fit for your needs.
Browse our selection of C4 mods and restoration parts today. If you have any questions, please feel free to contact us.