Chevrolet Corvette Weatherstrip, Body Seal & Molding
CORVETTE WEATHERSTRIP, BODY SEAL & MOLDING at Top Flight Automotive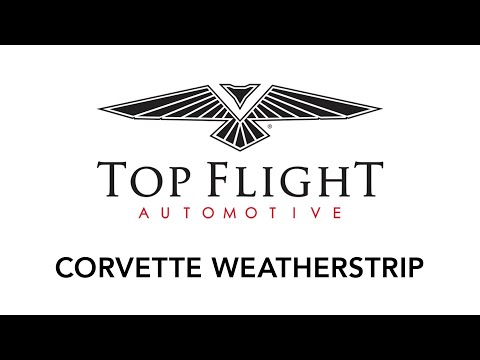 As Zora Arkus-Duntov once said "To establish a sports car, you have to race it". His example of drive, leadership, and innovation established the Corvette as one of the most iconic cars ever made. Top Flight Automotive embodies Zora's spirit and dedication to performance as home to the largest selection of Corvette restoration, style and performance parts on the market today. Serving the Corvette community for over 40 years with a staff that speaks fluent Corvette. We are passionate about Corvettes, and understand that each generation offers something special. We'll guide you through restoration or upgrade projects from start to finish. From our garage to yours…when it's time to mod or restore your Corvette…choose Top Flight Automotive!
Corvette Weatherstripping 
There is nothing like sitting behind the wheel of a classic or modern Corvette. If you're in the process of restoring an early release or use a 21st Century model as your daily driver, when was the last time you assessed the condition of its exterior weatherstripping?
Weatherstripping, also known as body seal or molding, is your only line of defense against inclement weather. Even if your Corvette is garage-kept, these seals are essential to keeping your investment in top shape. That's why Top Flight Automotive brings you replacement weatherstripping kits for C1-C7 Corvettes.
What Is Automotive Weatherstripping?
Vehicles of every age have weatherstripping to prevent moisture from making its way into the interior and the engine compartment. Typically, these barriers consist of rubber materials that sit along doors, windows, trunks and hoods. If you have ever been caught in an unexpected storm or your vehicle sits in the street, weatherstripping saves you from costly repairs involving water damage.
Top Flight Automotive stocks our inventory with replacement kits organized by production year. Browse through our selections to discover cost-friendly solutions for coupe and convertible body styles.
C1 Corvette Weatherstrip Replacements
The C1 generation is one of the most valuable sports cars of all time. Top Flight Automotive wants to help restore your 1953-1962 Corvette, so we carry multi-piece kits for a job well done. Replace all of the weatherstripping along the front and back end of your collector vehicle with bundles featuring lightweight sections for door mains, deck lids, windshield channels and more.
Unsure how to remove and replace weatherstripping? We've got C1 installation tool kits and mounting hardware sets for your convenience.
C2 Corvette Weatherstrip Products
If you like entering your 1963-1967 Corvette into judging competitions, you'll require sleek, precision-fit weatherstripping products to take first place. Treat your second-generation Stingray with products engineered to meet or exceed original specifications from the Chevrolet factory. From coupe split window designs to weatherstripping retainer screws, we've got you covered.
C3 Corvette Window Weatherstripping
The third generation saw nearly 15 years of production beginning in 1968 and extending through 1982. We know how the Corvette body shape has transformed over time, so we have weatherstripping products for removable T-Tops as well. Fill window spaces effortlessly with listings specially made for 1968-1975 soft tops.
C4 Corvette Weatherstripping and Adhesives
There are plenty of Corvette enthusiasts out there that look to the C4 generation for impressive horsepower and anniversary edition models. Maintain your vehicle with a wide range of 1984-1996 dash to door seals and kits for protection. Consider adding one of our adhesives to your order for long-lasting results.
C5 Corvette Exterior Weatherstripping Products
The C5 Corvette serves as an excellent way to enter the world of performance vehicles without breaking the bank. If you recently purchased a fifth-generation vehicle, take a look at our complete exterior kits as well as individual weatherstrip pieces for repairs. Swap out deteriorating sections with products like the 1997-2004 hood side to fender seal.
C6 Corvette Replacement Weatherstripping
Now that certain models in the C6 lineup are over 10 years old, it might be time for a weatherstripping upgrade. Top Flight Automotive takes the time to fill our online store with pieces brought to you by General Motors. Change out 2005-2013 door main seals and windshield pillar post sections in no time.
C7 Corvette Roof and Window Seals and Molding
You use the driver-side door each time you climb into your C7's cabin. Top Flight Automotive makes it possible to replace factory weather barriers across window moldings and C7 roofs. Speak to one of our sales representatives during normal business hours for tips regarding 2014-2019 installations, or shop our online store of C7 Weatherstripping! 
Shop Corvette Parts at Top Flight Automotive Today
Top Flight Automotive is proud to be part of the Extra Mile Brands family of companies. Channeling more than 175 years of combined experience, our experts connect customers to interior and exterior parts for restoration projects of all sizes. Shop our weatherstrip kits today, or fill out a contact form online for questions regarding your order!
Can't find what you're looking for? Let us know and we can help! Contact Us