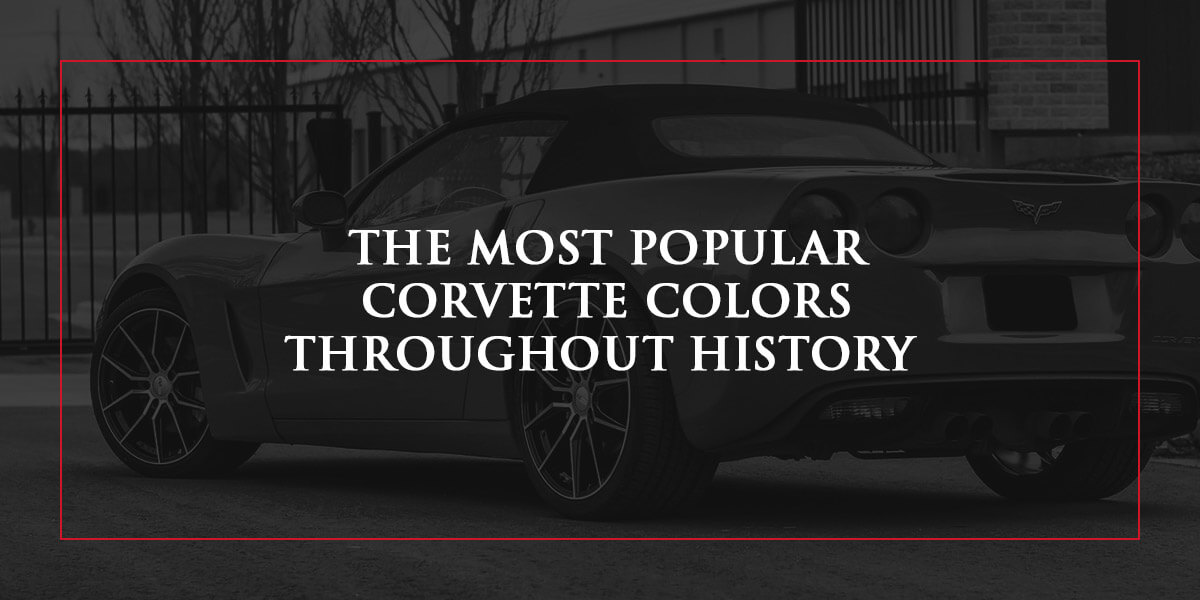 One of the things that makes a Corvette so popular is the way it looks. With its sleek, flashy designs, a Corvette stands out among a crowd of cars. There's something about the Corvette that makes it alluring — especially with the right color to make it pop.
Throughout the years, the Corvette has gone through many styling changes. Each generation is remembered for the way the Corvette looked during those years — and which color graced its body.
Below, we'll take a look at the most distinctive Corvette colors according to each generation.
The Most Popular Corvette Colors of All Time
From the exciting origins of the C1 to the revamped and powerful versions of today, the Corvette has continuously evolved. Throughout every generation, there have been colors that became hits for the classic car.
Here are the most desirable Corvette colors by year.
C1: Polo White
When the Corvette was first released, it only came in Polo White. It would only be later that GM started producing versions with other primary colors like red and blue. It's no surprise, then, that white was the most popular color for this generation.
Still, there was one particular shade that rose above the rest — a shade of white known as Polo White. This was by far the most popular color Corvette and could be seen as the launching point for the long and successful Corvette run.
C2: Nassau Blue
Polo White and Ermine White proved to be extremely popular. Still, once GM started rolling out new colors for the Corvette, it wasn't long before those shades of white were replaced with something flashier.
The most popular Corvette color of the C2 generation was Nassau Blue, a beautiful color that reminded people of summer skies and picturesque oceans. Nassau Blue helped separate the Corvette from the pack with a rich electric blue, creating a departure from the usual white shades.
C3: Classic White
Even with the introduction of other colors, it seemed that consumers were looking to return to the classic days of the Corvette. With its sharp, crisp look, Classic White became the most sought-after color choice for the C3 years. Clean and almost dreamlike, the Classic White look helped reinstate the Corvette as one of the best-looking vehicles on the market.
C4: Bright Red
A major shift happened between the C3 and C4 generations. As the Corvette continued to evolve, so did consumers' tastes in styling. The favorite color of the C4 generation was Bright Red — a massive departure from the white shades of previous years. Consumers were now riding around in hot, flashy red — a color you couldn't miss if you saw it flash by on the street.
With Bright Red, the Corvette soon became one of the most recognizable cars on the road. Along with red, black also became a very popular color, hitting sales just below that of Bright Red.
C5: Torch Red
Red continued its dominant run into the fifth generation. This time, however, it would be Torch Red that gained the most attention. It was a small variation from Bright Red that consumers loved just the same.
There were other Corvette C5 colors that became new favorites, too. During this time, silver became extremely popular. GM offered consumers two different shades — Sebring Silver and Quicksilver. Both became favorites. Silver was a great alternative for those who didn't want the flashiness of red. Silver also created an air of luxury — something that appealed to many Corvette fans.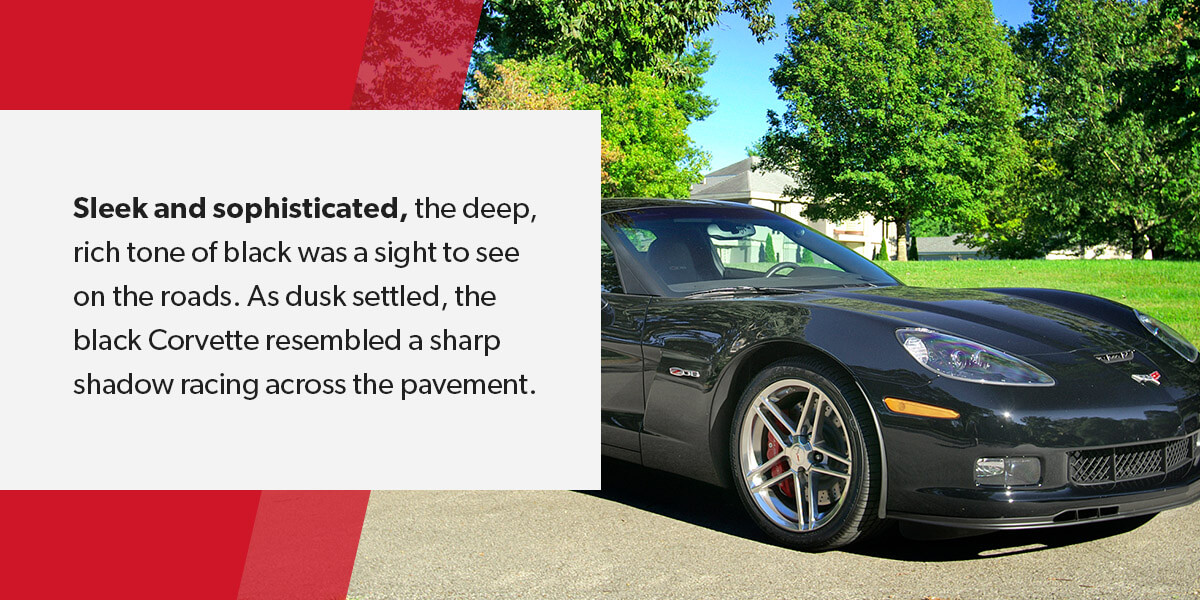 C6: Black
After years of gaining popularity, black soon became the fan favorite during the Corvette's sixth generation. Sleek and sophisticated, the deep, rich tone of black was a sight to see on the roads. As dusk settled, the black Corvette resembled a sharp shadow racing across the pavement.
Among the other favorite C6 Corvette colors was red, which continued to remain popular from the previous generations.
C7: Arctic White
After a multi-generation departure, white once again returned as the C7 favorite. This time it would be Arctic White — a color that conjured snowy mountains and intimate luxury. It was in sharp contrast to the solid black favorite, which remained among the favorite C7 Corvette colors.
C8: To Be Determined
The most popular C8 corvette color is still yet to be known, as we're still currently living in its era. We could see a return to classics once again with another white option, or perhaps a flashier style with another red shade. There could even be a new color we have not seen that tops the charts.
Top Corvette Choices in 2022
Although we don't have the final numbers on the Corvette colors sales of this generation, we're still able to pull what we do know and make some predictions. For example, the most popular colors of 2022 were Torch Red, Arctic White and Hypersonic Gray.
Both Torch Red and Arctic White racked up the most sales in 2022, which shows that people still love the flashy red look of the Corvette but also cherish the luxurious, crisp feel of classic white. Interestingly, Hypersonic Gray has also risen up in the rankings. This is a new development for Corvette and could spell the beginning of a new favorite color for consumers. Right below Hypersonic Gray is Red Mist, another variation of red that shows how much customers love this type of color.
Still, we have yet to see what the final favorite will be for this generation. But the red Corvette is likely to continue to be popular along with those classic white shades.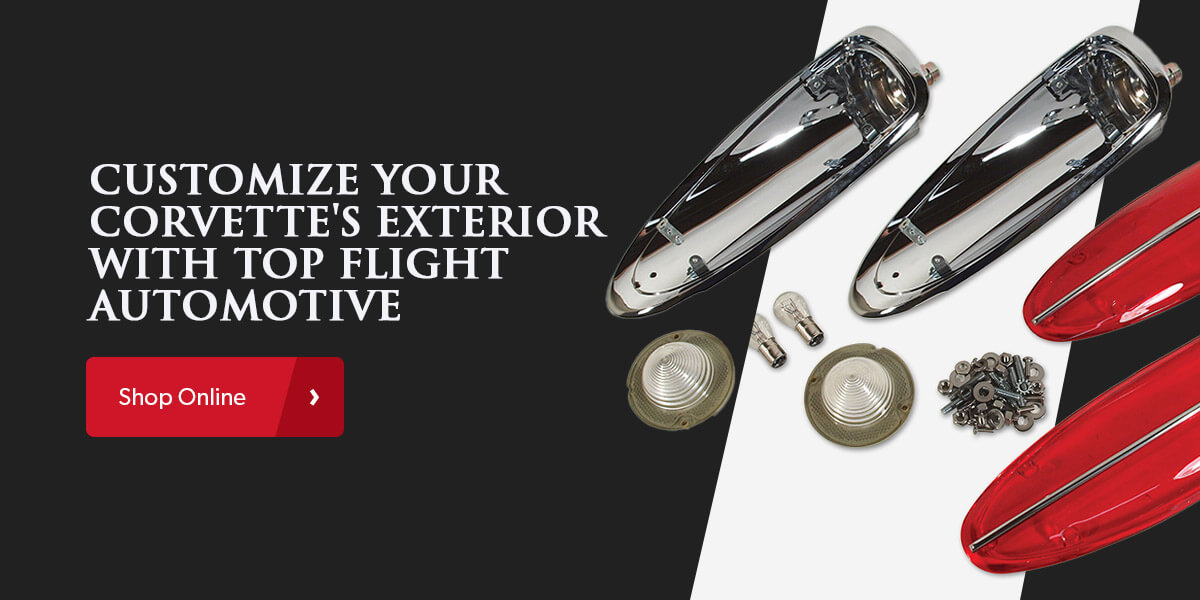 Customize Your Corvette's Exterior With Top Flight Automotive
The exterior of the Corvette is one of the things that makes it so special. If you own a Corvette, you could be looking to bring one of those classic colors back to life or restore a paint job back to its former glory. Whatever you're looking to do, it's important to find a trusted car part provided that can ensure you get what you need to complete a successful job.
At Top Flight Automotive, we offer a huge selection of car parts and tools. You can browse our online shop from the convenience of your home. If you're having trouble finding the right product, talk to one of our experienced sales professionals who can answer any questions you may have and guide you toward what you need. We're ready to make your Corvette project go smoothly. Shop online today!