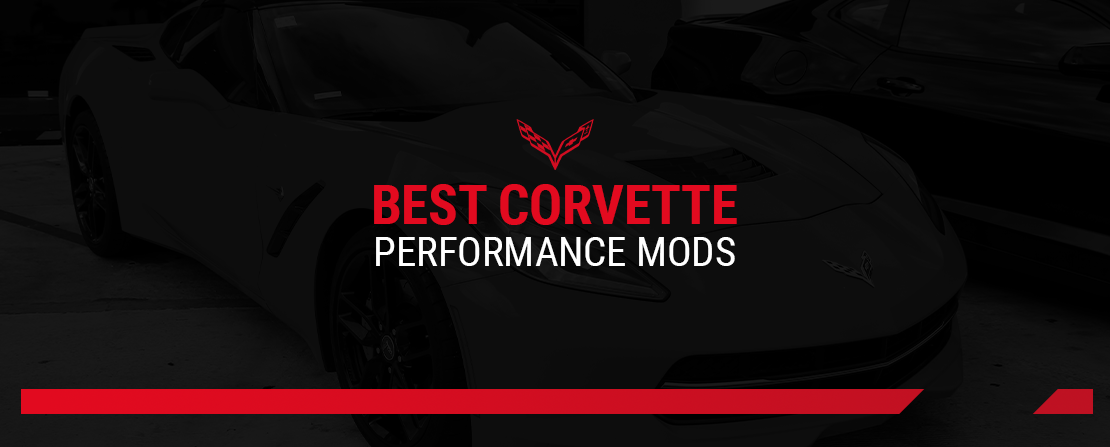 A Chevy Corvette is the type of spitfire sports car that can outperform many more costly sports cars and even some supercars without any modifications. However, when the Mod bug bites you, there's only one thing to do. Mod away to your heart's content. Be it a new set of wheels, a cold air intake, a cat-back exhaust or even a supercharger, Corvette performance modifications are the way to go for more smiles per gallon, and 2021 brings even more options as the new C8 hits garages! Yes, you heard that right. Even a C8 can get better. For C8 we typically recommend upgrading your brake pads, installing a ceramic coat for protection, Cat-back exhausts, and even lowering since the stock form hits a little high.
Regardless of the generation you own, with the top Corvette performance mods, you can widen the distance between mainstream "Stock" Vettes and attain the status of a true Gear Head. Here at Top Flight Automotive, we speak fluent Corvette, and we carry all the best Corvette modifications you could ever need, no matter if you have an early or late-model car. Our top-tier restoration products are engineered to meet or exceed your vehicle's original specifications, so you can hit the pavement even better than before.
Whether you're looking for classic Corvette upgrades or ways to maximize your new Corvette's performance, we've got you covered. We'll help you learn more about the many types of Corvette performance modifications available. Additionally, to assist your choice on what you should upgrade first, we've compiled a list of the top five performance upgrades that span every generation
Types of Corvette Performance Modifications
Corvette performance opportunities are endless because there isn't much you can't upgrade — most of it is customizable. You can pick and choose which mods suit your application, model, personal style and budget. You may be in search of a small boost in engine power or a full overhaul, so your Vette can reach its peak performance levels.
Types of performance Corvette mods include, but are not limited to, the following:
Performance chips
Rear-end gears
You can use many of the modifications listed above for several Corvette generations — the listed mods are not specific to each model but are some of the most common.
Best Performance Mods Across All Corvette Generations
Some Corvette enthusiasts like their sports cars to remain loyal to the glory days with original parts — either from a sense of nostalgia or respect for the Corvette's evolution at the time. However, while many classics uphold incredible value as a piece of history, their components are nothing like what we have today. Many people opt for performance mods to give their early Corvette model a boost.
Knowing where to start Corvette restoration work or how to improve a later model of Corvette starts with knowing some of the most common mods available to you as a Vette owner. If you want to take your Corvette's performance to the next level, you'll want to learn more about the most popular and best Corvette performance mods below: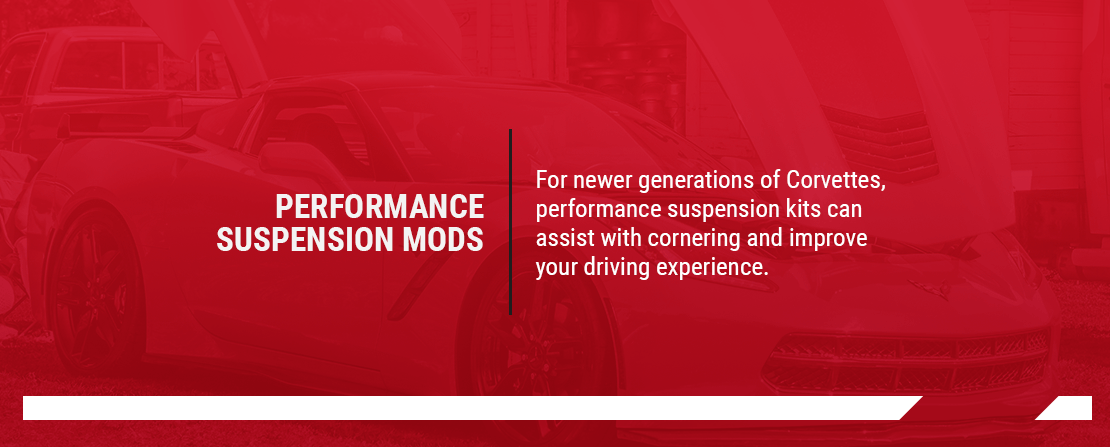 1. Performance Suspension Mods
There's tons of variety in the ways you can upgrade the suspension to meet your driving goals, no matter which generation your Vette is. One of the essential Corvette upgrades you can make to your car is to add front and back suspension kits. Suspension parts and kits can assist Corvette owners in several ways, such as improving their Corvette handling, comfortability and ability to perform on a race track.
Corvette front suspensions are designed to absorb the road's force, maintain tire traction and support the car's weight. Additionally, the front suspension protects your exhaust components by ensuring they don't make contact with the ground. A Corvette's rear suspension is another popular addition, as it supports the car's weight while also helping its wheels stay on the ground and improving tire traction.
Suspension systems are popular among all Corvette generations for various reasons. For instance, the first generation of Corvettes was a bit on the bumpy side regarding the riding experience because of their single axle suspension. The rickety ride led to more short-lived travels instead of longer road trips.
If you're looking for a smoother cruise down the road, you can modify the C1's suspension, which will boost its drivability. The shocks will create a smoother ride by lessening the car's bounce and sway. Investing in shock absorbers is your first step to better performance.
In 1963, the C2 featured a leaf spring rear suspension, an upgrade from the C1's solid axle design. Even with its tremendous advancement, you can upgrade the second-generation Corvette's suspension even further. A new suspension means better stability, enriched ride quality, and enhanced cornering. For example, you can improve the C2's suspension via a rear coilover or performance kit.
For newer generations of Corvettes, performance suspension kits can assist with cornering and improve your driving experience. Part of the appeal of later-model Corvettes is their staggering speed and handling. Whether you want to take your Vette on the race track or simply want a better experience on the highway, an upgraded suspension system is an excellent choice.
When you upgrade your suspension, you'll get a better grip with your tires, allowing you to take tighter turns and perform better in the rain. Some features of a suspension kit for a race track might include track-optimized passive shocks, lower control arms featuring stiffer handling bushings and innovative stabilizer bars. Additionally, shock absorbers are great for any Corvette model, as they assist with improving braking and cornering by keeping your car at the optimum grip.
2. Aerodynamic Kits
Corvette aero kits make your sports car more aerodynamic. These mods give you a sleek finish and allow you to seize power under your hood. They can help any Corvette generation hit higher speeds — even those with a lower horsepower.
Essentially, aerodynamic modifications reduce your car's wind resistance and produce a greater downforce. With these improvements, your Corvette will grip the road better and move through the air more easily. Your Corvette's aerodynamic qualities play a direct role in its downward force. Aerodynamic mods help increase your vehicle's downforce, leading to greater vertical force on the tires and more controlled cornering at high speeds.
You can find aerodynamic kits and modifications for every Corvette generation, helping you reap the advantages no matter the model. These kits often include side skirts and front and rear fascias. You might even find hood scoops, window louvers and rear spoilers. Besides the performance advantages these modifications can provide, they can also alter your Corvette's appearance, helping you customize its look in a way you like most.
Benefits of Aerodynamic Kits
If you're considering adding aerodynamic kits to your Corvette, consider some of the benefits they can provide you below:
Greater fuel economy: Who doesn't love getting better miles per gallon? Any Corvette owner can improve their Vette's fuel economy with aerodynamic kits. As these kits can reduce drag and wind resistance, the car doesn't have to work as hard and use as much fuel, leading to improved miles per gallon.
Improved handling: Aerodynamic kits can improve the handling of any Corvette. Since aerodynamic mods can help shift air away from above and beneath the Corvette to the sides, your car gets more downforce. This increased downforce results in greater traction on corners and better handling at high speeds as you slice through the wind.
Preserved original bodywork: If you have an early model Corvette, you likely want to preserve the original bodywork as much as possible. Adding an aerodynamic kit can help protect the body from damage. Besides protecting the original bodywork, aerodynamic kits can also improve your car's visual appeal, helping its resale value and turning heads on the road.
More responsive horsepower: When your car moves through the air more easily and has more downforce, your Corvette's horsepower can show improved responsiveness as a result. Some early model Corvette owners love how an aerodynamic kit improves the performance of their older Corvettes by reducing the amount of power output lost to drag. Additionally, later generation Corvette owners regularly rely on aerodynamic kits to give them an edge out on the track and a little more oomph on the road.
3. Wheels and Tires
Another popular performance upgrade to Corvettes is a new set of wheels and tires. Wheels and tires come in various sizes, materials and appearances, each providing unique benefits to a Corvette. As you look into ways to improve your Vette's performance, you'll likely want to be aware of the multiple types of wheels you can add to your car before investing in them.
Increasing the width of your wheels can bring several performance advantages. For example, investing in wider Corvette wheels will increase the surface area, allowing the tires to have more contact with the road. In return, your Corvette will experience boosted performance, acceleration and braking. Other benefits of the modification include advanced handling, better deceleration, an upgrade in traction and an increase in turn-in accuracy.
It should be noted, however, that choosing wider tires may add more weight to your car, potentially lowering its horsepower. If you don't want to widen your wheels and tires, you can still upgrade your car's performance by choosing aluminum or Rallye wheels.
Rallye wheels are primarily for early-model Corvettes from the C2 and C3 generations. These wheels were very popular during the previously mentioned generations due to their ability to assist in high-speed competitions. The wheels have more grip on tracks, absorb bumps and slide better without harming the vehicle.
For early and late models of the Corvette, aluminum wheels can be an excellent addition, as they are lighter than the more standard steel wheels. Their lightness can improve fuel efficiency by reducing your vehicle's weight and increasing your Vette's balance.
Regardless of what you want to improve about your Corvette, you can find a wheel and tire package fitting your needs. You can select various configurations for these packages, such as tire tread, high-speed stability, wheel materials, logos, speed and performance upgrades and wheel finishes. For older Corvettes you're looking to restore, you can also find replacement wheel hubcaps and trim rings.
4. Exhausts
One of the best Corvette aftermarket parts for your automobile is a new exhaust system. These systems control the warm air flowing out of the engine. An exhaust essentially keeps the engine's operating temperature lower, which promotes better engine health. Many stock exhaust systems place some restrictions on the Corvette, such as minimizing emissions and lowering engine noise. Because of these restrictions, your car may get less horsepower and torque.
By choosing an aftermarket exhaust, you can improve your car's horsepower. Upgrading your exhaust allows your Vette to reach its maximum performance levels. Additionally, it can make the engine louder, which some drivers enjoy. When choosing an exhaust system, check your state's emission regulations to ensure the Corvette keeps its street-legal designation.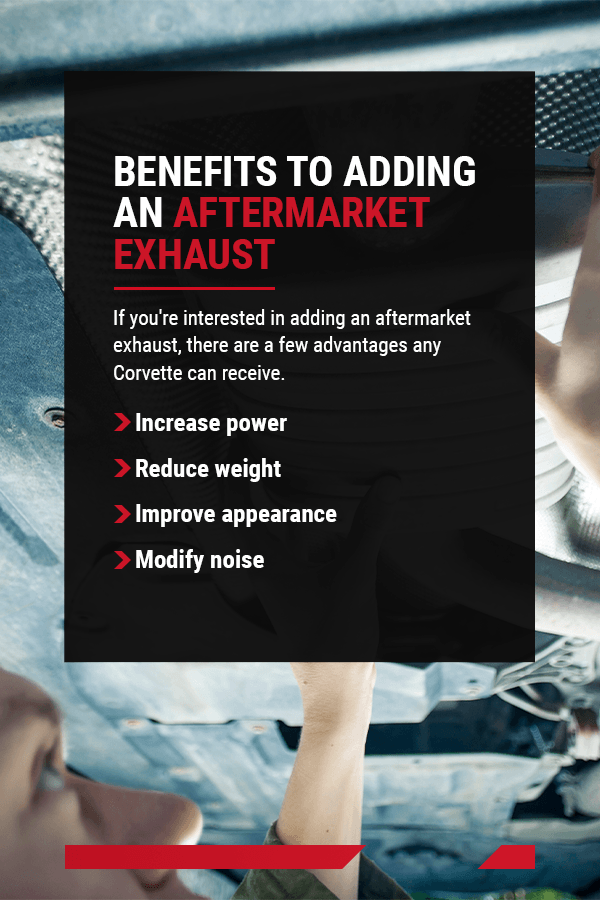 Benefits to Adding an Aftermarket Exhaust
If you're interested in adding an aftermarket exhaust, there are a few advantages any Corvette can receive. Below are some of the top benefits of adding aftermarket exhausts shared by every Corvette generation:
Increase power: Since stock exhausts can reduce your Corvette's power, one of the top Corvette performance mods is an aftermarket exhaust. Aftermarket exhausts can reduce backpressure and expel exhaust with greater efficiency, leading to more power for the car. Increasing the size of a Vette's intake valve and cylinder bore diameter can also create higher volumes of exhaust, resulting in increased engine performance.
Reduce weight: Stock exhausts can add a significant amount of weight to your Corvette. By selecting an aluminum aftermarket exhaust or other lightweight material, you can reduce your Corvette's weight, potentially increasing power and improving your fuel efficiency.
Improve appearance: An aftermarket exhaust system can improve your Corvette's appearance. These exhaust systems can give the rear of your car a new, attractive look, such as one with carbon fiber tips or a unique design.
Modify noise: You can find exhaust systems designed to either increase or decrease the sound of your Corvette. With this sort of control over your vehicle's noise, you can help your car generate the amount of sound you're comfortable with, whether that's extra quiet or roaring.
5. Brakes
Another one of the best Corvette upgrades is new brakes. These kits and parts can assist with newer and older generations of the car. For example, knowing how to start Corvette restoration work for a classic Vette often begins with replacing the standard drum brakes with disc brakes. Corvette brakes on the C1 got the job done back in the day, but they didn't do much when it came to reasonable stopping distances.
Disc brakes are more responsive and reduce stopping distances. Disc brakes also allow for much more precision by dissipating heat better, allowing the brakes to alleviate brake fade more effectively than older versions. You can modify your C1 with a piston caliper conversion kit or a 4-wheel disc brake conversion kit to get the most out of your classic.
Alongside adding top Corvette restoration parts, such as adding disc brakes to classic Corvettes, you can add brake upgrades to later vehicle models. For instance, you can add stainless steel brake lines that last much longer than their rubber counterparts, which are usually included in standard Corvettes. Upgraded brake lines also help provide rotors and pads with a more direct flow of brake fluid. Concerning performance, enhanced brake lines help you stop faster and enjoy a firmer brake pedal feel.
If you plan to race your Corvette, you can add racing brakes more appropriate for the track. There are also many more ways you can upgrade your brakes, giving you plenty of room to find the right modifications for your driving needs.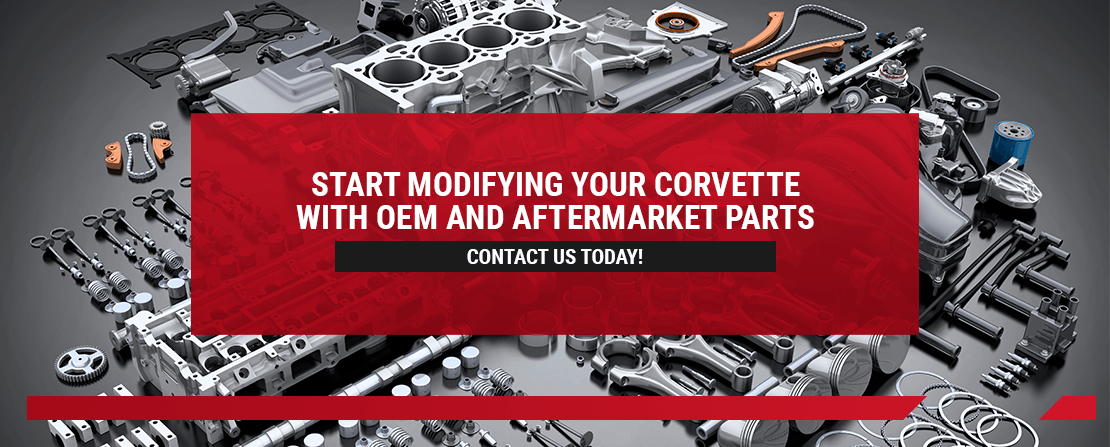 Start Modifying Your Corvette With OEM and Aftermarket Parts
Now that you know all about what to upgrade on Corvettes and what the best Corvette mods are, you'll want to turn to Top Flight Automotive. Top Flight Automotive has an extensive range of Corvette performance upgrades for each sports car generation. We pride ourselves in having the largest product portfolio for Corvettes, as well as upholding a high level of knowledge and expertise in the industry.
As you're modifying your Corvette, check out our Chevy Corvette performance parts and upgrades to boost your classic to the next level. The best part about our Corvette mods is that you can tailor them to your specifications. Reach out to our experienced sales reps for more information and support.