Chevrolet Corvette Interior Paint & Dye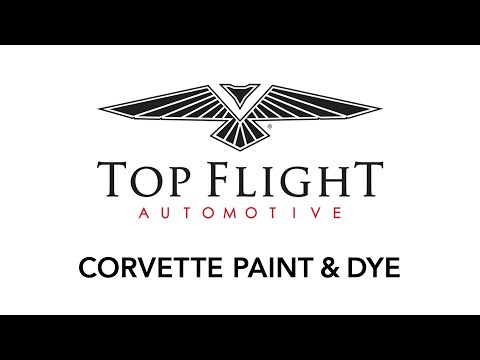 Chevrolet Corvette Interior Paints and Dyes
You want to do more to your Chevy Corvette beyond replacing interior components. Some surfaces like seats, center consoles, dashboards and trims work perfectly fine, but discoloration leaves you wondering how you can make improvements. You can find a solution by solution shopping for interior paints and dyes available through Top Flight Automotive's site.
Our team knows the advantages of recoating surfaces inside a Corvette's cabin. See what you can do to change or update the colors of your ride's interior surfaces.
Choose Top-Quality Corvette Paints and Dyes
It's important to work with paints and dyes that adhere to vehicle surfaces effectively. Corvette enthusiasts need paints and dyes that apply easily, dry quickly and come out looking like the images on the canisters.
At Top Flight Automotive, we want the Corvette interior paints and dyes you choose to provide results you appreciate. That's why we stock interior coating solutions by Auto Accessories of America and Corvette America.
Chevy Corvette Interior Surface Preparation and Primers
Cleaning interior surfaces ensures paints and dyes apply evenly. Shop our site for Corvette interior surface prep sprays to lift dirt, oils and residues before continuing with your project. Options from Auto Accessories of America help you freshen a variety of surfaces in little time. We also sell interior dye primers in 12-ounce cans and by the quart.
Corvette Interior Adhesion Promoter Sprays
Promote a strong bond between plastic surfaces and interior Corvette paints. Our inventory features adhesion promoter sprays developed by Auto Accessories of America to help paints and dyes dry true in color and resist flaking over time.
Chevrolet Corvette Interior Aerosol Dyes
Paint leather, vinyl, plastic, metal and fiberglass surfaces using interior aerosol dyes. You can use spray dye listings from Corvette America with multiple sport model generations.
We carry Corvette interior aerosol dyes in stock colors so you can make your restoration dream come true. Common dye colors drivers purchase from our site include:
Red
Beige
Charcoal
Turquoise
Blue
Fawn
Green
Black
Graphite
Oxblood
Saffron
Firethorn
Maroon
Silver
White
Bronze
Chevy Corvette Clear Coat Sprays
A clear coat offers outstanding protection for refinished surfaces. Once the interior paint or dye for your Corvette dries, you can add a clear coat spray for some extra sheen.
Clear coat solutions by Auto Accessories of America help to prolong the appearance of paints and dyes. Coat surfaces with solutions that can help your interior components combat heat and other environmental changes.
Shop Chevy Corvette Interior Paints and Dyes Today
It's time to update the appearance of your vehicle's cabin with high-quality paints, dyes and other solutions available through the Top Flight Automotive catalog. Browse our one-stop shop now to find the supplies you need to start your project.
Can't find what you're looking for? Let us know and we can help! Contact Us