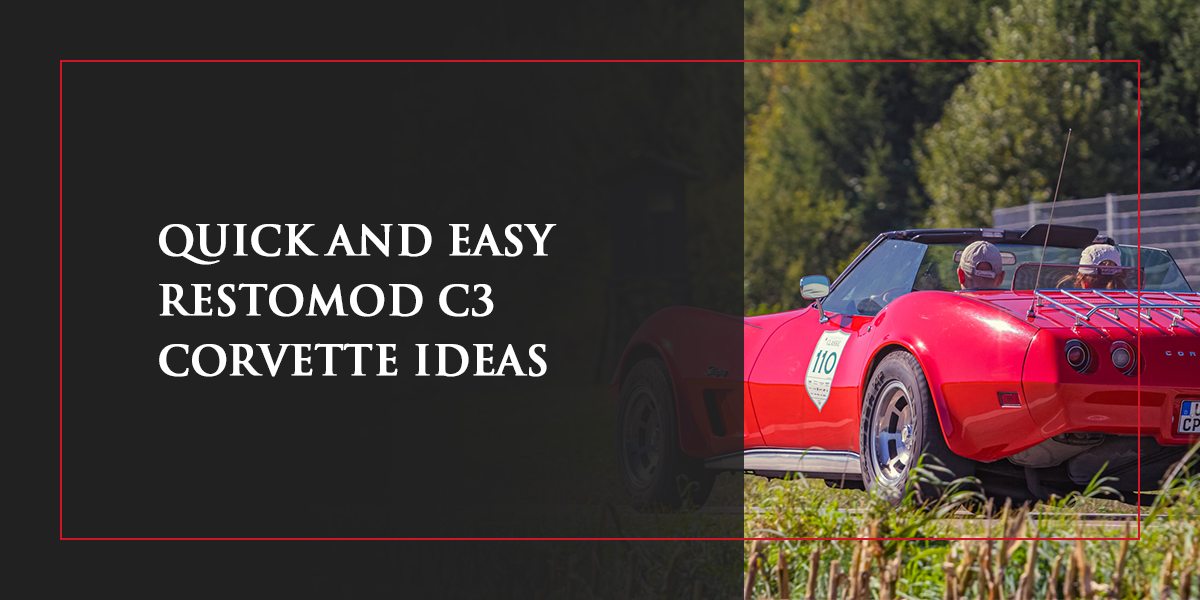 The Chevrolet Corvette C3 is one of the best car generations out there, full of fresh designs and unique modifications. If you get your hands on one of these classics, you may be looking to transform it back into the shiny, brand-new car it once was. A restoration project can help bring your Corvette up to those standards.
It's been several decades since the C3 came out and in that time, car manufacturers have found ways to boost efficiency, increase safety standards and build engines capable of great performance. If you want the look of that classic Corvette but want some upgrades that align it with that modern feel, you might be looking at a restomod project.
10 Simple Restomod Ideas for C3 Corvettes
A restomod project keeps that vintage appearance for your C3 while upgrading outdated parts and features. Although you may not have the time to totally transform your Corvette, there are some simple modifications that you can do that can make your driving experience even better.
Here are 10 quick and easy Corvette restomods.
1. Wheels and Tires
To start, you can upgrade your Corvette C3's wheels and tires. Other than the body, your wheels are one of the first places people look when they see your C3. A quick upgrade can improve your vehicle's appearance and also help improve the feel of your ride.
Find reproductions of those classic C3 wheels and tires and play around with various sizes to see which ones you like best for driving. If you're looking to make your Corvette lighter, try out some aluminum wheels to help boost performance. For even more admiration out on the roads, you can also look into spinner caps. Wheels and tires are simple C3 Corvette restomods that offer you various options for modernizing and modifying your vehicle.
2. Lighting
Another easy Chevrolet C3 Corvette restomod is lighting. Old headlights and taillights are often cracked or fading anyway, so it's usually a necessity to get them replaced. Find headlight and taillight assembly kits to upgrade your C3 in your own garage. Upgrades like LED lights are popular choices, as they offer you a bright, long-lasting option that you can even customize to your favorite color.
Investing in upgraded lighting that still represents the classic Corvette look is a great way to experience multiple benefits, including:
Improved visibility: Even if your C3 headlights are still intact, their functionality has likely decreased and isn't up to par with today's lighting capabilities. New, modern lights will allow you to see the road better while retaining that vintage appearance.
Extended longevity: New lights last longer, with durable materials that can last you years without issues. You'll be able to save on repairs and have confidence in your new lights for a long time.
Better overall safety: Sometimes, C3 Corvette modifications are needed for safety reasons — lighting is one of those modifications. With brighter illumination, you can see what's in front of you and have brighter taillights so others can see your vehicle, too. This will cut down your chances of getting in an accident, protecting you and your C3 as well as saving you money on costly repairs.
3. Body Modifications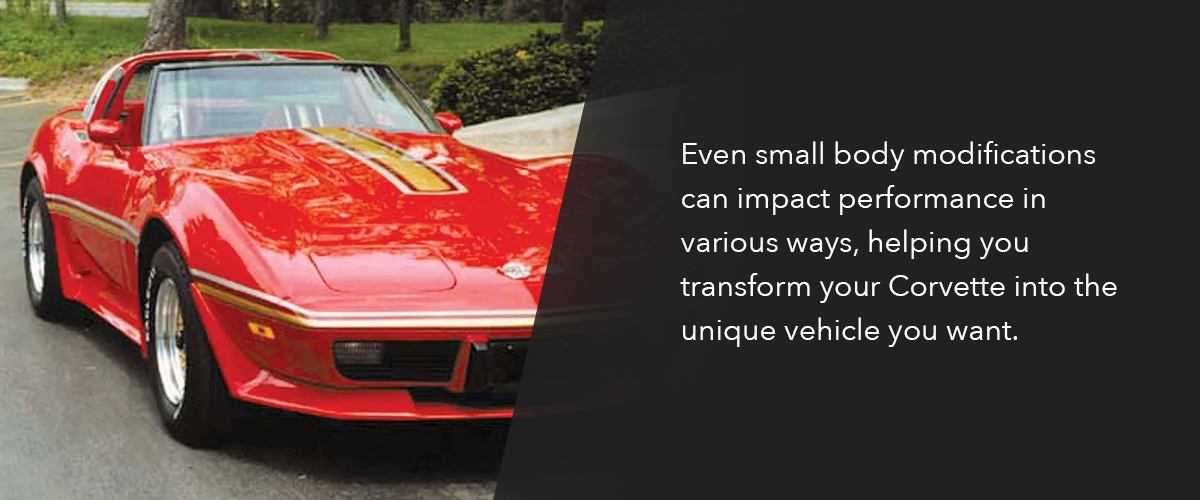 Body modifications offer some of the easiest yet most effective restomods for your C3 Corvette. C3 Corvette body mods can make your car lighter and more attractive to the eye. Even small body modifications can impact performance in various ways, helping you to transform your Corvette into the unique vehicle you want.
These body modifications will also help you honor that vintage C3, restoring it to its former glory. Here are some easy body modifications you can use on your C3:
Spoilers: Invest in new spoilers to make driving your C3 even better. New spoilers are another easy restomod idea for your C3 that can make a big difference.
Bumpers: Replace old and outdated bumpers for newer and more durable versions. If you do get hit on the roads, these bumpers will have a better chance of staying intact.
Widebody kits: Look into some widebody kits for more room to work within wheel wells and better traction out on the roads. It's a great way to improve performance without sacrificing the look that you want.
4. Instrument Panel
C3 Corvette modifications don't always have to be involved in the exterior of the vehicle. Sometimes, you might want to upgrade what's inside. A lot of the buttons and panels in your C3 are very outdated and don't offer the kind of convenience and functionality that your modern displays do. While you may be looking to keep that vintage feel with a restomod, there are ways you can still upgrade your instrument panel to experience the benefits of modern innovations.
Invest in a digital display that offers crisp, LED readings of various aspects, including a speedometer, temperature gauge and more. No more squinting or tapping the instrument panel to guess at numbers — this new display will give you everything you need while you drive. It's the customized C3 restomod that offers you many advantages while keeping your vehicle true to its roots.
If you wanted to go even further and continue to modernize your C3, you could add accessories like Bluetooth capabilities, front and rear speakers, adapters and more. With the assortment of options, the limits of modification are up to you.
5. Weatherstrip
Sometimes restomods are as simple as upgrading your vehicle's weatherstrip. Even though it may seem like a small part, upgrading your weatherstrip can provide many benefits to your C3:
Reduced noise: New weatherstrip will help you block out those annoying whistling sounds emanating from your doors. Cruise the streets in the comfortable quiet of your C3 Corvette.
Prevented leaks: Old weatherstrip is often brittle and may let water in if you're driving in the rain, leading to mildew on your vehicle's flooring. Instead, prevent those leaks with more durable and protective weatherstrip and extend the longevity of your Corvette's interior.
Temperature control: Solid weatherstrip will keep your vehicle at a constant temperature. It will seal off those small gaps in your doors and allow you to conserve energy in your C3.
6. Emblems
C3 performance mods like engine upgrades, suspension and more are effective for improving driving. Sometimes, we're looking for something simpler — small additions to our vehicle that can make a big difference.
One of these additions is vintage emblems. Add the appropriate emblems to give that classic value to your vehicle. It's a shiny, brand-new part that restores your vehicle while upgrading its appearance.
7. Keys and Locks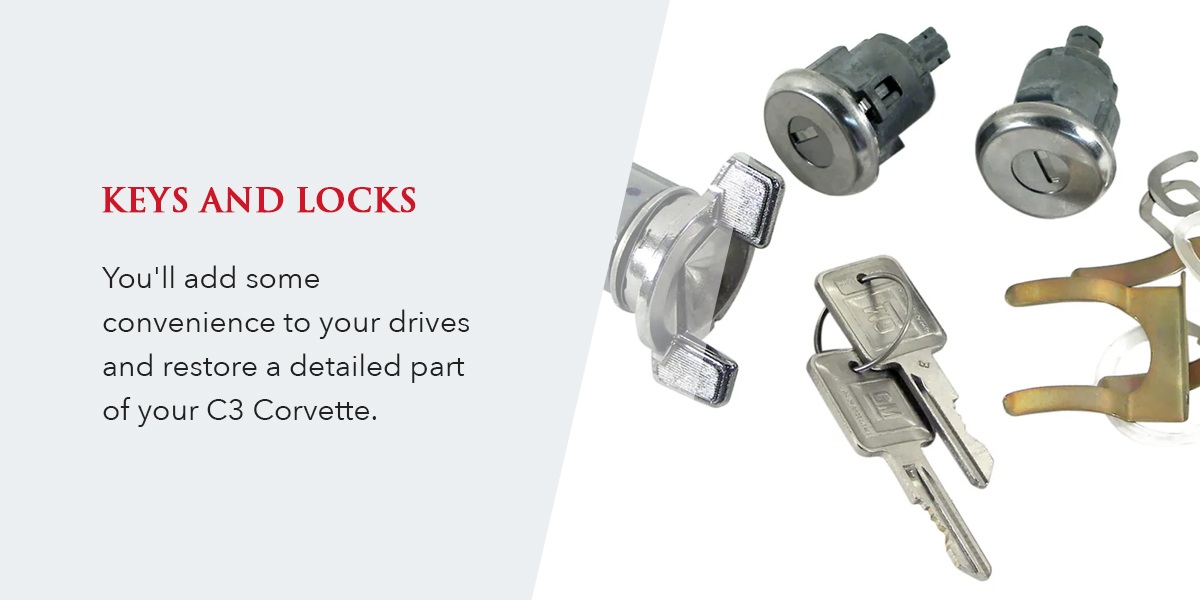 Little upgrades can make a big difference and can also save you time — no more jiggling locks or working with rusted keys. Brand-new locks and keys can offer you more convenience and ease, which are small benefits that will add up in the long run.
Keys and electric locks are one of the easiest restomod ideas out there. You'll add some convenience to your drives and restore a detailed part of your C3 Corvette.
8. Steering Wheel
Another restomod idea that you'll be sure to notice is the steering wheel. It's a part of your vehicle you use every time you drive, so it's even more important to upgrade that wheel and find something that fits what you're looking for. Finding a new steering wheel can mean you'll have better grip, comfort and maybe even better handling. Newer material will allow you to steer your C3 without having to navigate any of the deficiencies of an old steering wheel.
Depending on the look and feel you're going for, you can opt for a reproduction wheel or something a little more unique to suit your tastes. Whichever you choose, you can customize your C3 to your exact desires.
9. Seats
Though some may be focused on Corvette performance mods, you can't forget about a crucial aspect of your vehicle — comfort. If you're planning on driving your C3 for any longer than a quick cruise around town, you may be considering some upgraded seats. Those old factory seats probably don't offer the cushion that newer, more modern seating does. Like the other items on this list, upgrading your seats is a simple restomod idea that will greatly improve your experience on the road.
10. Mirrors
One last C3 Corvette restoration and modification idea is for your mirrors. Like your Corvette's lights, this is a restomod that will help improve the safety of your vehicle. It's a great investment that can make your restomod C3 Corvette look better, too. You can improve visibility and feel safer on your drives.
Along with these ideas, there are plenty of other restomod ideas to consider. Here are a few more easy restomods:
License plate frames: It's important to have those small little details of your Corvette replaced and upgraded to some newer, more durable materials. The exterior of your vehicle will be able to withstand more and you'll be proud to drive it around town, showing off to others. License plate frames are a great detail to include in your restomod process.
Armrests: Add even more comfort to your drives with some new armrests, built to look and fit the unique interior of your C3 Corvette.
Grille: Your grille is another important piece of your vehicle that people look at as you drive by. Getting a new grille on the front of your vehicle could be the upgrade you need to restore your C3 and bring it up to high standards.
There are so many different restomod options to choose from. It can help to narrow down your options and figure out which upgrades you need most.
Choosing the Right Restomods for Your C3 Corvette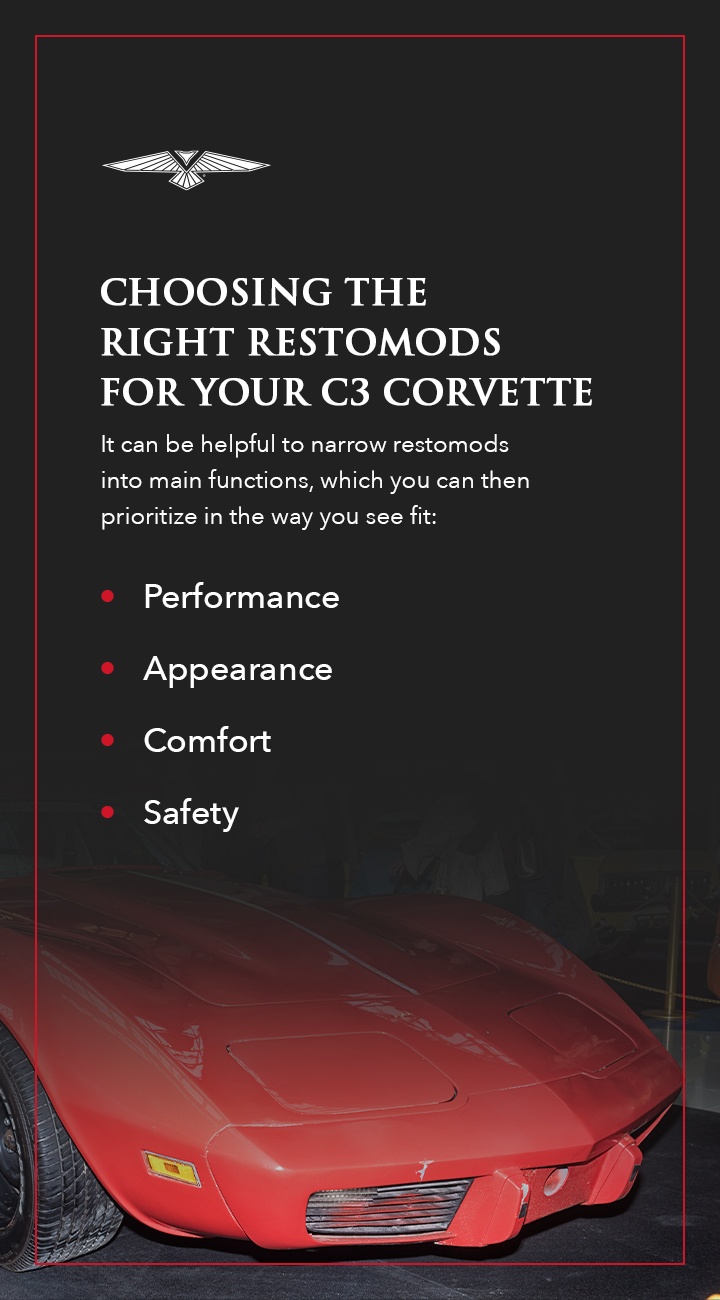 There is a lot to think about when it comes to restomods for your C3 Corvette. From interior upgrades like upholstery to more functional aspects like the engine, there is a lot to keep in mind. Some of these restomod Corvette ideas will depend on the time you have for your project or how far you're willing to go to modernize your vehicle. In general, it can be helpful to narrow restomods into main functions, which you can then prioritize in the way you see fit:
Performance: Restomods that involve rehauling the engine would fall under the category of performance. This could also include body kits and any parts that are designed to help you boost the performance of your Corvette. For many people, their main goal when they start the restomod process is to bring their vehicle up to the performance standards of today's cars. C3 Corvette performance mods are an effective way to do this.
Appearance: Others may be focused on how the C3 actually looks. This could mean restoring parts of the body and making it look brand-new again. This could also include parts in the interior such as the instrument panel, which could be upgraded to a digital, LED display.
Comfort: Another major reason for C3 Corvette mods is comfort. Many people want to do more than just admire their C3 — they actually want to drive it for long distances. Upgraded seats, seat foam, armrests and steering wheels will help offer comfort and convenience, which are essential for both long and casual drives.
Safety: The final main function of restomods is safety. Older vehicles don't have the regulations and features that make them as safe as cars today, so it's helpful to include those new safety features — such as LED lights — to protect you while you drive.
Some people may prioritize one function over another. What's important is to determine the function you find most crucial to your restomod and target that during the process. It's entirely possible to focus on various aspects and even all of these functions, too — comprehensive restomods can be some of the most fulfilling projects you do. You can transform your classic C3 Corvette into a vehicle that still retains its original beauty.
How Top Flight Automotive Can Help
When you decide to start your C3 Corvette restomod project, you may be wondering where to find all of the parts that you need. It can be challenging going from one seller to another to buy individual parts. Instead, you can look for a one-stop shop that offers you all the parts you need in one place.
Top Flight Automotive is the company you're looking for! We carry a huge selection of C3 Corvette parts ranging from floor carpets to engine parts. With such a huge selection, you're bound to find what you need in the Top Flight Automotive store.
Shop Online Today
When you undertake a restomod process, it helps to have a little help on your side from an experienced team. The experts at Top Flight Automotive are ready to help you find what you're looking for. With over 175 years of combined experience, we can help you answer technical questions and make your restomod process go smoothly.
Shop our store, talk to our Corvette experts and enjoy the convenience of one shop where you can find everything you need. It's the easy solution to make your restomod project successful. We'll help bring your vision for your Corvette to life. Shop online today!