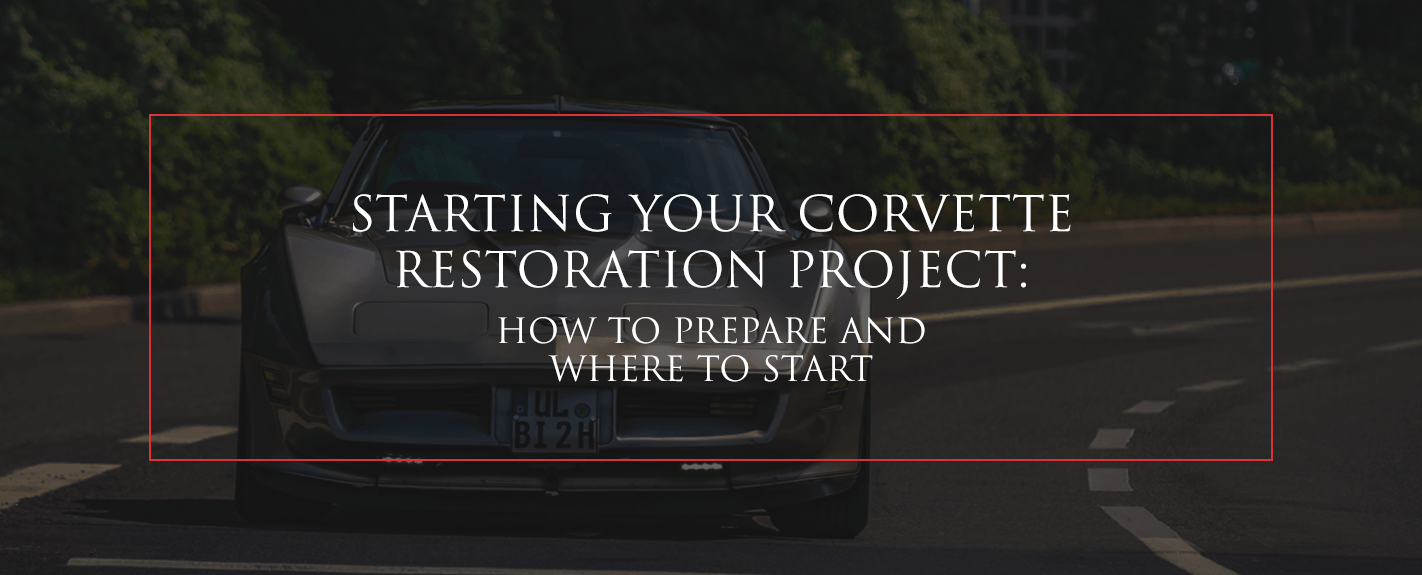 Restoring a classic Corvette often starts as a hobby or stems from a sense of nostalgia, but always ends as a passion. Customizing an early generation Corvette can give you an overwhelming sense of satisfaction — whether you've had the classic since the beginning or you recently bought one.
Top Flight Automotive will help you learn how to restore an old Corvette and get your classic car back to looking, sounding and driving like new.
Planning Your New Corvette Restoration Project
Restoration projects are exciting, especially when you're working with one of America's greatest sports cars. While the finished product will leave you with a sense of accomplishment and pride in showing off your hard work, there are a few steps you may want to consider beforehand.
Preparing your Corvette for restoration includes five main phases:
A true classic deserves the right amount of attention and preparation to achieve remarkable results.
1. Planning Your Project
Planning involves writing down your goals, as well as what is needed to complete the project.
Ownership vs. buying: Do you already own a classic Corvette, or do you need to buy one for your project? It's important to build your preparation and budget around what you have available.
Car usage: Think about how often you'll drive your Corvette. Will you use it daily for work, errands or road trips? In that case, a newer generation may be your best bet because it will have better gas mileage and won't require custom parts. Maybe you are more passionate about showcasing your Corvette in shows or taking the occasional Sunday drive and prefer an earlier model.
Interests: Do you want a Corvette with power, performance, unique bodywork or a classic interior? Or is model rarity more of an interest to you? Each classic has definitive characteristics that may intrigue you more than others.
Workspace: Do you have adequate space to conduct your restoration project? If not, think about renting out a garage or shop.
One of the best aspects of a DIY restoration is the ability to create anything you want. What type are you looking to complete?
An authentic restoration: Restore the Corvette to its original look.
A restomod: A variation that combines the authentic look of the car with modern upgrades.
A complete makeover: The option to pick and choose what features you want.
Once you know the direction of your project, consider how much your car is worth.
If you're on the hunt for the right sports car, make sure to proceed with diligent research before making a deal. It can be the difference between a poor investment and the perfect one for your venture.
Inspect the car to ensure there is some value to it, whether it has all its original parts or is a rare find. You will also want to restore a classic Corvette that results in a high return on investment — be careful not to invest in one where restoration will devalue it.
The right restoration project will boost the value of the car and leave you with a stylish classic to enjoy for years.
2. What Is Your Budget?
It's smart to budget how much you can expect to spend on a classic restoration. Calculate how much your restorations will cost, including the purchase of a car if necessary. Are you interested in full renewal, restomod or complete redo?
While the budget relates to the extent of your project, it also deals with the car's rarity and condition.
The rarer the model, the more you'll need to spend. For example, early Corvettes from the C1 or C2 generation and any racing model are scarce finds. It also depends on the condition of the Corvette. Does it need a full restoration or a few new parts? Older generations often necessitate custom parts, costing you more money, but giving you an iconic car.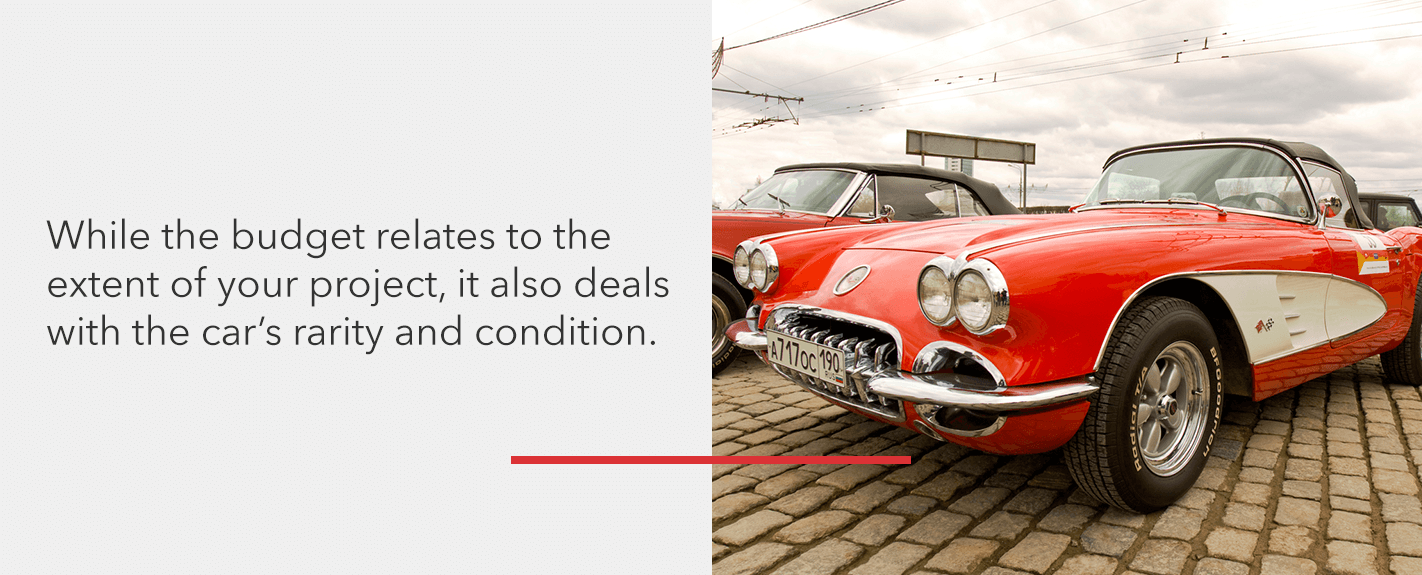 You can narrow it down even further and consider each component that needs restoring, such as:
You may have an easier job if your Corvette is already in excellent condition. When you're forming a budget, think about the overall process and various components involved, including:
If you're not a restoration expert, you will likely need several pieces of equipment beyond what you already have. Will you buy or rent the necessary tools?
Next, predict how much time it will take you to prepare and finish the project. It will help give you an idea of how to allocate your money over time.
Staying within a budget can be tricky, so here are five tips:
Be a smart shopper and buy tested and OE approved parts.
Complete as much work yourself as you can, but trust experts if you don't have the right skill set or equipment.
Buy parts as you work your way through each step and not too far ahead of time.
Record all your expenses.
Understand the level of restoration you're trying to accomplish.
Remaining on a budget means you should have a reasonable plan that you can stick to. Be patient — rushing the process may take even longer and cost you more.
3. Consider Full-Coverage Insurance
You don't want to take the risk of something happening to your pride and joy after months, or even years, of dedicated restoration. Consider full-coverage insurance to protect your entire investment. If you have a classic car, its coverage will often cost less compared to the average car because they spend less time on the road. However, there can be some insurance limits with a classic, such as mileage and parking restrictions.
You can work with a specialty agency or a more popular group of insurers. If you choose to work with a specialty, they often offer customized policies for restoration enthusiasts. Make sure to find the best plan that covers what you're searching for and get quotes from different companies.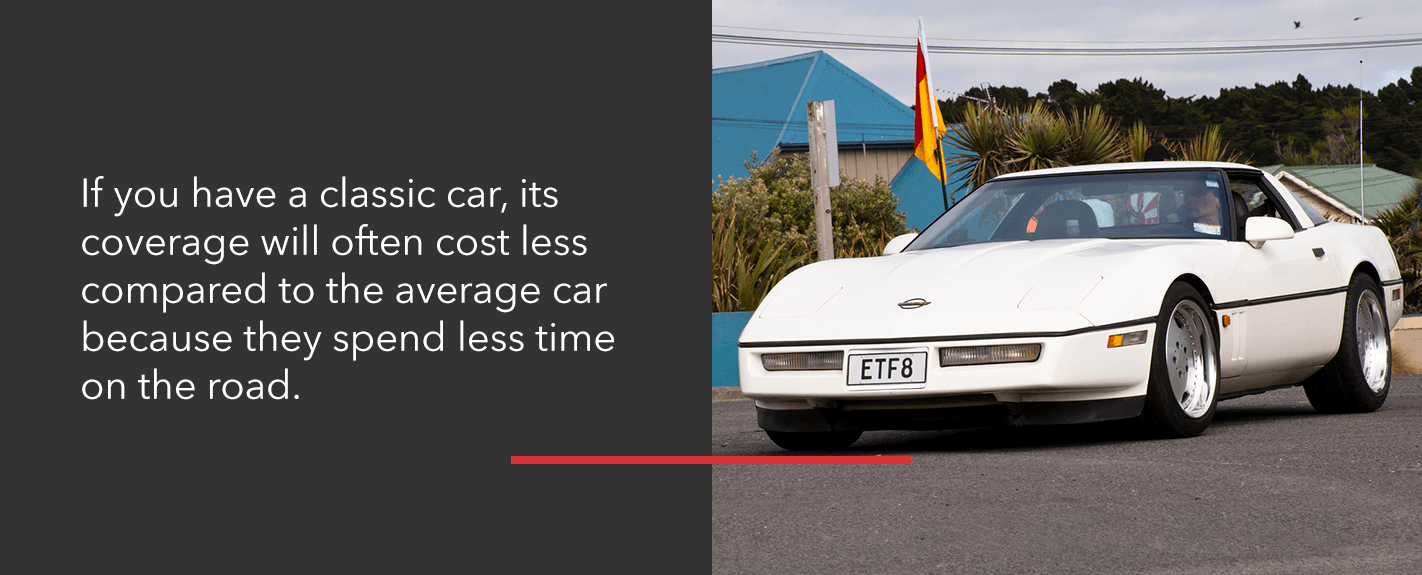 How you use the classic will also be a determining factor in what coverage is best — which is why it's essential to figure out your goals. Many insurance companies have requirements and qualifications for classic car insurance, such as:
How old is the car?
What condition is it in?
How do you use it?
What's your storage plan?
Qualifications as a driver include:
Experience and age
Driving record
The use of an extra car
Even when you find the right company to work with, it can still be a challenge to find the actual insurance plan. Key features to consider for your classic Corvette are agreed value, restoration and parts. Many insurance companies also provide discounts for your classic. Inquire whether the following rebates apply as you shop:
Anti-theft devices
Fewer miles
Higher deductible
More than one vehicle or policy
Safe driving course
Winter storage
The right insurance plan will protect your beloved sports car, keeping your investment intact.
4. How Does Maintenance Affect Your DIY?
Maintenance is crucial for any vehicle you own, but it may be even more critical for classics to keep them running at top performance levels. Regular and preventative upkeep sustains or increases the longevity and reliability of your Corvette. doing small repairs now will help avoid more severe and expensive damages in the future.
If you can handle the maintenance on your classic Corvette, find a company that has all the necessary parts, components and accessories for your restoration and future maintenance. It's best to partner with a reliable vendor when you demand exact solutions.
During maintenance, refer to the manufacturer's manual. Standard upkeep procedures involve:
Changing the oil filter when necessary.
Checking the tire pressure.
Filling and changing fluids like the brake, transmission, power steering and coolant.
Inspecting the tires.
Looking for leaks and damage.
Topping off and changing the oil.
Watching for worn treads and cracks.
When your Corvette requires more maintenance and repair than what you can service, find a shop that can. Check out their past projects and references from others who have used that business. You can also partner with an experienced mechanic who knows the ins and outs of older generation Corvette models.
Sticking to a maintenance plan doesn't stop after you restore your Corvette. It's an ongoing process to keep the life and performance of your vehicle up to standard.
5. Your Storage Options
If you want your C3 Stingray or C4 Corvette to last through the years, proper storage is key. Regular storage vs. long-term storage depends on the length of time you'll be putting away your sports car.
Regular use of your restored car will require typical storing techniques like a temperature-regulated space with concrete floors. If you can't regulate the temperature of your garage, at least be wary of the area's humidity levels and invest in a dehumidifier if necessary. It will help reduce the potential for rust and mildew. You can also crack a few windows to prevent mold.
If stowing your Corvette outside is the only option, use a car cover to keep it from the elements. Make sure it's on concrete or even wooden planks because tires left in the grass can begin to dry rot quicker than expected.
Storing your classic will help protect the quality of the paint and prevent extensive damage to the vehicle.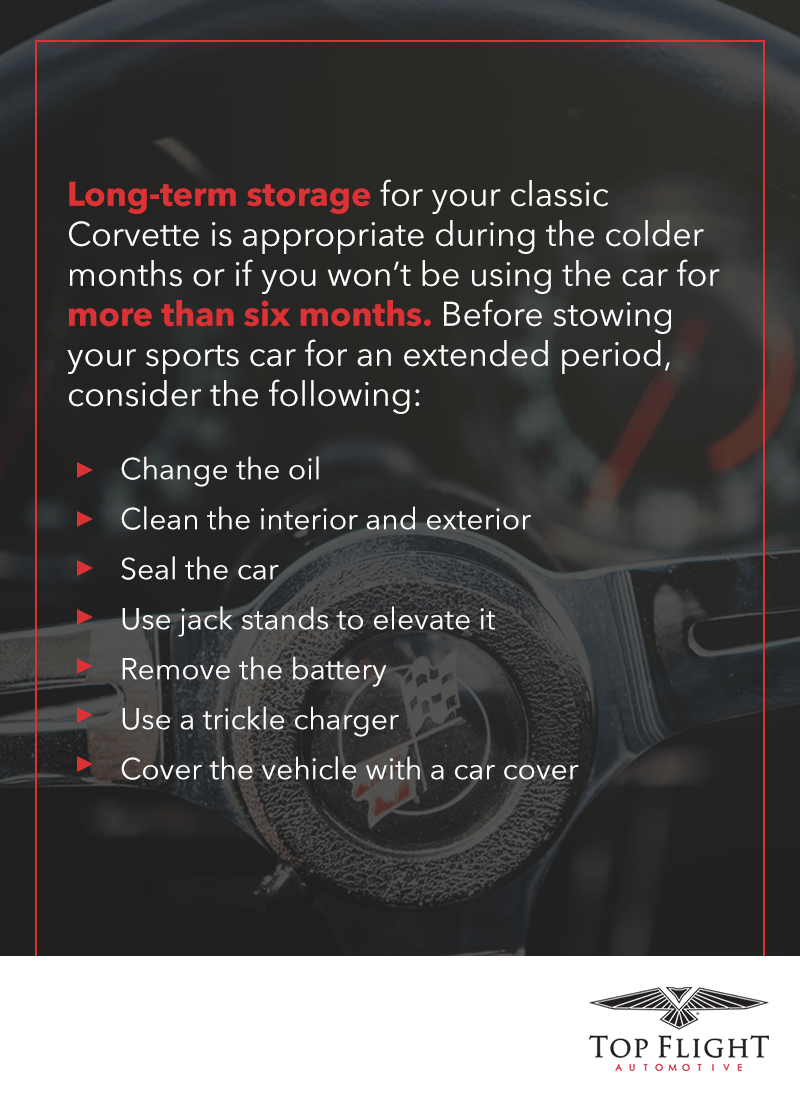 Long-term storage is appropriate during the colder months or if you won't be using the car for more than six months. Before stowing your sports car for an extended period, do the following:
Change the oil.
Clean the interior and exterior and seal the car.
Use jack stands to elevate it.
Remove the battery and use a trickle charger.
Cover the vehicle with a car cover.
Swap the oil to keep the old fluid from eating away at the tank. Cleaning your car before you stow it away will help prevent damage. Sealing the car will help prevent insects and rodents from burrowing inside, and elevating the Corvette helps take unnecessary pressure off the tires.
You will also want to remove the battery. Using a trickle charger will keep it charged without overcharging, so you'll be ready to hit the pavement when the time comes. Finally, covering the Corvette will prevent a layer of dust from forming while keeping your sports car away from the elements.
How to Restore an Old Corvette
Restoring an old Corvette, whether it's a C1 original, a newer C5 or any model in between, depends on the extent of your project, condition of the car and type of restoration.
If you have all the right skills, you can complete the entire restoration project alone. If not, you can invest in different classes to help you know the ins and outs. For example, learning how to restore a C2 Corvette may require you to weld or work with metal. You can also rely on the experts for help when you don't have the specific know-how for particular stages.
Before you start reviving your classic to its glory days, you'll want to examine the Corvette in detail. Some sports cars may look dazzling on the outside, but inevitably, they will need some level of repair. Look at the engine, fenders, tires, interior, suspension, paint job and every other component.
Determine whether the Corvette has original or aftermarket parts, or both. Check the VIN and ensure it matches the car you have, too. Then, determine which portions require the most attention.
Two common problems with older cars are their rusted bodywork and chipped paint. While refurbishing the body of a sports car may be the most labor-intensive, you should dive right in. Restoring and rebuilding the body panels is one of the main steps of any DIY.
If you want to know how to restore a C3 Corvette or another classic, here are the necessary seven steps:
Disassemble your Corvette.
Inspect and repair the frame.
Rebuild the drivetrain from the engine and transmission to the rear differential.
Reconstruct the front and rear suspensions.
Remove the paint and repair the body.
Restore the interior.
Complete paint job.
Restoring your classic Corvette may take several months to several years to complete, but is always worth it in the end.
Restore Your Classic Corvette With the Right Parts
Top Flight Automotive is ready to help restore your sports car from the start of preparation to its final touches. We offer an extensive selection of custom and factory Corvette parts that meet or exceed the original specifications. Many of our solutions are also OE licensed after a rigorous approval process. We have more than 40 years of Corvette experience and are part of the Extra Mile Brands family of companies.
Shop Our Online Store By Corvette Generation:
Browse our superior parts selection or visit our product pages to find what you need. You can also reach out to one of our experienced sales reps for further support. Our experts at Top Flight Automotive have built a tremendous reputation in the aftermarket industry and are ready to help you find the perfect products for your restoration project.