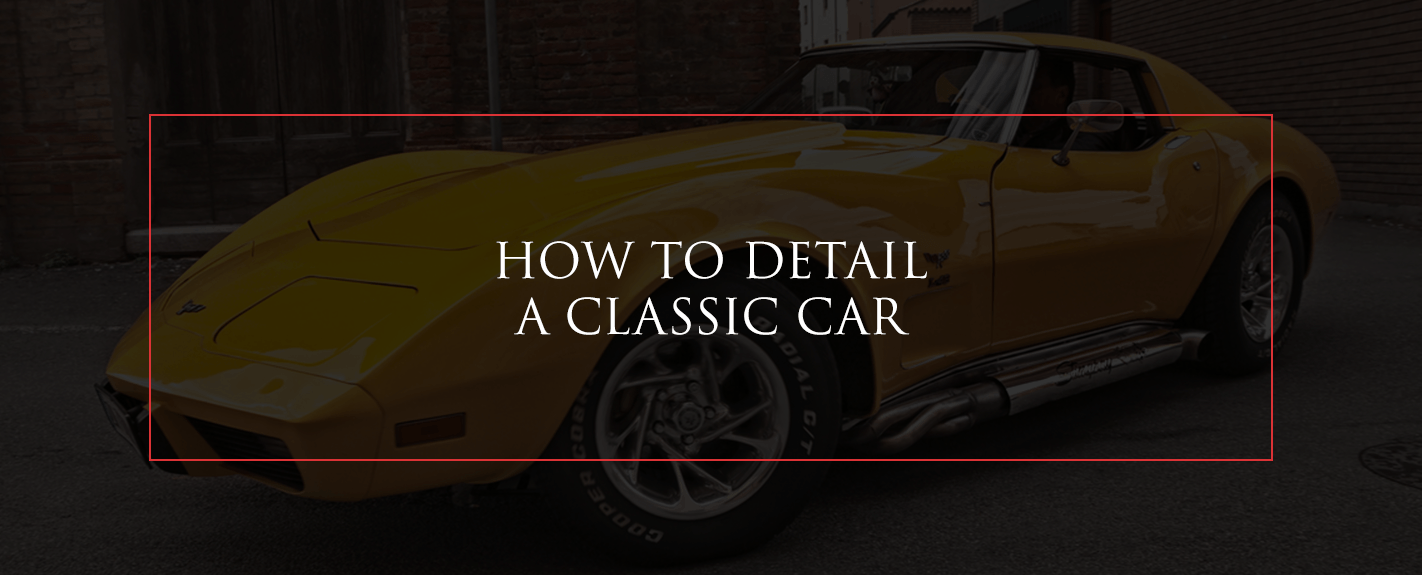 Cleaning a classic car isn't like cleaning a regular vehicle. You need to wash your classic with attention to detail and, in many cases, specialized materials designed with preservation in mind. Using the wrong tools or techniques to clean a classic car can result in costly damage that can be challenging to have repaired. You also need to be aware of rust, which is more of a prominent issue with older cars. Here are five steps for how to detail a classic car the right way.
1. Learn General Car Detailing Tips
First, you need to get an idea of overall steps to follow when detailing a classic car. These three are tips you don't want to forget.
Handwash Only
Detailing always starts with a wash, and with a classic car, you should only do it by hand. Taking your car to a machine wash is not only ineffective, but it also puts you in danger of damage, scratches and unsightly swirling.
Stay in the Shade
The sun is the enemy of car washing and detailing. Heat from the sun can cause soap and water to evaporate faster, which will leave your paint streaky and spotted. The same goes for classic car detailing products and supplies you use on the interior, especially if you're doing convertible Mustang detailing or working on another car with the top down.
Wash From Top to Bottom
Always start at the top of the car and work your way down to the bottom, for both interior and exterior detailing. This technique will help you avoid spreading grime or other contaminants upward.
2. Inspect the Whole Vehicle
Before beginning, give your classic a once-over. Check for any dents, dings or scratches in the exterior paint and any imperfections in the upholstery. You don't want to find out later that there is a scratch and have to wonder if you caused it yourself during the detailing process. An inspection will also reveal any areas that need special attention.
3. Start With the Interior
Detailing car interiors always starts with picking up debris and conducting a thorough vacuum, but there's so much more you can do to restore your interior to perfection.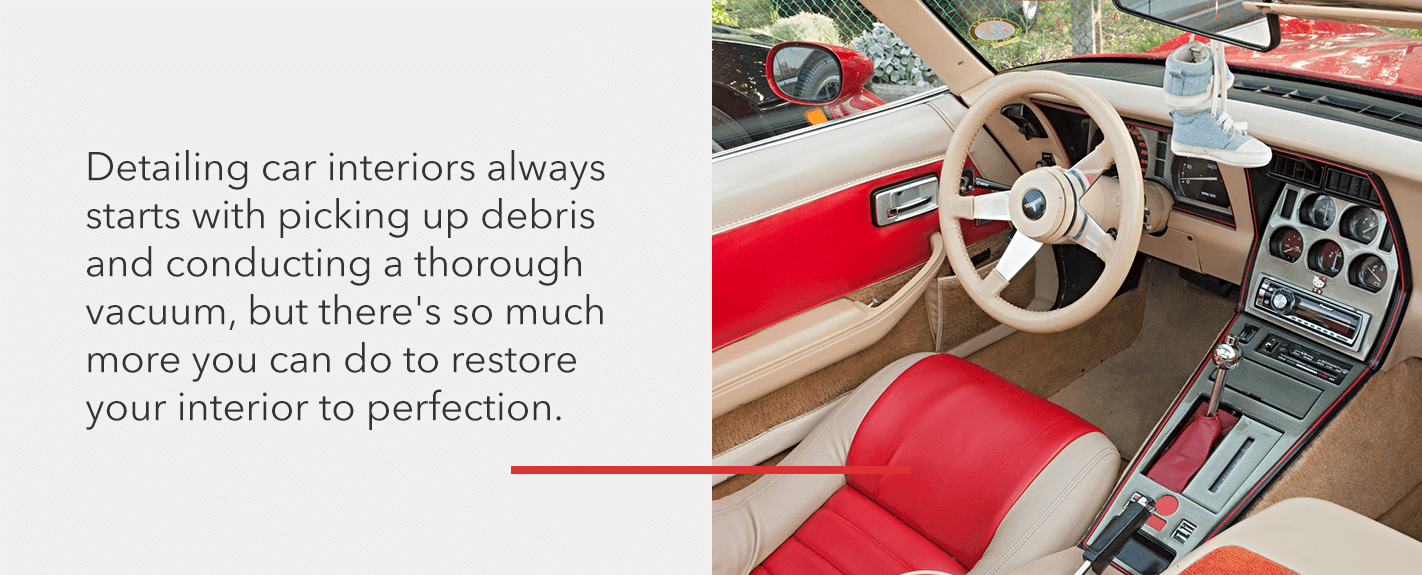 Carpet
After your initial vacuum, use a foaming upholstery cleaner to clean the carpet, about one square foot at a time. Once that has dried, vacuum again to remove residue the cleaner may have left behind. If you wish, you can maximize your carpet's fluff by spraying it with compressed air.
Vinyl and Leather Surfaces
When cleaning seats that are a combination of leather and vinyl, it's best to use an upholstery attachment for your vacuum to ensure you don't accidentally damage the leather. After vacuuming, you can spray on a leather seat cleaner and wipe it off with a soft cloth to help preserve the material. Always dry off any excess moisture afterward.
Fabric Surfaces
Fabric preservation is another essential in classic car detailing. You can use a regular vacuum attachment to prep your cloth seats, and use a specialized cleaner to remove any stains that are present. Out of synthetic detergents, neutral soaps and volatile cleaners, the latter is the most solvent and protective of fabric coloration. Be sure to choose one specifically designed for detailing a classic car.
Polyurethane
If your car has polyurethane trim, detergent powder and water will do the trick for cleaning it. If any grease or sealers have soiled the polyurethane, be sure to cover them in suds to facilitate the breakup of dirt. After a short soak, you can dip a cloth into your upholstery cleaner to clean the suds away. Then, you may choose to repeat the process once more or move on to the final step of rinsing with clean water and a sponge.
4. Move to the Exterior
Once your interior is fresh and clean, you can progress to the exterior. Washing is a critical part of detailing a classic car, so you want to make sure you preserve the paint by using soft cotton chenille or sheepskin washing mitts to avoid leaving any marks.
Using the right soap can make the difference between a long-lasting gleam and a dull, lifeless look for your paint job. Avoid dish soap at all costs. The best option is to look specifically for automotive carwash soap that is foamy and thick to keep the paint shining.
After you've lathered up the vehicle and rinsed it off, be sure to dry the car thoroughly to prevent rusting. Use a clean towel, since dirt or other debris can cause scratches. You will likely need to use more than one towel to get the job done right.
5. Apply Finishing Touches
Follow these steps to get a long-lasting shine and luster to your vehicle's exterior.
Use a Clay Bar
Run a finger along a section of paint after the car is dry. Does it feel gritty or rough? If so, a clay bar can help you smooth the paint out and remove other contaminants the wash missed. Don't forget to spray detailing lubricant before going to work with the clay bar.
Wax
Waxing isn't a necessity every time you drive the car, but it should be part of a full detail, and something you do at least every six weeks if you drive the vehicle regularly. Wax is one of the essential classic car detailing products, and will keep your paint gleaming while protecting it from UV damage and other environmental factors.
Polish Your Chrome
Glittering chrome is a point of pride for many classic car owners, but you can only preserve it if you take the time to polish it. Be sure to avoid chrome details on the vehicle body while you're waxing, so you can polish the chrome with a cleaning product specially designed to help preserve its luster.
Use Tire Conditioner
Slick black tires complete the eye-catching look of a classic car. Protecting those tires from early aging is as straightforward as applying a tire conditioner after your wash. You can wipe or rub on some tire conditioners, while others are a simple spray application.
Treat Your Classic Right With Products From Top Flight Automotive
Top Flight Automotive is your source for parts and accessories for the most popular brands of classic, vintage and sports cars. We offer everything from weatherstripping to wiring, making restoration and repair easier on you. Whether you're doing simple Mustang or Corvette detailing or gearing up for a major project, the experts at Top Flight Automotive are eager to help you find the information and products you need. Give Top Flight Automotive a call at 833-486-7354 for more information.