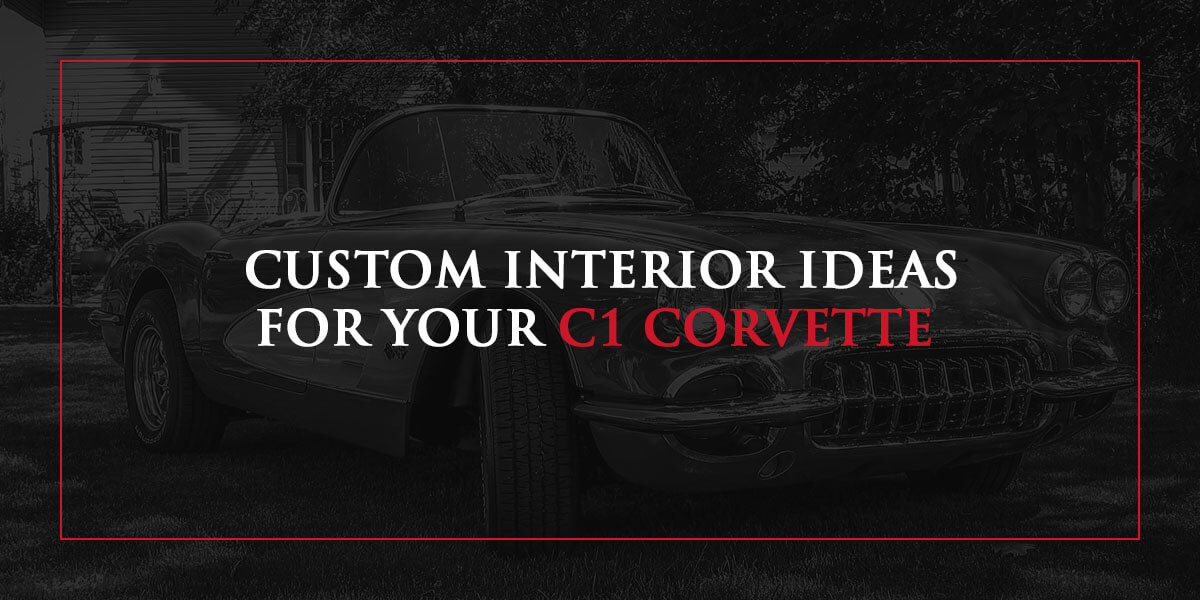 The C1 Corvette is one of the most historically iconic cars ever. It's a generation that spawned decades of success and countless models, highlighting the birth of a vehicle that would soon become an American classic.
Its unique design blended elegance with performance, adding durability to the usually fragile skeleton of the other European sports cars of the era. Though the exterior design was interesting, the luxurious C1 Corvette interior was another major draw. Featuring a distinctive dashboard paired with vibrant seating, it created a special experience for anyone sitting inside.
If you own a C1 Corvette, you might be looking to upgrade your Corvette interior design or refit it to look brand new again. With a car that holds so much history, it's a great investment to make.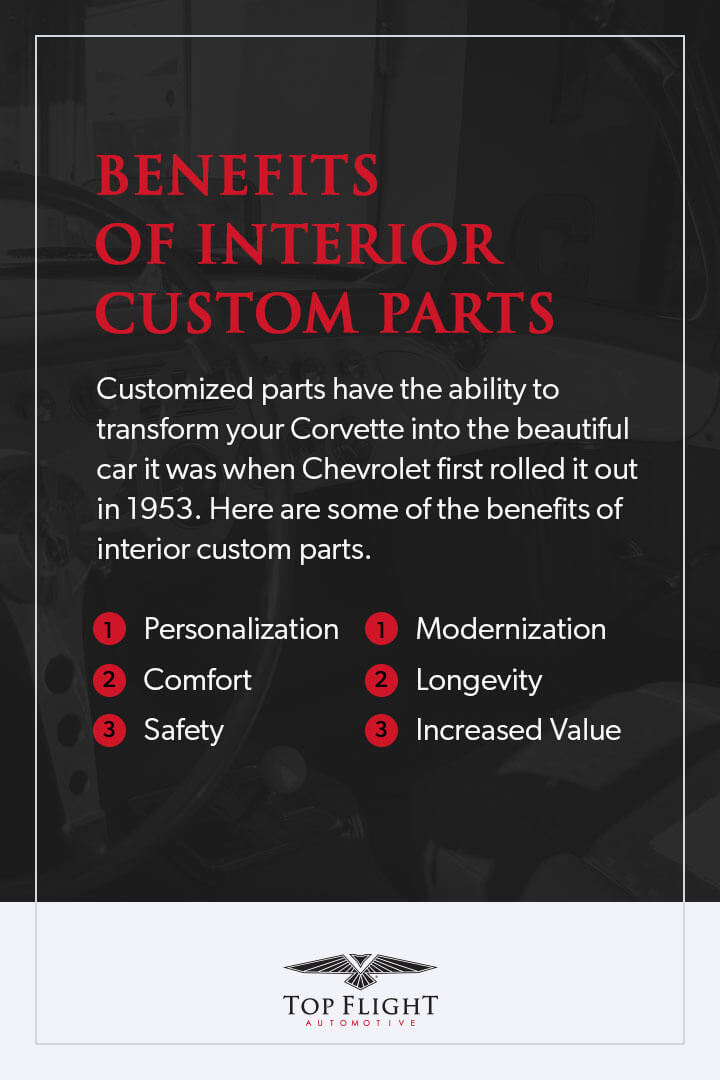 Benefits of Interior Custom Parts
From added comfort to boosting the value of your vehicle, there are many benefits to customizing your Corvette's interior. There's a wide range of C1 Corvette parts on the market, so you're bound to find something that will suit your needs.
Customized parts have the ability to transform your Corvette into the beautiful car it was when Chevrolet first rolled it out in 1953. Here are some of the benefits of interior custom parts.
Personalization
Whether it's seat colors or dashboard configuration, custom interior parts allow you to completely personalize your Corvette the way you want. You can replicate a previous model or get the customizations that suit your tastes, crafting a design that reflects who you are.
Comfort
Old materials can start to stiffen and become outdated. After decades of time, they probably don't offer the same stability and luxuriousness they once did, and this could start to deter you from taking longer drives.
With upgraded upholstery and seat foam, you can gain the comfort you're looking for in your C1 Corvette. The driving experience will become even better with soft interior materials. Replace flimsy armrests and more with parts for custom interiors, and you can start enjoying those long drives in your C1 Corvette.
Safety
Custom parts for Corvette interiors can help with safety. You might be replacing the grip on your steering wheel or fixing some malfunctioning dashboard gadgets — all of these replacements will help improve the driving experience and allow you to do the things you're supposed to be doing while you drive, like focusing on the road. You can drive freely knowing you won't have to adapt to any aging materials. Instead, you can upgrade to replace them like new.
Modernization
While you'll probably want to keep your C1 looking like its iconic self, some custom parts can help modernize your vehicle. A classic car has the ability to look new — you just have to find the right parts to restore it to its iconic look. Investing in some interior custom parts lets you do this, whether that's replacing fading materials or putting down some new carpeting.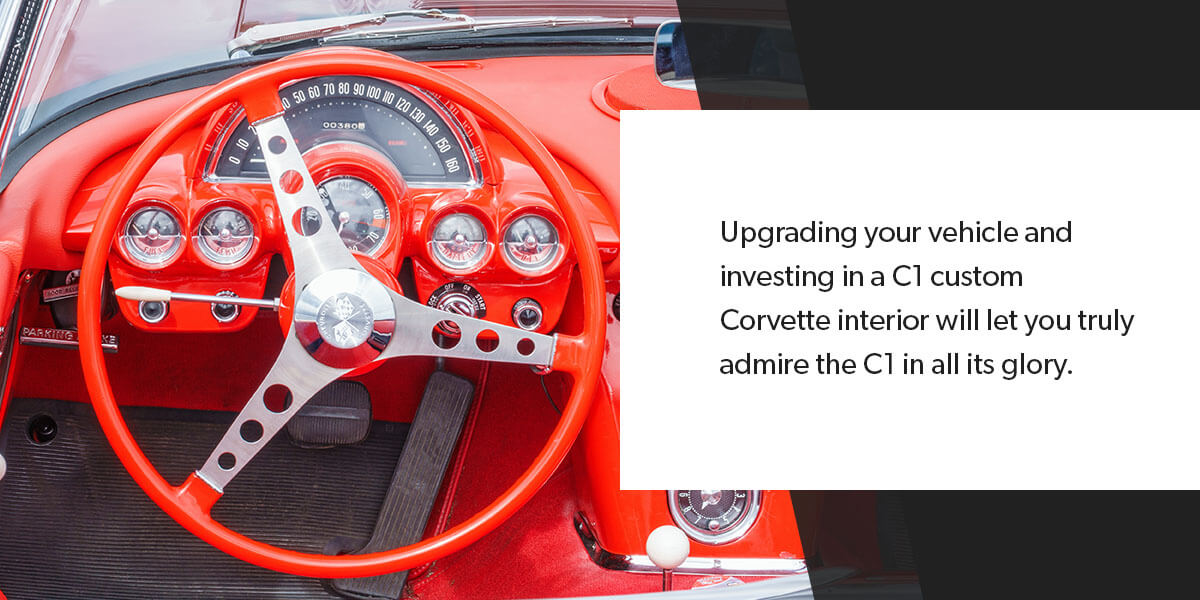 After more than half a century of wear, your C1 is bound to have some weathered parts. Upgrading your vehicle and investing in a C1 custom Corvette interior will let you truly admire the C1 in all its glory.
Longevity
Buying quality custom parts has another added benefit that will help you in the future — it can help extend the life of your Corvette. With a shining, vibrant interior, you'll have the motivation to keep it in great condition and cherish it. Rather than letting it age and fade year after year, you'll take an actionable step towards returning it to what it once was, immortalizing the vehicle and keeping it alive for you and others to always enjoy.
Increased Value
There are thousands of classic Corvette collectors out there, looking for various models and generations. The C1 — being the first generation of "America's sports car" — is highly sought-after by car enthusiasts everywhere. Using some custom interior parts to emphasize that C1 design might also help to attract potential buyers.
If you are looking to sell at some point, using some custom parts could significantly boost your car's value. Those looking for a C1 model might be impressed by its upgraded, fresh appearance, while others may simply be taken with its classic-looking upholstery and vintage style. Either way, you'll be putting some investment back into your vehicle and making it even more attractive for those looking to buy.
Custom Interior Ideas for Your C1 Corvette
When it comes to C1 Corvette interiors, there are many different ways you can customize and upgrade. You could be looking for more functional parts or just want to add some comfort — whatever you're searching for, it's important to look at some interior ideas for cars before you make a final decision.
This brief list can help you get a good idea of what you might need.
Revamp Seats
The interior colors of the C1 were some of the most identifiable features of the vehicle — those sporty red seats gave the Corvette an energized feel that set it apart from other cars. You can update your C1 with reproduction vinyl seat covers to give it that vibrant red once again.
Upgrade Carpet
A vehicle's carpet is one of the first interior parts that starts to show age — your shoes can easily track in dirt and debris. You may even vacuum regularly and take the necessary precautions, but you're still seeing those lasting stains. After years, this is perfectly normal — it may just mean you need some updated Corvette carpeting. This gives you a great chance to find a quality piece of custom carpeting that will allow you to add some character to your car.
For example, Red Daytona 1958 Corvette carpet is an excellent choice. The precut pieces with foam backing, heel pads and binding, heighten comfort while also giving the Corvette that classic color it's known for. It makes a great addition to a C1 Corvette and can help you make the interior even better.
In one move, you can make your classic Corvette look new again, add value and increase your own satisfaction with your vehicle.
Replace Armrests
Though we might not think about them much, armrests are an important part of your vehicle. They give you support and a place to rest your elbows for those longer drives. It might be only when they stop functioning correctly that we notice how much we use them! In older vehicles, they might lack the sturdiness they once had or have started to fade or crack with age.
It's simple to remedy — just find your own customized Corvette armrests for your model and start gaining some of that luxurious comfort back. Armrests are about even more than comfort — they also add character to a car with subtle design. With both design and comfort to be gained, getting some customized armrests for your C1 Corvette is a great idea.
Add New Steering Wheel
Another custom part that improves both safety and design is your steering wheel. After a while, the grip starts to wear down, which could impact your driving. Investing in a new steering wheel will help get back that fresh, classic aesthetic and keep you safer on the roads.
Find your very own steering wheel base and add some other customized Corvette interior parts to start putting together your personalized vehicle.
Modernize Driver Controls
With classic cars, you're probably frequently looking at small fixes, many of which fall under the driver control category. You might be looking for something as simple as a customized option of a windshield wiper knob with a button, or you might be searching for something a bit more involved.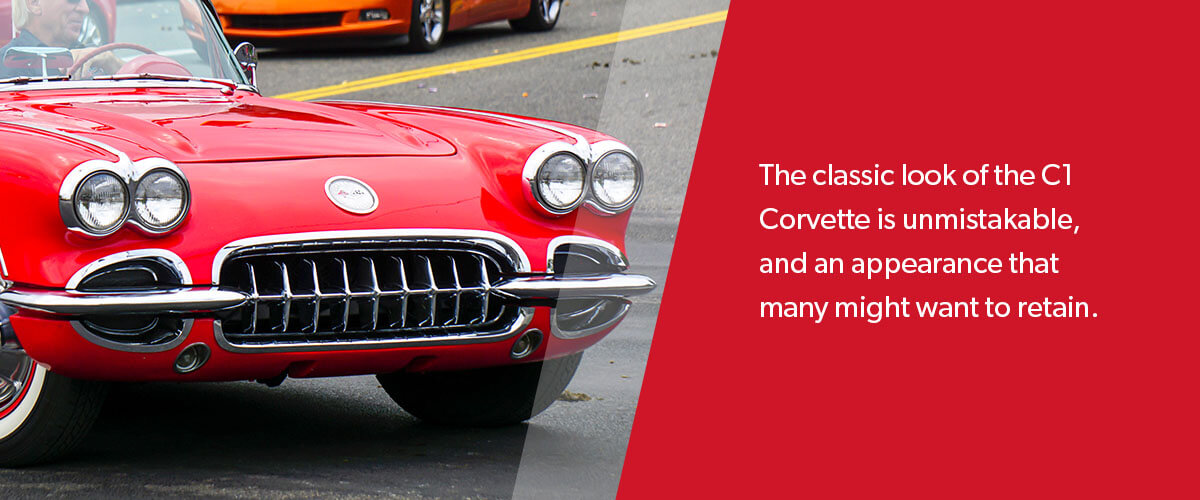 The classic look of the C1 Corvette is unmistakable, and an appearance that many might want to retain. That appearance can also have its drawbacks, with the old-style display that makes it more challenging to read compared to the modern, innovative vehicles of today. The ideal solution could be a display that still has the appearance of the classic C1 with the performance of a newer digital display.
A Dakota Digital Corvette Instrument System retains the classic appearance while upgrading visibility and functionality. It's the perfect customization for those who love the classic look yet want to add some modernization to make the driving experience even better.
Invest in Weatherstrip
Customized weatherstrip is an easy way to bring your C1 Corvette up to standards. You'll be able to protect your Corvette's interior while also blocking out some excess noise in your doors. If you're looking to extend the longevity of your Corvette's interior, weatherstrip is an ideal option.
Consider Accessories
To round out your custom interior project, you can choose from a number of other, smaller, equally important accessories, such as dash clocks and various tools that can aid you while driving and also add to the classic C1 look. Here are a few customizable parts you may want to consider:
Sometimes you just want to revamp the entire instrument lens set for convenience. There's an option for this as well, with various gauges and faces included all in one set.
With all of these ideas for your Corvette interior, you're likely ready to start browsing through some quality products. Work with one central provider who you know you can trust to offer the largest product portfolio of Corvette parts and be there to help you find exactly what you need.
Choosing Top Flight Automotive for Your C1 Chevrolet Interior Parts
Sometimes it can be challenging to find the right place to find quality parts for your C1 Corvette. You might be able to find some parts from one buyer and some from another, but that scattered process is often time-consuming. Instead, you could seek out a trusted dealer who can give you a vast selection to choose from.
Top Flight Automotive is the perfect place to find your C1 Corvette interior parts. We're the largest manufacturer of Corvette parts anywhere, boasting a huge portfolio and parts that are engineered to meet or exceed their original specifications. With decades upon decades of experience in the Corvette community, our sales staff is happy to help you through the shopping process and find the perfect interior Corvette parts for your project.
When you shop with us, you get several benefits, including:
Convenience: We're a one-stop shop for your Corvette interior parts. Shop, order and we'll send your part to your doorstep. It's the convenient and easy way to start off your Corvette interior design project the right way.
Speed: For the majority of orders we offer same-day shipping, with daily overseas shipping that ensures you'll get your parts in a timely manner.
Expertise: Our team has many years of combined experience, and they're eager to help you find what you're looking for and answer any questions you might have. We have valuable information that can help your interior Corvette design process go the way you want.
Discounts: The more you shop with us, the more we'll give back to you, offering discounts and various benefits that will keep you coming back. At Top Flight Automotive, we strive to reward customer loyalty as much as we can.
Quality: All of our parts are engineered with quality in mind. One of our primary goals is to satisfy our customers with quality parts that are lasting and durable. Our products go through a rigorous approval process to make sure they're up to exact specifications.
From customized carpets to driver controls, we have specific parts that match the generation and year of your Corvette. You won't have to go on a hunt just to find one item — instead, easily browse our inventory for your specific vehicle and find the product to match your Corvette custom interior design.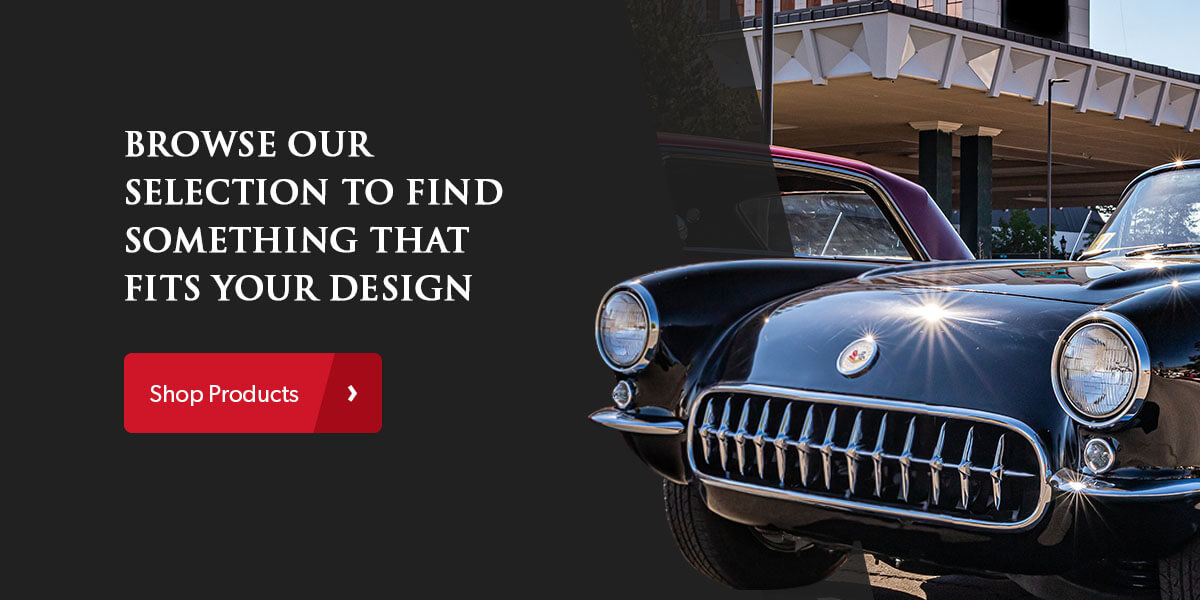 Contact Us Today
With all of these Corvette interior ideas at your disposal, your next step might be to start shopping for the right parts for you. It's not easy searching for all of these parts on your own, but with a selection as big as Top Flight Automotive's, you can make the process easier and get help from our experienced sales staff.
Whether you're looking for upgraded carpets, a new steering wheel or various accessories, Top Flight Automotive is the place for you. We offer quality products that have gone through many tests to make sure they fit the specifications of your C1 Corvette. When you buy with us, you can be confident you're getting exactly what you ordered.
Browse our selection to find something that fits your design, or talk with one of our experienced professionals to find what you need. Shop today!