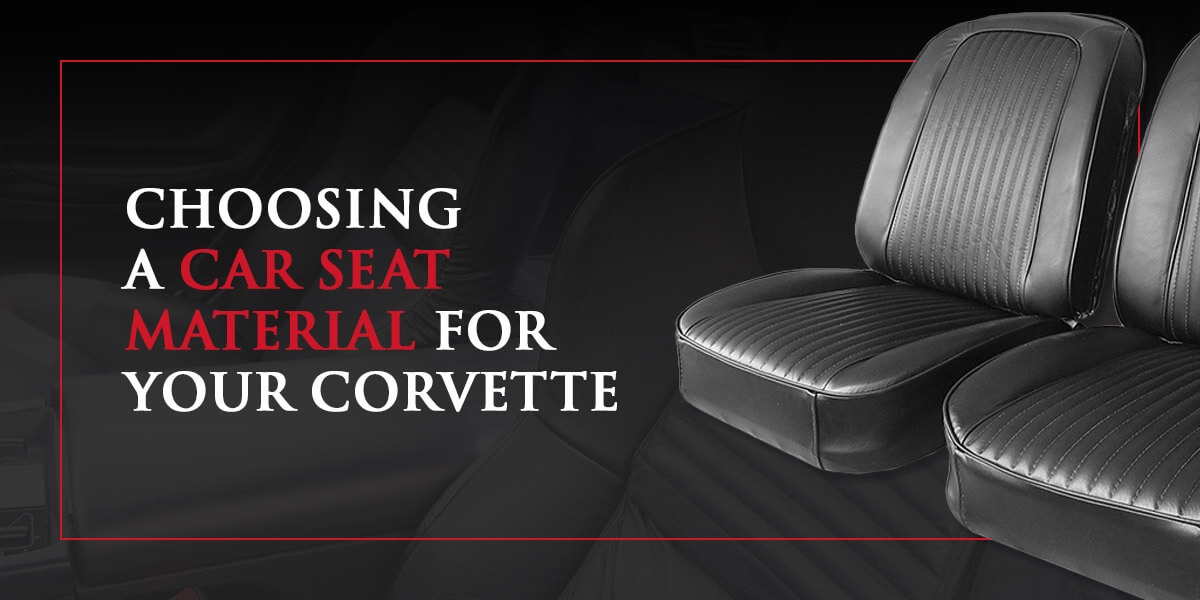 To pick the ideal Corvette for you, you'll want to look at several different factors, including color, design and budget. One of those additional factors will be the Corvette's interior. You'll want to spend some time considering how your vehicle's interior will look and feel.
This article looks at some of the most popular car seat materials and the pros and cons each offers.
Popular Car Seat Materials
Choosing the right car seat material for your Corvette can offer you many benefits, such as longevity and comfort. You may find it helpful to enter the buying process with some knowledge about the various characteristics of each type of car seat material. The most popular types are leather, fabric and vinyl.
Leather Seat Covers
Leather seat covers are one of the most popular options for Corvette owners. These types of car seats offer a premium look and luxurious comfort. They're very durable and can last a long time. Many people love the look and feel of leather, so leather can also increase the resale value of a Corvette. For those looking for elegance, leather seat covers could be the perfect choice for you. Leather seats also tend to be a bit costlier and may only come in a couple of color options, such as brown and black.
Fabric Seat Covers
While leather is the more elegant and pricier option, fabric seat covers offer a cost-effective alternative. These types of seats can come in many different colors and designs and provide good ventilation. Though they're the more budget-friendly option, car seat fabrics are still durable and comfortable. However, they will likely need to be cleaned more often than leather.
Vinyl Seat Covers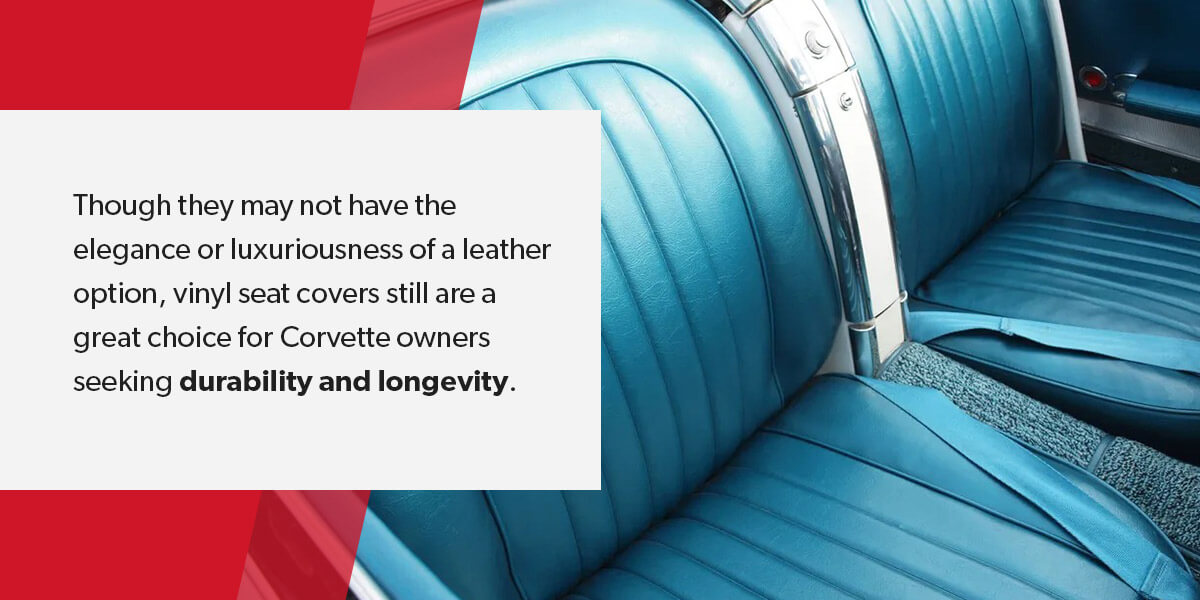 If you're looking for an easy-to-clean car seat material, consider vinyl. You can easily wipe away any spills or dirt and make your seats look brand new in no time. With vinyl, you won't have to worry about friends or pets making a mess in your Corvette. Vinyl is a good choice for those expecting to have some spills on the road. Though they may not have the elegance or luxuriousness of a leather option, vinyl seat covers still are a great choice for Corvette owners seeking durability and longevity.
Leather vs. Fabric vs. Vinyl Car Seat Covers
Now that you have a brief overview of the various materials, let's dig deeper into the pros and cons of each option.
Leather
Leather is a common choice for car owners for many reasons. Elegance and longevity are two benefits of leather seats:
Elegance: Leather is largely viewed as the best-looking car seat material. It looks fantastic and can give your Corvette a deep, rich look, depending on the color.
Longevity: This car seat cover can also last a long time. It's made from quality materials built to withstand years of use.
Leather's costliness and its need for frequent cleanings are some of its drawbacks:
Cost: The premium nature of leather also raises its price tag. You'll also have to consider your budget while shopping for these types of seats.
Maintenance: If you opt for leather, you'll want to ensure you care for it regularly. Without proper care, leather can start to crack and fade with age.
Fabric
Fabric is another very common choice for car owners because of its cost-effectiveness, various designs and comfort:
Cost-effectiveness: Fabric is an excellent choice if you're looking for a bit less expensive option than leather. Fabric seats can give you style and durability without spending too much.
Various designs: This type of car seat material also comes in a wide array of designs and colors that you can choose from to match your car's exterior.
Comfort: Even in extreme hot or cold, fabric generally remains a comfortable option that emphasizes support and ventilation.
Despite its many benefits, fabric also has some downsides:
More maintenance:  If you opt for a lighter-colored type of fabric, then your seats could be more likely to stain. Spills can also cause fabric seats to create bad-smelling odors.
Not as luxurious: The lower price tag also comes with a less premium feel. You won't have that luxurious look that leather offers.
Vinyl
The third seat material for car owners is vinyl, which offers easy maintenance and simple cleaning:
Easy maintenance: Vinyl is very easy to take care of. Even after years of usage, vinyl will still look good and doesn't require the kind of care that leather does.
Simple cleaning: Cleaning vinyl is as easy as wiping away dirt and spills. Messes will easily come off, and you can quickly return vinyl to its former look.
Vinyl also has various cons, such as less comfort and poor ventilation:
Less comfort: Vinyl can offer a nice appearance but likely won't have the luxurious feel of leather.
Poor ventilation: This car seat material tends to be less breathable than other options. On hot summer days, it can be uncomfortable to sit on.
How to Choose Seat Covers for Your Luxury Car
Choosing the perfect cloth car seat or deciding between leather vs. vinyl seats can be challenging. To help make your decision easier, you can consider these factors:
Comfort: If you spend a lot of time in your Corvette on long drives, then comfort may be your top priority. Consider the comfort level of each type of material so you can find the right fit for you.
Look: Some types of materials look better than others. Leather offers the premium look many people want.
Durability: Maybe you're aiming for something lasting and reliable. Materials like vinyl are easy to take care of and can withstand a lot of weathering.
Longevity: Choosing a material you know will last a long time can give you confidence about your vehicle's future. Finding those long-lasting materials is a great strategy that will pay off in the long run.
Budget: Another aspect to consider is your budget. If you're looking for a cost-effective solution, then a vinyl or fabric option could be best for you.
Design: You'll also want to think about the design of your seats. If you want something customizable that you have control over, you may want to choose a material with more design options, such as fabric.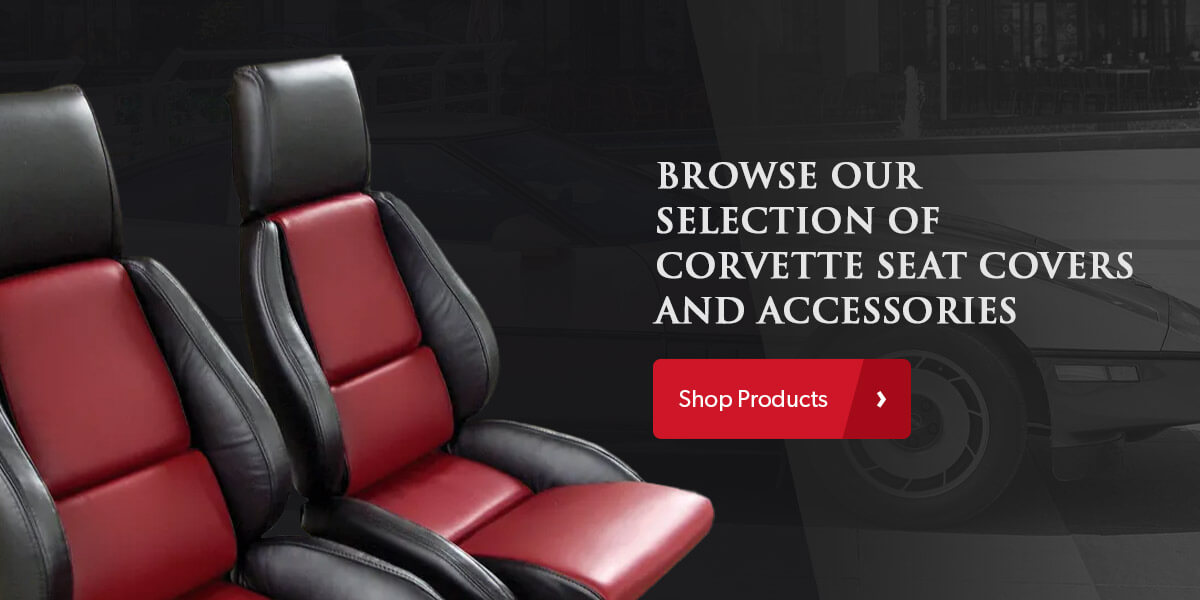 Browse Our Selection of Corvette Seat Covers and Accessories
At Top Flight Automotive, we offer a wide variety of Corvette seat covers and accessories. Browse our selection from the convenience of your own home to find what you're looking for. We also offer seat covers for Mustangs. Shop online today!