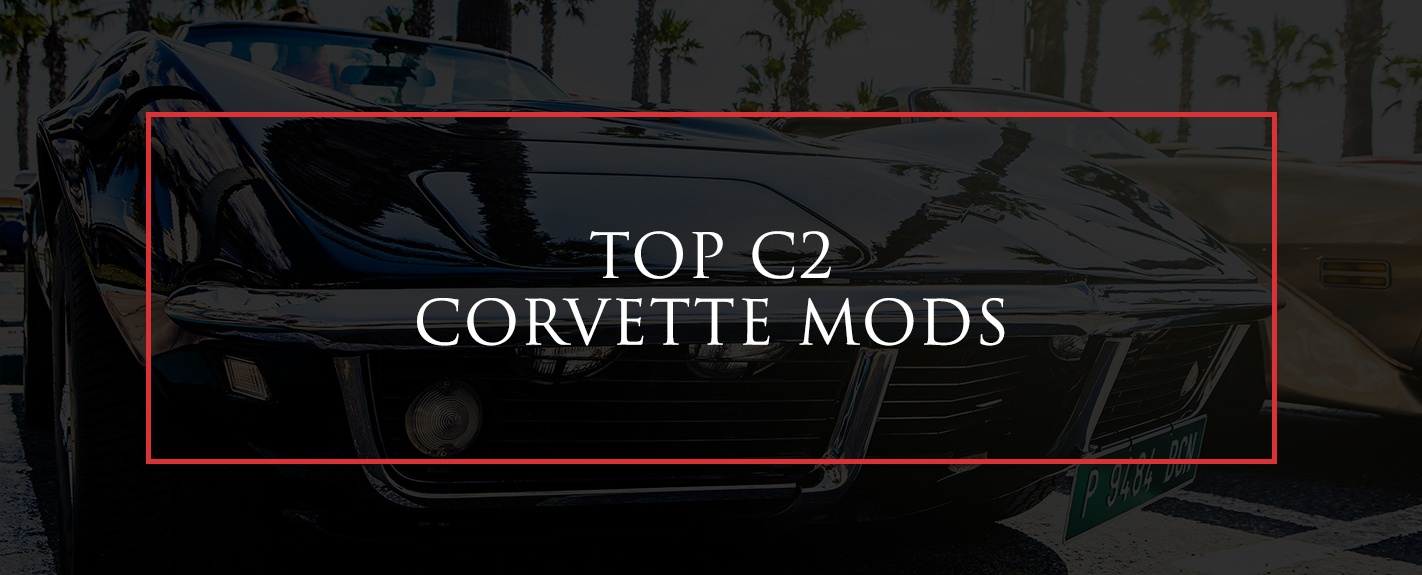 The second generation of the Corvette ran from 1963 to 1967, and many buyers loved its improvements over the first-generation models. Though the C2 is an impressive piece of machinery, automotive technology has improved significantly since the 1960s. The popularity of these old-school Corvettes led to many top C2 restoration parts and modifications. These parts and mods allow C2 owners to receive the benefits of modern technology in their second-generation Corvette.
If you're interested in upgrading your C2, find out more about the advantages of modding and the best C2 corvette modifications on the market.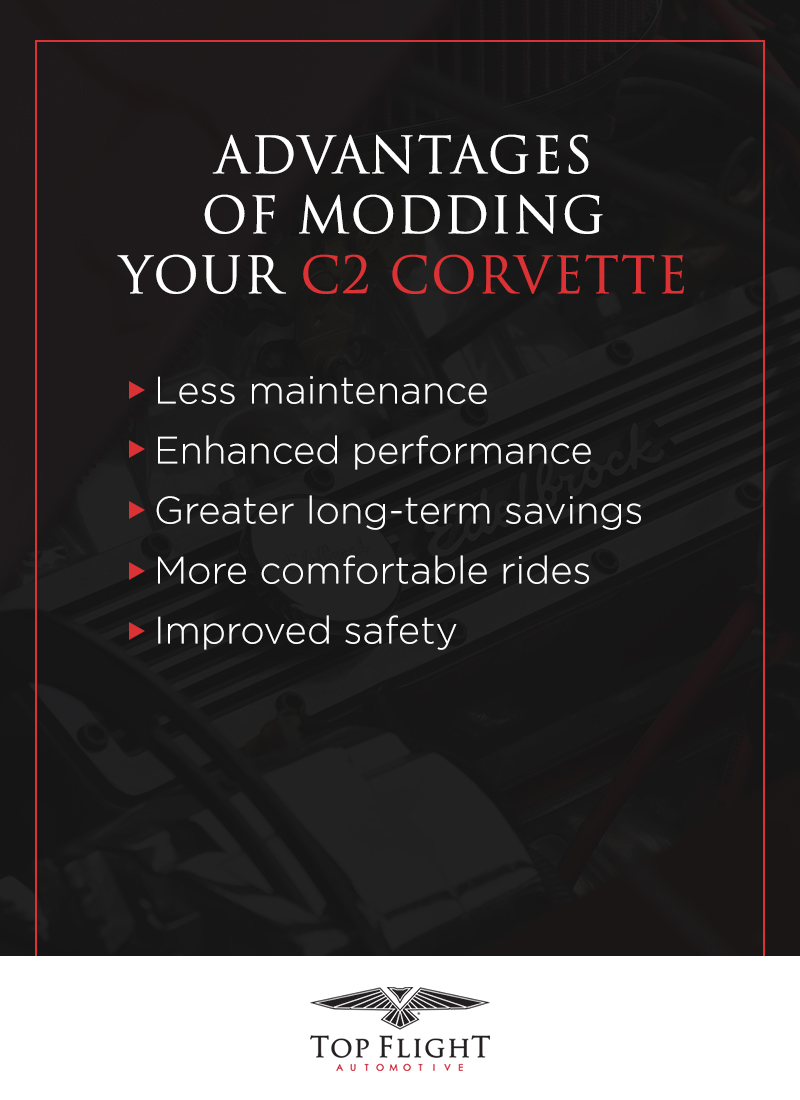 Advantages of Modding Your C2 Corvette
Before you stock up on classic C2 Corvette upgrades, you probably want to know why mods are worth the extra investment. The answer is fairly simple — you get better performance and comfort out of your Corvette while also receiving greater long-term savings and reducing your maintenance requirements. All these advantages make mods a no-brainer for many C2 owners.
Consider these advantages you could enjoy with mods:
Less maintenance: When you mod your C2 Corvette with more modern parts, you'll likely cut down on the amount of maintenance you have to perform on it. Since mods like coilover kits, disc brakes and electronic ignitions come with the added benefits of modern-day technology, they're more likely to last longer and deliver sustained performance. Instead of having to wait for a shop to repair your Corvette or take the time to fix it yourself, mods help you spend more time on the road.
Enhanced performance: The best C2 performance mods can improve many aspects of your Corvette's performance. For instance, aero kit modifications can increase a C2's speed, and a suspension kit can help a Corvette during cornering. These performance increases help you control your car better and hit higher speeds — and what Corvette owner doesn't want that? If you want to take your car to the next level, Corvette performance mods are the answer.
Greater long-term savings: Since modern modifications and restoration parts usually have a sturdy, more reliable design, you won't have to repair or replace them as often as you do the older parts of your C2. By reducing your visits to the shop, you can cut down on the costs of labor and parts over time, potentially helping you save money.
More comfortable rides: While C2 Corvettes improved their suspension and reduced the discomfort many C1 owners experienced while driving, the suspension system still doesn't match the comfort drivers are used to in a modern vehicle. Suspension mods can help you increase your comfort by reducing the negative effects of uneven roads. Additionally, you can purchase A/C kits that keep your Corvette's cabin cool on hot summer days.
Improved safety: When installed properly, the best C2 Corvette upgrades cut down on safety issues that are inherent in older designs. For example, you can replace an early model C2's drum brakes with more modern disc brakes. With these brakes installed, you can bring your car to a halt faster, potentially saving you from major damage in the case of an accident. You can also purchase more accurate instrument panels to catch dangerous maintenance issues sooner.
What to Upgrade on C2 Corvettes: The Best C2 Corvette Mods
Modifications and upgrades like electronic ignition conversions, disc brakes, suspension kits and aero kits are all some of the best mods to select from. Mods like these can provide several benefits to keep you on the road longer and your Corvette operating at peak capacity. If you want to know where to start C2 restoration and modification work, check out the details of some of the best C2 Corvette mods below:
1. Electronic Ignition Conversions
The original C2 came outfitted with fairly primitive ignition systems. Until the Delco HEI system was released in the mid-1970s, many vehicles, including the C2 Corvette, ran on an ignition system with a condenser and basic points. These systems caused some voltage irregularities and a need for greater maintenance. This extra maintenance resulted in C2 Corvettes spending more time in the shop than owners would prefer.
Electronic ignition conversion systems provide some significant upgrades over the original ignition systems. Essentially, an electronic ignition system uses constantly rotating distributor cam lobes while the engine operates to govern a magnetic field. This construction is much more reliable, as it removes the threat of burnt points and corrosion that is common to the older systems.
These new ignition conversions are some of the best C2 Corvette mods because they reduce the maintenance older systems require. By investing in these systems, you can save costs in the long term since you won't have to constantly repair or replace an older ignition system. Additionally, you get to drive your car more and don't have to wait for a mechanic to complete repairs.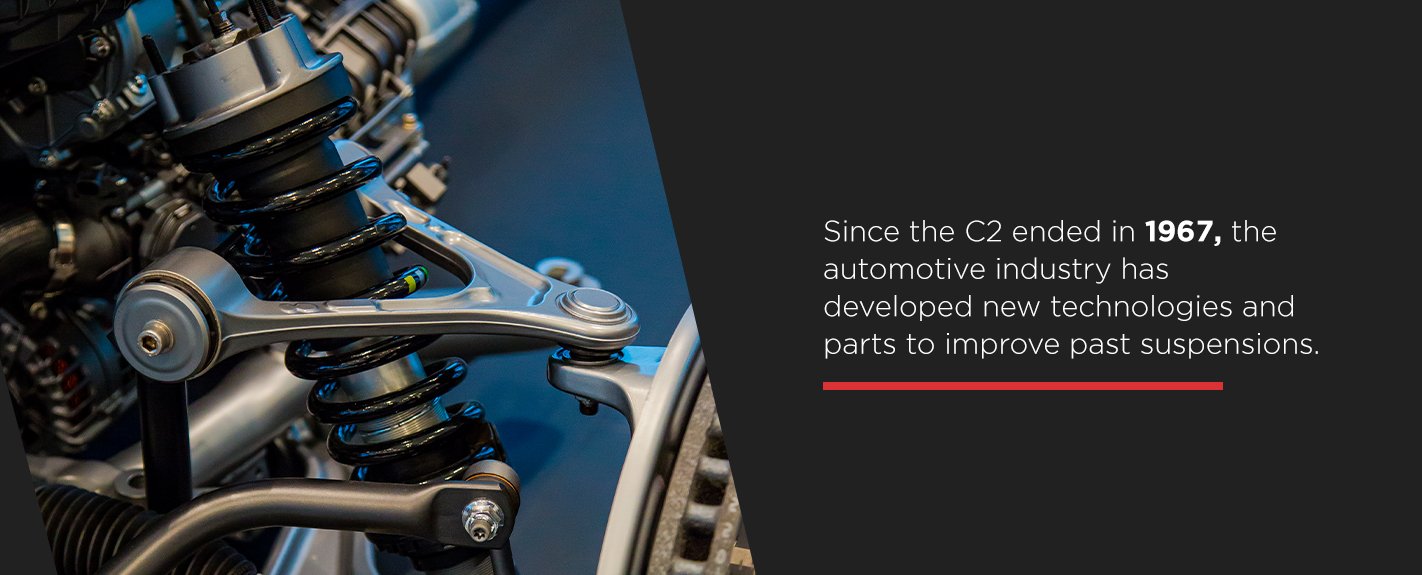 2. Suspension Kits
Corvette launched the C2 with a transverse leaf spring for their suspension. This new suspension improved on the C1's older solid-axle design, raising the Corvette's ride quality significantly. While this new suspension system improved on the first generation, today's car owners might still find that a C2 Corvette doesn't give them the comfort they want on the road.
Since the C2 ended in 1967, the automotive industry has developed new technologies and parts to improve past suspensions. If you're interested in improving your suspension, you can add performance suspension mods to your C2. These mods can positively affect your car's smoothness, improving ride quality and your comfort as a result. They can also enhance cornering and stability, helping you better control your C2 Corvette on winding rides and at higher speeds.
Top suspension mods include performance or rear coilover kits, as they're designed to improve the car's original leaf spring rear suspension. Additionally, shock absorbers are some of the best C2 performance mods you can invest in for your Corvette. These C2 mods help your Corvette keep its grip on tight turns and at high speeds, improving cornering and braking.
All these C2 Corvette performance parts and mods can provide significant benefits while driving, raising your comfort and control. They don't take away from the Corvette's look, helping you keep the classic appearance of the C2 while receiving modern performance at the same time.
3. Disc Brakes
If your C2 comes from 1963 or 1964, new C2 disc brakes can be an excellent investment. During this time period, C2s were still using classic drum brakes, which were susceptible to brake fade and didn't have great stopping power. For C2 model years 1965 or afterward, General Motors (GM) made disc brakes standard. While this is a step forward over the older drum brakes in terms of performance, the wear and tear of time could still be affecting your original GM brakes, so you may want to consider upgrading with a modern disc brake kit.
While popular for the time, drum brakes feature a closed design that ends up trapping a significant amount of heat in the drum, creating brake fade. This heat comes from the standard braking process, where a brake rotor or drum contacts a pad whenever a driver puts pressure on the brakes. During this contact, the friction produces heat. A closed drum design causes more heat than the brake surfaces can handle, resulting in brake fade.
Since brake fade reduces a car's braking efficiency, it can end up affecting your safety. When you need to stop fast, the loss of efficiency can make it impossible to slow your car quick enough to prevent an accident. As drum brakes come standard on some C2 Corvettes, keeping these brakes means you may worry about your brake's efficiency. They also make you have to perform more maintenance, repairing or replacing them when brake fade occurs.
Disc brakes offer a major improvement over drum brakes because they do a much better job at heat dissipation. Since they dissipate heat more efficiently, brake fade is much less likely to occur. By investing in disc brakes, you can reduce the amount of maintenance you have to perform on your C2 brakes. Additionally, you'll be safer while driving with more responsive braking.
4. A/C Retrofit Kits
If you have an early model C2, it probably doesn't come with air conditioning. While GM offered optional air conditioning packages for the 1963 Corvette, the vast majority of buyers opted out of purchasing them. Today, choosing a car without A/C is almost unthinkable, but at the time, it wasn't as big of a priority for many. If you have an early model C2 without a factory air conditioning system, the summer probably causes you to leave the Corvette in the garage and take more comfortable transportation.
Luckily, you can purchase A/C retrofit kits designed to provide your car the cool air you need to ride in it comfortably. Since hot and humid summer days can be miserable in a C2 without air conditioning, A/C retrofit kits are some of the best C2 Corvette aftermarket parts you can purchase for your car. New A/C systems allow you to take your Corvette out in the summer, going on long road trips or around town without getting overheated.
When you look for A/C kits, you may want to select one with separate A/C and heating coils. Since some kits don't get as much performance due to their one-coil construction for both functions. A kit running on two coils can ensure you receive the A/C and heat you need. You might also want to pick an A/C system with more climate control adjustments versus simpler options with only sequential speed adjustments.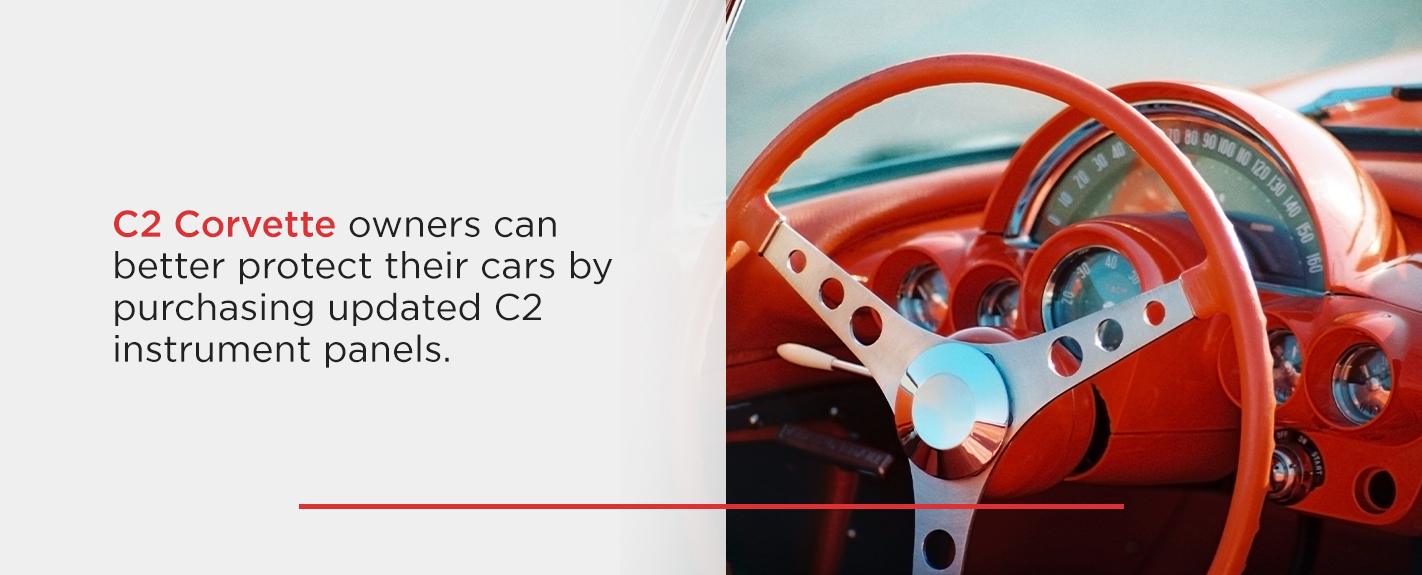 5. New Instrument Panels
Instrument panels are crucial to the proper monitoring of a vehicle's engine functionality. These panels provide drivers information about overheating or a loss in oil pressure. Overheating can cause a vehicle's engine to fail or have a head gasket blow. A drop in oil pressure can result in a seized engine, forcing your car to break down entirely. High-quality instrument panels monitor issues like these and give the driver a warning before major damage occurs.
Unfortunately, GM didn't outfit C2 Corvettes with reliable instrument panels to deliver these warnings. C2s relied on mechanical gauges for their instrument panels, which tend to provide inaccurate information. These gauges were also prone to sticking, making it so the instrument panel couldn't provide any information at all. Due to these inaccurate instrument panels, nonmodified second-generation Corvettes are prone to breaking down unexpectedly with costly maintenance required afterward.
C2 Corvette owners can better protect their cars by purchasing updated C2 instrument panels. Modern panels rely on electronic instruments rather than mechanical ones, providing more accurate readings and monitoring. While they're not the flashiest of additions, they're some of the most essential C2 Corvette upgrades you can find. Since they monitor your engine and oil levels, they can help you catch issues earlier and more regularly, saving you money in repair costs.
6. Aero Kits
If you're looking for a C2 Corvette horsepower increase for greater speed, aero kits are a great choice. While these kits don't technically raise horsepower, they help your C2 reach higher speeds. Essentially, aero kits make your C2 more aerodynamic for greater speed increases, even for lower-horsepower C2s.
An aero kit modifies your Corvette's body so it has greater downforce and reduced wind resistance. Alongside the speed increase, these modifications make it so C2s grip the road more effectively. When you take corners, the reduced downforce results in a greater vertical force on the Corvette's tires. This greater vertical force causes your C2 to handle corners better, even at higher speeds.
Corvette purists may not like how aero kits change the body of the C2's appearance. The many advantages an aero kit provides appeal to many other C2 owners. When you select an aero kit, you can easily reap performance benefits without having to invest in a costly engine upgrade you'll have to maintain regularly. Many high-quality aero kits include new rear spoilers, window louvers and hood scoops.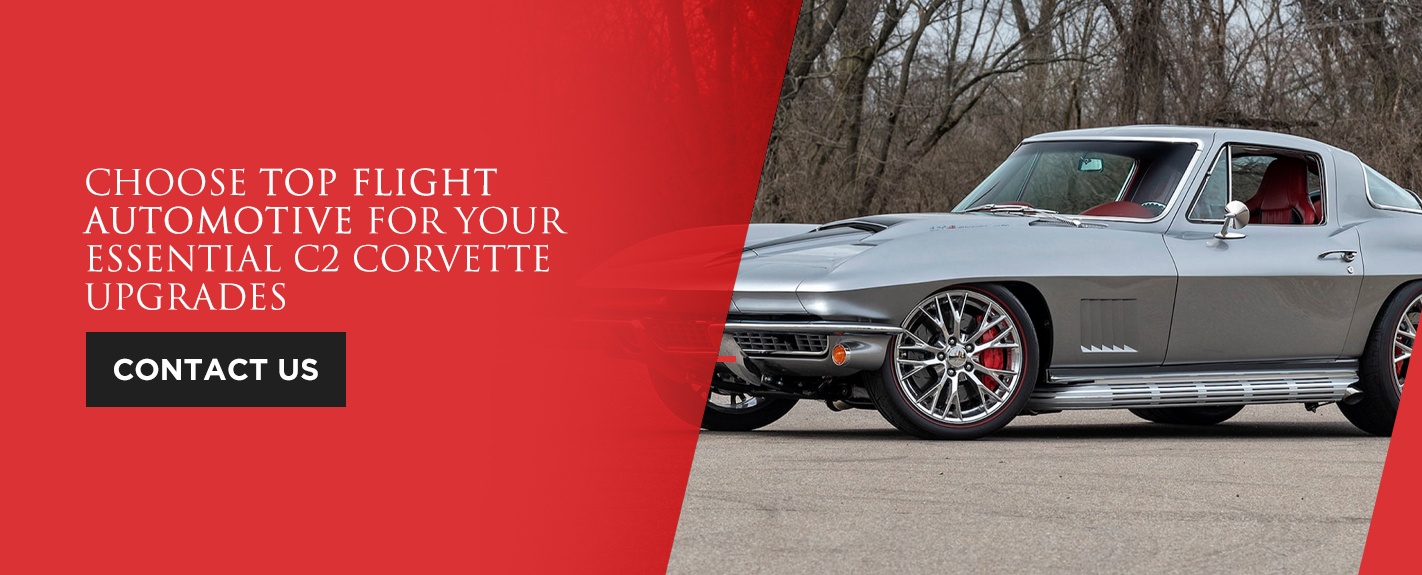 Choose Top Flight Automotive for Your Essential C2 Corvette Upgrades
When you're ready to restore or upgrade your C2 Corvette, Top Flight Automotive can help. We have the world's largest selection of Corvette parts, so you can find the mod you need. Our highly experienced sales reps can walk you through our various mods and their capabilities. If you sign up for our Top Flight tiered loyalty program, you'll also receive greater discounts, helping you save money over time.
Now that you know how to start C2 Corvette restoration and modding work, browse our wide inventory of C2 parts, upgrades and mods today. If you have any questions, please contact us.