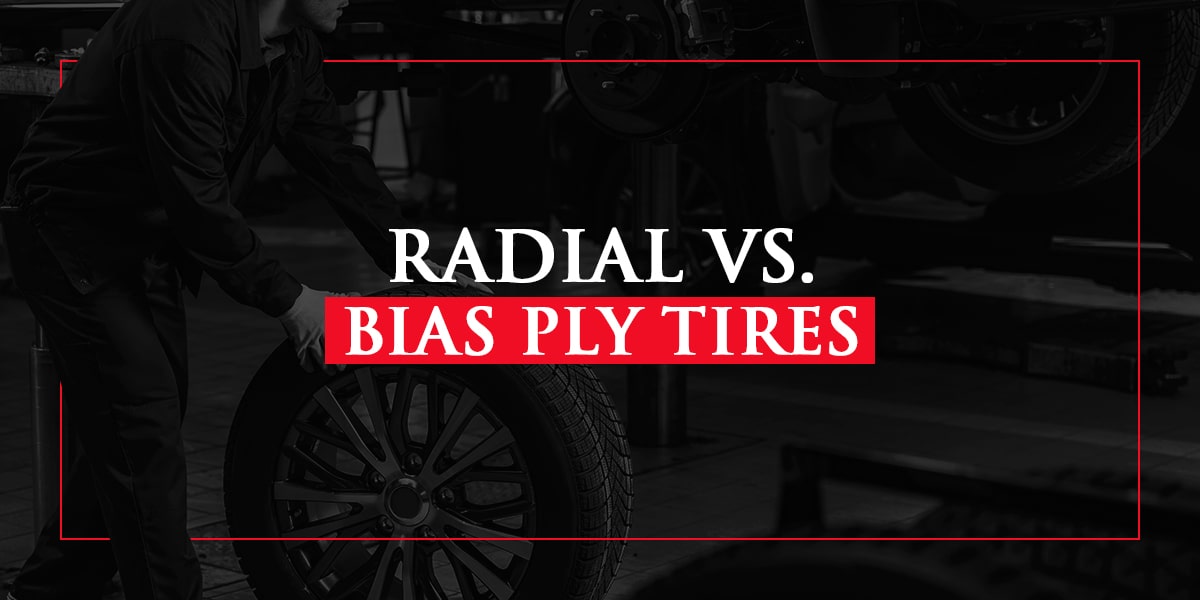 As you restore a classic Mustang or try to mod your current ride, knowing the difference between radial tires vs. bias ply tires is crucial. Radial tires are the primary type of tires used in the industry today as they are more maneuverable and are designed to go high speeds quickly. Bias ply tires, sometimes referred to as slicks, are still appropriate for specific contexts and are regularly used on construction equipment and some motorcycles.
Learn more about the differences between these two tires, especially the pros and cons of each option. If you're interested in drag racing and you own a Mustang, there are some important differences between the two types of tires that could affect your racing ability.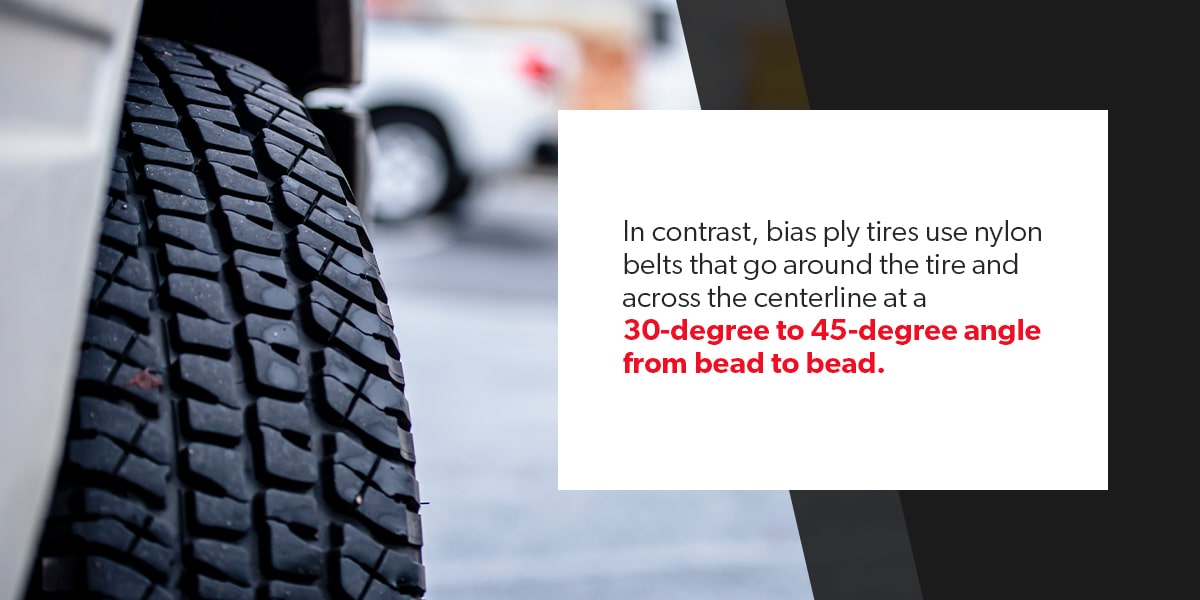 What Are Radial and Bias Ply Tires?
Radial and bias ply tires are suited for different applications and have some key differences. Radial tires have steel belts running along the tire's centerline at a 90-degree angle. Due to the 90-degree angle, the plies, or steel belts, run straight across to every bead of the tire. In effect, the design of a radial tire ends up allowing the tire's tread and sidewall to function independently from each other.
In contrast, bias ply tires use nylon belts that go around the tire and across the centerline at a 30-degree to 45-degree angle from bead to bead. These tires generally have multiple layers, with each layer of the nylon crisscrossing each other and forming a tough, rigid structure. Since the plies overlap each other, the sidewalls and crown of the tire end up being interdependent.
Typically, bias ply tires have a narrow tread profile that delivers a sort of piecrust appearance. They can also be identified by their sidewall bulge because the tires are mounted on narrow wheels.
Many traditional car owners gravitate towards bias ply tires since they were used on cars until the 1970s. Classic car restorers who are trying to restore a vehicle prior to that time often like using them since they provide a level of authenticity. The sidewall bulge and narrow tread are both common elements of vintage cars, which means adding the tires to a classic car gives it a more classic look.
It's important to understand bias ply tires have largely gone out of fashion except for very specific uses. After Sears starting selling radial tires in the late 1960s in the United States, more car companies started outfitting their vehicles with them to give their vehicles greater safety and maneuverability. By the early 1980s, all cars built in America were outfitted with radial tires.
Bias Ply vs. Radial Tires: Pros and Cons
To understand why bias ply tires are still relevant after being largely replaced by radials after the 1970s, you need to know the pros and cons of each tire type. As you learn more about the differences between the tires and which one is right for your Mustang, consider their advantages and disadvantages: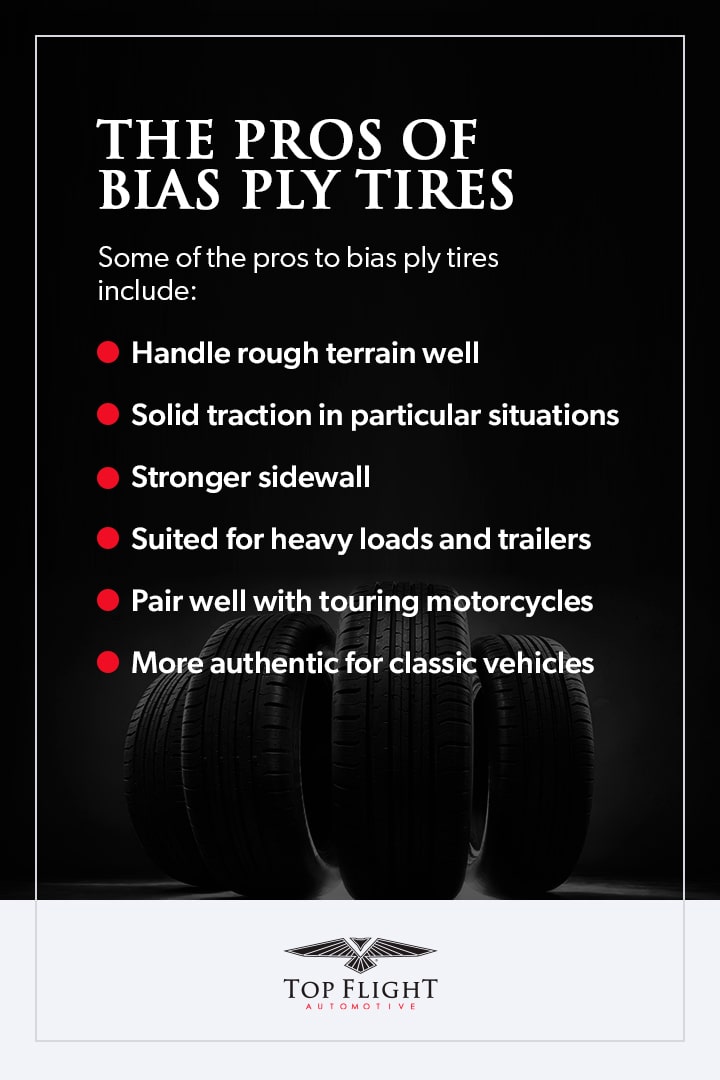 The Pros of Bias Ply Tires
Before the shift to radial tires in the 1970s, bias ply tires were the most common tire type for most automobiles of the day. Though they have some notable disadvantages that led the auto industry to switch to radial tires, they still have excellent advantages that are suited for specific applications today.
Some of the pros to bias ply tires include:
Handle rough terrain well: A bias ply tire's body flexes with ease, causing users to have a much smoother ride while going over a rough surface. Bias ply tires are still used regularly on heavy construction equipment for this reason. It gives operators a more comfortable ride in the cab. If the work requires stability and precision, a bias ply tire is an ideal choice.
Solid traction in particular situations: When you're traveling in a straight line or are only traveling at slow speeds, these tires tend to have good traction. Their traction at slower speeds made them better suited for early automobiles that couldn't go very fast and traveled shorter distances. Bias ply tires are generally best used in times where you're driving around town rather than on the highway.
Stronger sidewall: Due to the way their sidewalls are constructed, bias ply tires have thicker sidewalls than their radial counterparts. The thick sidewalls mean you're less likely to see punctures or cuts in the sidewalls of your tire. This sidewall strength can be especially helpful to reduce the chance of tire damage when you're driving across rough terrain.
Suited for heavy loads and trailers: The thickness of their sidewall and durable construction makes bias ply tires a great option for times when you need to haul heavy items from one location to another. The sidewalls can withstand the weight and help reduce bounce and sway when towing a trailer. Tow truck drivers especially enjoy using bias ply tires on the street since they help keep the vehicle and whatever's being towed straight.
Pair well with touring motorcycles: While the thick sidewalls of bias ply tires aren't ideal for sport or racing motorcycles, they can be a great choice for a touring motorcycle. The construction of these tires helps keep the ride comfortable and make the bike even sturdier.
More authentic for classic vehicles: If you like to rebuild older classic vehicles, bias ply tires are the go-to choice. Car collectors who love vehicles from before the 1970s will notice whether or not a rebuilt antique car has authentic bias ply tires or if they have updated radial tires. Those who like to show off their rides at antique car shows or competitions largely rely on bias ply tires.
The Pros of Radial Tires
There are a lot of pros to radial tires that make them perfect for everyday driving and high performance. As you compare radials vs. slicks, you should be aware of the top advantages of radial tires:
Greater performance: Radial tires feature flexible sidewalls that make them perfect for situations where you need greater maneuvering, traction and cornering ability. If you have a sports car like a Mustang and want to race it, this greater traction is crucial for taking tight turns at high speeds. Additionally, it's ideal for racing since it doesn't generate as much heat at high speeds like bias ply tires do.
Durability for long trips: Unlike bias ply tires that can overheat while on long trips, radial tires are designed to be driven for a long time. They are much thinner than their predecessor, so they generate significantly less heat. Instead of the tire breaking down or catching fire due to excessive heat, you can trust the tire to get you hundreds of miles without any issues.
Ideal for highway driving: Because radial tires are heat tolerant and have flexible sidewalls, they are perfect for highways. These tires can handle high speeds and long distances with ease, making them the clear choice over bias ply tires whenever highway driving is required.
Suited for light trucks: Lighter trucks that carry moderate loads can often take advantage of radial tires. Since they're built with steel belts, they're a fairly sturdy tire that can be placed on lighter trucks and carry loads that comply with appropriate load ratings.
Safer construction: Since radial tires use steel belts, they're much heavier and tougher than bias ply tires. Due to this greater toughness, radial tires are safer than the alternative.
The Cons of Bias Ply Tires
There are a few cons to bias ply tires that keep drivers from using them. There are many functional reasons radial tires became standard after their introduction, while bias ply tires faded into the past.
Some of the major disadvantages to bias ply tires include:
Faster wear: The tread of a bias ply tire wears significantly faster than radial tires. Since it wears faster, drivers have to replace their tires more frequently.
Greater fuel consumption: Since bias ply tires end up flexing more the faster the vehicle goes, they tend to burn more fuel. Those interested in preserving their fuel economy will want to choose radial tires.
Higher rolling resistance: Rolling resistance refers to the amount of energy that needs to be sent from the vehicle to the tires in order to keep them at a constant speed. Bias ply tires have higher rolling resistance, leading to increased fuel consumption and tire maintenance issues.
Lack of traction while cornering: If you're taking a corner, especially at a high rate of speed, bias ply tires aren't going to be the best option. Bias ply tires tend not to take corners as well as radial tires due to their rigid sidewalls.
The Cons of Radial Tires
Radial tires are no doubt an upgrade from bias ply tires for most drivers, but they still have some disadvantages. One of the primary disadvantages is their increased vulnerability whenever they're under-inflated or over-inflated. Whenever the tire's not inflated properly, it's more likely to bulge, leading to a greater chance of punctures or damage.
Additionally, radial tires tend to follow wheel tracks more often than bias ply tires. They also aren't well-suited for transport handling, as the low lateral stiffness leads to increased tire sway at higher speeds.
Bias Ply vs. Radial Drag Racing
If you're into drag racing your Mustang, the subject of drag radials vs. slicks will be a major concern. Each option is going to give you different advantages in the field, with some racers preferring one tire over the other. It's important to note that slicks or drag radials both tend to have very little or no tread pattern at all. They're designed to make as much contact with the ground as possible.
Since the bias ply drag tires and radial drag tires don't have very much tread, they wear down quickly and need to be replaced with greater frequency than tires constructed for daily use. They also don't perform well in the rain, so any time you take them out on the road, you'll need to check the weather first.
Some drag racers turn to bias ply drag tires since they let users launch with greater force and power. Additionally, a drag slick's sidewall wrinkle makes it well-suited for drag racing and preventing damage to cars. At the beginning of the drag race, power gets sent straight to the rear wheels at a rapid speed. The bias ply tire's wrinkle helps to protect the rear axle from damage as it absorbs some of that power's impact.
Other drag racers prefer radial drag tires since they keep the vehicle more stable. Drag radials are soft, so they also don't require as much burnout to get them rolling. Drag radials tend to have some kind of wrinkle wall that can help absorb the launch power. Ultimately, the choice between slick or drag radials comes down to the racer's personal driving preferences.
Nowadays, there are some manufacturers who create bias look radial tires. These tires combine the safety and durability of radial tires with the classic appearance of a bias ply tire. For racers who like the look of the older tire but want the advantages of a radial, these bias look radial tires are a go-to choice on race day.
Which Type of Tire Is Best for Mustang Owners?
Unless you plan to take your Mustang on short drives only or want to restore a first-generation Mustang for showings, radial tires are the better option in most situations. A Mustang isn't going to be towing huge loads or driving across rough terrain, so it'll be difficult for drivers to make use of the benefits bias ply tires provide.
Since radial tires take turns better, maintain their performance at high speeds and are more durable, they are the better option for the average driver. They'll give you greater control while you go about your daily life and will hold up in times when you need to go long distances or reach higher speeds. If you like to race your Mustang on twisty tracks or roads, radial tires are a must since they give you greater control while cornering.
While radial tires are the more practical choice for most Mustang owners, there are still some times where bias ply tires may be the preferred option. Those who want greater authenticity for their first-generation Mustang may choose a bias ply, for instance. Those who like to drag race with their Mustang may prefer the greater launch force bias ply slicks give.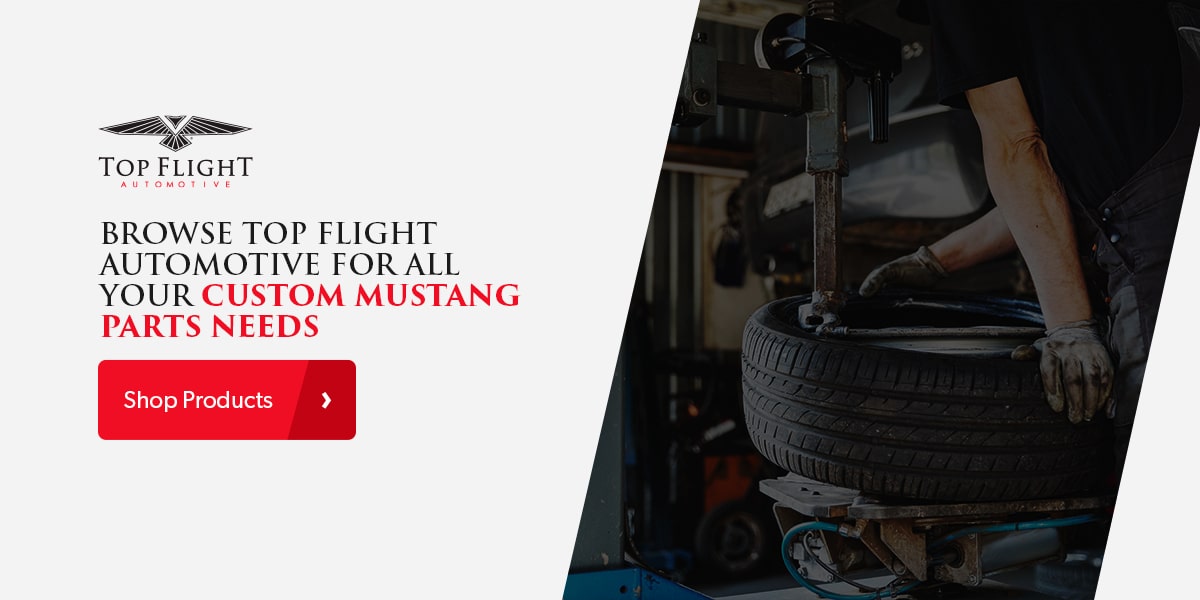 Browse Top Flight Automotive for All of Your Custom Mustang Parts Needs
Top Flight Automotive is the go-to destination for any Mustang owner. We have a huge inventory of Mustang parts and accessories that can help you customize or restore any generation. As you browse our store, you can find everything from tires for your classic Mustang to a supercharger to give your engine an extra burst.
If you're in the market for tires for your Mustang, check out our selection and shop online today.