C3 Chevrolet Corvette Seat Cover
C3 Corvette Seat Covers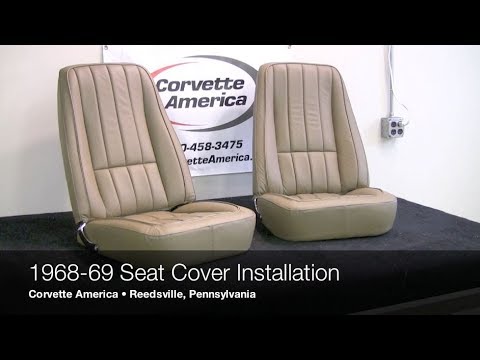 The C3 generation saw production runs by Chevrolet from 1968 through 1982. These Corvette vehicles featured LT1 small-block V8 engines with horsepower over 370. With elongated bodies, chrome bumpers and signature rally-style wheels, those in the Corvette world still obsess over these releases into the 21st century for their innovative designs within the automotive industry.
Sports car enthusiasts all over the world love C3 Corvette models thanks to nearly 15 years of iconic releases. If you are attempting to restore your vintage C3, look no further than Top Flight Automotive. Our experts walk you through the restoration process with our collection of seat covers for comfort and styling to help you get the most out of your favorite ride.
Reproduction Vinyl C3 Corvette Seat Covers
Vinyl seat covers for your C3 can replace factory materials at a lower price point. Top Flight Automotive includes two seat backs and bottoms for 1968-1976 Corvettes with Basketweave and Comfortweave inserts. Select factory colors to match C3 stock features with options including:
Black
Red
Bright blue
Dark blue
Saddle
Gunmetal
Green
Neutral
Silver
Oxblood
And others
Leather-Like C3 Corvette Seat Covers
Top Flight Automotive leather-like products look like real leather at a fraction of the price. These seat covers are manufactured with our highest-grade vinyl that rivals the durability of leather. Leather-like seat covers are excellent for restorations on a budget with a variety of color options to match factory C3 interiors.
Our leather-like vinyl seats are the perfect solution if you want to save time and money maintaining car seats. Leather seats typically require more care than vinyl seats because you need to clean genuine leather regularly to keep your seats in top condition. If you choose the traditional option, you'll also need to use a cleaner explicitly designed for leather, as some cleaning solutions can cause discoloration. 
Vinyl, on the other hand, is quick and easy to maintain. The material resists stains and grime buildup and is easily wipeable, so cleaning vinyl seats only takes a few minutes. You can use one of the many vinyl cleaners on the market or a homemade mixture of warm water and baking soda or vinegar. 
If your drives often include food, beverages, pets, or other things that have you wiping up messes frequently, you can rest assured knowing your vinyl seats will withstand potential spills and dirt accumulation.
By purchasing our leather-like vinyl seat covers, you'll get the premium look and feel of leather with the low-maintenance qualities and less expensive price tag of vinyl. These seat covers are also expertly crafted and assembled to last for many years to come, giving you a great value on your purchase.
Driver and Embroidered Leather C3 Seat Covers
Driver leather at Top Flight Automotive is geared for the everyday cruiser. Our 1968-1982 driver leather seat covers are a budget-friendly option with choices of leather and vinyl blends and 100% genuine leather materials. Shop by C3 make, model and year for your restoration efforts.
Top Flight Automotive offers embroidered leather seat covers for 1972-1982 C3 Corvettes. Choose from reproduction leather and vinyl blends or 100% leather seats with Crossflag and Collector Edition logos.
Corvette Logos
The Crossflag is Corvette's signature logo. Its basic design components include a red flag with the Chevy bow tie on one side and a racing flag on the other. 
This logo received slight modifications over the years. The Crossflag emblem has been designed with and without a circular border, flag poles and the French fleur-de-lis symbol.
If you've always wanted your C3 Corvette seat covers embroidered with a Corvette logo, Top Flight Automotive can help. You can order your seat covers embroidered with the Crossflag design variation of your choice. We can also embroider the Collector Edition emblem on your seat covers to add the perfect finishing details to your special Corvette.
Find the Right Corvette Seat Cover for Your C3 Model Year
Because C3 Corvettes are no longer in production, finding the right parts and accessories can be difficult. At Top Flight Automotive, we make it easy to get the products you need with our extensive inventory of high-quality restoration products. When you shop with us, you'll find C3 Corvette sport seats for every C3 model year.
You can filter your search by model year to find the best options for your Corvette in just seconds when you shop our selection of C3 seat covers. We offer various material, color and embroidery options for every C3 model, so you can customize your selection to achieve your desired look.
C3 Corvette Seat Cover Installation Kits
Installing your C3 Corvette seat covers is quick and easy when you purchase an installation kit from Top Flight Automotive. These kits contain all the clips, hooks and wires you need to install your new seat covers onto your foam seats. You'll find installation kits compatible with every C3 model year to ensure you receive the perfect fit. 
Contact Top Flight Automotive for C3 Corvette Seat Covers
Top Flight Automotive wants to help bring your C3 restoration vision to life. As part of the Extra Mile Brands family of companies, we are proud to be part of a team serving the Corvette community for over 40 years. For more information or to place an order for C3 Corvette seat covers, contact Top Flight Automotive today.
Can't find what you're looking for? Let us know and we can help! Contact Us