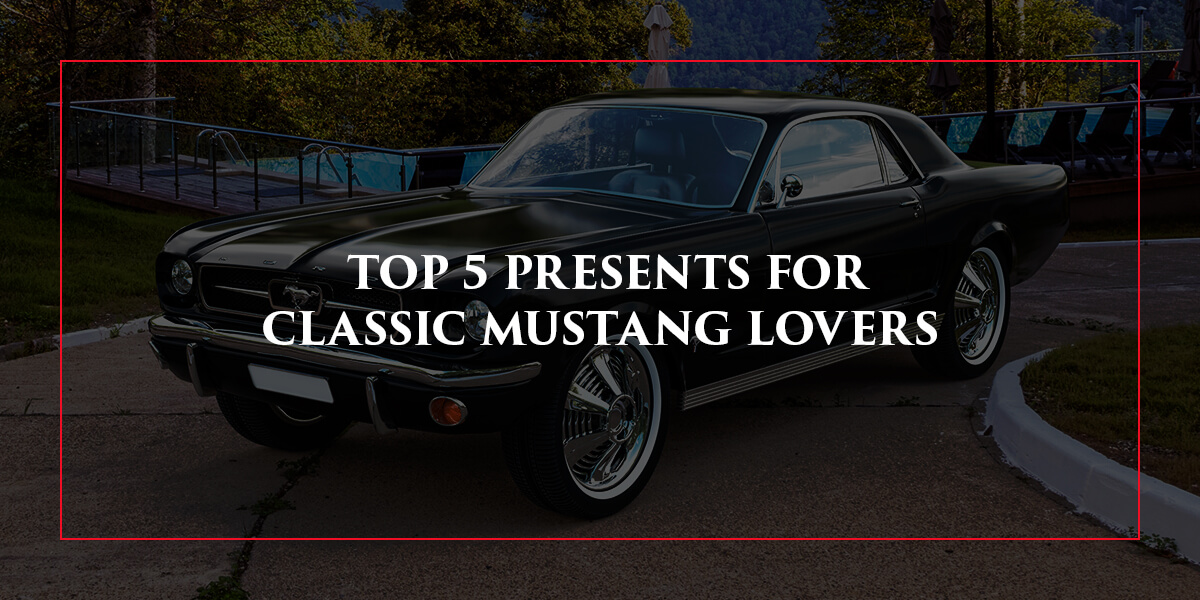 Top 5 Presents For Classic Mustang Lovers
The Mustang is one of the best cars of all time, with longevity that spans from the early sixties to today. There are plenty of avid Mustang fans out there — you probably know a coworker, friend, family member or significant other who loves the classic car.
Whether you're looking for a gift for a holiday, birthday or another special day, there's a vast number of Mustang presents you can buy. So many, in fact, that the selection can be challenging to choose from. To sort through it all, Top Flight Automotive gathered a list of the top five best classic mustang gifts.
1. Mustang T-Shirts
You can't go wrong with a classic Mustang t-shirt. When you search for a Mustang t-shirt, you'll have a lot to choose from — you can pick a complex design with various colors and logos, or you could get a shirt with the classic pony on the front and a basic logo.
Sift through the options and see what will fit the person you're purchasing for best. A t-shirt is a great way to show people what you enjoy and what you're passionate about. Giving one as a gift lets someone you care about express their love for classic Mustangs.
Another great aspect of Mustang t-shirts is that you can probably find one that will suit their personal tastes. If you know the person you are shopping for likes a specific generation of Mustangs, you can try to find a shirt with that specific model or design. This makes the gift even more personalized to the person you're buying for.
You don't have to stop at t-shirts — there are jackets, hoodies and polo shirts that you can choose from. Water-resistant, breathable material may be better for one person, while a heavier, thicker coat could work for colder climates or for those who work outside. From windbreakers to zip-up insulated jackets, the options are endless — all you have to do is pick the right one.
2. Home Decorations
For a quality present that someone can display for years to come, look at getting a classic mustang home decoration. There are plenty of options to choose from, so you can find something for every Mustang fan in your life.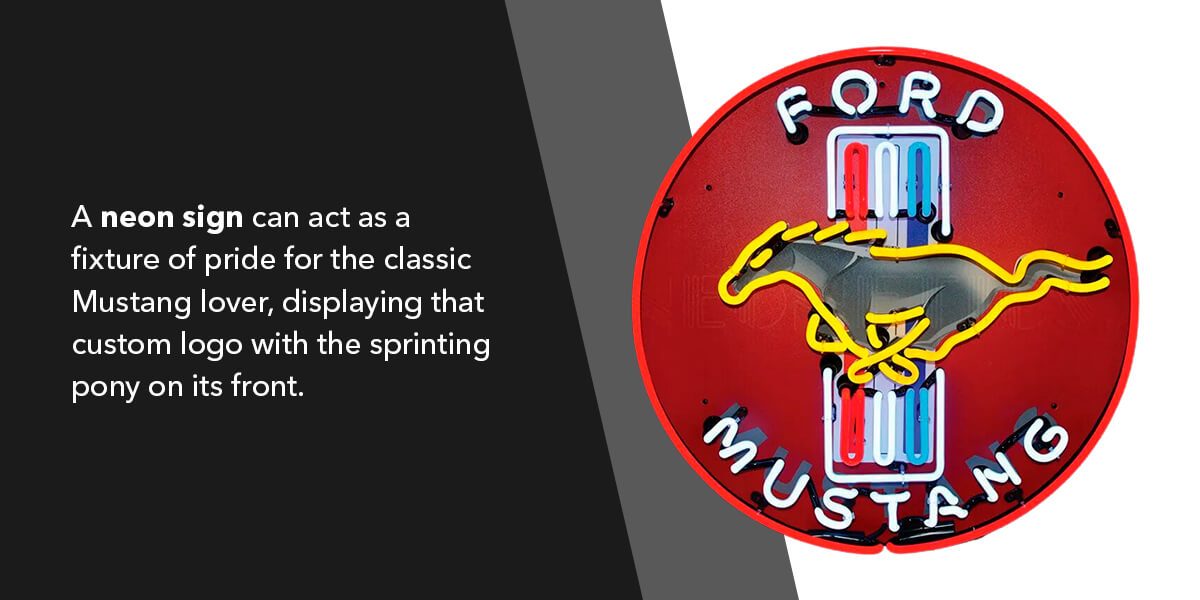 Neon Sign
Another great Ford Mustang gift idea is one that can light up your home. A neon sign can act as a fixture of pride for the classic Mustang lover, displaying that custom logo with the sprinting pony on its front. You can find many great quality products like our red neon sign, each with its own vintage look.
A neon sign can do more than add character to a room — it can take you back to a time decades ago when the Mustang first hit the streets. That logo started one of the best car productions in history, blasting through estimated sales figures and becoming a cherished, beloved Ford vehicle. The sign can act as a symbol of that successful history.
A mustang-inspired neon sign can also add to a room's overall decor and provide unique lighting, making it a valuable gift that operates on multiple beneficial levels.
Tin Sign
Tin signs can be another great addition to someone's home. They work well in sheds or garages and add character to a room with subtle decoration. There are plenty of great tin signs out there to choose from — you just have to know where you're looking. From different shapes to different colors, you can find the perfect gift that suits your desires. For a head start, check out this Ford Mustang die-cut tin sign, which is a classic, vintage gift that will be sure to satisfy your loved ones.
Clock
A classic Mustang clock is a similar gift in that it acts as a fixture in a home with the added benefit of actually serving a useful purpose — telling time. A clock can act as a great piece of decor that easily matches other colors and styles. You can try to find one that shows a logo like our classic neon wall clock or search for a specific model that you know someone would like. For a classic 1960s Mustang lover, find a clock with an old, vintage backdrop and one of the early models in its center.
Wall Art
There's some elegant, eye-catching wall art out there that won't break your budget. Find a custom 3D chrome Mustang pony logo that someone can hang in their home. This art is also versatile — it could go in a garage or inside your home and match your other Mustang decor. You can also find them in a variety of different colors and trim to customize them for the recipient. Make the chrome logo gray and gold, scarlet or fill it in with the design of the American flag for a unique backdrop.
Aside from logos, you could also find a beautiful portrait of one of the classic generation Mustangs. There are some beautiful renderings you can find with Mustangs painted in front of a sunset or a sprawling landscape, making it an ideal gift to hang in a home and show off to guests. If your Mustang lover enjoys artwork as well as the classic car, then this could be the gift for you.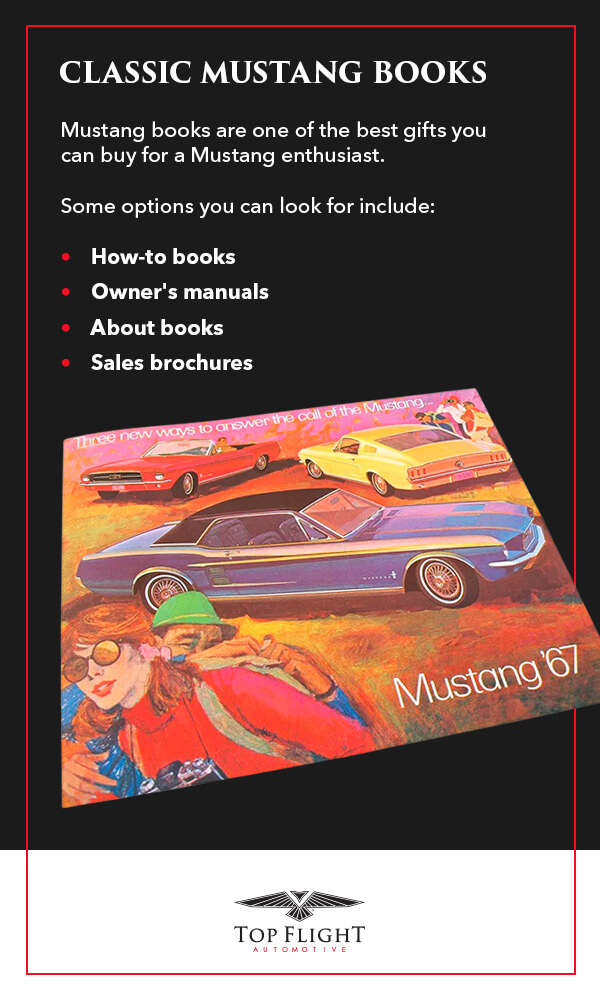 3. Classic Mustang Books
Mustang books are one of the best gifts you can buy for a Mustang enthusiast. There's a lot of vintage literature to choose from, as well. Some options you can look for include:
How-to books: You will find classic how-to books from various generations of the Mustang. These books will go in-depth into rebuilding engines, operating different aspects of a Mustang, and more. They're fascinating channels of literature to the past, giving insight into the years of the classic car. They may even be of use to someone who is looking to renovate their classic Mustang.
Owner's manuals: Like how-to books, these manuals aren't just a decoration — classic Ford Mustang owners can reference them regularly. Often, classic Mustang owners lack the necessary information to restore their Musang to its former glory. An owner's manual that matches their generation can touch on subjects such as troubleshooting, instrument operations, cleaning tips and specifics, controls and features.
Coffee table books: Mustang lovers who enjoy digging into the history of the Mustang and car specifics will love this genre. You could find a book with full-page colored displays of each Mustang throughout the years. This kind of book could make for a great coffee table read and a cherished gift for a Mustang lover.
Sales brochures: Another article from the past includes sales and marketing brochures from previous marketing plans. You can flip through and dive back into history, seeing how each Mustang was marketed at that time.
Whichever option you pick, classic books are always a great gift for any Mustang lover. They can act as pleasure reading, research and even valuable information to help with restoration or equipment handling. As a bonus, you could also buy a classic Mustang pen — a small, unique gift that can also be very useful.
4. Hats
A great gift can also be something as simple as a hat. It's an easy, affordable gift that someone can wear for years. Find one with someone's favorite color and the classic logo, and you have yourself the perfect present for a Mustang connoisseur. Hats can also be a great gift to go along with something else, like a keychain or book. You can pair these and match up the logos, making for a clever, thought-out present that will add some style to everyday life.
Hats are another gift that can display just about anything related to Mustangs — phrases, pictures, logos and more. You can even customize them to fit the weather! If the person you're shopping for is usually outside in the cold, maybe look for a warm, knitted winter hat. For those living in a warm and sunny climate, your typical baseball cap will work great — or you could even try to find a bucket hat that will protect them from the sun.
It's good to match up your person's preferences with the ways that they can use their gift. It makes the gift personal and more appropriate for actual usage.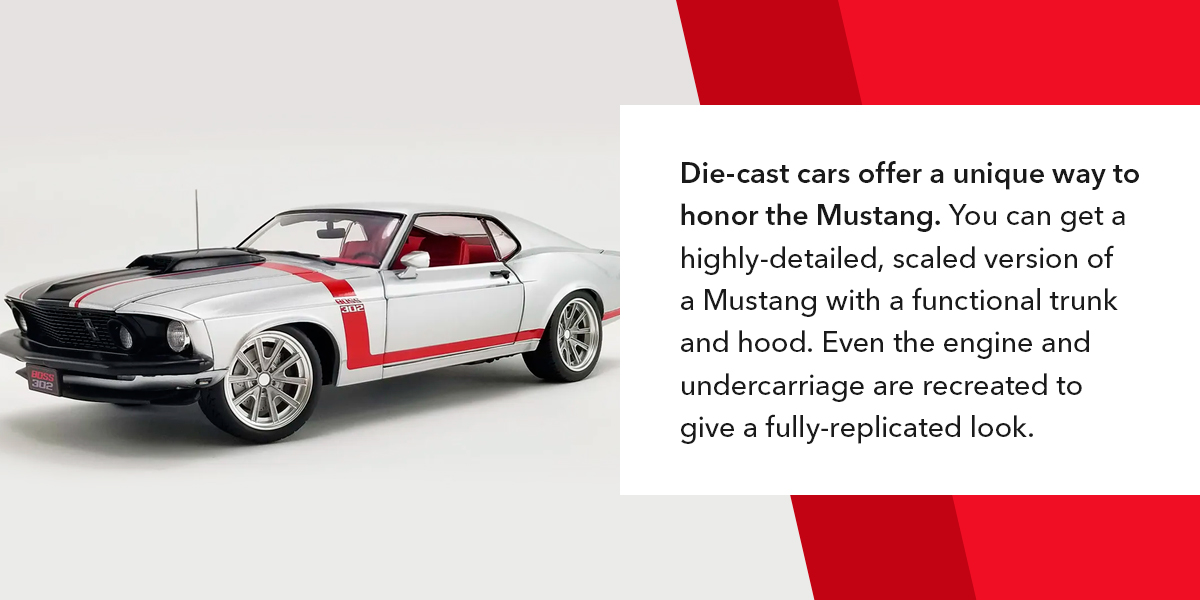 5. Die-Cast Model Cars
The list wouldn't be complete without mentioning an essential gift for the classic Mustang lover — die-cast cars. Die-cast toys have been around for a long time, offering amazing replicas of planes, motorcycles and classic cars. They remain sought-after products for collectors and others, and they're a fantastic gift for car lovers.
Die-cast cars offer a unique way to honor the Mustang. You can get a highly-detailed, scaled version of a Mustang with a functional trunk and hood. Even the engine and undercarriage are recreated to give a fully-replicated look.
Die-cast cars honor the Mustang in a way that no other gift can. You can marvel at the vehicle's intricacies and inner workings, admire the model and display it for everyone to see. It's the perfect gift for someone fascinated with designs and the complex parts of the Mustang. You can add to someone's collection or give them their very first to jump-start a fun and rewarding hobby.
For an affordable price, you can bring a sixties Mustang to life and offer a gift to someone that they can enjoy for years to come. Get them a classic Mustang without all the maintenance needs!
How to Find a Gift For Mustang Enthusiasts
It can be challenging looking for the perfect Ford Mustang presents — with all of the options out there, you could get overwhelmed sorting through everything, trying to narrow down your search. But if you keep some central questions in mind while you shop, you could make things a little easier on yourself!
What's Their Favorite Generation?
A person's favorite generation of Mustang gives you knowledge about their tastes and preferences. Each generation has its own unique characteristics that set it apart from the rest, so narrowing down a generation will give you some insight about what to look for what kind of gift to buy.
First Generation: The generation that started it all — the first generation introduced the Mustang to the world, creating an all-new kind of car that major competitors would attempt to replicate to keep up with Mustang's sales. This is a common favorite generation of classic Mustang lovers — it just blended so many great aspects — strength, design and history into a decade of excellence. If you're shopping for a first-generation lover, look for classic Mustang books on the cars from 1965-1973, or seek out gifts that display these model years.
Second Generation: The second generation strayed from performance and emphasized design and efficiency. The Mustang became smaller and heavier, and an exclusive luxury Mustang was also released in this era. For fans of this generation, maybe look for comfortable objects like t-shirts, hats or other clothing items that match the comfortable, reasonable characteristics of this generation.
Third Generation: Running from 1979-1993, the third generation offered various designs, including a coupé, hatchback and convertible. This generation offered a little something to everyone and created a lot of variety to choose from — maybe a gift displaying various models and designs from this generation would work perfectly as a gift.
Fourth Generation — Present: This generation bleeds into the early 2000s and might not be considered a classic. For these generations, shop for something a little more modern that would fit the more evolving, new-age personality of these more recent years.
Shelby: The Shelby was the powerful, performance-boosted variant of the Mustang, a popular classic favorite of Mustang fans. For these gifts, look for that awesome cobra logo that differentiates the Mustang from the Shelby line.
What Type of Gifts Do They Like?
Having a general understanding of what your recipient likes and what they would actually use will also help in your search. Maybe they've just moved and need something to hang on the walls. Some Mustang wall art or chrome logo could be the perfect solution that helps them decorate with what they love.
If they've been talking about how they're short on t-shirts, sweatshirts or jackets — a custom Mustang clothing item is the ideal gift. If you know they're into intricate details, history or reading in general, then a classic how-to manual or sales brochure from the early generations will probably fascinate them. Factors like climate and weather will also impact your gift as well, so it's good to keep location in mind.
Whatever you're shopping for, it's important to have a large selection of quality products at great prices so that you are able to truly personalize the gift.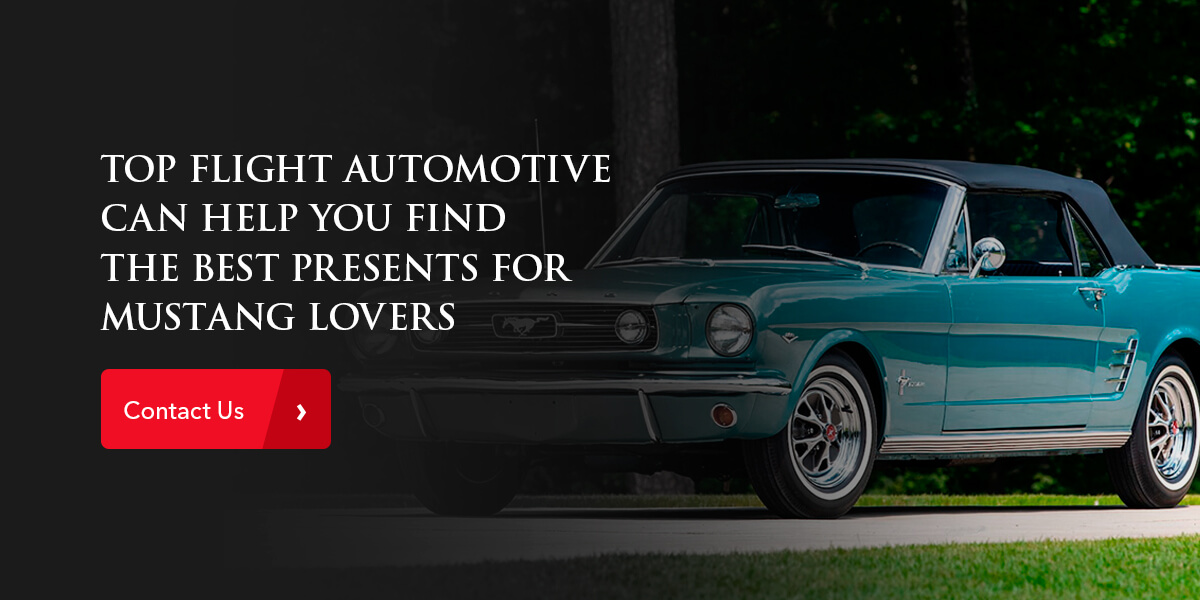 Shop at Top Flight Automative
Top Flight Automotive offers a vast selection of vintage Mustang gifts. We offer neon signs, wall clocks, artwork, clothing and more to give you a variety of different choices and make your shopping experience easier.
There are also sections of gifts specific to one generation of Mustangs, making the search tailored down even more specifically and taking some pressure off of you to find the perfect gift. Our expert team will be there to answer any of your questions and will help you narrow down your options.
Whatever you're looking for, Top Flight Automotive can help you find the best presents for Mustang lovers. Shop our online selection today!