Ford Mustang Weatherstrip, Body Seal & Molding
Browse by Generation
Mustang WEATHERSTRIP, BODY SEAL & MOLDING at Top Flight Automotive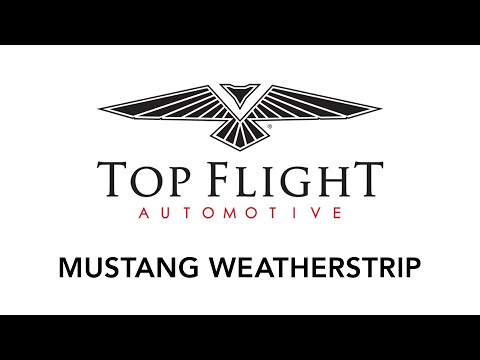 Ford Mustang Weatherstrip Kits
We've seen the Ford Mustang evolve between coupe and convertible builds throughout the brand's lifetime. For over 55 years, the Mustang build has appealed to drivers of all ages because each series release is unique compared to the next. Consumers get behind the wheel of these performance vehicles for their sporty looks, comfortable seats and roomy cabs, but it's essential to protect interior surfaces for collector and resale value.
At Top Flight Automotive, we care about the Mustang models you have in your garage. Our collection of Mustang weatherstrip kits and window moldings separates your ride from others in competitions and on the road. Get the sealants you require for long-lasting restoration results with products available for all six Ford Mustang generations.
The Purpose of Mustang Weatherstripping
Mustang weatherstripping refers to all sealants running from the hood of your performance car to the back bumper. Ford equipped Mustang vehicles leaving the production factory with weatherstripping, but those seals deteriorate over time. Aside from blocking moisture and debris, rubber sealants insulate the cab and ensure engine sounds are bearable inside the vehicle.
Weatherstripping sections must fit the exact shape of your Mustang to be effective. When installed correctly, water rolls off the sides of your car and refrains from entering the cab through small openings.
Benefits of Our Mustang Weatherstripping
Mustang weatherstripping products at Top Flight Automotive improve the appearance of your release, and our listings protect your model's cabin from leaks. The installation process for our offerings is straightforward, as we sell industry-leading adhesives on our online store. Mustang weatherstrip kits arrive with multiple pieces to replace original equipment manufacturer (OEM) installations in the areas you see fit. Our inventory also contains individual strips for smaller jobs.
Changing out weatherstripping is one of the most affordable ways to save your interior seats, mats and dash surfaces from a catastrophe. Most Mustang weatherstrip kits and products are easy to install for immediate results.
When Should I Change My Mustang's Weatherstripping?
Stock weatherstripping materials and adhesives deteriorate from exposure to UV rays, freezing temperatures and high winds. If you drive a Mustang variant that is 20 years or older, there's a good chance your OEM installations need replacements. However, wear and tear can happen faster if your vehicle sits outside for long periods.
Turn to Top Flight Automotive for weatherstrip upgrades if you notice the following issues:
Weatherstrip sections are missing.
OEM installations have punctures.
Factory strips feel dry and flake apart.
Water enters the cabin during storms.
You can hear the wind from inside the cabin.
Visible gaps appear between weatherstripping and car parts.
Ford Mustang Weatherstripping From Industry-Leading Brands
The Top Flight Automotive online store features Mustang weatherstrip kits and window molding products from reputable names in the restoration industry. Our offerings from ACP, Auto Accessories of America, Mr. Mustang, Scott Drake and other manufacturers are available for coupe and convertible body styles. Navigate our site with your vehicle's production year in mind for a compatible match.
1965-1973 Classic Mustang Weatherstrip Kits
Are you a proud owner of a 1965-1973 Mustang? Top Flight Automotive allows you to keep your valuable collector car in mint condition with multi-piece weatherstrip kits for your favorite ride. Our professionals fill our inventory with options made for Mustang fastbacks, coupes and convertibles.
Find all the weatherstripping pieces appropriate for your release, focusing on the hood, doors, windshield, and surrounding surfaces. Select kits arrive with four to eight pieces based on production year and body style. Some of our most popular Classic Mustang weatherstrip kits come with these components:
Hool to cowl seals
Roof seals
Windshield seals
Back window seals
Trunk seals
Door main weatherstripping (driver- and passenger-side)
1965-1973 Classic Mustang Hood Weatherstripping
Classic Mustangs were famous for having over 200 horsepower in the 1960s. When your weatherstripping goes bad, water droplets can roll into your engine compartment. Take care of your investment by closing those gaps. Top Flight Automotive is home to Classic Mustang hood to cowl seals that prevent moisture from entering intakes and vents.
Replacing factory hood seals is a proactive way to ensure your Mustang's engine compartment stays clean and free of contaminant buildups. Treat your showroom car to the cost-friendly upgrade it deserves for restoration, style and performance.
1965-1993 Ford Mustang Convertible Top Weatherstripping
A Classic or Foxbody Mustang convertible is perfect for summer weather. However, it's crucial to stay prepared for scattered storms. If you have to cruise with the top closed, products brought to you by Daniel Carpenter help you keep the cabin dry.
Place an order for convertible top weatherstrip sections that close off gaps near the windshield. We encourage customers to click on listings to learn more about compatibility and placement. Top Flight Automotive Mustang convertible weatherstripping products fit the dimensions of convertible models from the 1960s, 1970s, 1980s and 1990s.
1979-1993 Foxbody Mustang Door Seals
Weather and other factors put Ford Mustang doors to the test year-round. You can maintain Foxbody door panels and carpet mats by applying upgraded sealants near driver- and passenger-side door glass. Our 1979-1993 Mustang door seals from Scott Drake eliminate unwanted whistling sounds that occur when OEM seals pull away. Stop dirt, water and pollen from making their way inside your vehicle doors with our aftermarket replacements.
1979-1993 Foxbody Mustang Sunroof Window Moldings
Some 1979-1993 Foxbody Mustangs have manual sunroof windows. With the help of Top Flight Automotive, you can get all the natural light and fresh air you want without leaks. Replace OEM sunroof weatherstripping with reproduction window molding pieces. Selections from Daniel Carpenter fit your original sunroof window glass because they meet the same thickness specifications as the moldings Ford produced during the Foxbody era.
Top Flight Automotive for Ford Mustang Weatherstripping
The Top Flight Automotive team goes above and beyond for our customers with price match guarantees, outstanding assistance and fast deliveries. We fulfill many of our orders on the day of purchase. Our inventory has parts for your Mustang in stock. Call us to discuss aftermarket parts and accessories appropriate for your project.
Top Flight Automotive has joined forces with the Extra Mile Brands family of companies with roots in the Mustang world for over 40 years. Submit a contact form for more information about our selections and purchase Mustang weatherstripping from Top Flight Automotive.
Can't find what you're looking for? Let us know and we can help! Contact Us