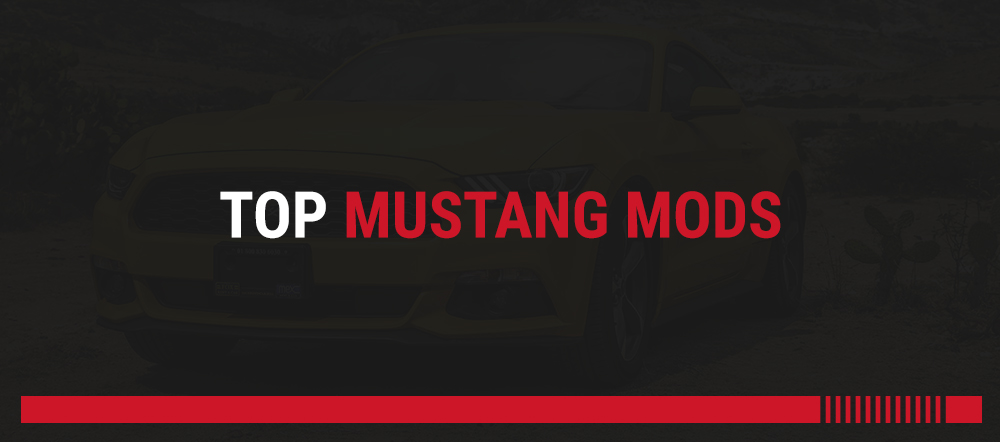 No matter the generation or submodel of Mustang you own, you can find custom parts and modifications designed for your vehicle. If you love to mod your cars and you own a Mustang, you're in luck — there's a huge inventory of Mustang parts available to consumers. You can find everything from supercharger kits and cold air intakes to suspension systems and seat covers, providing you with plenty of opportunities for greater performance and style.
Whether you need classic Mustang GT performance mods or more recent 2019 Mustang mods for your new sports car, you can find them from a reputable Mustang mod seller. As you explore options for customizing your Mustang, familiarize yourself with some of the best Mustang modifications on the market today.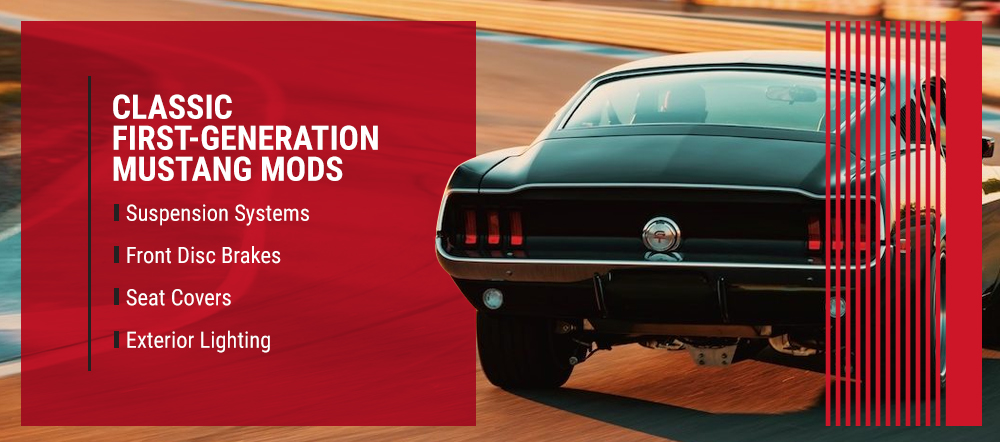 Classic Mustang Mods
First-generation Mustangs are popular among classic car enthusiasts. The cars have an amazing look and feel, but they're not without their drawbacks. Drivers have reported poor handling and steering, along with badly performing drum brakes and overheating problems. To make up for some of these issues, many drivers replace older factory parts with custom products that make their Mustangs safer and provide greater performance.
If you're looking to upgrade your classic Mustang, check out some of the best mods for it below:
1. Suspension Systems
Improved suspension systems are a common investment for anyone looking to mod their original Mustang. You can choose from various suspension systems, with some keeping the original suspension architecture of the classic Mustang and others letting you go in a wildly different direction. A new suspension system will be extra important if you've added other performance mods like overdrive and fuel injections, as the original suspension won't likely handle higher speeds.
2. Front Disc Brakes
Most original Mustangs were outfitted with four-wheel drum brakes. These brakes aren't the most reliable and can suffer from corrosion. To improve your classic Mustang's braking system, you should look at front disc brakes. They're much safer than the original drum brakes and allow more reliable braking, making them one of the most practical mods to add to your Mustang.
3. Seat Covers
Investing in seat covers is one of the easiest ways to mod your vehicle and give yourself a more comfortable experience. They also deliver an exceptional new look to your interior. Many provide a more modern appearance while still maintaining a retro aspect that calls back to their original production.
4. Exterior Lighting
If you want to enhance your Mustang's safety, invest in improved exterior lighting. You can purchase improved light-emitting diode (LED) taillight kits to ensure that drivers behind you can see your car when you take it out on a late-night drive. Additionally, you can find halogen headlamps to give you greater visibility on the road — along with other headlamp styles that afford your Mustang the lighting capabilities and look it requires.
Foxbody Mods
Commonly referred to as the Fox Body Mustang due to its production on the Fox platform, the third generation of Mustangs had quite a long run, staying in production from 1979 through 1993. If you have one of these models, you should be happy to know that there are tons of mods available for them. To get you started, some of the most popular mods are listed below:
1. Cold Air Intakes
One of the best ways to improve your engine is with cold air intakes. These intakes are affordable and add performance benefits while also cleaning up the Mustang's engine bay. A new cold air intake mod will replace the restrictive factory intake tubing with a high-flow air filter. This type of filter facilitates more efficient airflow into the intake manifold, resulting in better gas mileage and improved performance.
2. Exhaust Systems
The standard exhaust for a Foxbody is much too subdued and quiet for many drivers. By choosing a new exhaust system, you can pull classic muscle car sounds out of your vehicle. You can also switch out individual exhaust parts like mid pipes, aftermarket headers and mufflers for various effects. For example, changing the stock exhaust headers to aftermarket models can increase your horsepower significantly.
3. Wheel Sets
Give your wheels the exact look and style you love with four- or five-lug wheel sets. You can often find aftermarket and factory-style wheels to give your ride a retro or more contemporary look, depending on your style. These wheels are easy to install and popular for those who like to mod their vehicles.
4. Brake Kits
The drum brakes on the Fox Body are notorious for being inadequate and not providing the needed performance for a sports car. Healthy braking systems are crucial for safety, so it's no surprise that many modders turn to new brake systems. You can find various rear and front Baer Brake Systems designed to upgrade your third-generation Mustang's braking performance.
5. Center Console Cup Holders
While the Fox Body Mustang offered lots of reasons to love driving it, its lack of cup holders wasn't one of them. Not having anywhere to place your cup was a major inconvenience for most drivers. Center console cup holders allow Mustang drivers to add a section that can secure their cups. Additionally, these consoles can be outfitted with USB and power ports to keep all your devices charged.
SN95/New Edge Mods
In production from 1994 through 2004, the fourth generation of Mustangs saw lots of changes, with one of the major ones being Ford's decision to switch from pushrods to a modular engine. This enhancement made it much easier for modding enthusiasts to swap out their old engines for new ones. Besides this ability, the SN95/New Edge Mustang provided drivers with plenty of other mods, with some of the best listed below:
1. Cold Air Intakes
Cold air intakes are crucial for modders looking to increase their Mustang's power. By adding a cold air intake, you replace the car's standard airbox and draw in more cool air. This air is conducted through a large diameter tube that then gives the Mustang greater power than it had previously. These intakes often come in Blackout and Chrome colors, with different styles available to meet your Mustang's year.
2. Exhaust Systems
Take your exhaust system to the next level with race use exhaust systems that come with muffler fits. Exhaust systems like this improve your engine's performance and are crafted for optimal ground clearance. You can also find cat-back exhaust systems that loosen up restrictive resonators and give your Mustang the volume of a true muscle car. The many exhaust systems available for the fourth generation of Mustang won't disappoint — you should be able to invest in one that matches your exact vision.
3. Wheel Sets
Wheel sets are some of the most highly selected Ford Mustang mods for SN95/New Edge Mustangs. You can either restore your Mustang to its original look with classic wheels or update the appearance with aftermarket wheels. The top wheel sets come in several options, with Bullitt, Cobra, FR500 and Saleen being some of the best choices available. You can even find them in different colors to fully customize the appearance of your car's wheels.
4. Suspension Systems
Modding your fourth-generation Mustang with a new suspension system can provide you with tons of benefits that don't come with the standard factory version. It can improve your car's handling by reducing the body sway from turning and facilitating less brake dive. Some suspension systems can lower your Mustang and get rid of the vehicle's wheel gap. There's vast variety in the kind of suspension kits you can get, meaning you can find a kit that fits your vision perfectly.
5. Air/Fuel Systems
Your Mustang's air/fuel system maintains the optimal air-fuel ratio. Generally, you need to upgrade your air and fuel system whenever you update your Mustang's power. You can find parts like fuel pumps to help regulate fuel pressure and supply your Mustang with the fuel it needs to get the horsepower you desire. Other components like fuel injectors can improve your engine's power and fuel economy, making this product a wise investment.
6. Leather Upholstery
Give your Mustang an upscale appearance by choosing leather upholstery seating. You can get these seats in numerous styles and colors to match your sense of style. If your older seats have gotten scratched or stained, leather seats are the perfect upgrade. They also are a great choice for any modder who's simply trying to make their Mustang more comfortable and aesthetically pleasing.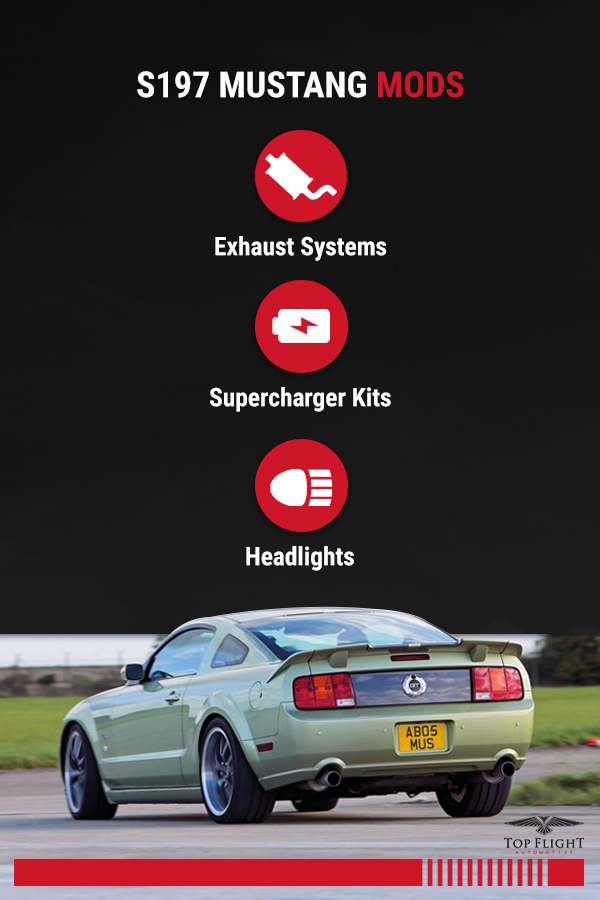 S197 Mods
The fifth generation of Mustangs came in what many would consider a retro-futurist package, giving some nods to the past but still shooting forward with plenty of new features and styles. There are some major differences between models in the early phase of the fifth generation and those that were released toward the end. The early options had much more limited choices for lighting, spoilers and other performance car features.
Luckily for Mustang enthusiasts, the arrival of the Shelby in 2007 and the expanded options for standard S197 Mustangs have given modders plenty of parts to play with. The following options cover the best mods for fifth-generation Mustangs:
1. Exhaust Systems
Make a statement with your S197 Mustang with an upgraded exhaust system. Your exhaust system will let people know your car is coming before they ever see it. An axle-back exhaust system for your Mustang will improve your vehicle's sound level in the cabin's interior and exterior. You can usually find them in stainless steel or aluminum options.
2. Supercharger Kits
If you want greater power from your Mustang, there's no better option than a supercharger kit. Supercharger kits are one of the best Mustang GT modifications — along with other submodels — as they raise your engine's power significantly. Once installed, these superchargers radically improve your torque and horsepower. Additionally, they can also be made to improve your mileage potential and offer better airflow. The best kits will enhance your engine's performance while being quiet to operate for greater drivability.
3. Headlights
If you have an early fifth-generation model, you likely have halogen lighting. Later models would get high-intensity discharge lights (HIDs) and LEDs, and there's no reason why you can't add these newer types to your headlights. You can find lots of headlight kits that give your Mustang superior lighting to match up to the newer models on the road.
S550 Mods
The sixth generation of Mustangs is the most recent, with this version of the legendary vehicle still in production. The car has been available since 2015, with some notable changes being the addition of independent rear suspension and new engine options. With these transformations, more opportunities for modding have opened up, and many Mustang enthusiasts are taking advantage of them.
Check out some of the best mods for Mustang GTs and other sixth-generation submodels:
1. Supercharger Kits
Like the supercharger kits from the fifth generation, sixth-generation Mustang superchargers outfit your ride with a serious performance boost. With some of the best 2018 and 2019 Ford Mustang mods available for your use, you can find a supercharger that adds a significant amount of horsepower to your vehicle. Supercharger kits are usually easy to install since they come with the needed parts and offer easy-to-follow directions for how to install them properly.
2. Wheels
One of the most popular options for modders is the car's wheels. While the factory wheel is attractive in its own right, some people will simply want to put their mark on the Mustang with custom wheels. Add another layer of personality to your ride with a new set.
3. LED Lights
Upgrade your visibility with LED taillights and headlights. Whether you're looking for 2015 or 2018 Mustang mods, LED lights are available for purchase, and they are a definite must-have. LED lighting provides drivers with clearer visibility at night and increases safety for those on the road after dark. LED lighting sets are often an excellent improvement over the factory lights.
4. Aero Spoilers and Splitters
Love the look of a swan-neck wing on your Mustang? What about a unique spoiler? You can mod your Mustang's look and performance in numerous ways with spoilers and splitters. As you look for ways to customize your Mustang's performance on the street or at the track, make sure to check out what aero kits have to offer — from carbon fiber wind splitters to adjustable wings.
Carbon fiber spoilers and splitters are hugely popular for the S550 generation, providing not only inherent lightweight strength and improved performance but also adding an outright cool-factor to your Mustang's appearance.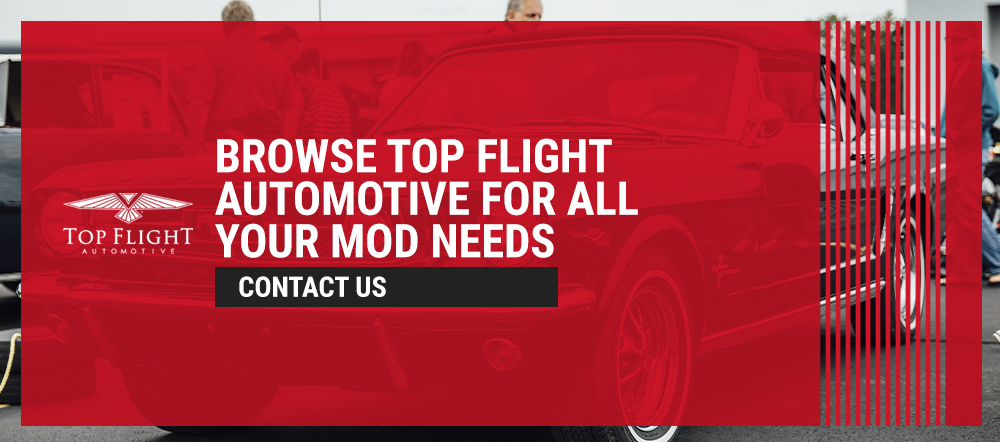 Browse Top Flight Automotive for All Your Mod Needs
Customize your car with only the best Ford Mustang mods from Top Flight Automotive. As a leading supplier of all things Mustang, we likely have the part you need to customize your car in the exact way you want, no matter the generation. You can find everything from the best Mustang GT mods to the latest Shelby parts. Our team is made up of Mustang experts, and we can always help you find the perfect parts for whatever modification project you're working on.
Browse our selection of Mustang parts, interiors and accessories to make your next purchase today. If you have any questions about our offerings, feel free to contact us for more information.