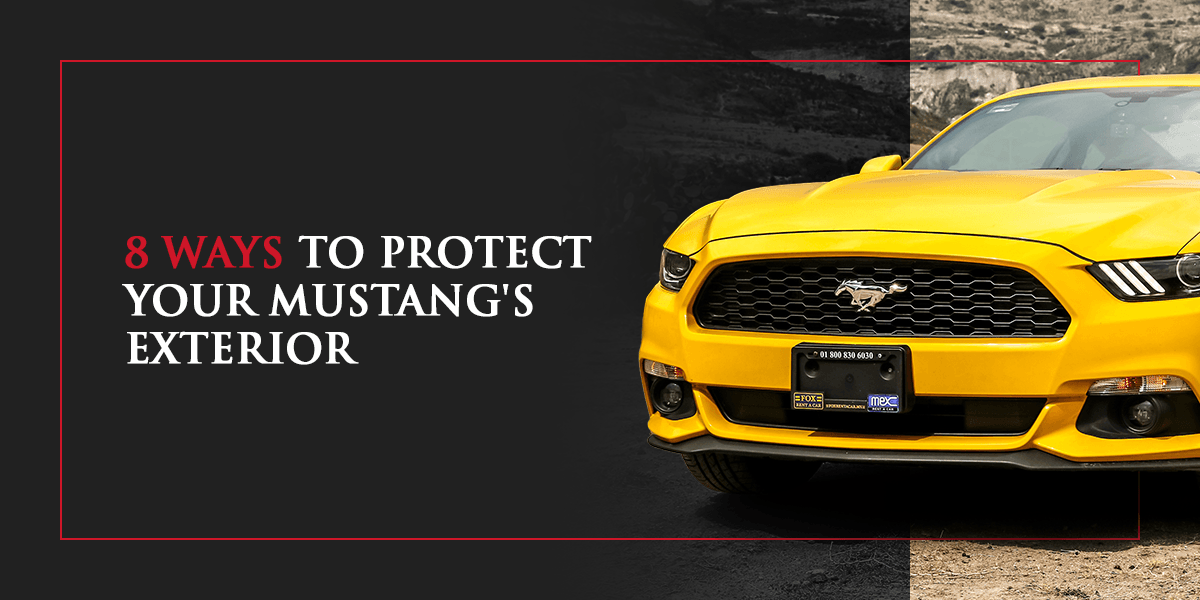 The Ford Mustang is a classic vehicle. With a storied history and iconic models, it's a car that stands as one of the most popular of all time. One of the things that makes it so special is its design and exterior — there's something about seeing a Mustang glide down the street that sets it apart from other vehicles. The short-deck, long-hood style continues to be a hit even today.
If you own a Mustang, you're probably looking to preserve this unique aesthetic and keep your ride looking as new as possible. Vehicles with fading and chipping paint are often missing that special quality that makes them a joy to look at and drive. Fortunately, the right protection strategies can keep your Mustang's body looking great and prevent future damage.
Here are eight ways to protect your Mustang's exterior and keep your pony car turning heads: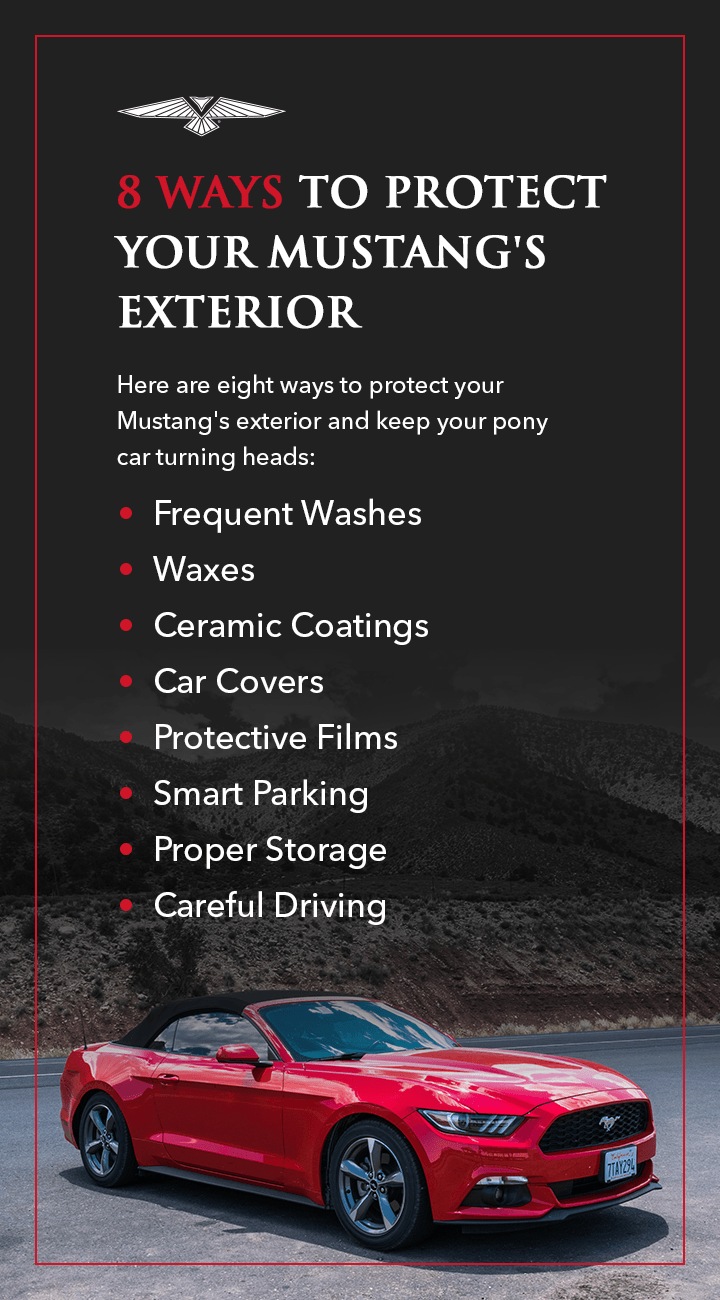 1. Frequent Washes
One of the easiest ways to protect your Mustang's exterior is to wash it frequently. While driving, debris will inevitably kick up and cling to your vehicle. Even if it's just sitting in one spot for a period of time, your Mustang can still collect dust and other contaminants. Frequent washing ensures you're cleaning off debris before it can settle into the paint or create lasting problems.
You can take some actionable steps to make the cleaning process as effective as possible:
Hand wash: Taking your Mustang to an automatic car wash is a solid option for cleaning it. However, the old-fashioned way is also very effective — by washing it yourself, you can really see all the grime coating your vehicle. The closer and more personal the wash is, the easier it will be to spot those little imperfections you can correct for a deep, detailed clean.
Use reliable cleaning agents: If you're using the wrong cleaning agents, you could be wasting time — or worse, actually harming your Mustang's finish. Be sure to find a trusted source for your cleaning products — preferably a car care professional — who can show you what you need and give you some tips for the process as well.
Frequent washing is a great start to keeping your Ford Mustang exterior shining. Cleaning your ride by hand will help you cover every inch and get spots an automated wash might miss, and using quality products will ensure you're cleaning your Mustang safely and effectively.
2. Waxes
Adding wax to your Mustang will give it a deep, almost "wet" look that enhances its exterior. As an added benefit, it will also defend the car's body from the elements, including UV rays, rain and other weather conditions.
Waxing provides a temporary, inexpensive exterior coating you can apply as often as needed to protect your Mustang's paint and outer surfaces.
3. Ceramic Coatings
Like wax, ceramic coatings also help protect your car and give it an extra shine. However, a quality ceramic coating will last longer and can offer even more protection, resisting damage due to scratching or extreme temperatures. Professional-grade ceramic exterior coatings are a great option for preserving your Mustang's finish and appearance.
4. Car Covers
When it comes to protecting your Mustang's exterior, it's always better to err on the safer side. If you're storing your Mustang in a garage, you may think it's safe from the elements. However, garages often have their own contaminants — dirt, dust and even small animals that could leave droppings on your car. It can be frustrating trying to counter these issues in your own garage, but there's an easy solution — a Mustang car cover.
A Mustang car cover is an essential purchase if you're looking to safeguard your vehicle's exterior. Top Flight Automotive offers Car Covers from reputable brands such as Onyx Covers and Covercraft. These covers drape right over your car so it stays fully protected from the outside world. You can even purchase weatherproof covers that guard it against sunshine and harsh weather when it's not kept indoors. Choose the cover that works best for you to take advantage of this simple but very effective way to protect your Mustang's aesthetic appeal.
5. Protective Films
Just like wax and ceramic coatings, there are several Mustang paint protectants you can find to help defend your exterior. These protective films can guard against scratches as well as the elements, but you want to be sure to buy from industry experts who offer a top-quality, thoroughly tested product. Since paint protection films can be challenging to apply, you may want to opt for professional installation as well. A properly applied film will go a long way toward keeping your Mustang's paint pristine.
6. Smart Parking
One of the most crucial aspects of Mustang exterior care is parking in a safe location. Putting extra care into parking may seem tedious, but this decision will have a lasting impact on your car's appearance. Here are some easy strategies to have in mind when deciding where to park your Mustang:
Find shade: Shade is a paint job's best friend. UV rays can eventually start to fade your vehicle's paint, so it's best to park in the shade and keep your Mustang out of direct sunlight.
Avoid trees: While you're looking for shade, it can be tempting to park in the cool space underneath a tree, but this is another place you want to avoid. Trees are always shedding leaves, pollen, acorns and more, which could fall onto your car and create scratches and marks. Try to find shade beside a building or in another area where trees can't harm your vehicle.
Use parking garages: Parking garages are a great option, as they offer shaded areas protected from the elements. Make sure to park on one of the lower levels that's out of the sun, and take care when navigating the garage — these structures are often cramped and have sharp turns, so take it slow to avoid accidental damage to your vehicle.
Parking smart is a simple technique that will have many benefits for your car. Take a little extra time and be patient so you're not rushing to park and putting your Mustang in an area where damage can occur. Go slowly and look for a suitable spot, and you'll be thankful you did so later.
7. Proper Storage
Storage is an essential factor in protecting your Mustang's exterior. Leaving your ride out in front of the house can be a great way to show it off to passersby, and it adds a certain level of decoration and character to your home. Leave it out too long, however, and it can be the victim of rainstorms, sun damage or even snow if you live in colder climates, all of which can wear on your vehicle's exterior.
Garages are great locations to store your Mustang, and adding a car cover will give it even more protection against dust, pests or accidental impacts. If you don't have a garage, installing a carport is an easy and effective way to help keep the elements from harming your car's body or paint job.
8. Careful Driving
There's another way to protect your exterior that is relatively straightforward — drive carefully. That means avoiding rough roads or any routes which might put you into unsavory conditions. Narrow, crowded streets can also make you more vulnerable to bumps and rear-ends, so it's best to try to find open freeways and roads that will give you some room to maintain space between you and other vehicles while you drive.
You should also be wary of the weather — if it's raining, snowing or extremely windy, your car is more likely to be coated in potentially damaging debris. If you live in colder climates that require salt on the roads, it's best to wait for a more optimal time to drive. Though you shouldn't have to wait for the perfect day for a trip, you should consider whether driving in bad conditions is worth the risk to your vehicle.
Try to stick to roads that you know are well-paved and free from any hazards that could kick up debris. Of course, this may be a challenging thing to do, and you can only plan your routes so much before it takes away from the drive itself. It's wise to stay mindful of road conditions, but don't let fear of damaging your car keep you from getting out and enjoying it.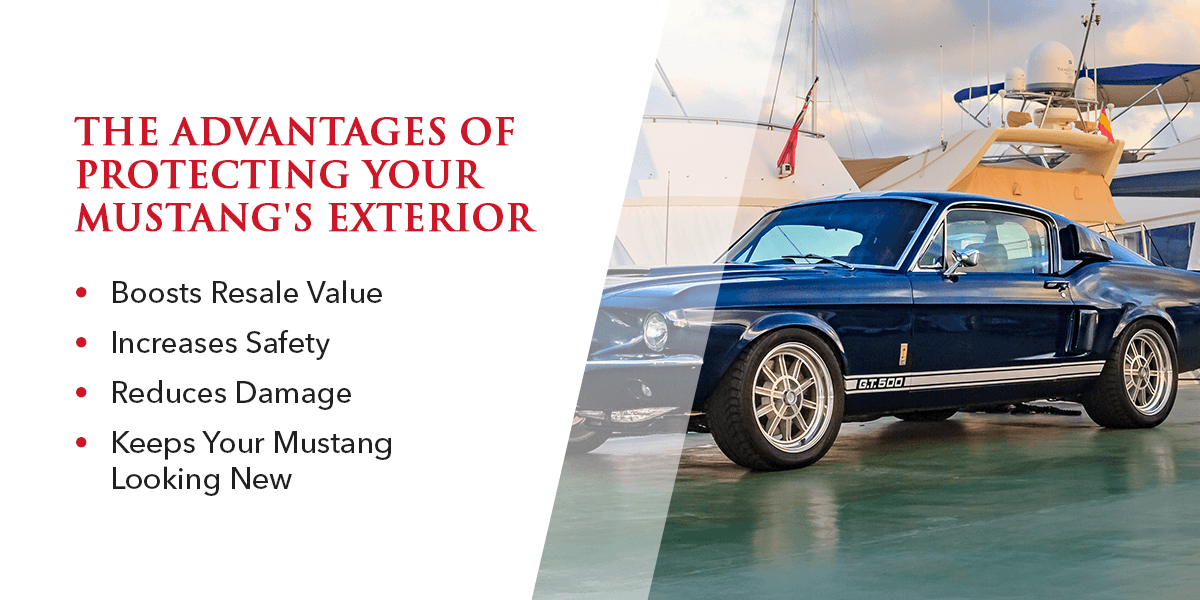 The Advantages of Protecting Your Mustang's Exterior
Why go to all this effort to preserve your car's exterior? It's about more than just the looks, and there are many benefits to taking extra care of your car. Consider these advantages to protecting your Mustang when you're deciding how you want to go about it and how much you want to invest.
Boosts Resale Value
If you intend on selling your Mustang at some point in the future, protecting your exterior should be a top priority. Mustangs with faded, chipped and scratched paint will fall in value merely because of the way they look. The exterior of a vehicle usually reflects what's inside, so many will assume that if you didn't take care of the body, the inner workings will probably be in a similar state.
A shining, glossy finish, on the other hand, will improve a buyer's perception of the vehicle, raising your resale price and helping you reap a bigger profit.
Increases Safety
Taking care of your Mustang's exterior will also make it safer to drive. Neglecting to clean your vehicle can cause dirt to build up on your windshield and headlights, affecting your visibility and making you more prone to accidents. Getting proactive and cleaning your vehicle regularly will help guard against those accidents.
Even just paying more attention to your vehicle will mean you'll likely spot potential problems sooner. You can then take care of these issues before they become something bigger, lessening the chances of a breakdown while out on the road.
Reduces Damage
Using coatings and car covers, frequently washing, parking smart — all of these things are preventive measures to protect your Mustang from damage. You can save money, time and effort by taking these simple steps and getting out of the way of danger before it happens. Washing will help remove debris before it gets embedded in your paint, coatings will defend against UV damage and harsh weather, and driving carefully will protect you from accidents.
Keeps Your Mustang Looking New
Of course, there's always the most obvious reason for protecting your Mustang's exterior — it will keep your car looking good as new. One of the best parts of owning a Mustang is the pride that comes with cruising around town. No matter the year of your release, the design always turns heads, and a shining, spotless exterior lets people know how much pride you take in your ride.
Driving a Mustang, with its rich history and one-of-a-kind design, should make you feel good when you're behind the wheel. With a paint job that's always fresh and shining, you'll feel like you're taking it out for the first time, every time.
Knowing all these advantages, you might want to think on how you're going to protect your Mustang's exterior. If you don't have the right tools and products for the job on hand, reach out to the team at Top Flight Automotive for everything you need to keep your pony car pristine.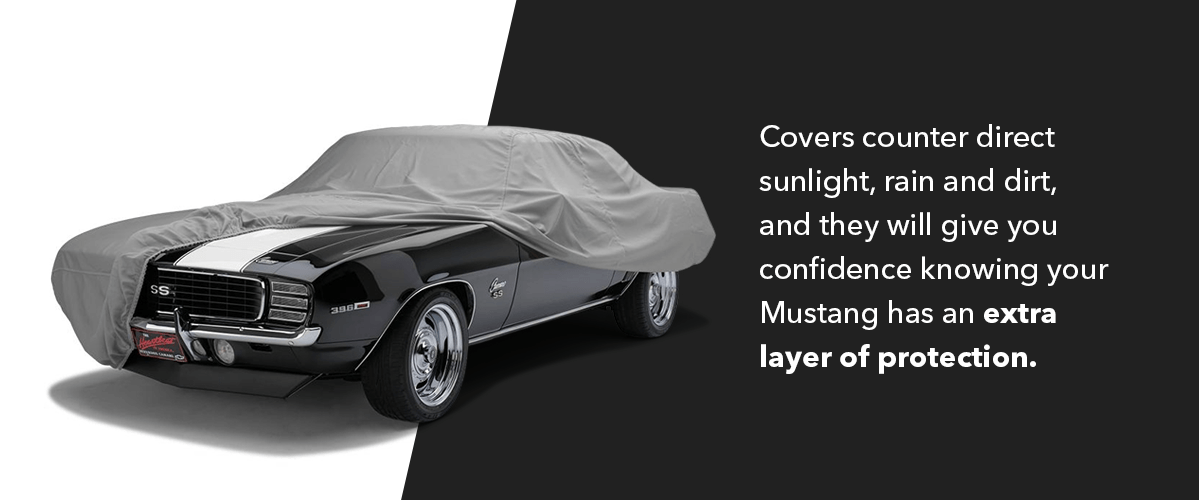 Mustang Exterior Protection Options From Top Flight Automotive
Top Flight Automotive employs experts in the car industry, and we offer a vast range of quality products to our customers. When you need something to help protect your Mustang, Top Flight Automotive has you covered.
We offer reliable, effective products to clean and preserve your car's exterior, including:
Choose from these products and more when you visit Top Flight Automotive.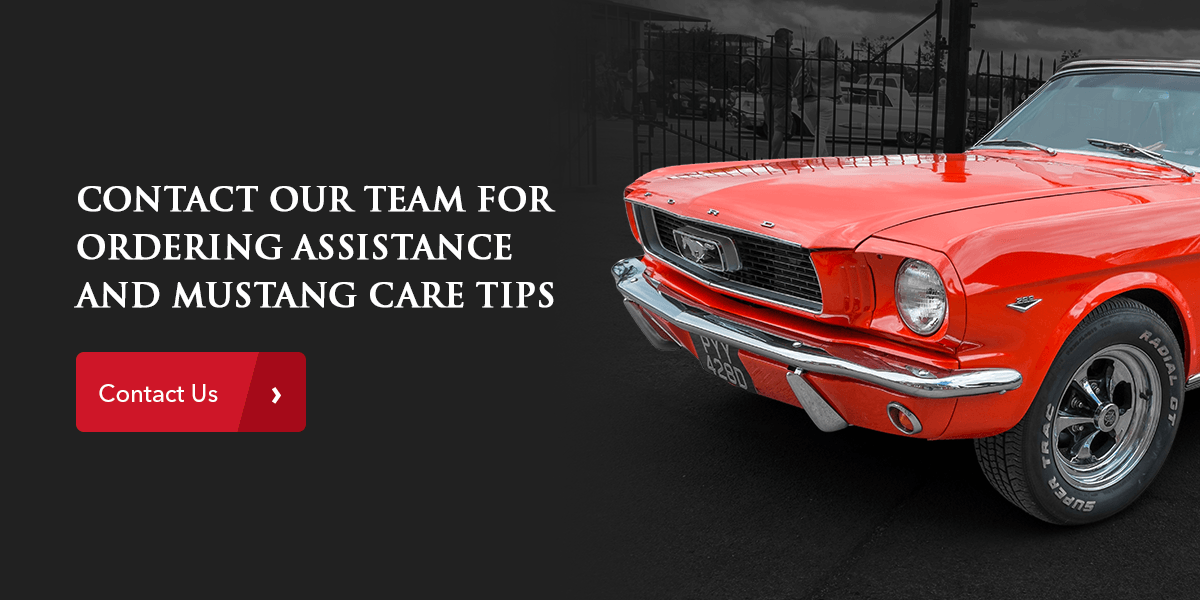 Contact Our Team for Ordering Assistance and Mustang Care Tips
Taking care of your Mustang is a worthwhile endeavor, but there's a lot that goes into keeping a vehicle pristine for the long haul. That's where a company like Top Flight Automotive can help — our expert team can answer any of your questions and guide you to the products you need. We're vehicle enthusiasts ourselves, and we'd love to help you keep your pony car on the road. If you need any ordering or product assistance, feel free to contact us today!