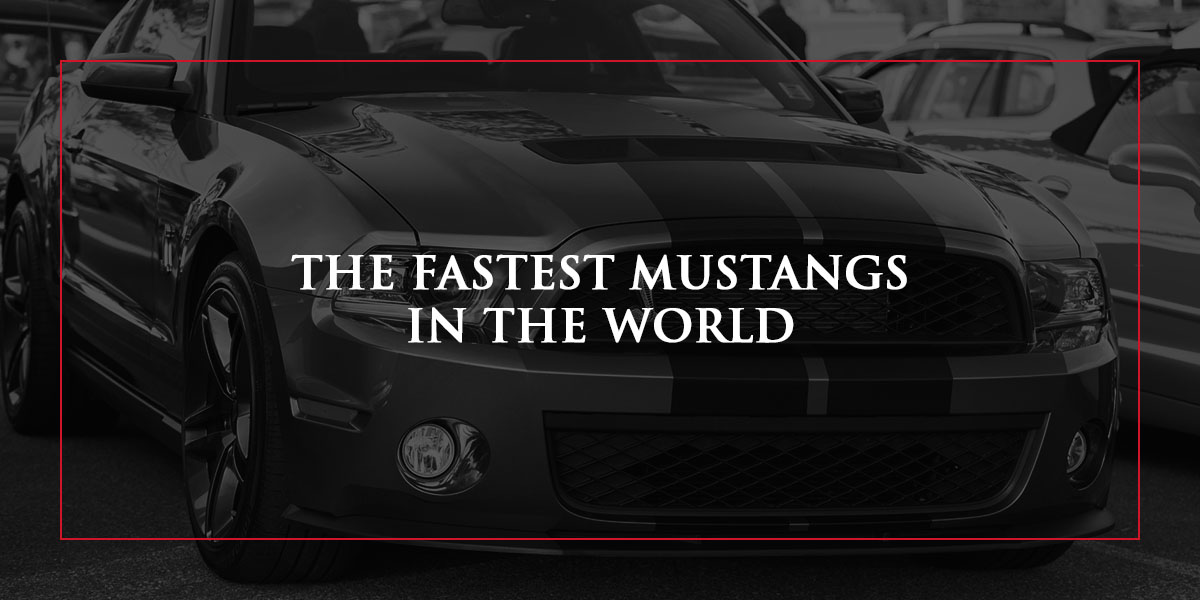 The Ford Mustang is one of the most popular cars of all time. Born in the early 1960s, the Mustang went on to become a staple of the industry. While some still cherish the early days of the Mustang, its engine has become even more powerful in recent years.
If you're a fan of the Mustang, you may be wondering which Mustang is the fastest. We've compiled a list that gives you insight into the speediest Mustangs to ever hit the market.
10 Fastest Mustangs in the World
Ford has found ways to upgrade the Mustang to make it as fast and powerful as ever. From its modest early days to the shiny, impressive vehicles we see today topping outrageous speeds, there are many different types of Mustangs to cover on the timeline.
Here are the top 10 fastest Mustangs in the world, ranked from bottom to top:
10. 2004 Ford Mustang Mach 1
There are numerous types of Mustangs out there, but the Mach 1 is one of the most powerful. The Ford Mustang Mach 1 debuted back in 2004 and remains one of the fastest models of its kind. It has a 4.6-liter V8 engine and can get to a top speed of 151 miles per hour.
9. 2020 Ford Mustang GT PP2
If you're looking for a balance between performance and excellent drivability, then the 2020 Ford Mustang GT PP2 is a great choice for you. This model offers great handling, a pleasant driving experience and the performance to match — the GT PP2 can reach speeds of 155 miles per hour. Without the electronic limiter, it can go even faster.
8. 2012 Ford Mustang Boss 302
In 2012, Ford came out with one of their quickest and most forceful vehicles yet — the Ford Mustang Boss 302. This model has a 5.0-liter V8 engine with 440 horsepower and 380 pound-feet of torque. Its top speed is 157 miles per hour and can go from 0 to 60 miles per hour in 3.97 seconds.
7. 1995 Ford Mustang SVT Cobra R
One of the fastest Mustangs to ever hit the market debuted in the 1990s. The 1995 Ford Mustang SVT Cobra R is a unique model in that it originally came in white and was only sold to those with a racing license. It's a relatively bare-bones vehicle that tops out at 160 miles per hour — a speed that holds up even today.
6. 2019 Ford Mustang Bullitt
With a top speed of 163 miles per hour, the 2019 Ford Mustang Bullitt can fly. The Bullitt model is known for more than just its performance standards, of course — if you're a fan of film classics, you'll likely recognize this vehicle from the sixties classic "Bullitt," starring Steve McQueen. The Bullitt lineup has been brought back several times to honor the iconic San Francisco car chase scene and give avid fans everywhere another chance to sit behind the wheel of the powerful vehicle.
5. 2007 Shelby GT500 Super Snake
The 2007 Shelby GT500 Super Snake has a great-looking exterior and an impressive top speed of 170 miles per hour. Strong and sturdy, its design weighs it down a bit, but it's still able to put out great performance behind 600 horsepower.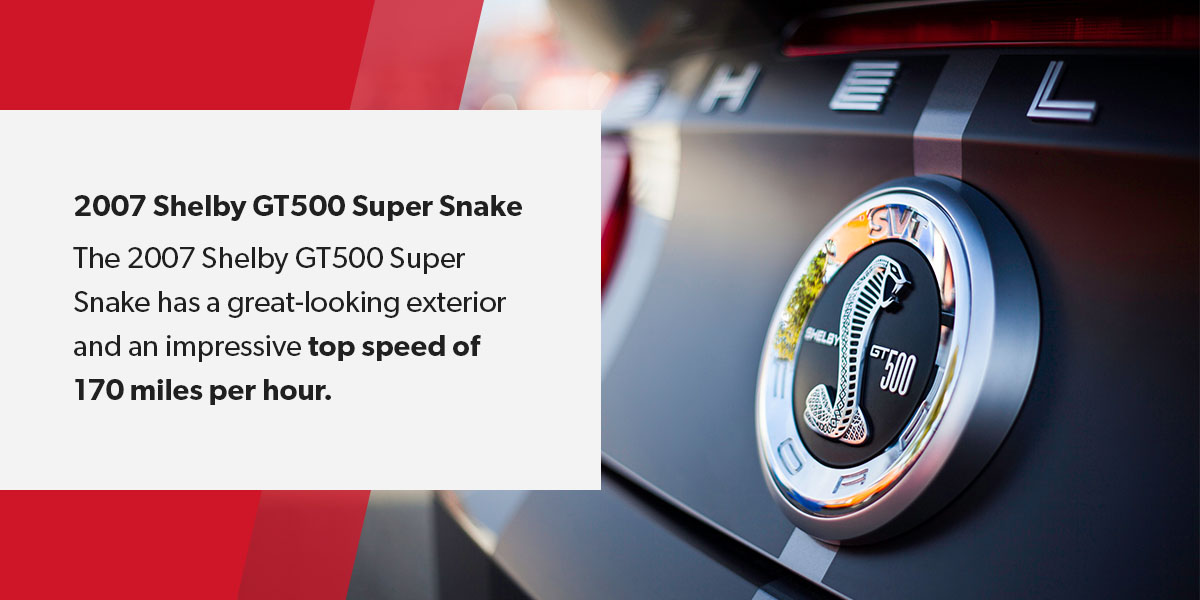 4. 2016 Shelby GT350
Some of the vehicles on this list could have been faster but their designs weigh them down. To get as much speed as possible, there must be a balance between aesthetics and performance.
The 2016 Shelby GT 350 can take advantage of a lightweight design and push its speed to the limits. The result is a fierce engine that can go from 0 to 60 miles per hour in the blink of an eye. It can reach a top speed of 175 miles per hour.
3. 2013 Shelby GT 500
The 2013 Shelby GT 500 is an impressive model, boasting a 0 to 60 miles-per-hour time of 3.5 seconds. It can reach a top speed of 200 miles per hour with its 5.8-liter, V8 engine capable of 662 horsepower. Though it's not the fastest Mustang model, this Mustang can reach incredible speeds and stands as one of the most powerful Mustangs ever.
2. 2020 Shelby GT 500
The second fastest Mustang model is the 2020 Shelby GT 500. It has a 760-horsepower supercharged 5.2-liter V8 engine, which pushes its 0 to 60 miles-per-hour time to an incredible 3.5 seconds. It includes a seven-speed dual-clutch transmission. Although driving one of these Mustangs would be an incredible experience for most drivers, it still sits secondary to the fastest Mustang on the market.
1. 2021 Shelby GT 500
The fastest Mustang in the world is the 2021 Shelby GT 500 — a new addition to Ford's lineup that features one of the most powerful engines yet. In fact, it's the fastest production ever built, and the most powerful street-legal Ford vehicle of all time. Those reasons are what bring it to number one on this list.
The 2021 Shelby GT 500 features a 5.2-liter V8 that gets pushed to the absolute max. With the 2.65-liter Eaton supercharger cable attached, this Mustang produces 760 horsepower and 625 pound-feet of torque. The new Mustang is capable of more than just sheer power — it provides excellent drivability and top-of-the-line features that make it even more attractive to buyers. Of course, its most notable selling point is that it's the fastest Mustang in the world.
Keep Your Mustang Up to Speed With Top Flight Automotive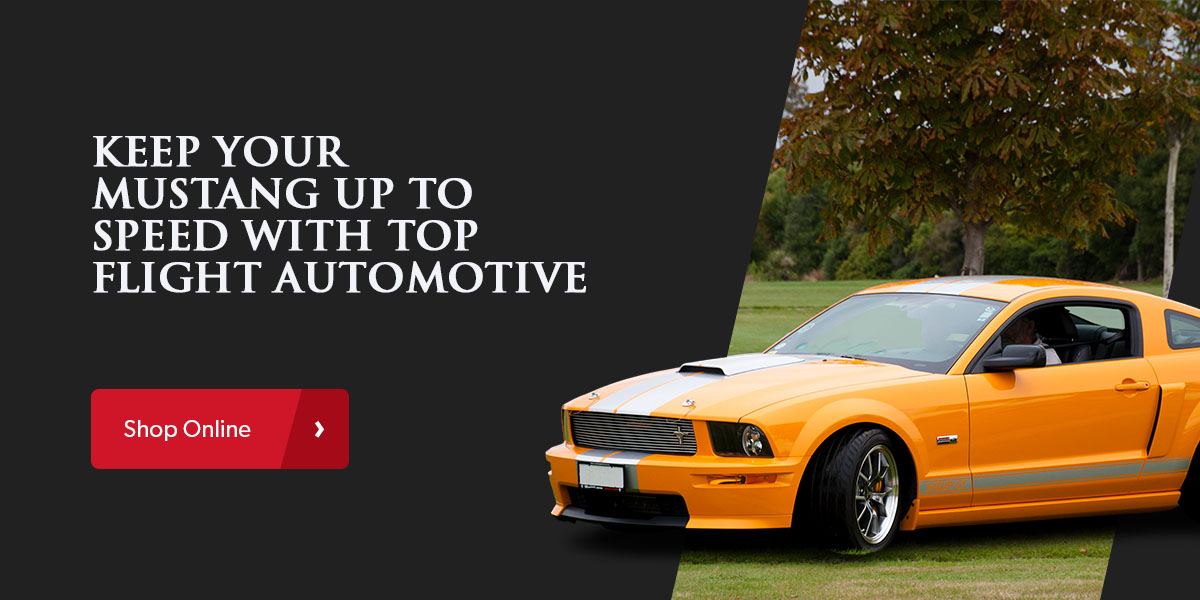 At Top Flight Automotive, we offer a huge selection of Mustang parts that can help you with any kind of project you undertake. Whether you're looking for a small fix or a major restoration project, Top Flight Automotive has the parts you need to set you up for success. Work with us and enjoy the following benefits:
Convenience: Instead of going through various sellers trying to find what you need, Top Flight Automotive offers everything in one convenient location.
Quality parts: We make sure everything we sell our customers is high-quality and durable, so you can trust it'll last a long time without issue. Instead of buying from an independent seller and being unsure about a part's condition, we offer a reliable solution that can give you confidence in your purchases.
Trusted service: Our team is made up of a knowledgeable sales staff who have spent many years in the industry.
Our expert team is ready to answer any questions you may have and guide you toward the right product for your situation. Shop online today!