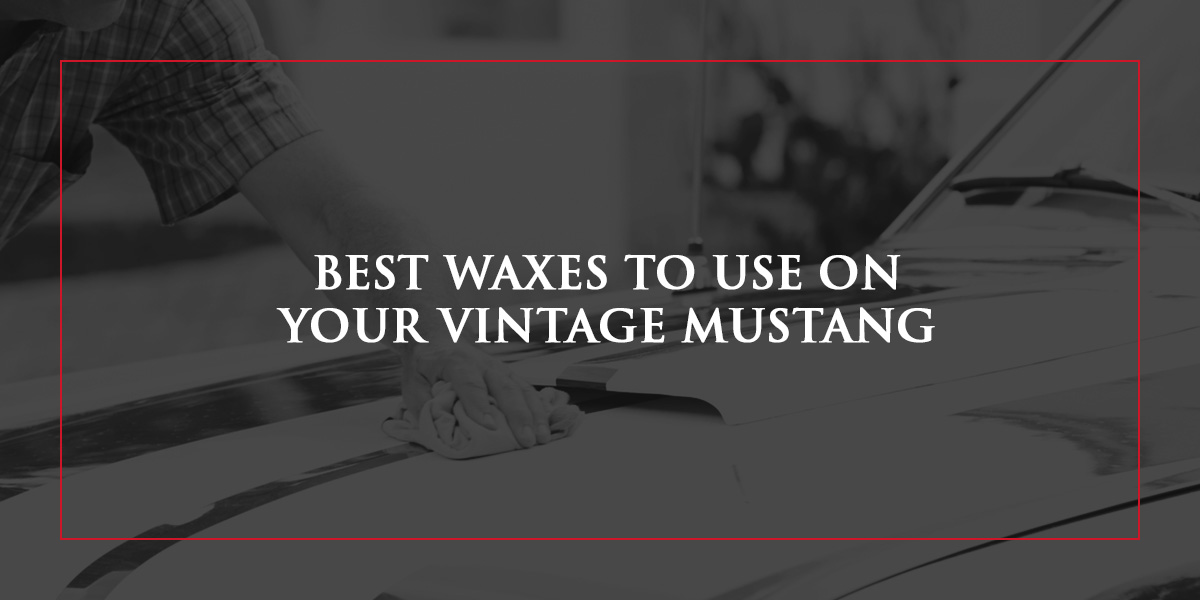 Waxing can help protect your vintage Mustang from the elements, improve its appearance and help boost its resale value. You might already know all the benefits of waxing your vehicle — you could just be looking for the right product.
Finding the right wax for you might seem challenging. Understanding the best products on the market can help you make your final decision.
Here, we'll take a look at the complete waxing process — which products you'll need, the best type to use and how to do it.
Understanding the Waxing Process
"Waxing" a vehicle simply means that you're applying a coat of wax to the vehicle's exterior. Typically, you'll buy your waxing product and use a pad to apply it to the exterior of the vehicle. Once you've applied it, you'll then remove the surface wax with a microfiber towel. What's left behind will be an invisible, hardened coating of wax.
This coating will help protect the vehicle from sunlight and harmful contaminants and improve your car's overall appearance. The results will give your vintage Mustang a high-gloss shine that makes it look new.
Benefits of Waxing Your Vintage Mustang
Waxing can sometimes be a lot of work, so it's important to understand why you should invest time and money into the process. Waxing helps you:
Improve your Mustang's appearance: One of the most rewarding aspects of giving your vintage Mustang a waxing is the way it will look when you're done. The wax will leave a shiny, glossy finish that will make your vehicle stand out from the rest. When you drive it around town, you'll be proud of the way it looks.
Extend your Mustang's longevity: Waxing also provides a protective layer to your vehicle. The right coating can defend against the fading effects of UV rays, prevent harm from contaminants and retain your original paint job. Wax can keep your Mustang from rusting and allow you to drive with confidence in your vehicle's defenses.
Boost your Mustang's resale value: It's always a good idea to keep the value of your vintage Mustang in mind. Even if you aren't considering selling it soon, taking care of your Mustang now will set it up for success in the future. A great waxing job will improve your vehicle's appearance and make it more durable, adding to its overall value.
These benefits are important to keep in mind during your waxing job. They can help keep you motivated and remind you of the importance of investing in quality tools and supplies. These benefits are also the main reasons you should find the best wax on the market for your vintage Mustang.
Best Wax to Use on Your Vintage Mustang
The process of waxing itself is fairly straightforward. One of the more challenging parts is selecting the right product to use. There are many options out there to choose from, so it's important to understand what qualities you should be looking for and which products are considered reliable.
Griot's Garage Wash and Wax
Griot's Garage Wash and Wax is a great option because of its convenience — it offers both a wash and a wax in one easy step. Griot's Garage Wash and Wax has an ultra-thick formula that creates long-lasting suds, giving your vehicle a thorough, comprehensive cleaning and waxing. For those who are looking for an easy, effective waxing job, Griot's Garage Wash and Wax is the perfect option.
Griot's Garage Spray-On Wax
Sometimes people avoid waxing their vehicle because of the amount of time and energy it takes. Some people don't want to spend the time thoroughly applying wax all over the car. That's where Griot's Spray-On Wax comes in — you can easily apply this wax to your vehicle. Just wash your vehicle, and use the spray-on wax as you dry it. Wipe it away with a towel or microfiber cloth, and you have yourself a newly glossed vehicle without expending all the time and energy.
Griot's Garage Best of Show Wax
For a quality finish that generates color, depth and clarity, try out Griot's Best of Show Wax. This type of wax is great for those looking to take their vintage Mustang to a car show or who just want to show off a beautiful exterior around town. With a heavy carnauba wax content, this product delivers a shine that looks like factory-fresh wet paint.
Griot's Garage Liquid Gloss Poly Wax
Some types of waxes are synthetic and use cutting-edge technology to provide lasting durability and an incredible finished product. Griot's Garage Liquid Gloss Poly Wax is one of those types. With a wet-looking, smooth finish and exceptional protection, this wax is a great choice for your vintage Mustang. It's an easy wax to work with and will save you time during the application process.
Other Essential Tools and Waxing Supplies
Though waxing can be a simple job, there are many different tools and supplies you may need to aid you in the process. To make waxing effective, gather all of the tools and materials you'll need before you start. Here's what you'll need in addition to wax:
How to Prepare Your Car for Waxing
It can be tempting to jump right into the waxing process to get your vehicle to shine. However, if you don't do the process correctly, you might not be getting the full advantages of waxing. For it to be effective, make sure you're preparing your vehicle for a good waxing.
1. Wash Your Vehicle
Using mild soap, a soft cloth and water, wash the exterior of your vintage Mustang. This will help get any dirt and grime off of the vehicle before you start waxing. You'll want to have a clean, smooth surface to work with that you can easily apply wax to so you can avoid scratches.
2. Remove Contaminants
Even after you wash your vehicle, be sure to make a second round to remove any lingering contaminants from the Mustang. Clay bars and other stronger cleaners will help get rid of that pesky remaining dirt.
3. Choose the Right Conditions
You should also consider where and in what type of conditions you'll be doing the waxing. Typically, you'll want to avoid waxing your vehicle in direct sunlight, as this could bake the wax on before you're done and be harmful to the vehicle. You may want to think about an enclosed space to wax your vehicle in so you won't have to worry about exterior conditions, like dust blowing onto your Mustang.
How to Wax Your Vintage Mustang
Waxing a vehicle requires a few different steps. Understanding each step before you start will help you make the waxing process go smoothly.
1. Prepare
First, you need to prepare for the waxing job. This involves washing your vehicle, removing contaminants and figuring out where you're going to be doing the waxing. This step also involves actually finding the right waxing product. Look through all of your choices and figure out which product will be right for your situation. Be sure that you're being patient and considering the various characteristics of waxing products:
Ease of use: Some waxing products are designed for easy use. If you want to get the job done quickly, for instance, a spray-on you can easily apply might be the way to go.
Appearance: Different waxes provide a certain finished appearance. Consider the different ways waxes might look when they dry, whether you want a subtle shine or a wet-gloss look.
Function: Are you waxing your vehicle to improve its appearance? Or are you just looking to protect it from the elements? Different types of waxes may be suited to different functions. Consider which one will be best for your situation.
2. Gather Your Materials
You'll also want to gather all of your materials before you start. Make sure you have all of the tools and products you need before you begin. This will ensure that you won't be scrambling to find something in the middle of a waxing job. Keeping everything at arm's reach will make things go smoothly.
3. Read Instructions
Each waxing product will come with its own unique instructions to follow. Some may be spray-on, while others you'll need to apply with a pad. Whatever product you've bought, make sure you're reading the instructions and understanding what you need to do.
4. Apply Wax Thoroughly
Many vintage Mustang wax products will provide an applicator such as a pad or a towel. Use this tool to slowly and gently apply your wax to the vehicle. Pick one small area of your Mustang and apply the wax using circular motions. Cover your vehicle in these overlapping circles until you're done. Then let the wax dry.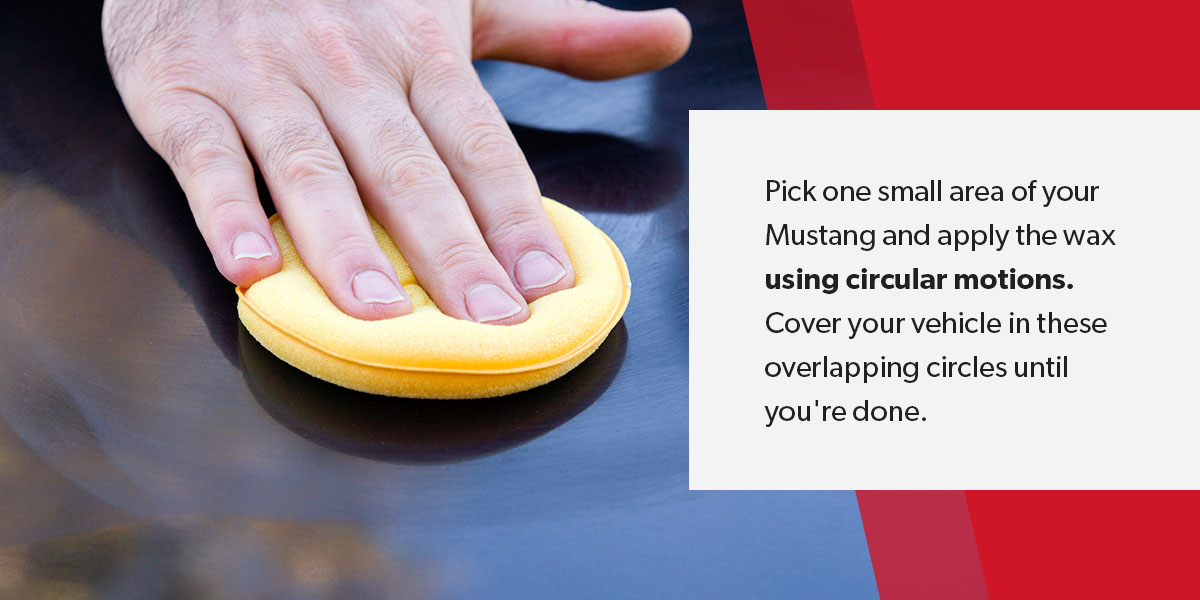 5. Remove
Use a microfiber cloth to remove the surface layer of wax. Remove this wax the same way you applied it — with small, overlapping circles. Once you've gone around the whole Mustang, you should be left with a glossy finish.
Polishing the Interior
While the outside of your vintage Mustang is clearly important, you could take time to polish the interior of your vehicle, too. Choose from a variety of products like glass cleaners, steering wheel polishes and leather conditioners to make your interior shine:
Glass cleaner: A quality glass cleaner will help you get rid of all of those annoying spots of grime on your windshield and windows. Griot's Garage Foaming Glass Cleaner foams on contact, loosening dirt and allowing you to easily clean your glass.
Steering wheel polish: Your steering wheel is the focal point of your Mustang's interior. Make sure you're investing in a quality steering wheel polish to defend it from fading and cracking.
Leather conditioner: It's easy for the interior of a vintage Mustang to start to show its age. The leather of the seats can start to crack and fade with time. A leather conditioner is the perfect antidote, providing a layer of resistance and a softening effect for your seats.
Shop Mustang Waxing Products Online
Waxing your vintage Mustang is an involved process that offers many advantages. One of the best ways to make sure you're waxing your vehicle effectively is to find the right supplies to help you throughout the process. Instead of going through various sellers to find individual products, shop with a reliable company that can offer you everything you need in one convenient location.
Top Flight Automotive is the place to find all of your waxing supplies. When you shop with us, you can take advantage of many benefits, including:
Convenience: At Top Flight Automotive, you'll get access to an online shop where you can sift through a huge selection of car supplies. Browse through waxing essentials and tools to easily find what you need from the convenience of your own home.
Quality: We make sure we're providing our customers with quality products they can rely on. Instead of going through independent sellers and being unsure of the quality, you'll find trusted versions of what you need with Top Flight Automotive.
Reliability: Our team is ready to help you find what you're looking for. You can rely on our sales staff to be there when you need advice about the best products for your vintage vehicle.
When you need some help with your vintage Mustang waxing job, Top Flight Automotive is here to offer you the supplies you need. Shop online today!