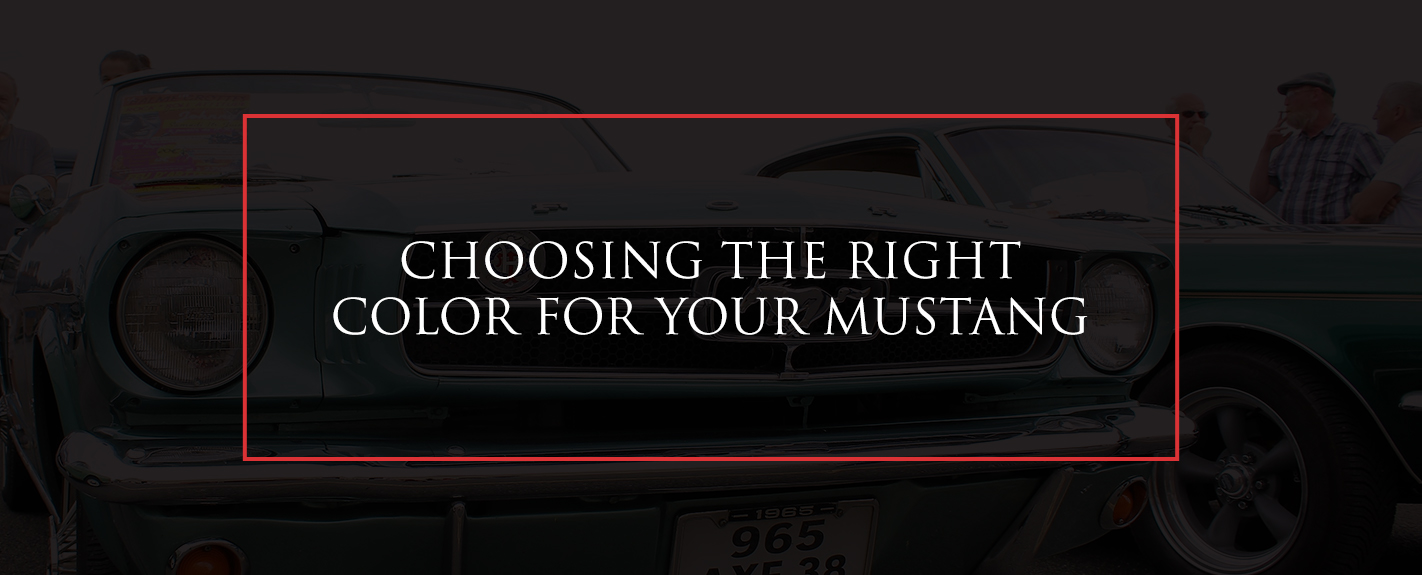 Since Henry Ford II debuted the first Mustang at the 1964 World's Fair in New York, car enthusiasts have been in love with the vehicle. Ford sold more than 400,000 Mustangs within the first year of production, and today sales exceed 10 million vehicles. Consumers have seen the vehicle change over the years, but they can always trust that a new Mustang will be fun to drive, turn heads on the road and provide superior handling.
As a time-tested pony car in the U.S., Mustangs have blown away the competition for years with captivating exterior paint colors. When you get behind the wheel of your Mustang, you should feel confident that your paint job fits your personal style.
If you're looking to buy a new Mustang or repaint the exterior of your old one, getting the color right is crucial for authenticity and showcasing your personality. For example, a shade of brown can work well for a Mustang produced in the '70s, but the color might look odd on a model produced in the last couple of decades. To help you pick the right paint, take a look at the most classic Mustang colors for different years and models.
How to Choose a Paint Color for Mustangs
Mustangs have seen hundreds of colors in the almost 60 years they've been in production. Before you make a paint color decision, take a look at some of the most popular Mustang colors over the years, and get some insight into the best Mustang paint colors for you.

8. Yellow
In the early years of the Mustang, yellow and gold were some of the most popular colors available to consumers. In fact, yellow was the third-most popular color for the first generation of Mustangs from 1970 to 1972. Yellow even made it to second place popularity in 1973, falling just behind blue that year.
Though seemingly on the rise, yellow never broke the top three again after 1976. By 2013, yellow accounted for a little less than 6% of all Mustangs ever purchased. For those who are interested in getting a vintage yellow look, consider the earlier shades of Aspen Gold and Sunlight Yellow.
Even though yellow is last on this list in terms of popularity, you should know that yellow cars may depreciate the least when compared to other colors. According to one study of average three-year car depreciation rates, yellow cars only depreciated by 27%, while all other colors had higher depreciation rates. Consumers looking for a new Mustang that they'll sell after a couple of years of use may want to consider a yellow paint job.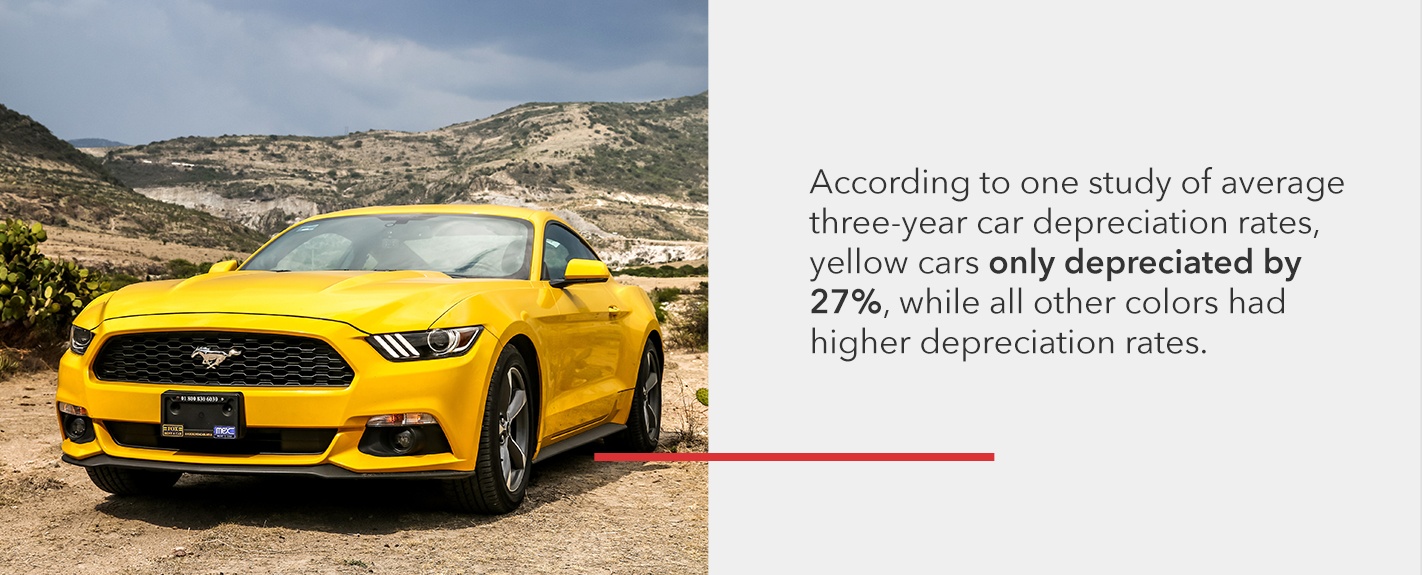 7. Brown
Brown cars have gone out of fashion over the years, but brown Mustangs did have their prime in the 1970s and early '80s. The color consistently made the top three in popularity during the second generation and early third generation, but it dwindled during the 1980s. Ford stopped offering brown colors after 2000, but due to its early success, brown captured 7% of the overall color popularity.
People who want their Mustang to have a retro look often choose brown. Whether you want to paint over a current-generation Mustang or purchase a vintage Mustang with the original brown paint, brown is the perfect color for those who want their ride to have a classic, throwback feel to it.
The first brown shade was Prairie Brown, with Burnt Amber paint hitting the scene in 1967. Those who want to repaint a classic Mustang or paint over another color on a contemporary model will want to get shades close to those original colors. You might also look for shades like Dark Cordovan, Sand Beige, Bright Copper, Dark Brown or Copper Brown if you want to stick to previously used Mustang colors.
6. Green
The green color had a couple of good runs, but it never quite took hold of consumer interest. It sits at 10% overall popularity, with its best years during the first and fourth generations of Mustang cars. In 1969, 1971 and 1972, green took first place. Its resurgence in the 1990s generated multiple top-three finishes, but since 1998, the color has not made the top three in popularity.
Because green is popular among vintage Mustangs, you might want to pick a shade of green if you have an earlier model Mustang or want to give a recently produced Mustang a more classic look. The original greens used in 1964 were Dynasty Green, Pagoda Green and Cascade Green, and they are excellent choices for Mustang owners who want a classic look.
5. Black
Though black cars are popular today, this hasn't always been the case. This color didn't even break the top three colors for Mustangs until the fourth generation in 1994. Both the fourth and fifth generations of Mustangs were good to the color, as it made the top three every year from 1994 to 2013.
Despite black's popularity after 1994, it only makes it to the fifth spot in the overall popularity list. The black color had so little clout in the first generation models that it only had 1.5% popularity. Its performance in the '90s until the present has boosted that number significantly, as it now holds 12% of all-time popularity.
Black is one of the most commanding colors you can choose for your cars, signaling a healthy amount of danger. If you're looking for a color that commands respect and signals to others that you should be taken seriously, choose black.
4. White
Since white's finish as the most popular color in 1976, it has found itself in the top three color rankings across every generation of Mustangs. Due to its strong repeat performances, its overall popularity sits at 13%.
If you're the type of buyer who loves the look of a freshly washed Mustang, then white is a great exterior color choice. A gleaming white Mustang on a sunny day just beckons you to hit the open road.
Along with its easy-to-clean quality, white is one of the best colors if you plan to add racing stripes to your vehicle. White matches with a variety of colors, so it's an ideal canvas if you want to highlight a racing stripe color. If you want a timeless shade of white, choose Wimbledon White. It's one of the most classic colors featured on a Mustang, with its inclusion on the earliest models of Mustangs to its most recent inclusion in 2020.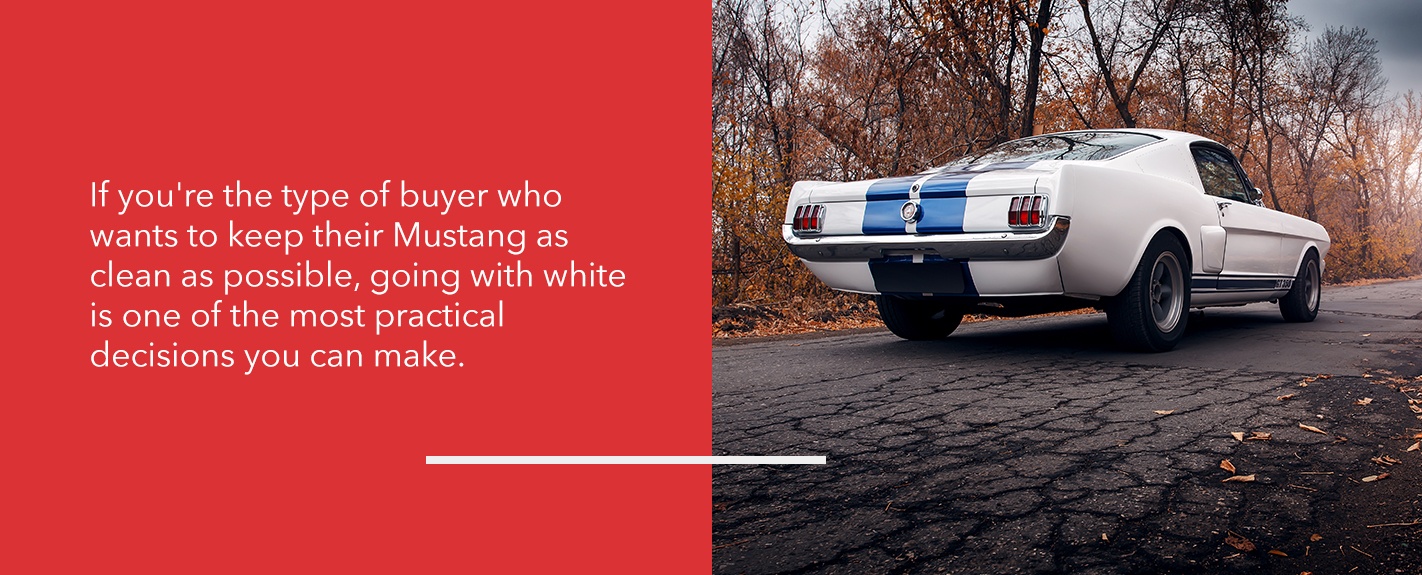 3. Silver
Silver is a safe choice for any Mustang buyer. It's a more subdued color and has proven popular over the years, as it sits at 14% of all-time popularity. Though the color has done well historically, it had a resurgence in Mustang's fourth generation of models. It placed first in popularity multiple times throughout the 2000s.
As you look for the perfect shade of silver or gray for your Mustang, you may love the recently added Ingot Silver color. This shade of silver gives a Mustang an aggressive and standout look. To get the original shade of silver found on a Mustang, you'll need to go with Silver Smoke Gray.
Whatever shade you choose, a silver or gray exterior paint coat is perfect for those who want a reliably in-style exterior color. If you want to add some extra flair, you can even add black or blue racing stripes.
2. Blue
The second most popular color is blue, which rounds up a 17% share of the all-time color popularity vote. Appearing in the top three across the first, second, third and fifth generations of Mustangs, it's no surprise it's so high on the list. The color was so popular when the car was first released that 19 shades of blue were available from 1967 to 1973. Given its ongoing popularity, blue is suitable for most generations of Mustangs, with generation-appropriate paints available.
If more contemporary Mustangs are your thing, you may want to select Kona Blue. This shade of blue ran from 2010 to 2012 as the standard blue shade for all models. It also ran as a special order color on the 50th Anniversary 2015 Mustangs. If you like more classic colors, look for Gulfstream Aqua, which was offered between 1968 and 1970. Like its name suggests, Gulfstream Aqua has an ocean-like appearance that many find calming.
To really make your blue paint pop, consider using one of the most recent shades, Lightning Blue. It provides a stunning middle ground between the bright Grabber Blue and darker Deep Impact Blue. Whatever generation of Mustang you own, the large selection of blues used over the years has plenty of options to match your tastes.
1. Red
Beating out the rest of the competition, red has been a top choice for Mustang buyers since the first generation. Its all-time popularity of 21% leads the pack, and it had multiple first-place popularity finishes throughout the 1980s and 1990s. According to Ford, roughly one out of five Mustangs produced over the last 50 years has been painted a shade of red.
Because of the color's popularity, you can find a huge selection of Mustang models that feature red paint. No matter your vehicle's generation, a red Mustang will fit right in. It also combines well with white or black racing stripes for a classic look. Poppy Red is a vibrant and standout shade that was used in 1964 and 1965. This red has influenced modern shades of red on Mustangs like Torch Red and Race Red, which are both solid options as well.
If you want a more contemporary option that still stands out, you can try to find the ultra-rare Lava Red featured on the 2012 Mustang. No matter which option you choose, you'll earn the respect of any Mustang enthusiast by painting your vehicle a shade of red.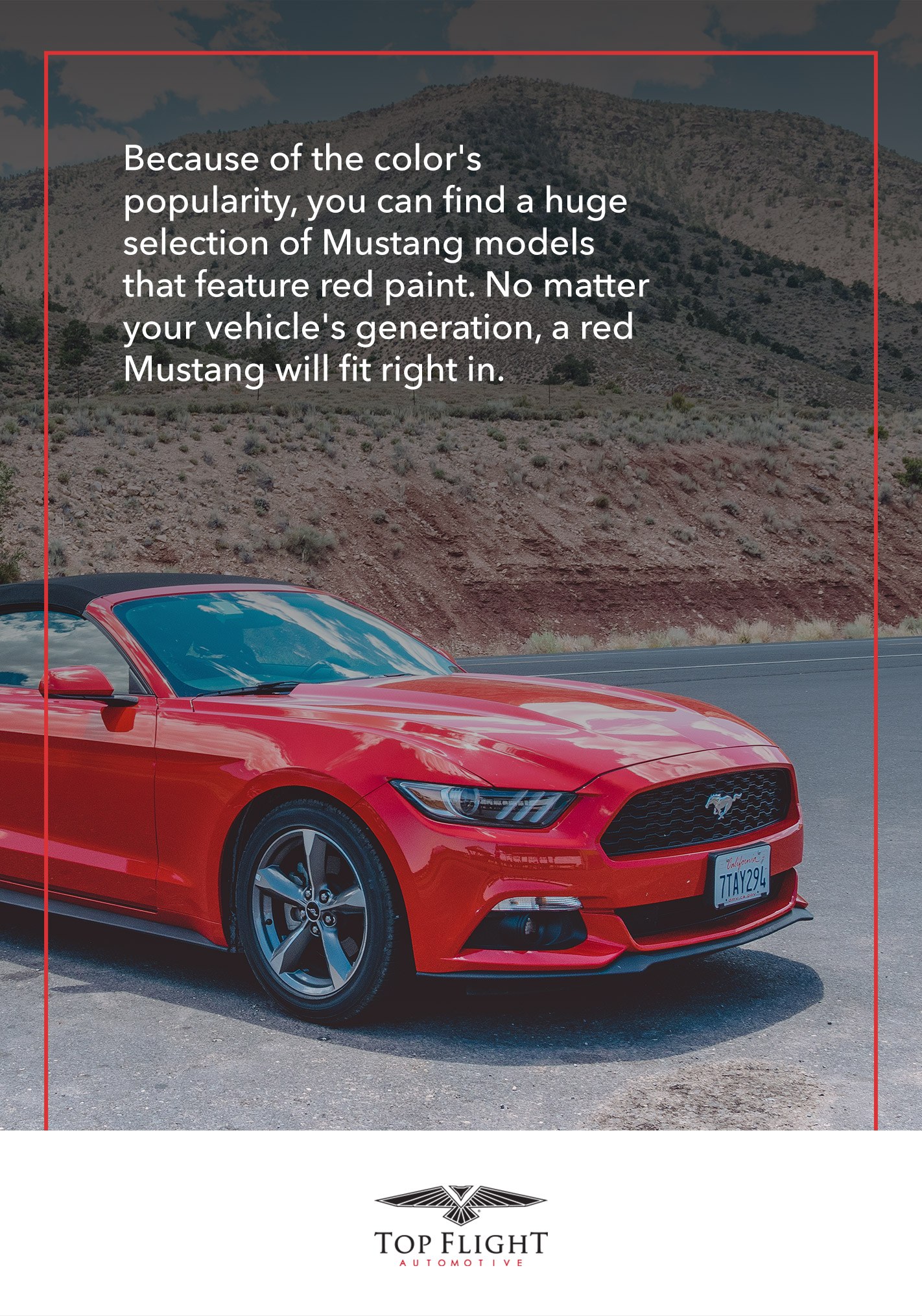 Best Mustang Classic Stripe Colors
The best racing stripe colors depend on the color of your car. For example, if your Mustang is bright blue, it may not look good with dark green racing stripes. The following colors make excellent racing stripe options:
Black: Black racing stripes tend to be versatile and match a variety of car colors. They also help add a streak of danger to your Mustang, telling people you mean business. If you have a black Mustang, a red or blue stripe really stands out.
White: Like black, white works well with a variety of car colors. A white Mustang also provides an excellent canvas for brightly colored stripes.
Red: Red is another racing stripe favorite. It adds an element of danger and spark if placed on a black or white car. Red also serves as an excellent base for white or black racing stripes.
Some of the best mustang color combinations include:
Blue and white
Blue and black
Black and red
Black and gray
Red and white
For those who don't like the Ford Mustang color combinations mentioned, don't worry. You can find a variety of alternative stripe color options. Be sure to pair your exterior color with a striking stripe color that does not clash.
Choose Top Flight Automotive for Mustang Parts and Accessories
As one of the world's largest suppliers of Mustang restoration parts and accessories, Top Flight Automotive provides a huge selection of products that can help you customize your Mustang or restore it to its former glory. Mustang owners love to come to us for our price matching, fast shipping and extensive inventory. Whether you need interior parts, wheels and tires or more, our site has you covered. Most items ship the same day you purchase them, and our online retail is available 24 hours a day.
Shop Mustang Generations
Have more questions about our parts or need a recommendation on what to buy? Our knowledgeable and friendly representatives are ready to answer any questions you have about your project. For parts you can trust and service you can count on, browse our inventory today.