Top 10 Best Holiday Gifts for Corvette Enthusiasts
If someone in your life loves Corvettes and you want to get them a gift, anything Corvette related will likely be a good bet. However, those who don't know much about Corvettes may feel like they're not knowledgeable enough to find a good gift. Instead of browsing pages aimlessly or guessing, you can learn more about the most popular gift options and what type of Corvette owners these gifts usually appeal to. With this information, you'll surely purchase a gift that's a hit.
As you look for a gift that will blow away your friend, significant other or family member, learn more about what you should account for while you search for a present. To get some extra help, check out our list of top 10 Corvette holiday gifts.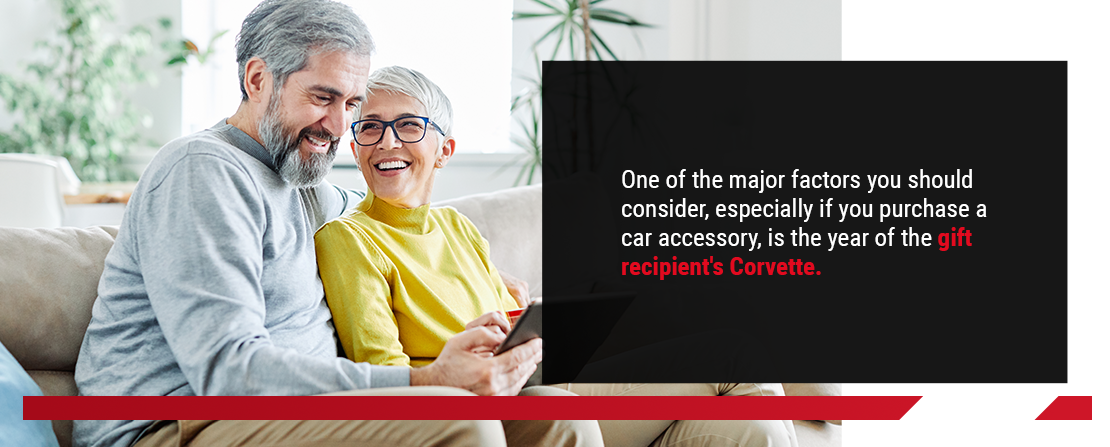 What to Consider When Picking a Gift for a Corvette Owner
As you look for the top Corvette enthusiast gifts, you may not know where to start. One of the major factors you should consider, especially if you purchase a car accessory, is the year of the gift recipient's Corvette. Once you know the year of the car, you can ensure anything you purchase is compatible with the vehicle. For instance, you wouldn't want to buy an accessory meant for the latest Corvette generation for someone who owns an early generation Corvette.
You might also want to think about the Corvette types the gift recipient likes most when purchasing memorabilia and other gifts designed to show off a particular Corvette generation or year. When you're buying a gift, take a moment to consider if they like classic Corvettes or love the more recent ones. Once you know this information, you can choose gifts like Corvette drinkware, clothing and bags with designs matching the generation they like the most.
Besides considering the gift recipient's generational preferences, you may also want to think about their hobbies. Many Corvette gifts can help with other hobbies, such as Corvette duffle bags or suitcases as awesome gifts for the traveler in your life. For someone who loves accessorizing and working on their Corvette, you can purchase accessories and other parts they may want to add to their vehicle. By considering their hobbies, you can give an amazing gift they can use while enjoying their favorite activity.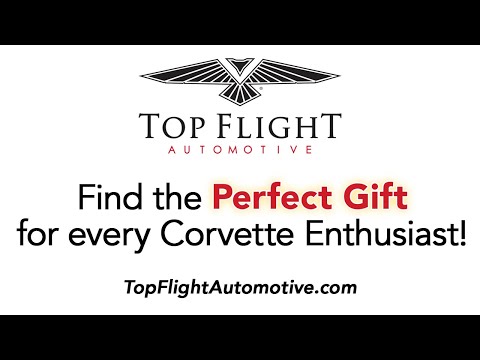 Top Corvette Gift Ideas
Many different Corvette gift options are available, from coffee cups and clothing to car covers and vintage emblems. Learning more about the various options you have to choose from can help you zero in on a gift a Corvette owner will be sure to brag about.
Check out some of the best gifts for Corvette owners below:
1. Drinkware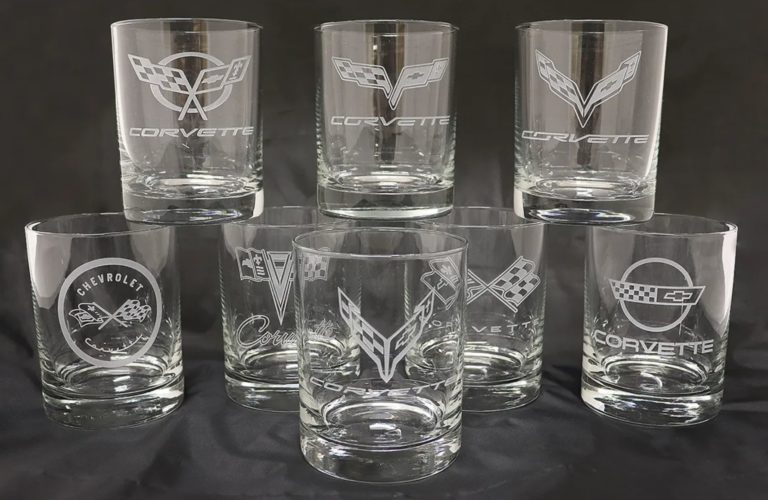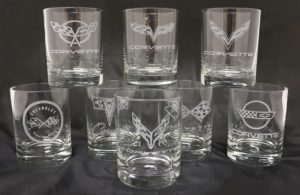 Having a cup of coffee in a Corvette coffee cup in the morning can set the right tone for the rest of the day. Similarly, a Corvette travel mug can pair perfectly with a drive in a Vette, keeping coffee and tea warm while someone cruises down the highway to get to work or coasts down the road on a joyride. Give these experiences to the Corvette lover in your life by purchasing a coffee cup or travel mug for them.
Additionally, you can find Corvette drinkware perfect for your gift recipient's home bar, with wine glasses, beer mugs and lowball glasses all available with Corvette styling and text on them. The drinkware can be a great conversation starter at a party. These items can also be a great choice for someone who likes to unwind some nights with their favorite drink.
If you're giving a gift to someone with a family, you can find plenty of other glasses they can use at lunch or dinner. This drinkware can help turn an entire family into Corvette enthusiasts. Overall, you can purchase many different types of drinkware anyone will love to add to their kitchen or bar.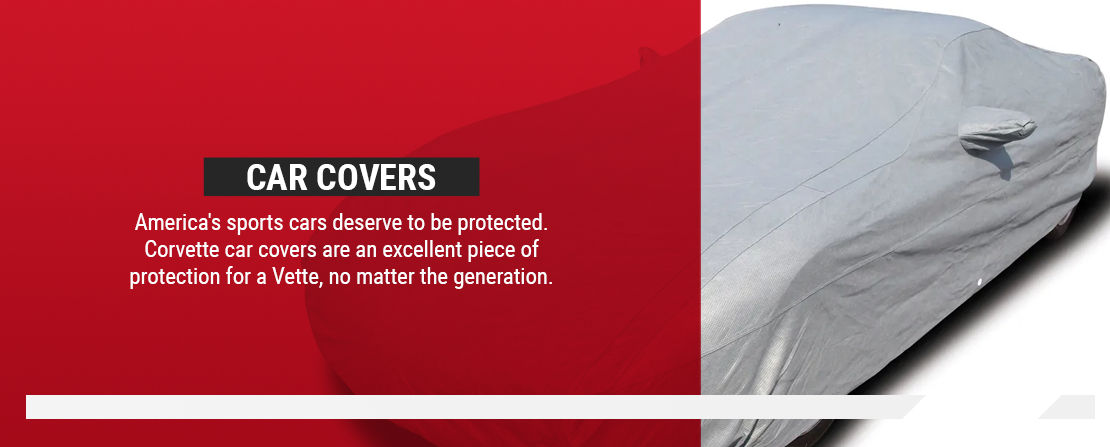 2. Car Covers
America's sports cars deserve to be protected. Corvette car covers are an excellent piece of protection for a Vette, no matter the generation. When you want to help the Corvette owner in your life better protect their vehicle, durable car covers can be a perfect gift. A Corvette cover can come in various colors and is designed to fit the car's body. These car covers can be incredibly useful, as they protect a Corvette from the weather, dust, scratches and scuffs.
3. Jewelry and Wallets
There's plenty of Corvette jewelry available for purchase that many Vette drivers will love to wear. Corvette Racing "Jake" earrings and necklaces can pull an outfit together and show off your love for the Corvette racing brand. For those who like more low-key accessories, they can put lapel pins on a suit or dress shirt to accent the rest of an outfit.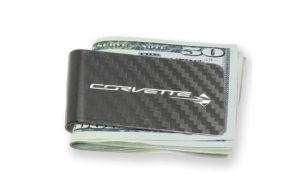 If you have a friend or family member whose wallet is falling apart, get them a Corvette money clip. These money clips look great when you pull out your cash, and they keep your money secure. Additionally, you can also choose from full wallets, which are radio-frequency identification (RFID)-secure to better protect your cards. These wallets feature Corvette etching to show off allegiance to the Corvette brand.
4. Bags and Backpacks
Carry clothes, laptops, books, drinks and tools in style. You can buy numerous Corvette bags and backpacks in various styles. Check out some of the best Corvette gifts below:
Backpacks: Corvette backpacks can be an excellent present for someone in your life. They come in different designs and materials to help you find the best option for the gift recipient's personal style. Both functional and stylish, Corvette backpacks are a popular choice for those looking to give a gift that'll be used for years to come.
Coolers: People who love Corvettes and the outdoors will get a lot of use from Corvette coolers. These coolers come in different colors and styles to match the owner's personal style. They also have the Corvette logo to proudly display the owner's appreciation for Corvette cars. Alongside their visual element, the coolers keep foods and drinks cold over long periods.
Duffle bags: Whether someone regularly flies or is a dedicated gym rat, a duffle bag can be a great gift. Corvette duffle bags come in different sizes, color schemes and materials. Any Corvette owner would love to receive an Under Armour duffle bag with the Corvette branding on it and especially its water-resistant qualities.
Suitcase: If you're looking for a gift for someone who regularly travels and needs plenty of space for their next road trip or flight, a Corvette suitcase is an awesome choice. These suitcases consist of durable materials and are sure to keep the contents inside safe during travel.
5. Books and Guides
One of the big pieces of literature you can purchase as a gift is a Corvette owner's manual or service manual from various generations and years. These manuals can help Corvette owners better understand their vehicle, which can be especially valuable to those who like to do maintenance on their car. Additionally, some Corvette enthusiasts like to collect officially licensed manuals.
Other literature you can purchase includes books containing Corvette facts, books on restoring a Corvette properly and illustrated encyclopedias. One popular choice for those who love Corvette's history is the "Corvette Black Book". This book contains information about the history of Corvette, interesting facts and stats, codes and much more.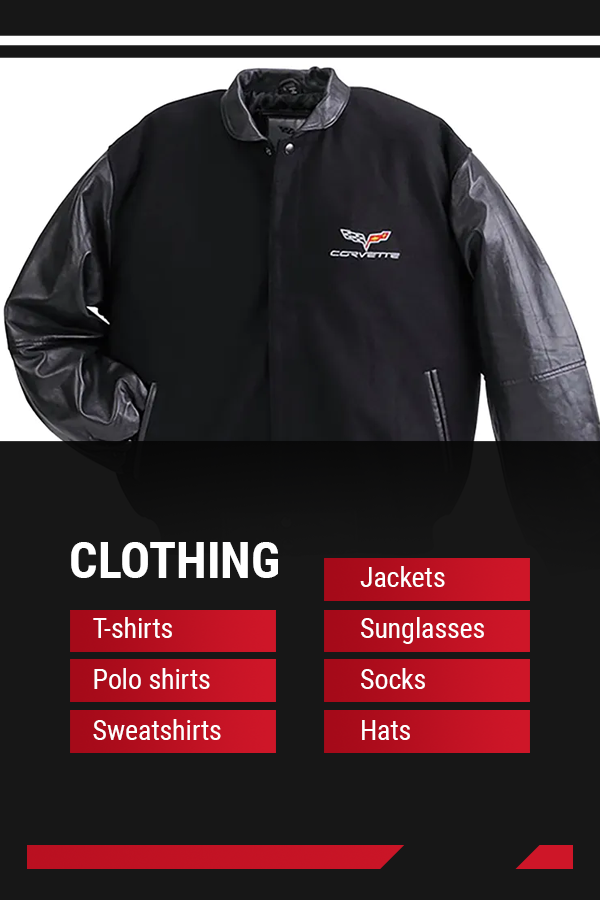 6. Clothing
Clothing can be one of the best Corvette holiday gifts you can give to the Corvette lover in your life. You can purchase various pieces of clothing for them, such as sweatshirts, T-shirts, polo shirts and jackets. Due to the many clothing choices you have, you can likely find a style that fits the person you want to wow.
Check out some of the clothing options you can give as a gift:
T-shirts: You can find Corvette T-shirts in men's, women's and kid's sizes. These shirts let the wearer represent their passion for the Corvette anywhere they go. You can get these shirts in various styles and designs, which highlight the gift recipient's favorite Corvette model.
Polo shirts: If you're looking for a Corvette shirt that can be worn in business casual settings, Corvette polo shirts are a great choice. Polo shirts are excellent gifts for those who work in an office, service center or automotive body shop and want to put their love for Corvette on full display. Additionally, polos can be worn on the golf course or at other social settings to spark conversation with others about a shared enthusiasm for the classic sports car.
Sweatshirts: Does the person you're getting a gift for need something to keep them warm and comfortable on cold winter days or chilly fall mornings? A Corvette sweatshirt is one of the best gifts for Corvette enthusiasts you can give. Some of the most popular sweatshirts are the Corvette embroidered emblem hoods, which feature various iconic Corvette logos from different generations.
Jackets: A Corvette owner deserves a great coat to pair with their sports car. Lambskin Corvette leather jackets are some of the most timeless jackets you can give someone and know they'll love how they look in it. Besides the standard style of these jackets, you can also purchase bomber jackets, which will take the gift recipient's fashion to the next level. You can also find many other kinds of jackets, such as those in aviator, racing and varsity forms.
Sunglasses: If you're trying to find a gift for someone who spends a lot of time outdoors, Corvette sunglasses can be a great present. These sunglasses are outfitted with the Corvette logo and different frame colors. They also have soft padding, which ensures they're comfortable to wear.
Socks: Who doesn't love a pair of attractive, stylish socks to add to an outfit? Corvette socks come in a classic black, red and white color scheme and showcase the Corvette logo. You can select between different sizes, with some stopping at the ankle and others going up to the mid-calf.
Hats: A Corvette hat is another awesome gift idea. You can find standard baseball caps in various colors and designs showcasing the Corvette brand. If the person you're planning to buy a gift for has a particular preference for model years, you can also purchase a hat from a specific era to give the wearer a classic, retro look or a more modern appearance.
7. Models and Toy Cars
If you're looking to give a gift to a child or an adult who's a memorabilia collector, Corvette toy cars and models can be an excellent choice. These high-quality toys and models are extremely detailed and provide an accurate reproduction of various Corvette types.
Some of these toy cars are meant to be played with and are a great gift to give to kids who you hope will carry on your family's Corvette loving tradition. The car models also look impressive on shelves and in other locations as unique decorations.
8. Seat Covers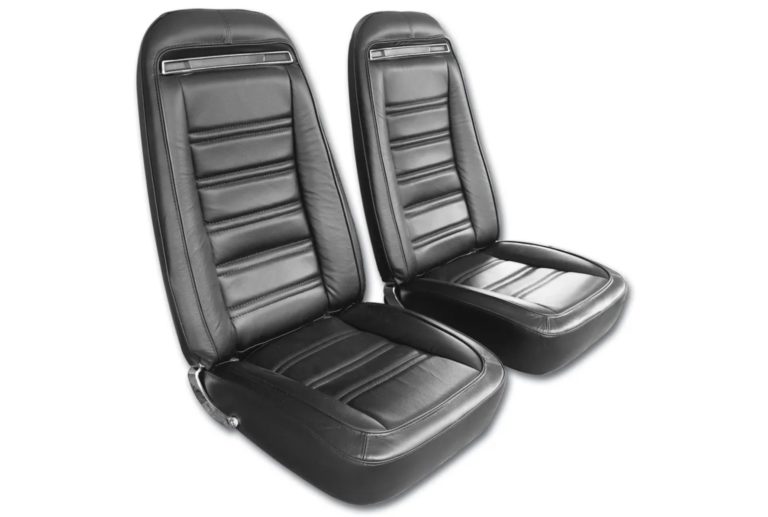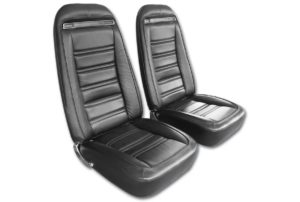 A brand new seat cover is an excellent present for those who want to customize their interior or restore a damaged seat. These seat covers come in various colors and designs to fit the personal preference of the Corvette owner you're giving the present to. There are also many different options for specific Corvette generations and model years, ensuring the seat cover fits in your gift recipient's vehicle.
9. Emblems
The Corvette Crossflag emblem is an essential component of any Corvette. Damaged or missing Corvette emblems can hurt a car's appearance. Emblems make a great gift for Corvette owners who are restoring an old Corvette or who may have purchased a new model and want to personalize it with appropriate decals.
You can find emblems containing classic logos from the C1 days and other collector's edition emblems. Besides the standard Corvette emblems, you can also purchase some for the gas lids and rear numbers or letters to get the most authentic-looking Corvette possible. If you know a Corvette owner who loves the look of decals like racing stripes, purchasing a decal kit for them can also be an excellent gift choice.
10. Steering Wheels
A reproduction steering wheel is a wonderful present for someone looking to refurbish an old Corvette and wants to keep the car looking like it just rolled off the assembly line. Steering wheels can also be awesome for those looking to personalize their Vette and come in mahogany, leather or refurbished styles. These steering wheels can give the car a new look and make the ride more comfortable.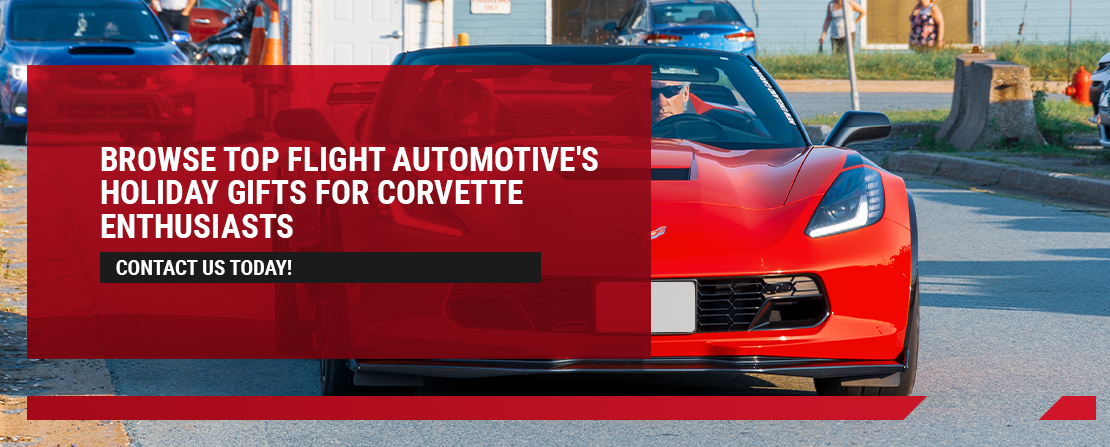 Browse Top Flight Automotive's Holiday Gifts for Corvette Enthusiasts
At Top Flight Automotive, we're happy to provide our customers with tons of high-quality products that will be a hit as gifts. As you look for the best Christmas gifts for Corvette owners, you can trust we'll likely have exactly what you're searching for. Besides the many products we offer, you can also find Top Flight gift cards, which are always a great choice for a stocking stuffer.
Browse our selection of Corvette gifts and accessories today. If you have any questions or need assistance finding the perfect gift for the Corvette enthusiast in your life, feel free to reach out to our staff of Corvette specialists for advice.