20 Restomod Ideas to Make Your Vintage Mustang Stand Out
Vintage Mustangs are beautiful relics of the past, symbolizing the pinnacle of design and performance. Many drivers want to do more than just admire a vintage Mustang's exterior. If you want to take your Mustang out on the road, you might be looking for some ways to upgrade its performance while retaining that vintage look. In that case, you might be looking for some restomod ideas.
What Is a Restomod?
A restomod is a vintage vehicle that has gone through several enhancements that bring it up to modern standards. Although the classic car still retains its vintage appearance, it may have a brand new engine, upgraded tires, a fresh sound system and more.
The word "restomod" is a combination of "restoration" and "modification." In a restomod project, this is exactly what you're doing — restoring a vehicle to its former glory and modifying it to be even better than it was before.
20 Restomod Ideas for Your Vintage Mustang
One of the great things about a restomod is that you can upgrade your vehicle in so many different ways. With a vintage Mustang restomod, the only limit is your imagination. To get you started, we've provided 20 ideas for your Mustang restomod project.
1. Engine
Car restoration projects often focus on many different aspects of a vehicle. When it comes to Mustang restomods, owners often look for engine upgrades first. You can go many different routes with a Mustang's engine.
Some may just want to clean it up a bit and restore it to its functioning capabilities. Others may want to switch it out entirely for a more powerful engine. And others, who are willing to completely overhaul what's under the hood, may even turn the car electric in a rapid shift from vintage to modern. Whichever route you go, you're likely going to need some tools to help you with the job.
2. Transmission
A brand-new transmission can prevent engine wear and improve fuel efficiency, making highway driving smoother and much more enjoyable. Even if you're not looking for an entire overhaul of the transmission, it may be helpful to get some new parts to make sure you're promoting its longevity.
Small items like crossmembers and transmission supports may be the components you need to extend the life of your classic Mustang and even improve its performance.
3. Wheels
Among the most common Mustang mods are wheels. This upgrade has the dual benefits of making your Mustang look good and drive good, too. You can opt for larger-diameter wheels, which can give you an overall better driving experience. If you get new wheels and find you like the older ones better, you can easily switch back.
4. Seats
Seats are another must-have upgrade in Mustang restoration. Add some comfort to your drive and enjoy those journeys on long stretches of blacktop with your Mustang. Sink back into the smooth leather seats and comfortable seat foam and be comfortable for hours on end.
5. Gear Ratio Change
Some changes are ones you can't see — like a gear change and limited slip differential. Though they won't be noticeable on the inside of the car, they make a big difference in the overall feel of the drive. This is a great classic car restomod that can enhance the driving experience.
6. Driveshaft
The driveshaft transmits torque from a vehicle's engine to its wheels and remains a staple of restomod Mustang parts. If you have an old driveshaft, you'll want to think about upgrading — especially if you're looking to do some long road trips or high-speed driving.
7. Windshield
Some Mustang modifications have to do with safety — a windshield upgrade falls into that category. Improve your visibility and invest in some new wipers that won't struggle if you encounter any unfavorable weather. This is an easy modification that can greatly improve your driving experience.
New windshield glass and wipers will give you confidence on those longer drives that you have the visibility and safety features you need.
8. Sound System
Though that vintage sound system might be an interesting relic to enjoy, you'll probably want something a little more functional. Upgrade to brand new speakers and enjoy your music in great quality while you drive. You can even install a new radio that looks vintage but has some modern features like Bluetooth connection, auxiliary connections and equalizer settings.
Get rid of that annoying crackling in your speakers and enjoy the modern luxuries of illuminated displays, mobile-device pairing and more.
9. Steering Wheel
Check out some new steering wheels to upgrade your vintage Mustang. Get a better grip, a larger wheel and even some comfortable material so you can rest easy and feel in control of your vehicle. Modifying the steering wheel and bringing it up to modern standards will improve your Mustang while also keeping it vintage.
10. Disc Brakes
Add new disc brakes for safety and a better drive. If you want even more assurance, you can also add rear disc brakes. These can help keep you ready on the road and give you some more leeway when it comes to quick stops.
Many vintage Mustangs didn't emphasize the kind of safety measures we do today, so it's a good idea to look at new disc brakes if you plan on driving your Mustang around town.
11. Rear Spoiler
An easy way to restore your vintage Mustang is to add a brand new spoiler to the back end. Fresh, shiny and durable, that new spoiler can add a modern touch to your Mustang while keeping it in line with its roots.
12. Instrument Panel
The dials on your vintage Mustang can be an interesting feature at first, but they often don't hold up to the functionality standards of today. Hard to read, unreliable — those old dials can soon become hindrances to a good drive. You're much better off investing in a modern instrument panel if you plan to drive your Mustang instead of just putting it on display.
Check out some innovative digital displays that keep the same classic feel of an old Mustang while upgrading its functionality. With a new instrument panel, you'll have more visible and accurate readings.
If you do want to retain the old gauges and instrumental panel but just want a slight upgrade, you can still replace those old gauges with new versions to match. They carry the same look as those vintage gauges with the added benefit of visibility.
13. Lights
If you've driven your vintage Mustang around at night, you might have noticed that those headlights don't offer the same visibility that modern versions would. That dull light could hinder your ability to drive. Look into getting new fog lights and headlights to improve the way your Mustang looks and to keep you safe on the roads.
14. Replacement Hoods
New replacement hoods are crucial restomod Mustang parts. Upgrade your Mustang to a shiny new hood that restores the vehicle to its former glory. Newer hoods are lighter and more durable than the originals, offering increased protection from UV rays, rain, pollen and road debris. You'll be able to increase the lifespan of your Mustang's exterior while restoring it to its vintage appearance.
15. Exterior Emblems
Though you will likely want to keep the exterior of your vintage Mustang intact, there are a few ways you can shine it up and make it look even better than its original form. Add some emblems, aka badges, during your car restoration project to pay homage to its rich history.
16. Heating and Air Conditioning
Heating and air conditioning are two vintage Mustang mods that can completely change your driving experience. Upgrade to a quality heating and cooling unit that can warm you up in the winter and cool down your Mustang in the summer. It's a small change that can really improve your driving experience no matter the time of year.
17. Weatherstrip
Technology has made vehicles quieter and more resistant to the outside elements. Bring some of that innovative technology to your vintage Mustang with new weatherstrip. You can eliminate that annoying whistling in your doors and enjoy a peaceful, calming ride in one of the most beloved vehicles ever.
18. Suspension
Suspension systems have changed drastically over the last several decades. A suspension in need of work can lead to uncomfortable rides and difficulties driving straight. Switch out that old suspension system for something brand new and start seeing all the advantages of a classic car restomod. Choose from air suspension systems, coilovers and more based on your vehicle's model and the type of suspension you're looking for.
19. Keys and Locks
The most trivial details are sometimes the ones that offer the most benefits. Those shaky, no longer sturdy locks rattling as you drive down the road could be the thing that takes away from the driving experience each time you enter your Mustang. Invest in some upgraded ignition and door locks that add durability and safety to your vehicle. Find keys with the vintage logo for small details in line with the vehicle's rich past.
20. Chassis
Other modifications might be much more significant than just changing out some locks and keys. Some might involve the structure of the vehicle itself, like the chassis. The chassis is the load-bearing support of your vehicle, so it's very important to take this part into account and make sure it's sturdy. Find a comprehensive bolt kit that will help you make any repairs if need be.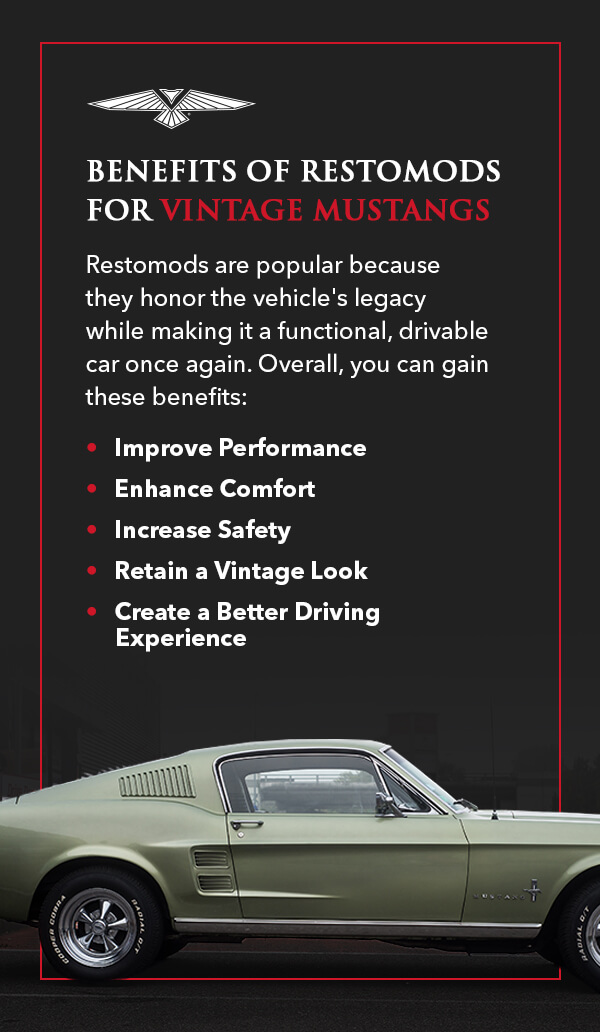 Benefits of Restomods for Vintage Mustangs
As people get their hands on vintage vehicles, one of the first things they're looking to do is to modify it to bring it up to modern standards and make it drivable. Restomods are popular because they honor the vehicle's legacy while making it a functional, drivable car once again. Overall, you can gain these benefits:
Improve Performance
Many people get into restomods to improve the performance of their vintage car. Upgrading the engine and other components can give you a more powerful, efficient vehicle that's also easier to drive. When you have a vehicle as cool and as revered as a vintage Mustang, why not boost its performance and make it that much better? You can impress others and create a better experience for yourself with a powerful, healthy engine in your vintage Mustang.
Enhance Comfort
After decades of evolutions, cars have gotten comfier, with upgraded materials that make driving more relaxing and easy. If you're looking to do more than just swing around the block in your vintage Mustang, you probably want to look for seating that's comfortable to sit in for long periods.
Upgrading to new seats or fresh materials will give you that added comfort that allows you to enjoy your drives.
Increase Safety
Older vehicles aren't as safe as modern vehicles. For some, this is part of the allure — those vintage vehicles were free from the imposed regulations and digital designs that dominate the industry today. Still, it's important to make sure you're finding areas where you can improve the safety of your driving experience. Upgrading the instrument panel, investing in new headlights and replacing a windshield are all ways you can gain confidence in the safety of your vehicle on the roads.
Retain a Vintage Look
One of the greatest things about a restomod is that you're keeping that vintage Mustang appearance alive. Even with modifications to the engine, driveshaft and gears, the vehicle will still look the same, with all of the design features that made it so appealing to begin with. You can strive to bring the vehicle up to modern performance standards while retaining its aesthetic beauty.
Create a Better Driving Experience
Overall, restomods for Mustangs will create a better driving experience. The blended upgrades of comfort, performance and safety will make for an easy, stress-free ride that you can appreciate. You'll be proud to have someone sit beside you and admire your Mustang's upgrades. Whether it's a long road trip or a quick swing around the block, people will admire your car's vintage appearance, and you can enjoy the work you put into it and the modern enhancements that make it even better.
How Top Flight Automotive Can Help
If you're in the process of a vintage Mustang restoration or modification project, you look for a trusted provider who can offer you the parts you need. Top Flight Automotive is the reliable company that can help. We carry a huge selection of vintage Mustang parts spanning generations. You won't have to go searching the internet — we're your one-stop shop for Mustang restomod parts.
From new instrument panels to transmission supports, we offer everything you need to make your project flow smoothly.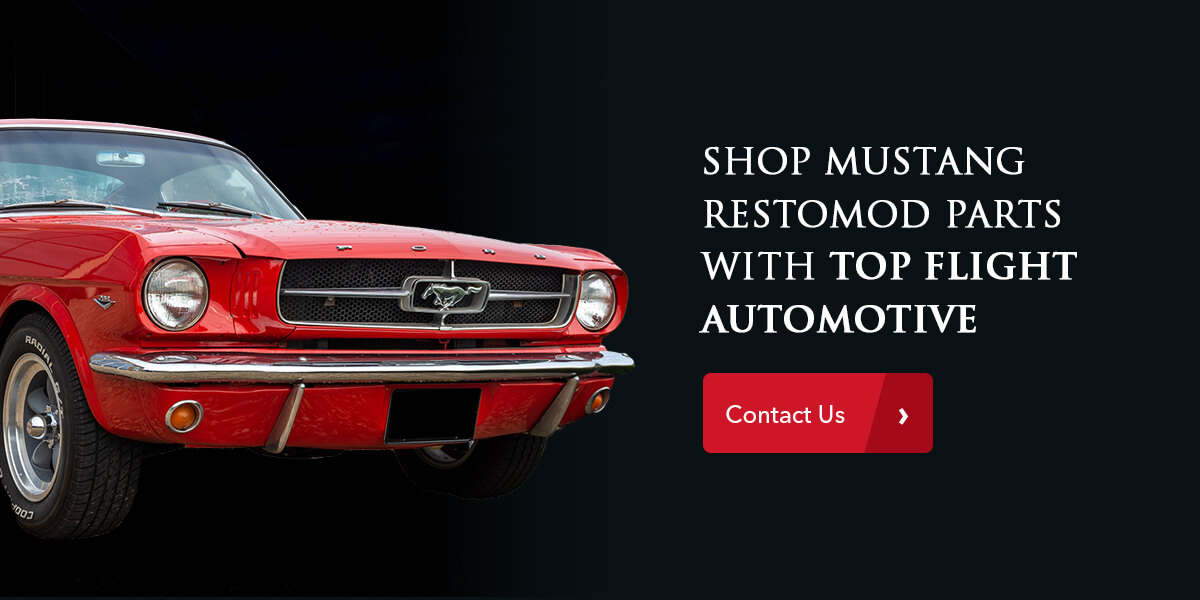 Shop Mustang Restomod Parts With Top Flight Automotive
Our experienced team is ready to help you find what you need. With years of experience in the industry, we'll answer your questions and guide you toward the tools and parts you're looking for. When you're in the middle of the restomod process, you need a place where you can go to find all of those intricate parts.
Shop what you're looking for in our online store!