Indoor and Outdoor Car Covers
Outdoor Car Covers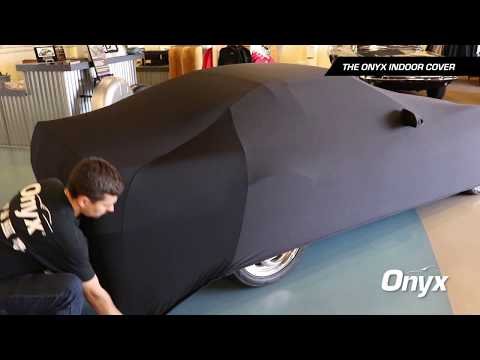 Sports car enthusiasts from around the world understand that keeping a vintage or modern vehicle in mint condition is a full-time job. At Top Flight Automotive, we are passionate about racing-inspired vehicles of the past and present. We bring customers a variety of outdoor car covers for protection against dirt, debris and inclement weather to keep revolutionary sports cars on the road for generations. 
Browse our inventory of multi-layer sports car covers for all of your favorite makes and models, including Bel Air, Camaro, Chevelle, Corvette, Firebird, Pontiac and Mustang for complete protection.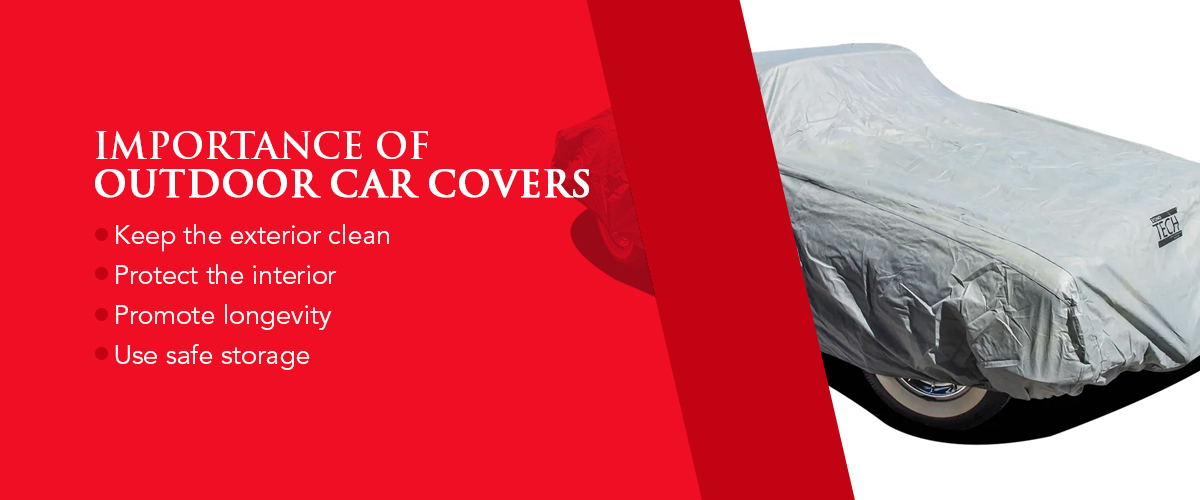 IMPORTANCE OF OUTDOOR CAR COVERS
Custom-fit outdoor car covers are your first line of defense against the unexpected. If your vehicle does not sit inside a garage, but on the street or the driveway, your paint job and trim pieces are exposed to moisture, sunlight, rain, snow, changing temperatures, bird droppings, pollen and more. While muscle cars feature durable exterior parts, preventing rust and deterioration starts with an outdoor cover.
Here are some of the core advantages of outdoor car covers: 
Some of the most iconic sports cars of American history date back to the 1950s, and protecting original parts helps collectors take first prize in judging competitions. Placing a secure outdoor car cover over your investment prolongs a vehicle's life, discourages theft and limits the chances of unwanted scratches. Top Flight Automotive is proud to offer industry-leading car covers that cater to your budget and environmental conditions for year-round protection.
MAXTECH OUTDOOR CAR COVERS
MaxTech car covers are our most popular products for outdoor storage. Ideal for daily drivers and occasional cruisers, these products block out anything the weather brings, such as snow, rain, sleet and sunlight. Packed with four levels of protection, MaxTech covers stay in place thanks to tie-down grommets, elastic bands and an included cable with a lock. Whether you're looking for water resistance, superior protection from the elements or extra security, MaxTech outdoor car covers can give you what you need. 
Order one of our cost-friendly barriers that sit close to your vehicle's exterior with custom mirror pockets. MaxTech outdoor car covers are efficient for indoor and outdoor use and arrive with a free storage bag and a two-year warranty for long-term protection. We carry MaxTech products for the following vehicles: 
THE WALL AND SOFTSHIELD CORVETTE OUTDOOR CAR COVERS
Top Flight Automotive is the largest manufacturer and supplier of Corvette parts and accessories anywhere, and we bring collectors indoor and outdoor covers designed specifically for 1953-2018 models. The WALL and SoftShield covers mold to Corvettes with three-layer designs showcasing bonded and polypropylene materials that hold up against dust, debris and tree sap. 
Both covers hug the outside of your Chevrolet muscle car while leaving room for components to breathe in warmer climates. These custom-fit car covers are the perfect way to ensure your car is protected. 
The WALL and SoftShield outdoor car covers also come with a cable and lock system, free storage bag and two-year warranty. For even more weatherproof options, look through our selection of Stormshield covers by CoverKing engineered for the C5 and C6 generations. Stormshield covers feature lightweight materials with stylish Corvette Crossflag logos.
MUSTANG AND CORVETTE ECONOTECH OUTDOOR CAR COVERS
Do you need an outdoor car cover for your Mustang or Corvette? EconoTech covers are an economical route for single-layer outdoor protection that keeps out rain and road debris. Products fit coupe and convertible body styles, Fastback Mustangs and even Z06 Corvettes!
INDOOR CAR COVER
Sports cars of the past and present are fun to drive and look amazing in garages, showrooms and workshops. If your favorite vehicle has a permanent parking spot inside your home or business, ordering a form-fitting car cover helps prevent scratches, dust accumulation and dents. Drivers often think that garage-kept vehicles are safe from exterior damage, but you can never be too careful. 
Top Flight Automotive carries protective accessories from Onyx for the following makes for your sports car collection:
With this wide range of options, you'll likely be able to find the right car cover for you. Even if your car has a cozy indoor storage spot, it could still be collecting harmful contaminants. Custom car covers give you the ability to get full protection. 
ONYX STRETCH INDOOR CAR COVER
Top Flight Automotive brings customers indoor car covers from industry-leading brands to keep paint jobs, trims and accents in pristine condition. If you want to avoid fingerprints and debris from interfering with a fresh coat of wax, consider ordering an Onyx indoor vehicle cover. These covers are easy to place and remove thanks to Lycra and Spandex polyester blends that offer optimum stretch.
Available in a sleek black finish, Onyx standard covers stay in place and defend against the unexpected. Whether your garage contains power tools, bikes and other equipment or you store more than one vehicle in the same location, Onyx covers soften impacts with a Satin-like feel. These products suit muscle cars dating as far back as the 1950s and attach in seconds for short- and long-term security.
Onyx covers from Top Flight Automotive feature front and back elastic hems, as well as mirror pockets for an ideal fit. The days of worrying about garage dirt and grime sticking to your windows, doors and bumpers are over as selections cover all exterior parts of your automobile with a soft underside. Orders ship out with a free storage bag and are backed by a three-year warranty.
CLASSIC CAR COVERS
If you are fortunate enough to own a first, second or third-generation Corvette, these sports cars demand delicate treatment and proper storage methods to ensure that original parts stay in mint condition. At Top Flight Automotive, our experts want to help keep your classic Corvette on the road and race track, so we bring customers indoor and outdoor covers for vintage Chevrolet models.
By browsing our online store, you will find a combination of indoor and outdoor classic car covers to defend against garage dust, fingerprints, minor accidents and even inclement weather. It's a simple yet effective way to ensure your vehicle has the proper protection from anything ranging from snow dust to glaring UV rays. 
Give your 1953-1982 Corvette the treatment it deserves with one of our best-selling covers from Onyx!
CAR COVERS FOR CLASSIC CORVETTES
As your one-stop shop for Corvette parts and accessories, Top Flight Automotive supplies classic car covers in a variety of styles to suit your storage and driving applications. Whether your C1 stays parked in a secure space or you enter races behind the wheel of a C3, we bring you single and multi-layer covers for exterior protection. Scratches and dents do not stand a chance against the following products for vintage Corvette releases:
All of our Onyx classic car covers fit the dimensions of your Corvette. Onyx stretch covers arrive in black and are equipped with elastic hems for placement around bumpers. Polyester blend materials surround all exterior features of your collector car and keep dust and debris away from your car's paint, trims and chrome accents.
If you store your C1, C2 or C3 Corvette outdoors, consider ordering MaxTech or The WALL car covers to block out storms involving rain, snow and sleet through water-resistant materials. These car covers for classic cars ship out with a free storage bag and are backed by a limited warranty.
SHOP TOP FLIGHT AUTOMOTIVE FOR CAR COVERS
Top Flight Automotive is part of the Extra Mile Brands family of companies. No one caters to innovative sports car designs quite like our team. Professionals at Top Flight Automotive want you to get the most out of your classic or modern vehicle, so visit our online store frequently for the latest product updates. We offer a quality collection of car covers — find a custom cover fit or browse our universal fit car covers to find the perfect one for you. 
If you need help selecting a cover for your muscle car, our sales representatives are happy to answer questions during normal business hours. For further information about any of our products or to place an order, contact Top Flight Automotive today.
Can't find what you're looking for? Let us know and we can help! Contact Us