Maxtech Car Covers by Onyx
MaxTech Car Cover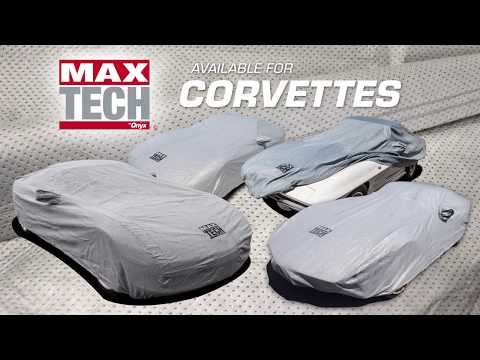 Muscle cars serve as an investment for collectors and racing fans. Regardless if you keep your sports car parked in the garage or on the street, multi-layer protection accessories are your first line of defense against unwanted scratches, fingerprints, dents and more. Our experts want you to rest easy knowing your collector car is safe, which is why we carry our best-selling indoor and outdoor car cover by Onyx. The MaxTech series can defend sports cars from anything the forecast brings with styles for famous makes, including Bel Air, Camaro, Chevelle, Corvette, Firebird, GTO and Mustang.
MaxTech Indoor and Outdoor Car Cover Features
Top Flight Automotive carries MaxTech car covers as an affordable route for sports car security and protection. Manufactured with four-layers of polypropylene materials, these products are fully water-resistant and keep out inclement weather such as sleet, snow, rain and direct sunlight. Place MaxTech indoor and outdoor covers over iconic vehicles, from 1953 classic Corvettes to sixth-generation Mustangs.
Drivers never have to worry about MaxTech covers sliding off, as orders include front and rear elastic as well as tie-down grommets. Deep custom mirror pockets mold to the unique exterior designs of your vehicle for a glove-like fit. As an extra security feature, the MaxTech line arrives with a cable and lock system for deterring thieves.
MaxTech car covers are available in a sleek gray finish and come with a free storage bag. For prolonged protection, your purchase is backed by a two-year warranty.
Contact Top Flight Automotive for MaxTech Car Covers
Top Flight Automotive is part of the Extra Mile Brands family of companies focusing on collector cars from the 1950s on. We stock our online store with interior, exterior and performance parts and accessories that help keep vehicles such as Corvettes and Mustangs on the road for years to come. If you have any questions about the best car covers for your storage applications, our sales representatives are available during normal business hours to take your call.
For more information about MaxTech car covers or to place an order, contact Top Flight Automotive today.
Can't find what you're looking for? Let us know and we can help! Contact Us