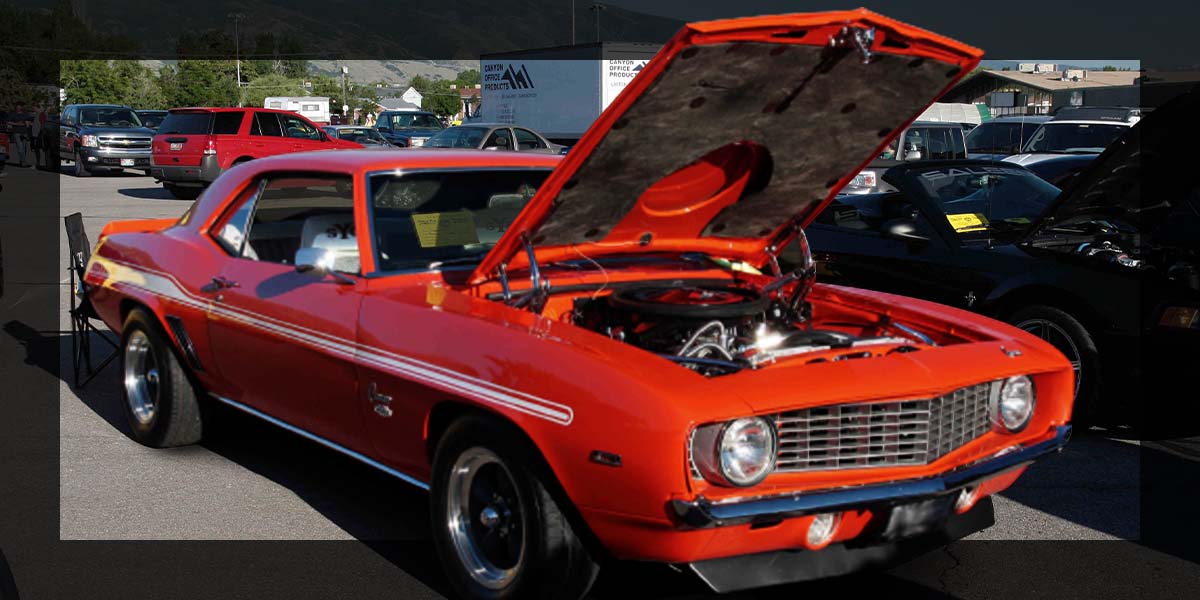 The Camaro is one of Chevrolet's most popular and enduring models. Initially intended as a Mustang competitor when it was introduced in 1966, the Camaro has remained iconic for many generations. It's famous for its optimal speeds, iconic appearance and top performance.
If you own a classic Camaro, you can upgrade your vehicle to feature new parts or replacements. Updating your Camaro can create a smoother riding experience and increase its value.
With so many upgrade options available, you might be unsure of where to start. Read on for ideas about the best early Camaro upgrades.
6 Best Early Camaro Mods
You have many options for a classic Camaro upgrade. You could update exterior or interior components, or add entirely new features. Evaluate your vehicle's condition and performance first, then determine areas you want to improve or upgrade. For instance, you might notice your interior has faded fabric or worn materials, which means you can plan an interior upgrade.
Here are six ideas for the best upgrades for a Chevy Camaro:
1. Add a New Exhaust Header
If you're looking to enhance your Camaro's performance, consider adding a new exhaust header. These components make it easier for engines to push exhaust fumes out of the cylinders. They make a significant difference in performance, allowing for enhanced flow and movement and decreased back-pressure.
By upgrading your vehicle with a new exhaust header, you can give it an extreme boost in power. You can find headers that match your particular model and size for the best fit.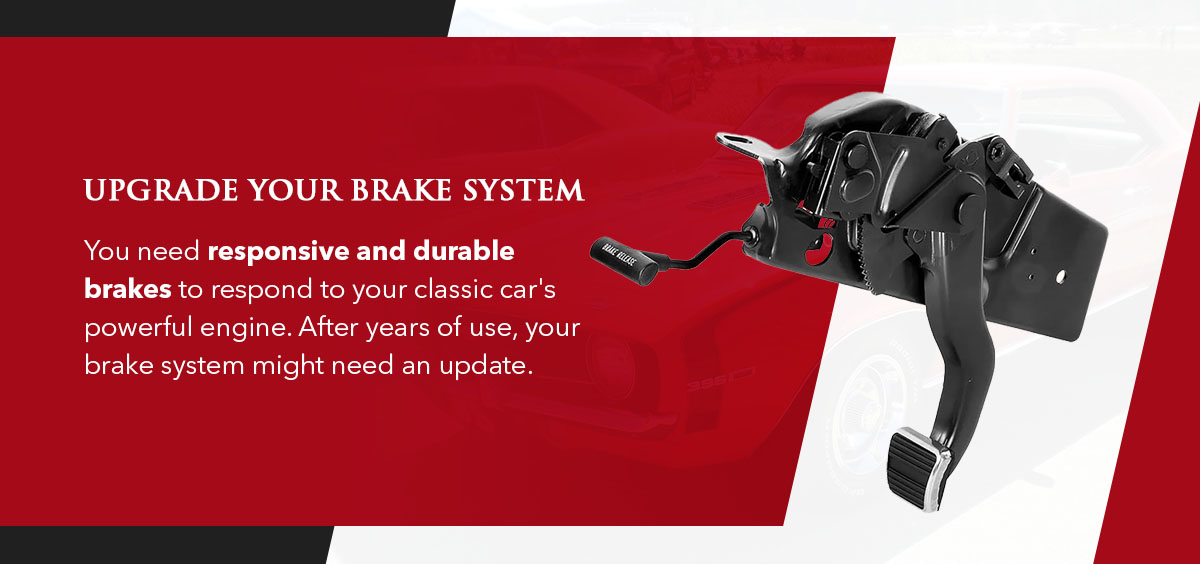 2. Upgrade Your Brake System
Your Camaro's brake system is crucial for performance and safety. You need responsive and durable brakes to respond to your classic car's powerful engine. After years of use, your brake system might need an update.
You could upgrade a variety of different brake components, including:
Brake pedal pads: Brake pedal pads are essential for braking. The pedal pad attaches to the brake pedal that is inside the car. When you apply pressure to the pedal, it results in the stoppage of your vehicle.
Calipers and covers: Your Camaro's calipers squeeze brake pads against rotors, which establishes friction and slows your car. The covers also keep your wheels cleaner by reducing brake dust. You can select high-quality materials like stainless steel to transform your caliper covers' functioning and performance.
Park brake assemblies: You can also replace your entire park brake assembly for a comprehensive upgrade. You can find custom-fit brake assemblies for the parking brake system that matches your vehicle's setup.
3. Update the Air Intake System
Air intake systems let air reach your engine. The engine then uses oxygen to complete the combustion process and power your vehicle. By adding a new air intake system, you can boost your Camaro's efficiency and power, helping it reach new speeds and performance levels.
You should find an air intake system that matches your Camaro's year and engine type. The systems are also available in different styles, like short-pipe or cold air. Choose whether you'll have to tune your car after the upgrade — some kits will say if tuning is required or not.
4. Add a Front or Rear Splitter
Front and rear splitters are excellent additions to your Camaro. These features help transfer airflow underneath your vehicle, assisting your car's ability to go at high speeds yet keeping it on the ground. Overall, they increase your Camaro's stability while you're moving at high speeds. Along with their aerodynamic benefits, splitters can also enhance your vehicle's external appearance.
You can add a front or rear splitter that matches your specific system. They're also available in different materials, so you can pick the one that suits your needs best.
5. Update the Suspension System
Your Camaro's suspension system is vital for balance and comfort while driving. It absorbs bumps and other impacts, letting you experience smooth rides. Your suspension system consists of many different features, from the tires to shock absorbers. A system upgrade can help your vehicle achieve optimal performance. Some signs of wear can indicate you need suspension repairs or replacements, such as:
Your Camaro drifts, especially around turns or corners.
Your Camaro naturally pulls to one side while in motion.
Your Camaro keeps bouncing or jostling after hitting a bump.
Depending on your needs and preferences, a suspension upgrade can consist of a few parts or an entire system replacement. A technician can also help you diagnose the best way to update the system.
6. Invest in New Interior Protection
Interior upgrades are just as important as external ones. From seating to dash panels, your Camaro's interior deserves top-quality materials. You could update a wide range of options, including:
Floor mats: Floor mats keep your car clean and protect the carpet from accidental spills and weather-related moisture. You could purchase new ones to give your floor an updated look.
Seats: Your Camaro's seats play a direct role in its overall aesthetic and comfort. When your seat covers rip or fade due to age, replace them with OEM equivalent seat covers and seat foam. Your Camaro will feel like a brand new car!
Dashboard: If parts of your dashboard have seen better days, you can get new dash trim and panels to swap in for a fresh finish.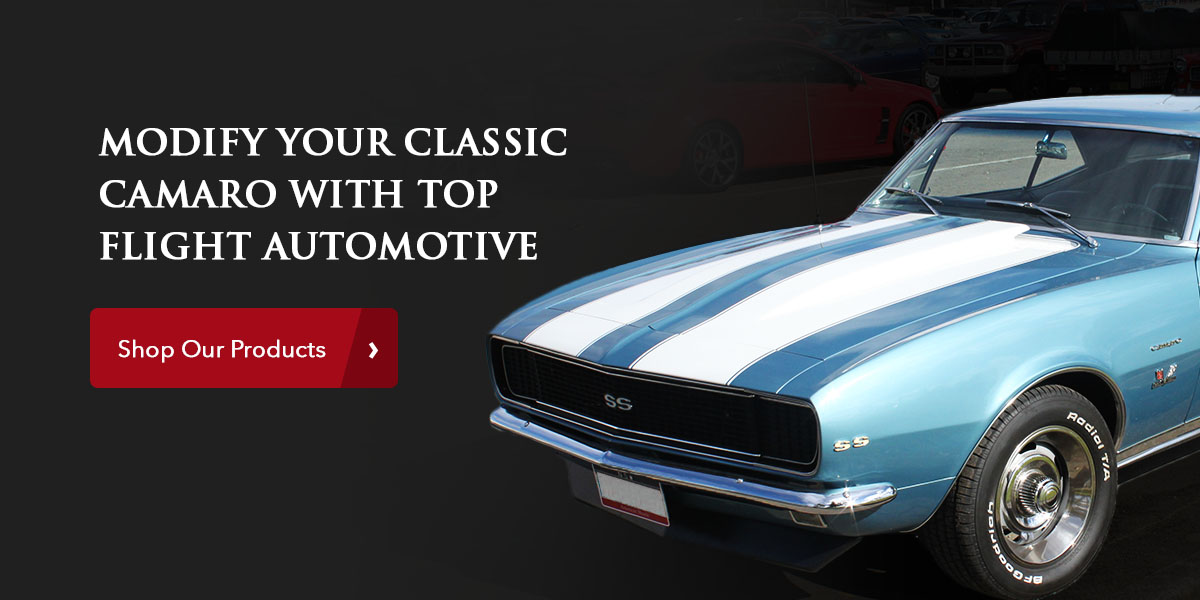 Modify Your Classic Camaro With Top Flight Automotive
By upgrading your classic Camaro, you can improve your riding experience and increase your car's value. Whether you want to replace a brake system, add a front splitter or anything in between, Top Flight Automotive can help. We carry a massive inventory of Chevy Camaro parts, perfect for a wide variety of upgrade projects.
Our online inventory is organized into accessible categories, making it easy to find the specific product you need. We offer items from leading manufacturers, including components like:
No matter what your Chevy Camaro restoration project is, we can help. To get started with Top Flight Automotive, shop our online Camaro products today.