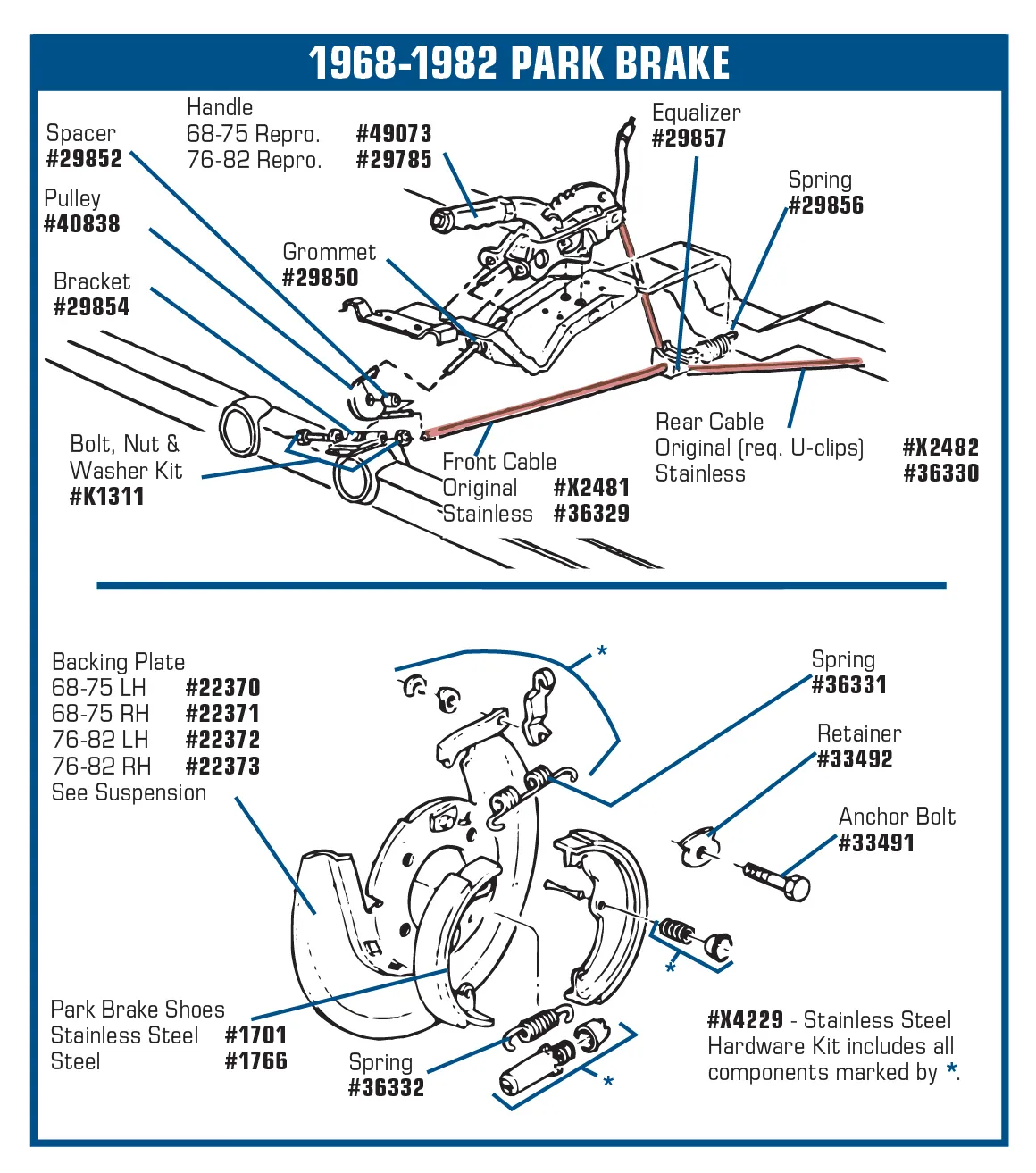 C3 1976-1982 Chevrolet Corvette Park Brake Handle. Reproduction - CA
Part #

29785

OEM Part #14033719 ; Mods #14933
Affirm - Available for US shipments only.
Quantity Available: 100
Fitment & Application
Submodels: Base, Collector's Edition, Indianapolis 500 Pace Car, Silver Anniversary Edition
Notes: This Is A Handle Without Ratchet Gear. See Part# 49073 For This Item In A 1968-75 Version
Features/Benefits
Our rear Park Brake Cable for your 1968-1982 Corvette is better than the original and it is guaranteed not to lock up. It installs quickly and easily, requiring no clips.
This Is A Handle without ratchet gear. HANDLE NO LONGER INCLUDES RATCHET GEAR. See part# 49073 for this item in a 1968-75 version
Since 1977, CA manufactures the highest quality interiors, parts, and accessories for your domestic enthusiast vehicles. TODAY, we have consolidated many of our legacy brands under CA including: Corvette America, Camaro America, Mustang America. Mr. Mustang, Classic Car Dashes, and Onyx Covers! We now make products for Corvette, Camaro, Mustang, Challenger, Charger, Torino, Galaxie, Chevelle, GTO, and many more!
Engineered to Meet or Exceed OEM Specifications
OEM Part Number: 14033719 ; Mods #14933
Associated Years: 1976-1982
Notes: This Is A Handle Without Ratchet Gear. See Part# 49073 For This Item In A 1968-75 Version
Item Quantity Size: 1 EA
Weight: 2 pounds
Keywords: Floor, Parking Brake, Parking Brake Handle Assembly
Additional Details
Fits Year: 1976, 1977, 1978, 1979, 1980, 1981, 1982
Fits Generation: C3 Corvette