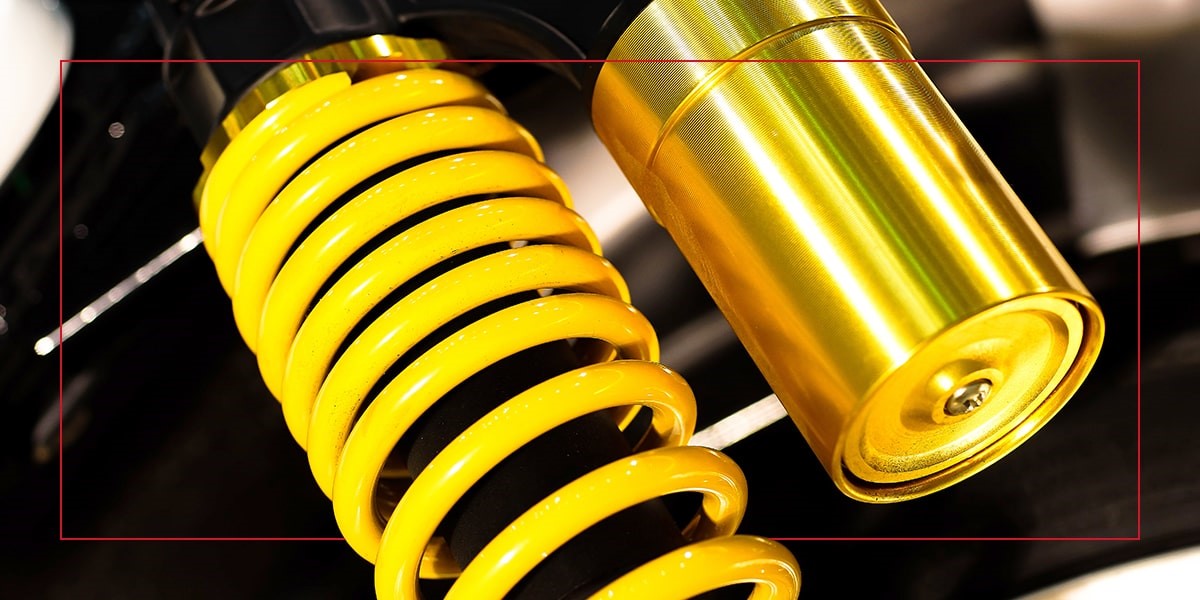 If you're into restoring or modifying cars, you may have heard about coilovers. These parts are common for increasing handling and adjustability in various types of cars, from racing cars to trucks. Understanding what they are and what they do is the best way to determine if getting coilovers for your car is a good idea. Learn more about what coilovers do and how to determine if they're right for your vehicle.
What Is a Coilover Kit?
A coilover is a suspension component for your car that allows for adjustable ground clearance. A coilover kit contains the necessary parts and components to install coilovers in your vehicle. The traditional suspension system setup for most vehicles consists of separate springs and shock absorbers. Coilovers are aftermarket kits that essentially combine separate springs and shocks into one part — a strut with a coil wrapped around it.
Depending on your level of car knowledge and skill, you may install coilover kits yourself or purchase a kit to be installed by a car shop or mechanic.
What Do Coilovers Do?
Coilovers combine the technology and function of shock absorbers and coil springs to replace the original suspension components on a vehicle. Your suspension system supports your car to prevent it from bottoming out. Since coilovers essentially work as both springs and shocks, you'll get more control over your ride.
Coilovers operate with the same principle as shock absorbers — as you hit bumps or traverse uneven roads, the coil compresses. Then, when the road evens out, the shock pushes the coil back up. Shock absorption helps smooth your ride in uneven driving conditions. Coilovers are stiffer than regular springs because they can be shortened or lengthened to the desired vehicle height.
The ride quality gets firmer as the coilovers are shortened, which means there's less give when you hit a bump or rough road. When the coil is expanded, your vehicle will ride with more fluidity over rough roads. Coilovers are often used to lower cars as much as possible without compromising performance. This is especially beneficial for racing and sports cars that perform better at lower heights.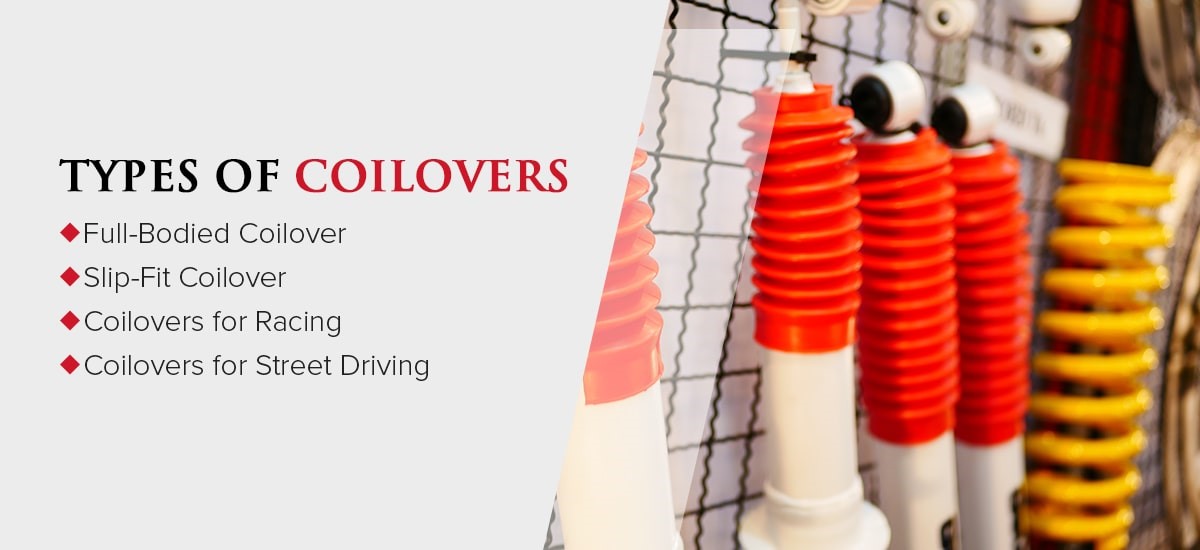 Types of Coilovers
While they can vary depending on what you're looking for, the main purpose of coilovers is to enhance performance, increase height adjustability and improve absorption. You can choose from a few different types of coilovers, depending on the features and customization level you're looking for. Here are a few types of coilovers you may consider for your car.
Full-Bodied Coilover
Full-bodied coilovers are the most common — these are typically what's thought of first when talking about coilovers. These components completely replace your car's stock suspension system. Full-bodied coilovers are the complete package, offering adjustability and other benefits.
Slip-Fit Coilover
Slip-fit coilovers, also called coilover sleeves, are another option, more for aesthetic purposes than performance benefits. Rather than replacing your suspension system, they're installed on your car's existing shocks. These kits are often considered entry-level coilover upgrades, as they don't require a full commitment to replacing your current shocks. Slip-fit coilovers allow you to adjust your car's ground clearance to achieve the desired appearance.
Coilovers for Racing
Coilovers designed for racing feature increased adjustability ranges, higher strength and heat reduction capabilities. These coilovers feature a mono-tube shock design that allows the system to adapt to changing surfaces quickly.
Coilovers for Street Driving
Coilovers for everyday driving typically have limits, only allowing you to adjust the height to certain presets. These coilovers are typically designed for street use only and can be automatically or manually adjusted depending on the setup.
What Are the Benefits of Coilovers?
As with any modifications you can make to your car, there are pros and cons of coilovers. There are two primary benefits of coilovers — adjustability and improved handling. Depending on how closely you pay attention to performance, you may notice other advantages, too.
Adjustability
One of the top advantages of coilovers is the ability to raise and lower your vehicle's height as needed. You may like the look of a low ride and still want the option to raise it when driving in certain areas. So, you might lower the ground clearance when racing or showing off at a car show and raise the height when driving long distances.
You may also adjust the coils depending on the desired feel for the ride. If you have others in the car or are transporting fragile items, you may want the option to increase the ground clearance for a smoother drive. In other circumstances, you may prefer a stiffer ride.
Improved Handling
While coilovers often have a reputation for rough riding, they actually offer some performance advantages, like better handling. Especially when adjusted to a higher ride height, coilovers can help performance when turning at high speeds or taking sharp turns.
Coilovers also allow for more adjustments regarding compression and rebound. These factors impact grip and ride smoothness. If you're looking for optimal control over these factors, consider coilovers designed for high-end competition. Coilovers also effectively balance your car's four corners with even weight distribution, which helps with traction.
Should You Get Coilovers?
If you're wondering whether coilovers are right for you, here are a few considerations that can help you decide:
Budget vs. quality: When it comes to coilovers, you typically get what you pay for — in other words, if you're looking for optimal quality and performance, you should avoid cheap parts. Carefully consider your budget and what level of quality you want and need.
Current handling: Many people get coilovers to improve their cars' handling. Consider your car's current handling and whether it's worth upgrading.
Needs: Be sure to also consider why you'd get coilovers. Do you want increased adjustability? Does your car have poor handling? Consider what your needs are to help you find the right coilover kit.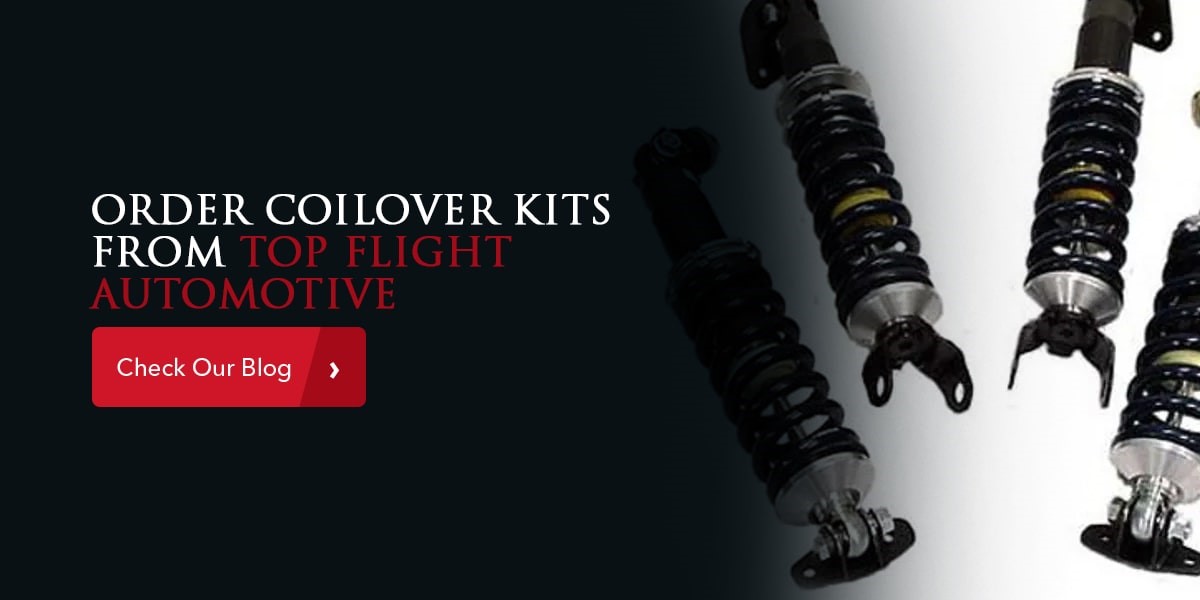 Order Coilover Kits From Top Flight Automotive
At Top Flight Automotive, we offer Corvette coilovers as well as a wide inventory of parts for other makes and models, including Mustang components. Whether you're working on a restoration project or simply want to upgrade your suspension system, we have the parts to help you do so. If you're unsure of where to start or which coilover kit would be best for you, our sales staff has over 135 years of combined Corvette and Mustang experience and will help guide you in the right direction.
Browse suspension kits by make and model to improve your ride!
Sources: