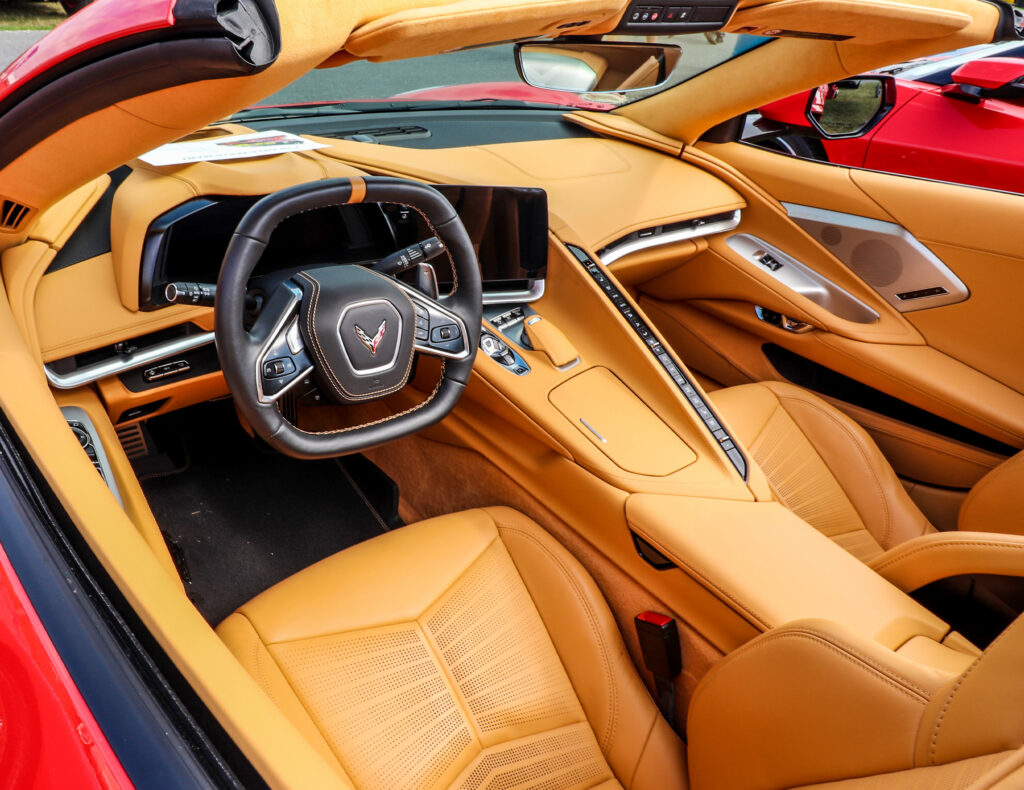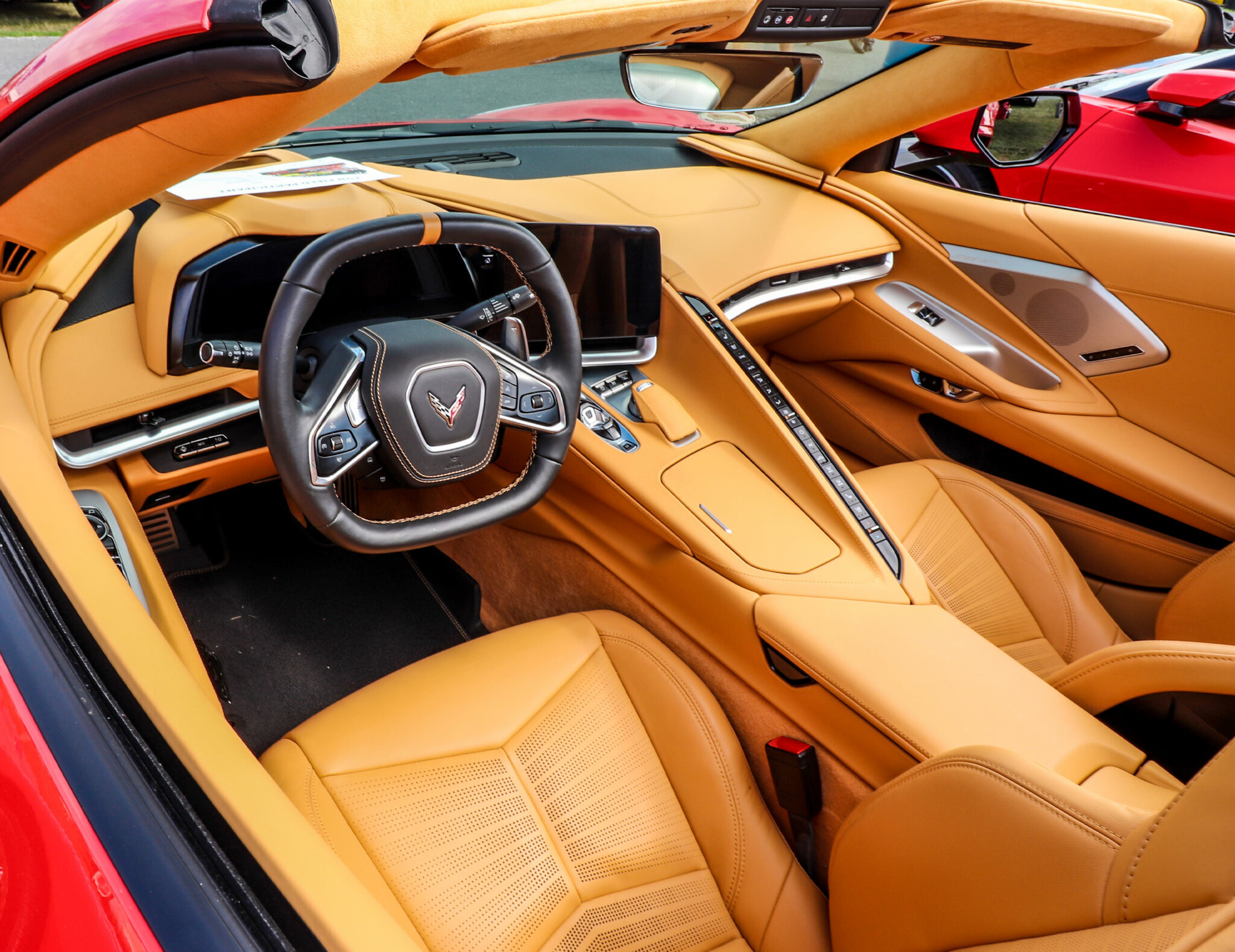 There's a lot to keep in mind as you shop for a new Corvette. One of those important choices you'll have to make is the type of trim level you want. With the C8, there are three main trim levels to choose from — the 1LT, 2LT and 3LT. Each of these trims has its unique characteristics, which differ slightly based on safety, comfort and aesthetics.
It's important to know all of those intricate differences between trims so you can be confident when you finally make your purchase.
Chevrolet Corvette Trims: 1LT vs. 2LT vs. 3LT
Taking a deeper look at Corvette trim levels helps ease a lot of the confusion people have between the different types. While there aren't too many differences, a lot of the variances are small and take some time to uncover. As the trim levels progress, the main upgrades will be to comfort and convenience. There are separate upgrades you can buy for performance. We'll take a look at each trim level and highlight the main attributes of each.
1LT
The first trim level already offers the driver impressive luxury. The interior creates a quiet environment, which makes the 10-speaker Bose audio systems all the more effective. You'll be able to connect your phone via Bluetooth and play whatever you want. Other standard features on the 1LT include manual folding mirrors, GT1 bucket seats and an HD rearview camera.  The 1LT is only available with a black, gray, or red interior.
2LT
The next trim level boosts interior upgrades and convenience — the 10-speaker Bose audio system from the 1LT becomes a 14-speaker system. You gain built-in navigation on the 8-inch touchscreen and a small cubby that offers wireless charging for your phone.
The 2LT trim also puts a heavy emphasis on safety. With the low-riding nature of the Corvette, there are inevitably going to be blind spots during driving. The 2LT tries to alleviate some of those issues with an additional front HD camera and HD rearview camera. You also get rear cross-traffic alerts and blind-spot monitoring.
A feature you might choose for your 2LT trim is the automatic front-lift tool. With just the click of a button in the center console, this tool elevates your front bumper about two inches from the ground to keep your Corvette scrape-free. It's important to note that this option doesn't come standard and is only offered for the 2LT and 3LT trims at an additional price.
For comfort, the 2LT also provides heated steering wheels for those in colder climates. Memory seats are also heated and ventilated and come with power lumbar and bolster adjustments. All of these additional upgrades come with a boosted price tag of around $7,300. Still, if you are looking for some added comfort, convenience and extra safety features, then the investment could be worth it.
3LT
The third trim level continues to make the interior of the Corvette luxurious, with the console, instrument panel and door trim panels all wrapped in leather. Seats are upgraded to Napa leather sport seats with carbon fiber accents. Ultimately, the 3LT offers the highest level of comfort and luxury of the three trim levels for an additional cost of $4,650 over the 2LT's price.
Which Corvette Trim Should You Choose?
Determine which aspects
are most important to you:
Safety
Convenience
Comfort
Luxury
As you can see, there are many differences between the 1LT, 2LT and 3LT Corvette trims. Even if you know all of the intricacies between the Corvette C8 trim levels, you may still be having trouble making a final decision. To help narrow it down, take a look at your specific situation and determine which aspects — safety, convenience, comfort or luxury — are most important to you.
Safety
Most people are fans of Corvettes because of their attractive designs and impressive power. You'll still want to make sure you're getting adequate safety so you can have confidence out on the roads. With safety upgrades like blind-spot alerts and front and back HD cameras, you can feel safer in your Corvette and have more tools on your side to keep you safe. If safety is something that is important to you, then you may want to consider investing in that 2LT upgrade to receive the additional safety features.
Convenience
When driving, many people want that added convenience — whether it's a wireless charging station for your phone or built-in navigation to help you get to your destination without too much work. They may seem like small upgrades, but these can have a big impact on your driving experience. If you're looking for that extra convenience while you're driving, make sure you seek out that 2LT trim to get its benefits.
Comfort
Sometimes you just want a little extra comfort. Plush seats can help you get settled in for a long drive and make sure you don't get stiff while on the road. If you live in a cold climate, then you may want to seek out heated seats and a heated steering wheel. Added comfort from a 2LT or 3LT can make driving your Corvette an even better experience.
Luxury
Safety, convenience and comfort are all great aspects to look at when buying a Corvette. One of the most central aspects of a Corvette, of course, is that it's luxurious from the inside out. If you're a fan of Corvettes, you may be looking to emphasize that luxury. Upgraded seats, upholstery and trim could be the upgrades you need to make your Corvette interior feel truly special. For this, the 3LT trim level may be the way to go.
Customize Your Corvette Interior With Top Flight Automotive
Be sure you're taking your time and looking through the Corvette 1LT, 2LT and 3LT trims so you know exactly what you're getting. Take a look at your unique situation and consider different aspects like safety, convenience, comfort and luxury. The 1LT provides you with a quiet interior, quality speakers and comfortable seating, while the 2LT gives you major safety upgrades, convenience enhancements and heating features. The 3LT gives you added luxury with even more comfortable seats and attractive features.
Whichever trim you decide on, you may need help customizing your Corvette and keeping it looking fresh. For this, you'll need to find a reliable company that can offer you quality products. Top Flight Automotive is here to help — we offer a huge selection of Corvette parts and tools in one convenient online location. From body kits to battery tenders, we're here to help you build your dream Corvette and keep it looking great & running smoothly.
Our sales staff has decades of experience in the Corvette industry — we can help answer any questions you may have and guide you toward the products you need. Finding quality parts for your Corvette can be challenging. Top Flight Automotive makes it easy. Shop online today!