The Chevrolet Camaro has enthralled drivers since its launch in 1966. Combining a sleek appearance with optimal engine performance, the Camaro is an ideal ride for many. Classic Camaros also remain popular for many factors — they provide a glimpse into the car's history, iconic aesthetics and high-powered speeds.
Many car enthusiasts want to purchase a classic Camaro but debate whether it's worthwhile. The initial cost and maintenance requirements might cause buyers to question a classic car purchase. But most classic Camaros increase in value over time, making them a strong investment decision for Camaro lovers.
How Much Is a Classic Camaro Worth?
It's challenging to give an exact worth amount for classic Camaros because of the variety of different models available. Classic Camaro values differ by qualities like:
Condition
Because of their older age, classic cars are often available in a broad range of conditions. Restoration projects can also alter cars to a variety of states. To make it easier to identify value, appraisers use a categorization scale to classify classic and antique cars.
The scale follows these general guidelines, ranked from best to worst condition:
Excellent: These cars contain no physical or internal flaws. They're in original condition, either because of attentive maintenance throughout the years or a comprehensive restoration project. Cars in excellent condition usually cost the most.
Fine: Fine cars have been fully restored. They might have high-functioning pieces from their original manufacturer. These vehicles have no issues while running and display a high-quality appearance.
Very good: A very good car works and is likely fully restored.
Good: This rating indicates the classic vehicle needs more restoration work to reach its best value. It might have a few interior or exterior flaws that prevent it from driving at its best.
Restorable: These cars are in poor condition but still retain value. They can still turn on and show potential for restoration.
Parts cars: Parts cars can't function properly. Only their parts hold worth because manufacturers can use them to restore other vehicles.
The better condition a vehicle is in, the more worth they have. Thorough restoration projects can shift cars from one ranking to another. For instance, a car with a "good" ranking could reach a "fine" or "excellent" status after restoring the brake system and redesigning the interior.
Mileage
Like any used car, a classic car's mileage also affects its value. In general, higher mileage indicates decreased worth. The more time cars spend on the road, the more opportunities there are for wear or damage.
Sometimes, large mileage numbers might not impact extremely rare classic models. Collectors might be fine with higher numbers if only a few units were ever produced. The overall cost depends on the buyer's priorities and other factors, like the car's condition.
Year
Your classic Camaro's production year impacts worth. Older vehicles are often more expensive, especially in original production years. For instance, the initial 1966 model typically sells for more than an early 2000's model.
Rarity
Market demands and the number of production units also affect a classic Camaro's value. Some models only had dozens or hundreds of models ever produced, making them harder to find. Rare items are usually higher in demand, causing prices to jump. Many buyers sell classic cars through private sales or auctions, and these events can also create even more competitive pricing.
Do Classic Camaros Increase in Value?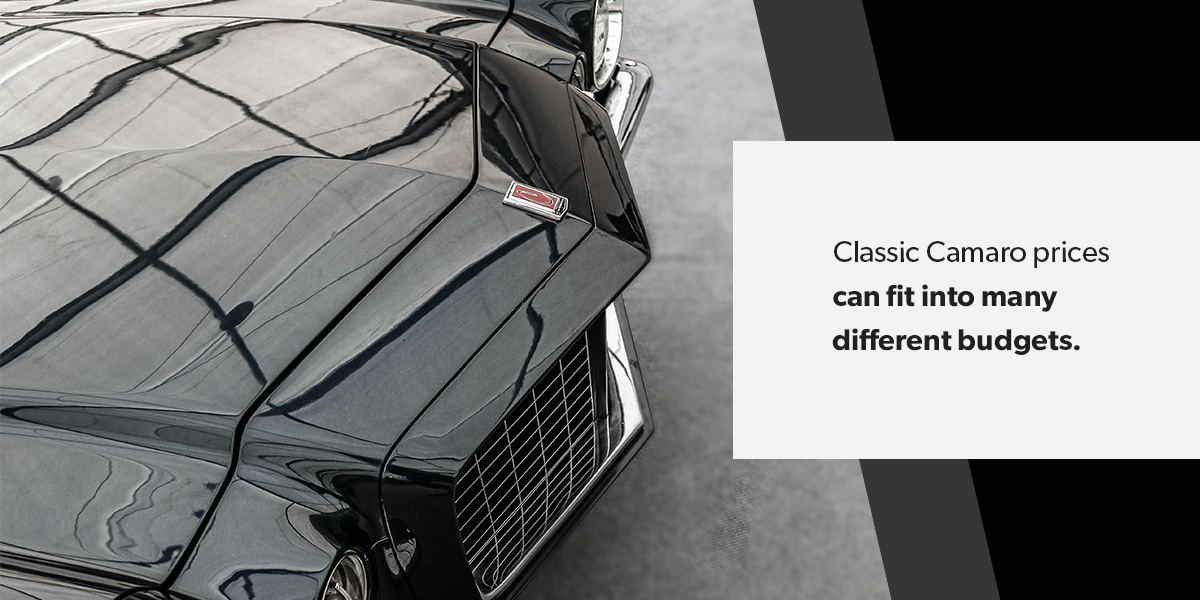 Many studies have shown that classic cars maintain or increase in value over time, and the classic Camaro is no exception. While the classic car market fluctuates, most vehicles display steady growth in value as the years pass.
Camaros offer optimal performance and a beautiful appearance that appeal to drivers decades after their debut. As the number of original models dwindles, buyers seek these historical pieces to diversify their collections or to drive daily.
Car enthusiasts also get to enjoy the value of possessing and driving a classic vehicle. Classic Camaro prices can fit into many different budgets, making ownership an achievable dream for many buyers.
What Camaros Are Most Collectible?
Many car enthusiasts purchase classic cars to expand their collections. Collectible cars represent a landmark in the vehicle's history, altering consumer expectations when they debuted. The Chevy Camaro has a wide range of collectible models from its long history.
Here are a few examples of collectible and rare Camaro models:
What Year Camaro Is the Most Valuable?
As mentioned, a Camaro's value ultimately depends on condition and market demand. But some years often sell for higher prices than others. Earlier production years and limited-edition models can cost thousands more than other options.
For instance, a base model of a 1967 Camaro is worth about $31,000. In contrast, a 1988 base model sells for around $18,000, nearly half of the 1967 version.
Selecting one year as the most valuable is challenging because prices can range drastically within a single year. Minimally produced models sell for much more than standard editions. The 1969 rare ZL1 is worth over $600,000, but a base 1969 version could cost about $25,000.
Are Classic Camaros a Good Investment?
Overall, classic models are an excellent investment option for Camaro enthusiasts. While the vehicle might need more maintenance than a newer version, many buyers consider these additional fees worthwhile. Car lovers get to own a piece of significant automotive history, all while enjoying the optimal Camaro performance and aesthetics.
Restoration projects are also great options for buyers. You can purchase a classic model in a lower-ranked condition for a lower price. Then, you can restore the car to a better condition on your own time. Improving its quality brings the vehicle to a higher overall value.
Maintain Your Investment With Top Flight Automotive
A classic Camaro could be the best investment for your collection. If you need parts to enhance or restore your classic car, shop online with Top Flight Automotive today. We offer a wide selection of Camaro parts that can suit any restoration project. From performance mods to exterior refreshes, we carry the parts you need to maintain your Camaro.
To get started with Top Flight Automotive, shop online today.