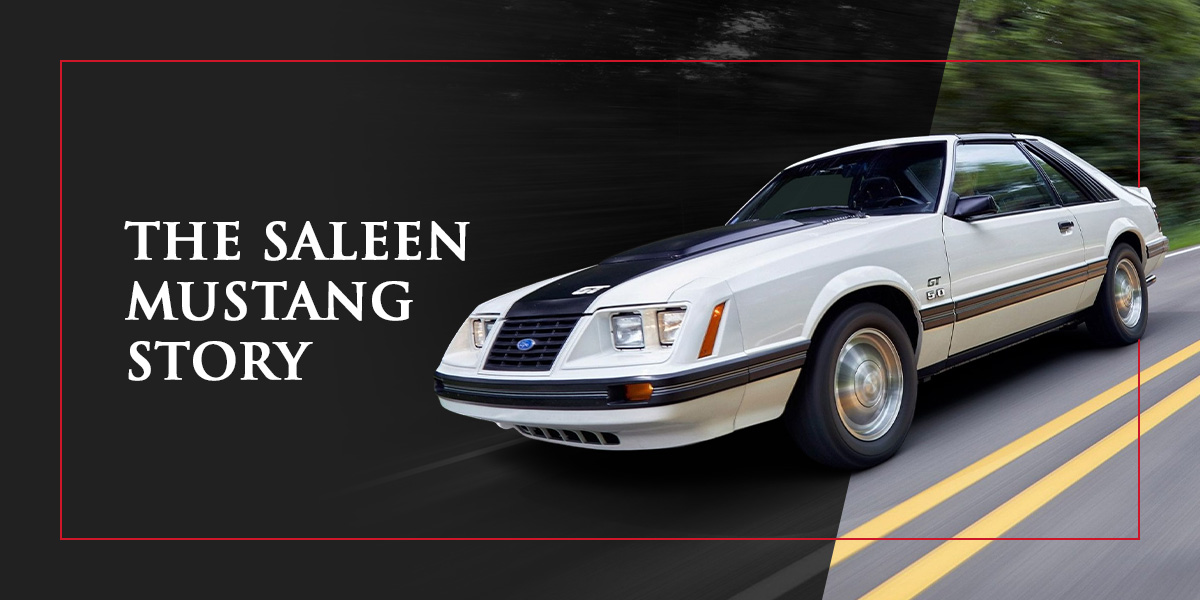 The Ford Mustang Saleen evolved from one man's passion for racing and vehicle performance into an auto phenomenon.
Here, we'll take a look at the overview of the Saleen Mustang story — how it was conceived, what these models entailed and some of the most popular Saleen Mustangs to ever be produced.
What Is a Saleen Mustang?
A Saleen Mustang is a special edition Mustang built with enhanced performance upgrades and styling. Saleen upgrades include huge boosts in horsepower and aerodynamic improvements. The Ford Mustang Saleen was introduced in the 1980s, and it's since made a huge mark on the auto industry, showcasing new ways to improve the Mustang and build a brand from the ground up.
Saleen is actually a separate brand in itself that specializes in fine-tuning vehicles to make them as performance-driven and as powerful as they can be.
The History of the Saleen Mustang
Steve Saleen was the mastermind behind the origins of the Ford Saleen Mustang. Steve Saleen got his start racing in a Shelby Mustang, and though he had some success with these vehicles on the track, his real breakthrough came when he started modifying designs and adding superchargers to boost performance.
In 1983, the original Ford Saleen Mustang was introduced. Interestingly, the engine and drivetrains for the first Saleen Mustang went untouched. Steve Saleen spent most of his time modifying the brakes, suspension and chassis so the vehicle was still significantly faster, even without replacing the engine.
The first fully enhanced Saleen Mustang debuted in 1985, coming with new suspension, aerodynamics, tires, wheels and two new gold stripes on its exterior. From there, the Saleen Mustang has had a fruitful run, making a huge splash in the automotive market and garnering attention from fans everywhere. Many Ford Saleen Mustangs had great racing success. The Saleen Mustang has even made its way into Hollywood, appearing in movies such as "2 Fast 2 Furious" and "Transformers."
Steve Saleen is still regarded as one of the most influential people in the auto world, as he helped outline the future for vehicle performance upgrades and detailing manufacturing companies. Although his modifications were likely born out of an innate passion for racing, Steve Saleen actually went on to form his own company that dealt specifically with adding enhancements to vehicles.
Popular Saleen Mustangs
Since its start in the 1980s, the Ford Saleen Mustang has remained popular and continued to attract collectors and performance enthusiasts today. A few of the Saleen models were very popular, including:
1983 Ford Saleen Mustang
Even though its engine went untouched, the first model — the 1983 Ford Mustang Saleen — was probably the most influential of them all. It sparked the beginning of the Saleen lineup and showed just how impressive Saleen's handiwork was. Even without affecting the engine and drivetrain, Saleen was able to create a vehicle that was faster and more powerful than its original.
This model marked the beginning of a long history of success and the start of a massive impact on the car performance industry itself.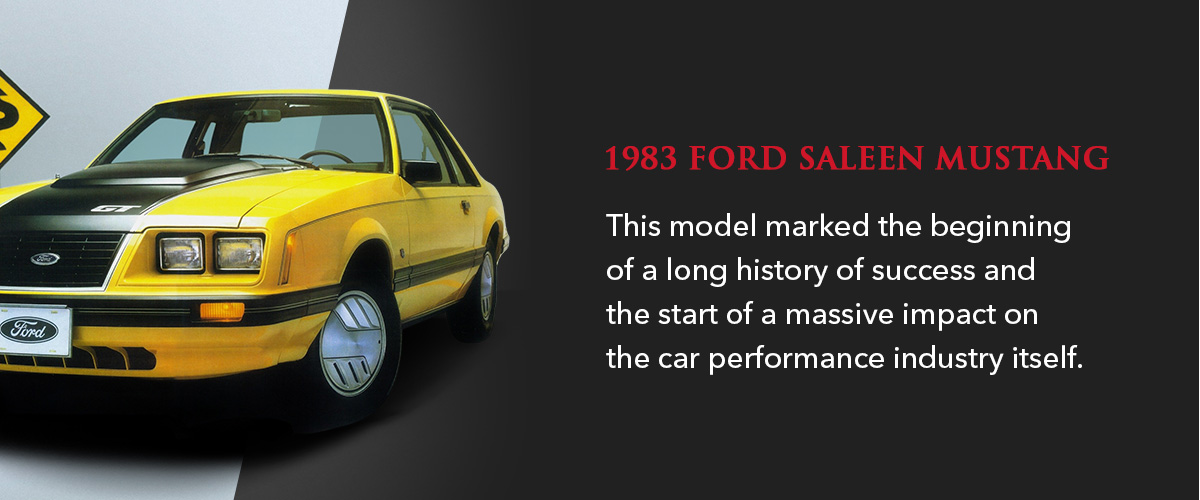 Saleen SA10
Produced in the early 1990s, the Saleen SA10 offered 325 horsepower and had a dark, unique color scheme. The SA10, along with marking the end of the Foxbody production run, was also meant to celebrate the company's 10th anniversary.
The SA10, with its supercharged engine, powerful performance and exterior detailing, was one of the most popular Saleen Mustangs ever. It's also one of the rarest — it's believed that there are only eight SA10s around today.
Saleen S302 Black Label
Saleen Mustangs came with different labels denoting how intense their performance upgrades were. The "Black Label" was reserved for one of the most powerful Saleen Mustangs.
The Saleen S302 features a supercharged 5.0-liter V8 with 800 horsepower, making it one of the most impressive Mustangs on the market. The S302 also includes upgraded suspension and transmission and a sleek, impressive exterior that you can get in multiple colors.
Saleen SR
The Saleen Mustang lineup is already special on its own, with so many unique features and upgrades that the entire brand itself is still wildly popular. But in that niche stands one of the most unique vehicles that Saleen ever produced — the SR.
It was the most track-focused car Saleen ever produced. It had a hand-crafted 5.8-liter V8 that was capable of 505 horsepower, and it could reach speeds of over 200 miles per hour. The SR was given a somewhat unique exterior that set it apart from any of the other Saleen Mustangs, with a special body kit and a special front end.
Production of the Saleen SR was very rare, and the price tag was one of the most expensive of the entire lineup.
How Rare Are Saleen Mustangs?
Saleen Mustangs are very rare — since they began production in 1983, it's estimated that around 13,000 Saleen Mustangs total were produced. On average, Saleen built around 350 models a year.
How Much Is a Saleen Mustang?
Many higher-end Saleen Mustangs will have price tags that are above the $80,000 mark. The rarity of the Saleen Mustang, as well as their impressive performance upgrades and unique exteriors, make them very expensive. The rarer a model is, the more costly it will probably be.
Preserve Your Vintage Mustang With Top Flight Automotive
Top Flight Automotive is your place for Mustang parts. We have a vast selection of parts and tools that can make your repair and restoration process go smoothly. With Top Flight Automotive, you'll experience a wide range of advantages:
Convenience: Your repair or restoration process can be slowed by trying to find the right sellers for all of your Mustang parts. It can create hitches in the process and a lot of uncertainty about quality and price. At Top Flight Automotive, we offer a one-stop shop where you can find everything you need in one convenient online location.
Quality: We make sure everything you buy at Top Flight Automotive is made with quality materials and built to last so you won't have to worry about the durability of your purchase.
Reliability: Instead of being uncertain about the quality of your parts, work with a trusted company that knows exactly what its customers are expecting. Our trained sales staff has years of experience in the auto industry and can help you find what you need for your project.
Top Flight Automotive is ready to help you find the parts you need for your Mustang repair or restoration project. Shop online today!