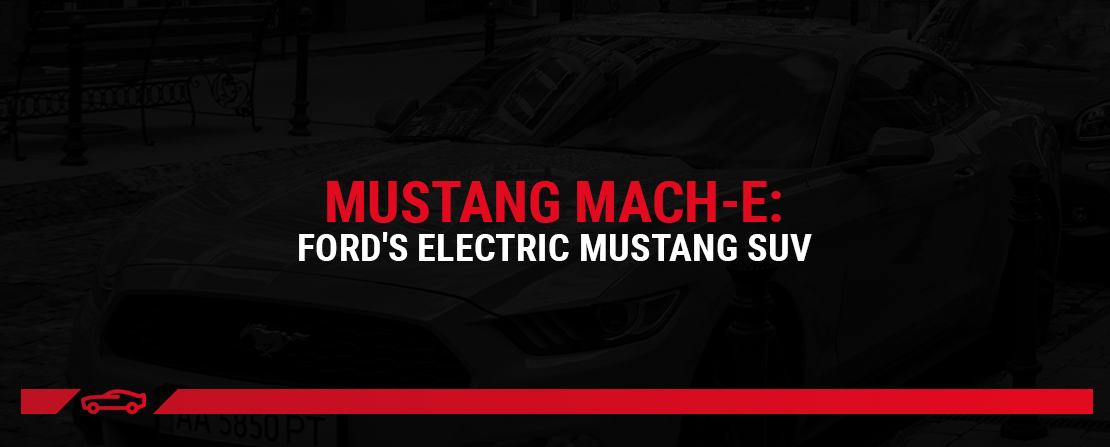 In November 2019, Ford introduced the world to the Mustang Mach-E SUV. Ford had teased the SUV for months prior, and the company's $11 billion investment in electronic vehicles gave Mustang lovers an idea of what was to come. However, this SUV still had some surprises up its sleeve, with many different trim options and features announced.
Initially, Ford promised the SUV in late 2020, but now it appears the company has its sights set on summer 2021 for the vehicle's release. No matter when it becomes available, buyers can already evaluate whether the Mach-E is for them, as there's tons of publicly available information on the SUV's specs and features. If you're thinking about investing in a Mach-E, you'll probably want to learn more about its specifications, pricing and the controversy surrounding its name.
Mach-E Specifications and Features
The Mach-E has several specs and features sure to get electric vehicle buyers excited. Whether you're eager to experience the distance it can travel between charges or the 0-to-60 time, there's plenty to look forward to with this new Mustang SUV in 2021. Check out some of the top Mach-E specs.
Power: The Mach-E gets its power from either a standard or extended-range battery pack, with these batteries feeding the electric motor. The more standard Mach-E models create either 266 or 290 horsepower. On the GT Performance model, the motor generates 634 pound-foot of torque and an impressive 480 horsepower. The standard GT offers the same horsepower, but has a slightly reduced 600 pound-foot of torque.
0-60 time: The top GT Performance model can go from 0 to 60 miles per hour in just 3.5 seconds.
Driving range: Adding to the Mustang's hype is how far the SUV can travel on a single charge. The Select trim starts at 230 miles, but with the Premium trim, the SUV can drive up to 300 miles without needing a charge. There are tons of trim and powertrain options available, so buyers should pay attention to each model's range.
Charging times and battery life: Every Mustang Mach-E features fast-charging capabilities, with buyers receiving a Ford mobile charger included in their purchase. If you have a 120-volt outlet, the SUV's battery will charge around 3 miles per hour, and those with a 240-volt outlet can charge the battery within 14 hours. Buyers who want faster charging can purchase a Ford charge station that can recharge the battery in about 10 hours, with the charger providing around 30 miles worth of charge every hour.
Infotainment and connectivity: The Mach-E comes with Ford's SYNC infotainment system. This system uses machine learning to give drivers a more customized experience. The new electric Mustang also features a 15.5-inch touchscreen to give users quick access to the various apps included with the system. Drivers will be happy to know the system comes with Android Auto, Apple CarPlay, a Bang & Olufsen audio system and a mobile Wi-Fi hotspot.
Interior: Since the Ford Electric SUV's battery is under the vehicle's floor, there's a great deal of space for passengers and cargo. The Mach-E's dashboard has a digital gauge cluster and a large vertically mounted touchscreen. There are tons of other features, such as a panoramic sunroof, wireless charging, heated front seats and ambient interior lighting. With the rear seats folded, the SUV has 59.6 cubic feet of cargo space and 29 cubic feet when the rear seats are up.
Safety and driver assistance: The new electric Mustang comes with a host of safety features, such as available automated emergency braking and forward-collision warning. Additionally, it has a rear cross-traffic alert and blind-spot monitoring. Drivers can also use the available lane-keep assist and lane-departure warning features for greater safety.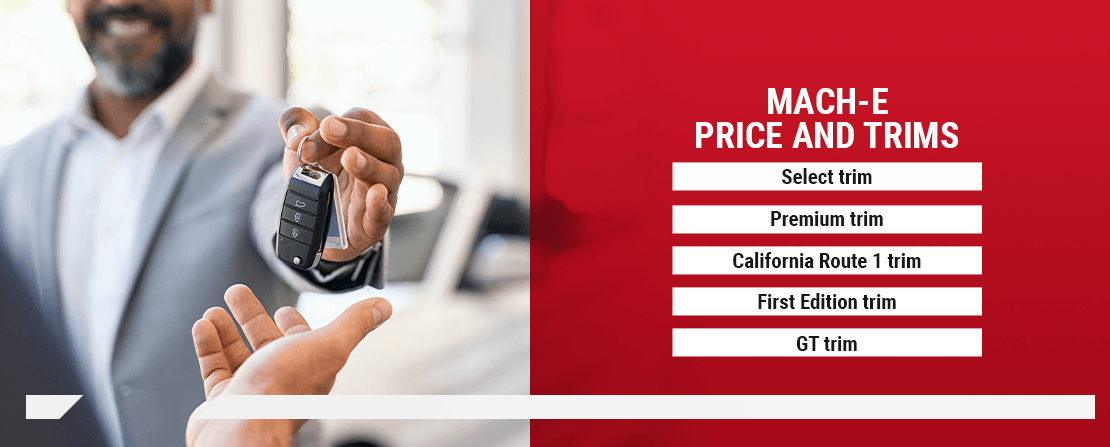 Mach-E Price and Trims
Whenever people finally get their chance to buy one of these Ford Mustang electric SUVs, they'll have a few options to choose from at various prices. Find out more about electric Mustang prices and unique features for each trim package.
Select trim: The Select model starts at $42,895. This base trim offers 266 horsepower and a standard range of 230 miles. Buyers can select from an all-wheel-drive powertrain, with a reduced range of 211 miles, or a rear-wheel-drive powertrain.
Premium trim: The Premium trim goes for $47,000, with the option to choose between rear-wheel drive, rated at 290 horsepower, and all-wheel drive, rated at 346 horsepower. This trim starts with the standard-range battery back, but buyers can upgrade to an extended battery pack.
California Route 1 trim: The California Route 1 model clocks in at $49,800. This trim doesn't offer all-wheel drive, but it does have a range of 300 miles and a set of 18-inch aerodynamic wheels.
First Edition trim: The First Edition can be yours for $58,300. Ford only offers it with an all-wheel-drive powertrain, featuring 346 horsepower and a range of 270 miles. This model has tons of unique visual features, such as red brake calipers and badges.
GT trim: The GT Trim starts at $60,500 and has the most horsepower at 480. Buyers can only purchase it in all-wheel drive, with the range estimated at 250 miles. With its incredible power, the GT is the choice for those who want to go fast.
Controversy Over Its Name
Despite all the Mach-E's impressive features and specs, the vehicle doesn't sit right with some Mustang enthusiasts. Since Ford called the electric SUV a Mustang, there have been a few detractors. These critics see the silent, electric SUV as a slap in the face to the Mustang name. Without a roaring V-8 engine to back this Ford SUV, some people are not going to accept the Mach-E as a member of the Mustang family.
Despite the backlash, the SUV does have some Mustang-like traits. These characteristics include bodywork with similar stamping details, a short-nose/long-hood combination and tri-bar taillights and headlights. The SUV's makers have even tried to give the Mach-E's electric engine a sound closer to an internal combustion engine by crafting unique sound profiles for it. Though these don't match a V8 engine's noise, it's an interesting feature for those looking for a Mustang's typical roar.
Whatever you make of the name, Mustang is looking to prove the Mach-E lives up to the hype, and Ford's multi-billion-dollar investment in electric vehicles makes it almost certain we'll see more electric Mustangs in the future.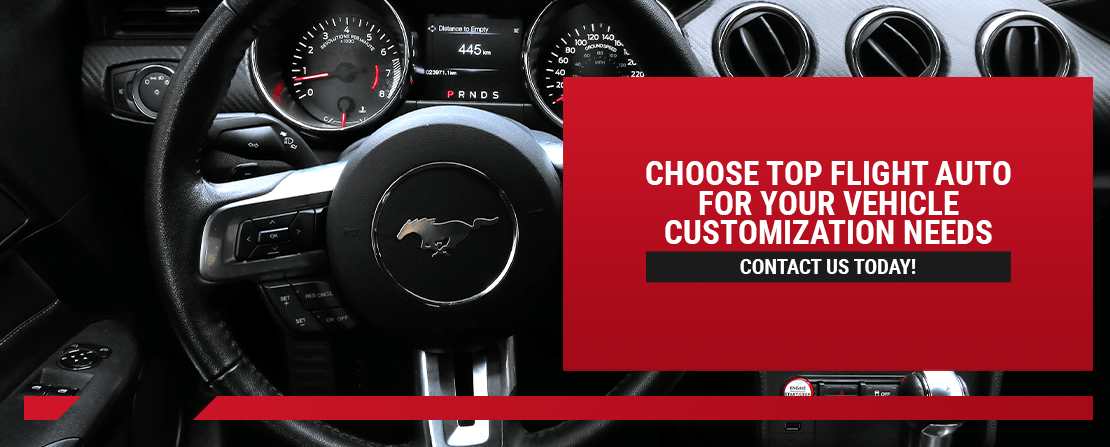 Choose Top Flight Auto for Your Vehicle Customization Needs
If you love Mustangs and are looking to equip your vehicle with the latest performance upgrades or accessories, turn to Top Flight Auto. We offer Mustang parts and accessories from every generation to help you outfit your car with the very best. We offer price matching and fast shipping to ensure our customers receive the best experience possible.
Browse our selection of Ford Mustang parts and kits. If you have any questions, please feel free to contact our knowledgeable staff.