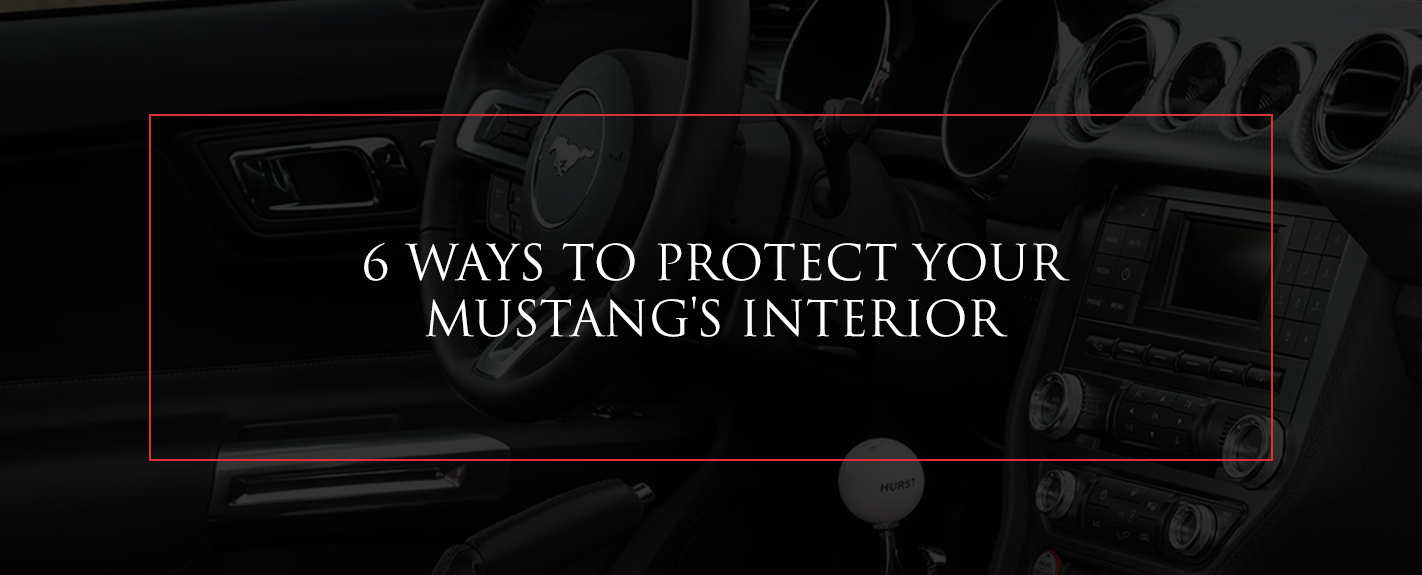 The Mustang is one of those unique, eye-catching classic cars that turn heads on the streets. Its generations of models make owning one feel like part of a long, rich history.
Also, they're just really fun to drive.
If you own a Mustang or plan to buy one, one of your priorities should be to figure out how to extend its life. Protecting the interior is one of the easiest ways to preserve a Mustang. Before you know it, your interior could turn into a mess. With a little bit of thought and some strategies to help defend against dirt, spills and mess, you can keep your Mustang's interior looking brand new.
The Importance of Protecting Your Mustang's Interior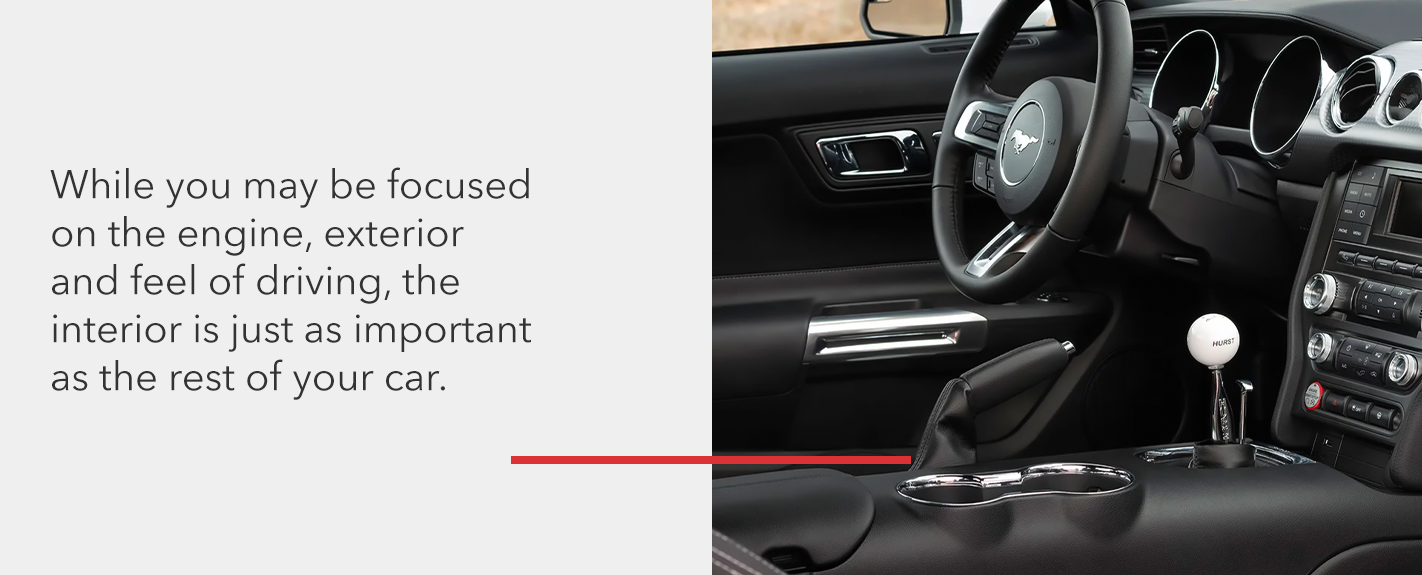 Sometimes it's easy to forget why protecting your interior is so important. While you may be focused on the engine, exterior and feel of driving, the interior is just as important as the rest of your car. It's where you'll be spending the most time with your vehicle, after all, so it's a good idea to put some effort in and keep it nice.
Here are some reasons protecting your Mustang's interior is important.
Resell Value
Protecting your interior should be a top priority if you're looking to sell your Mustang in the future. A messy interior is a dead giveaway for potential buyers, who will start forming their opinion long before asking about the engine.
If your Mustang's interior is messy, a buyer may assume you neglected the inner workings as well. Stains, spills and dirt also show the buyer the potential work they have in the future — a giant stain on the passenger seat might deter them from buying at all.
A sparkling interior, on the other hand, shows how much effort you put into the car and how well you took care of it. A well-kept interior will help with leverage and pricing in the selling process. Keep your interior clean, and you can sustain and even improve your Mustang resell value.
Safety
Modern life moves quickly, and it's easy to let clutter build up in your car. Objects multiply and compound until you have a mountain of miscellaneous items stacked up on the seat beside you. While this may seem like a cosmetic issue, it can pose a legitimate safety concern on the roads.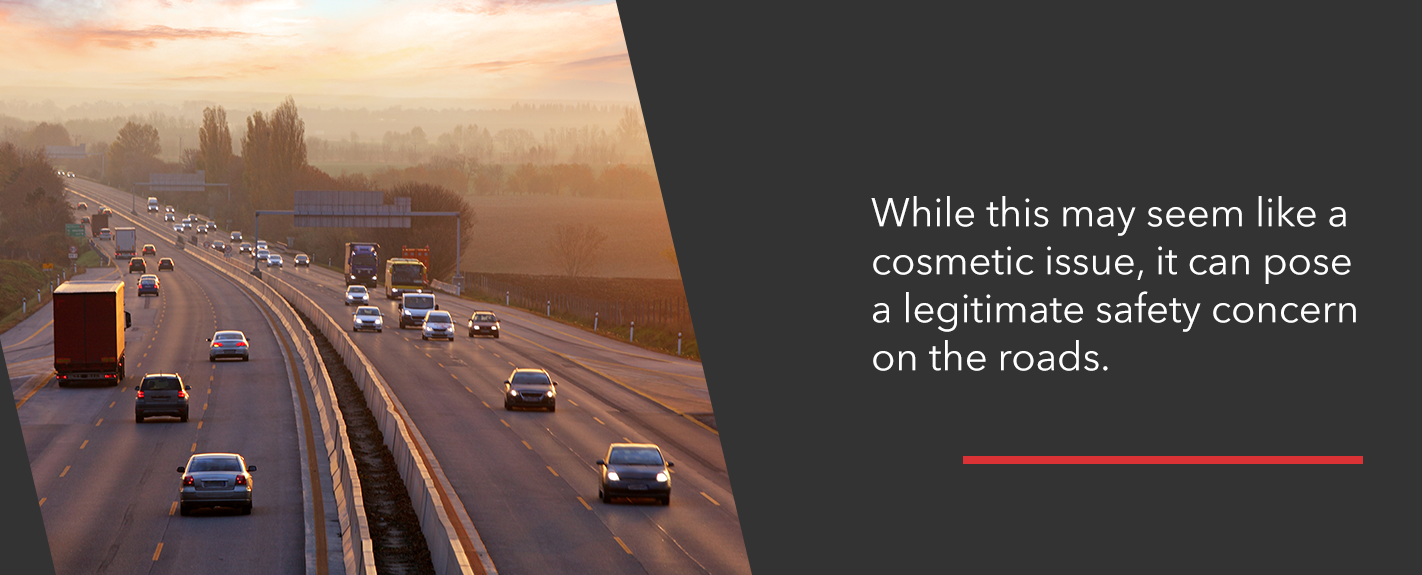 Braking quickly can send objects flying forward, crashing into the dashboard or windshield. These could bounce back at you or even shatter glass. Sharp turns will also send loose items flying. Clutter also poses a distraction hazard as you try to keep things from falling. Splitting your attention takes your focus off the road and increases the chances of an accident.
A neat, spacious interior lets you turn and brake more safely and keep your full attention focused on the road in front of you.
Longevity
Protecting your car's interior keeps it looking new. Spills, stains, dirt and faded leather make a car appear older. You've likely felt the triumph after giving your car's interior a good cleaning — it looks brand new.
With a little time devoted to regular cleanings, you can keep your Mustang looking fresh and defend it against wear and tear.
Health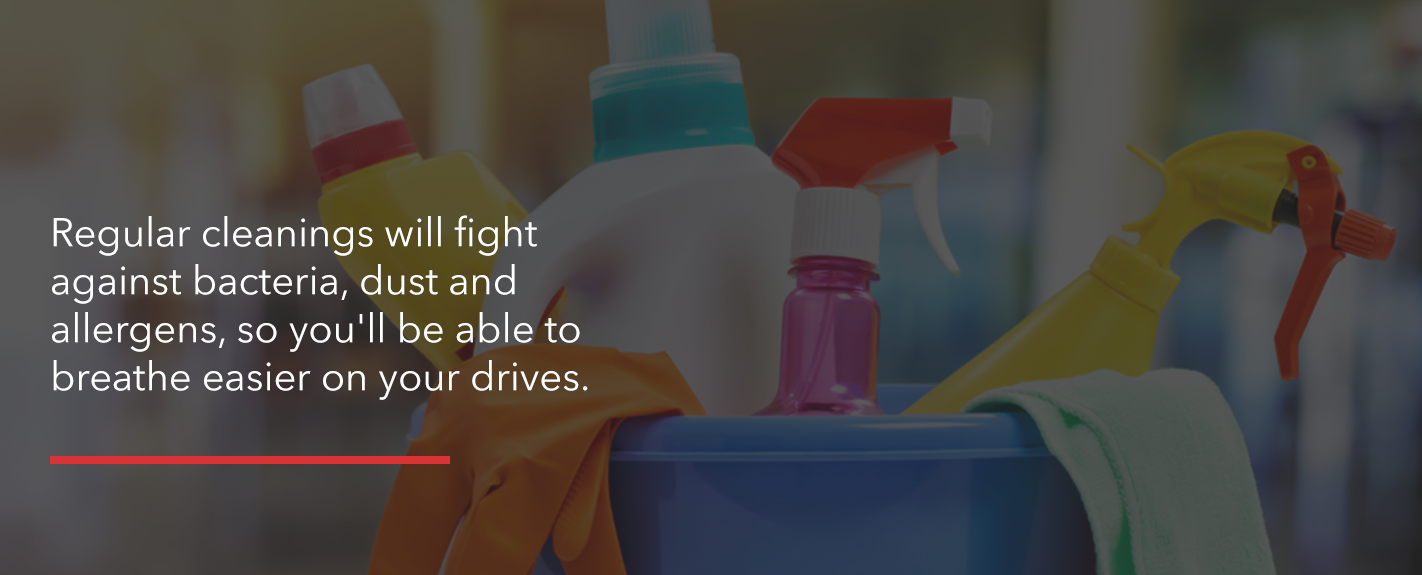 Keeping your Mustang interior clean also helps protect your health. Regular cleanings will fight against bacteria, dust and allergens, so you'll be able to breathe easier on your drives. You can cultivate a healthy environment inside your car with a clean interior.
Simply wiping down surfaces and cleaning out food and beverages will help alleviate many health risks.
Professionalism
Having a clean car interior is like having a clean office — it gives you mental clarity and helps keep you organized, allowing you to focus on a single task. Maintaining that organization is especially essential if you're using your Mustang for work, and maintaining a clean interior will reflect how you operate in general.
Save Time and Money
Overall, protecting your Mustang's interior will save you time and money. Investing maintenance time daily or weekly is far more efficient and cost-effective than replacing the interior or spending hours on deep cleans. Taking simple preventative measures like those outlined in the next section will save you hours in the future.
While protecting your interior takes a little bit of time and effort, the right strategies will give you a solid framework going forward.
6 Ways to Protect Your Mustang's Interior
You need the right knowledge to keep your Mustang's interior protected. With some actionable tips to guide you through the process, you can uncover real ways to keep your interior in great shape.
1. Keep Food and Drinks Out
One of the biggest risks for a vehicle's interior is food and drinks. Sauces and grease can stain the upholstery, and beverages can spill onto the floor. Even small snacks can create piles of crumbs that tumble under the seat, making it challenging to clean them up. The residue can create foul odors and stains scarring your seats. Even with cleaning, those smells and stains can linger far into the future.
Designating your Mustang as an area free from food and drinks will ensure your interior stays protected. You will successfully eliminate any threat of spills, taking a little stress out of your drive. While you may find it challenging to adopt this habit, it will have far-reaching benefits in the future.
2. Prepare Shoes Beforehand
Dirty shoes are one of the main culprits of a dirty Mustang interior. Shoes are a common way for your interior to get dirty, but there's an easy solution. Simply being aware of where you're walking can be extremely helpful for keeping a clean interior.
Just make sure you're checking your shoes before you step into your vehicle — if you see any excess mud or dirt, shake it off or change shoes to be on the safe side. If you know you're going to drive your Mustang, try to find clean areas to walk in or bring an extra pair of shoes. Some simple preparation will save you loads of time that you'd otherwise have to spend deep cleaning.
Floor mats will also work very effectively in catching that dirt before it gets to the Mustang's interior.
3. Use Seat Covers and Mats
If you want to keep enjoying food and drinks in your car, seat covers and mats can help protect against any potential messes. The covers and mats catch spills from soaking into the actual fabric of the car, and you can remove and clean them at your leisure.
Seat covers and mats are one of the easiest and most effective ways to protect your Mustang's interior. They will give you a lot more ease about the state of your car, as you can be sure your floors and seats stay protected from dirt and spills. They also aid you well in the cleaning process, as instead of ducking into the vehicle and peering under seats, you can take the covers and mats right off and clean them separately from the vehicle.
If you live in an area with heavy snow or rain, or if you often walk through muddy areas, ridged rubberized floor mats can catch anything your shoes throw at them. When you're ready to clean them, you can simply hose them off. If you want something a little lighter, Mustang logo carpet floor mats will add a decorative flair while still protecting your floors
4. Defend Against Sunshine
Sunshine can be very harmful to a car's interior. Harmful UV rays can penetrate the windshield and start acting on the vehicle's upholstery, contributing to fading and cracking. If you have a convertible, one easy way to defend against sunshine is to invest in a Mustang interior cover — this will shade your vehicle and eliminate the damage that UV rays produce on your seats.
You can also consider where you park your Mustang. For instance, on sunny days, try to find a shaded area or a parking garage that will keep your interior protected from the sun. Preserving your upholstery and protecting it from the sun will help keep it looking brand new.
5. Stay Neat
While staying neat might seem obvious, it's a great strategy to keep in mind to protect your Mustang's interior. It's easy to bring one object into our vehicle, then another and another until we suddenly have a heap of miscellaneous items beside us. It's good to remind ourselves that our car is much more than just a storage unit.
When it comes to Mustangs, this is especially true. A cluttered space can take away from the overall experience of performance, speed and design. Committing to neatness to help protect the inside of your Mustang can maintain that unique experience.
6. Clean Regularly
Maybe the most important tip of them all is to make sure to clean your Mustang's interior regularly.
Regular cleanings will help you to create a clean space free from dust, dirt and allergens. You'll be able to breathe easier, extend the life of your interior, and save time by staying on top of any accumulated messes. Use a vacuum carefully on floor mats and upholstery to eliminate any dirt, dust and crumbs, and use recommended sprays to wipe down seats and give them a new sheen.
A small microfiber duster will let you keep dust from accumulating, and you can easily tuck it into a door compartment or beneath a seat. For big, once- or twice-a-year cleans, you can invest in a complete interior kit with everything you need to keep your Mustang looking fresh.
Prevent interior odors, promote clean air and keep your interior looking new with regular cleanings.
Top Flight Automotive's Solutions for Protecting Your Mustang's Interior
Protecting your Mustang interior is clearly important — it helps sustain resell value, improves safety and extends the overall life of your car. While it's integral to understand this importance, it can be challenging to find the tools to execute this strategy properly. You need to find a trusted, reliable dealer who can give you the knowledge and quality products you're looking for.
Top Flight Automotive is just the company you're looking for. With a vast selection of car protection parts and an expert team of professionals, we can help you find exactly what you're looking for.
One valuable protection item for a convertible Mustang that you can find at Top Flight Automotive is an interior car cover. This cover drapes right over your windshield and roof so you can keep your interior protected. It offers many benefits, including:
UV protection: With an interior cover, your Mustang will be able to defend against harmful UV rays. You can prevent any fading or cracking that usually occurs as a result of sunlight hitting your car. Whenever you leave your vehicle on a sunny day, you can be confident your interior is protected.
Convenience: A Mustang car cover is an easy solution when it comes to protection. All you have to do is drape the cover over your vehicle, and it's good to go. With its price and ease of use, it's one of the best investments you can make to keep your Mustang interior protected. It also makes parking your Mustang on a sunny day a breeze — with the car cover, you can create shade wherever you like.
Added benefits: The car cover also acts as a multipurpose tool, defending your convertible Mustang from dust and contaminants. You can park under a tree, knowing that when you return, your windshield and interior will be free of leaves, acorns or pollen. This cover helps to keep your Mustang looking new in a variety of ways.
These are just some of the many benefits you'll find with a Top Flight Automotive interior car cover. We also offer an interior detailer spray that lightly cleans your surfaces and delivers UV protection, anti-static technology to reduce dust buildup and a fresh citrus scent that makes your car smell like new.
Contact Us Today
Taking care of your Mustang's interior is paramount. Now that you know all or the benefits of keeping your interior protected and the strategies that help you achieve that, all that's left to do is find an experienced team that can help you sort through the process.
Top Flight Automotive is the team you need, with expert staff who can answer your questions and guide you to the right products. Browse our vast selection and find the perfect product for you. Contact us today!