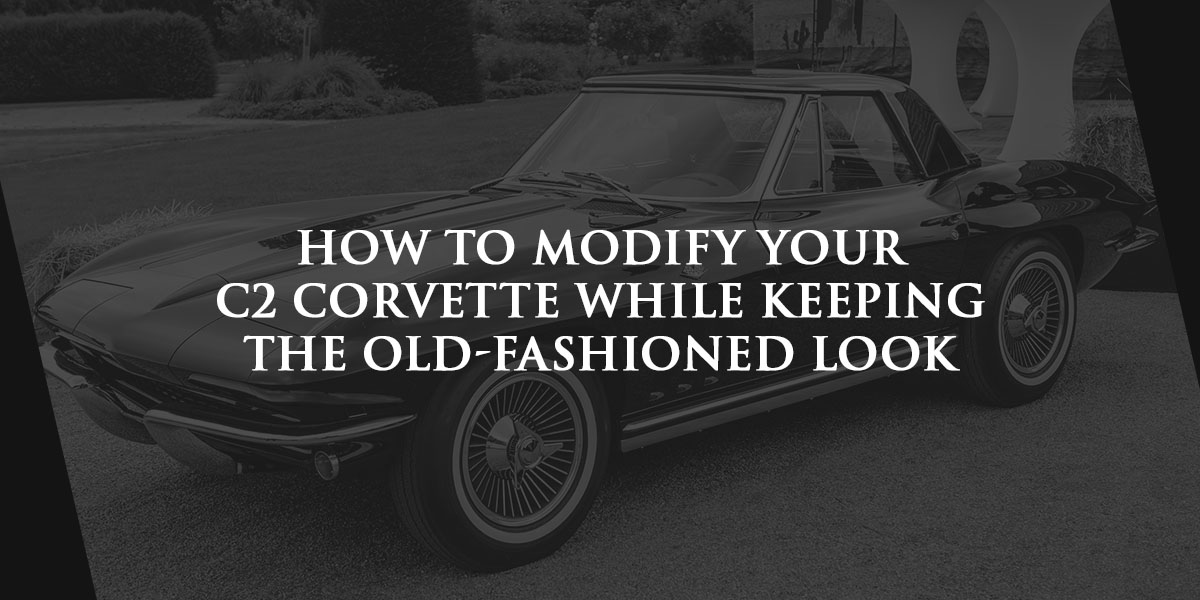 The C2 Corvette is a classic vehicle, featuring unique designs and unmistakable elegance. If you've recently bought a C2, you could be stuck in that strange middle ground between making upgrades and wanting to keep that classic look. While you want to retain that old-fashioned styling, there are some things on the interior and exterior that could likely use some modern touches.
It can be a challenging process to figure out how to toe the line between classic and modern modifications. Fortunately, with some helpful tips and some knowledge about what makes the C2 classic, you can upgrade your vehicle while still keeping that classic look.
Benefits of Modifications
A modification project can seem like a challenging process, requiring a lot of time and effort. There are a few different reasons why so many people choose to modify their vehicles:
Safety: Today, cars come with all of the latest safety technology on the market. One of the biggest selling points of many vehicles, in fact, is how safe they are. Many classic vehicles emphasized performance and appearance over safety. Safety modifications can help bring your C2 up to par with today's vehicles and keep you protected at all times.
Performance: The C2 was a fast and powerful upgrade from the original generation. Still, there's a lot of room for growth with today's gadgets and accessories. Something as small as a cold air intake can have a significant improvement on horsepower.
Appearance: The C2 Corvette's appearance is iconic. With its curved, futuristic designs and unique windows, you likely won't want to do too much to that exterior. Still, with a few tweaks and modifications, you can make it even more aligned with the original and pay respect to the way it was designed.
Resale value: Adding the right modifications can make a car even more attractive, causing its resale value to increase.
Modifications are popular for these reasons and more. You'll be able to drive safely, increase performance, enhance the car's appearance and boost its resale value.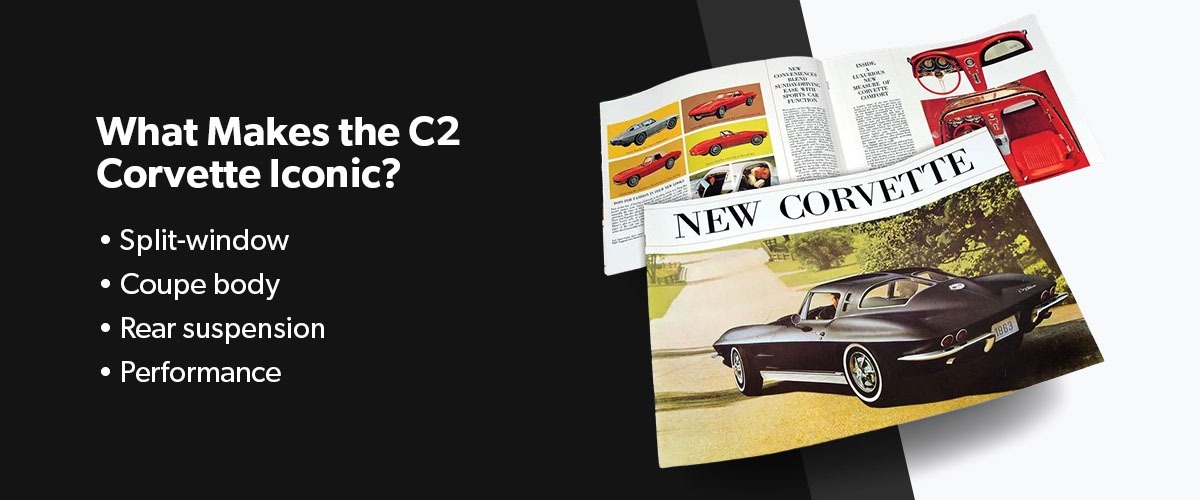 What Makes the C2 Corvette Iconic?
The old-fashioned Corvette design is iconic for many reasons. The C2, in particular, was known for the introduction of the Sting Ray, with its unmistakable curves and designs. Here are some of the most apparent and impressive design features of the second generation Corvette:
Split-window: Probably the most recognizable and cherished design of the C2 generation came in 1963 with the split-window design. Although it would receive various criticisms due to its impact on visibility, the split window was an iconic feature of the C2 and remains one of the most sought-after models to this day.
Coupe body: The sloping curves of the C2 Corvette were elegant and almost futuristic. It unveiled a whole new look to the Corvette, upgrading its appearance and creating a rounded, fluid design that envigorated the public.
Rear suspension: Drivability was improved with the new rear suspension design, making the ride even more comfortable and emphasizing that luxury aspect of the Corvette.
Performance: The Z06 applies to the racing crowd, featuring an engine with boosted horsepower and innovative designs for performance.
The C2 helped generate even more sales for the Corvette, attracting attention from many car communities. Racers loved its new performance upgrades, while others focused on the new exterior design elements. It was iconic for several reasons, leading many C2 owners to want to preserve its history when making upgrades.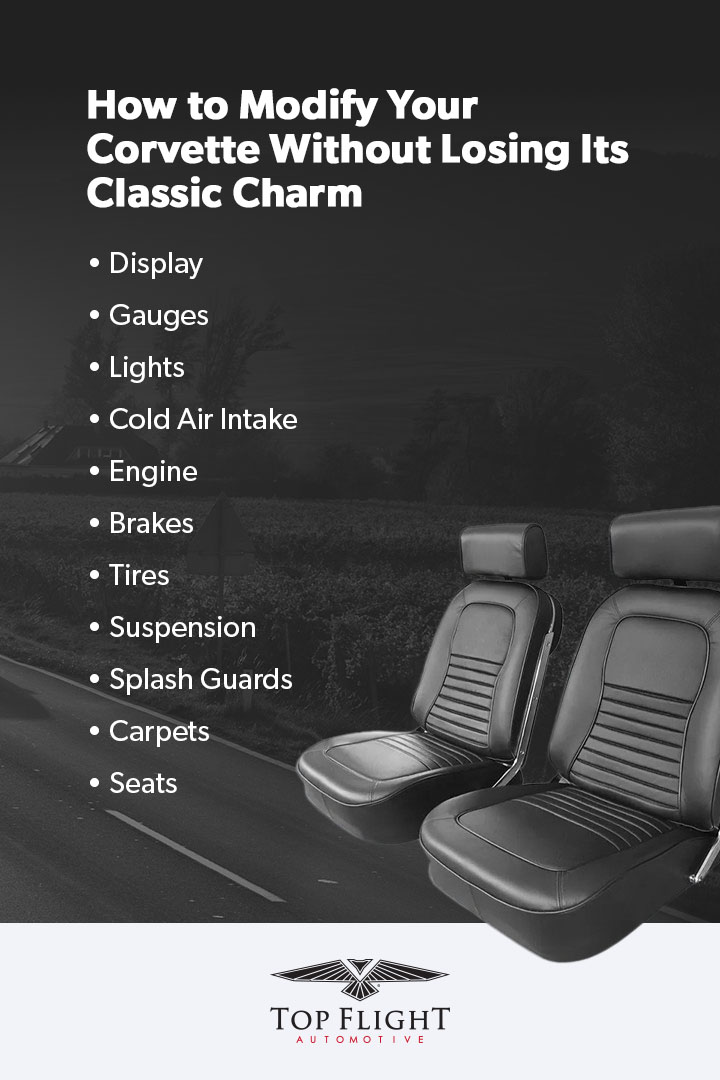 How to Modify Your Corvette Without Losing Its Classic Charm
There are so many ways you can upgrade your vehicle without losing the classic, nostalgic feel. Here are some ways you can modify your C2 Corvette:
Display
The display is a great place to start modifications in your C2 Corvette. While the old-fashioned look of the interior can be a nice restorative touch, it probably doesn't offer the kind of convenience and effectiveness as displays do today. Still, you'll likely want to keep some of the classic charms. There are a lot of options you can look at today that give you the benefits of a digital display without sacrificing too much of the classic appearance.
Gauges
C2 gauges are another way to modify your C2 Corvette while retaining that classic feel. If you'd like, you could upgrade to gauges that are easier to read or find C2 Corvette parts that give you the same appearance as the originals. Simple upgrades like this will give you more confidence on the road and allow you to drive more safely.
Lights
The C2 Corvette's lights often can't compete with the effectiveness of car lights we see today. By upgrading your Corvette's lights, you can bring it up to speed without affecting too much of its appearance. You'll be able to see better when you're driving, giving you more confidence when you're on the roads at night.
Cold Air Intake
The C2 Corvette generation was all about performance. Pay homage to that theme by making your C2 even more powerful. Cold air intake can give the engine some room to breathe, boosting your horsepower and allowing your classic car to run even faster.
Engine
Some modifications, like gauges and displays, are much easier to integrate into the vehicle. Other projects like an engine overhaul are much more involved and require time and experience.
Still, even with a new engine, you'll be able to retain that quality C2 look. Some people even invest in all-new electric engines for their Corvettes, taking modifications to the next level. Others might see this as taking too much of the C2 away from its original design.
Ultimately, it comes down to what you believe makes the C2 iconic. Modifying your engine so that it's safe and reliable is often a necessity for classic vehicles, and you can easily make adjustments while still emphasizing what the C2 Corvette stood for — performance, innovative designs and great drivability.
Brakes
Safety is one of the top priorities when it comes to classic cars. Often, older vehicles don't offer the same standards that we have today with our vehicles. This is something you'll want to take a look at with your C2. It's important to find ways to make your vehicle safer on the roads.
Investing in some brake upgrades can be just the thing to give you assurance on the roads and improve the overall performance of your C2.
Wheels and Tires
Upgrading wheels and/or tires is usually one of the first aspects people look at when they consider modifications. New wheels and tires offer many benefits — more traction on the roads, better appearance and improved overall safety. You can easily get new wheels and tires on your Corvette without impacting its appearance.
Suspension
The rear suspension was a trademark of the C2 Corvette. Still, you can keep the main frame of suspension intact while improving on that original design. With the right suspension upgrades, you can make driving your Corvette a sturdier, more stable experience.
Carpets
Carpeting is another great modification idea because it'll help keep your C2 clean and durable. Upgrade from that old carpeting to something fresh that will improve the interior quality of your car.
Seats and Seat Foam
Classic cars are often lacking the kind of comfort and luxuriousness we're used to today. Though at the time they were likely some of the comfiest seats on the market, age can start to wear on the fabric and foam, making them tear, fade, and compress. Additionally, innovations in seat comfort and durability have come a long way.
Investing in new seats and accouterments is one of the best ways to upgrade your C2 and retain its classic feel. You could add racing seats to make it a true performance vehicle or just look for some extra support. Either way, new seats and foam can improve the comfort of your vehicle and allow you to go on long drives with ease.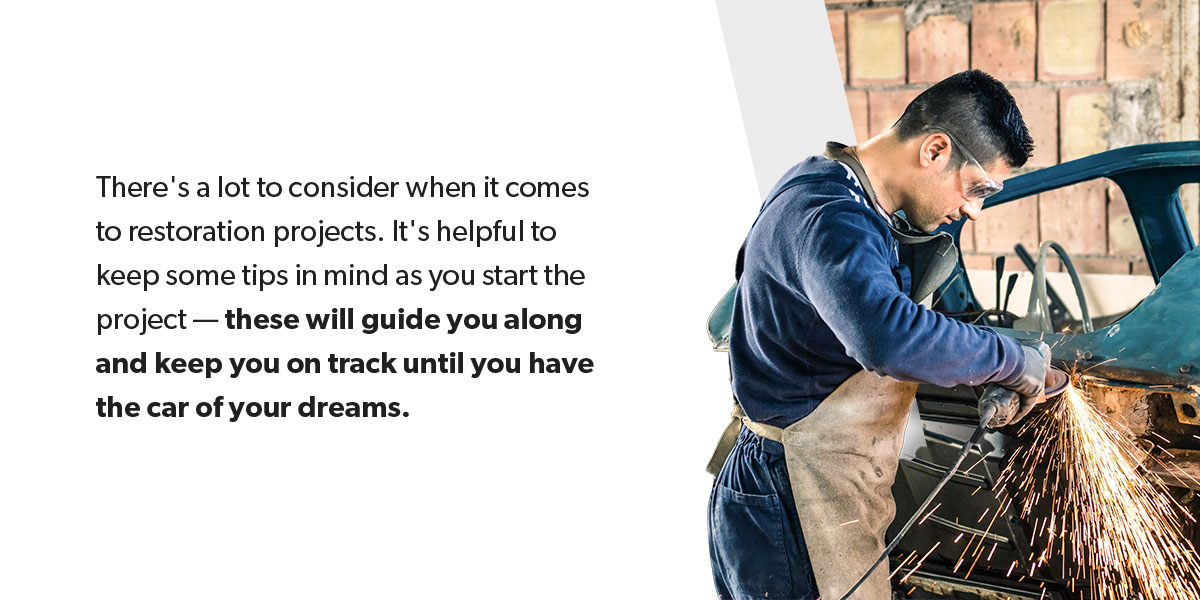 Tips for Planning a Successful Restoration Project
There's a lot to consider when it comes to restoration projects. Especially if you're dealing with various modifications at once, it can easily feel like you're lost during the process. It's helpful to keep some tips in mind as you start the project — these will guide you along and keep you on track until you have the car of your dreams.
Consider Your Vehicle
The type of vehicle you have will dictate the kind of restoration you're pursuing. The C2 Corvette, for example, had many iconic features — split windows, curvy design and performance standards to name a few. Make sure you're taking these core characteristics into account while planning your restoration project. You'll want to keep those parts of the vehicle intact and try to carefully modify the areas that could use upgrading.
Identify Your Modifications
Think about what you're going to modify on your vehicle. You might be only looking to modify the interior or parts on both the interior and exterior. Whatever you're looking to upgrade, make sure you narrow it down and understand exactly what you want to change before you move on.
Determine the Scope of the Project
How involved is this project going to be? Determine if this is a project you're going to be doing on your own or whether you'll need to get into contact with an auto technician. Some projects, such as installing new gauges, will be relatively simple, while overhauls of the engine will require more expertise. Identifying the scope of the project will help guide you through the rest of the process.
Envision the Finished Product
It's easy to get caught up in all the work and forget about your goals for a restoration project. Take time to envision how you really want your vehicle to look when it's all said and done. If you're unsure of the look you're going for, the project might not be as successful since you're missing a clear goal.
Instead, keep the vision of that finished project in mind throughout the entire project. This will help you make decisions on the fly and give you confidence during the process.
Find a Trusted Provider
One of the most important things you can do during a restoration process is to find a provider you can trust. While finding independent sellers for your parts and tools might seem like the cost-effective way to go, it's often easier to find one place where you can buy everything you need. This will offer convenience during your modification project and allow you to focus on the work at hand instead of worrying about the quality of your products.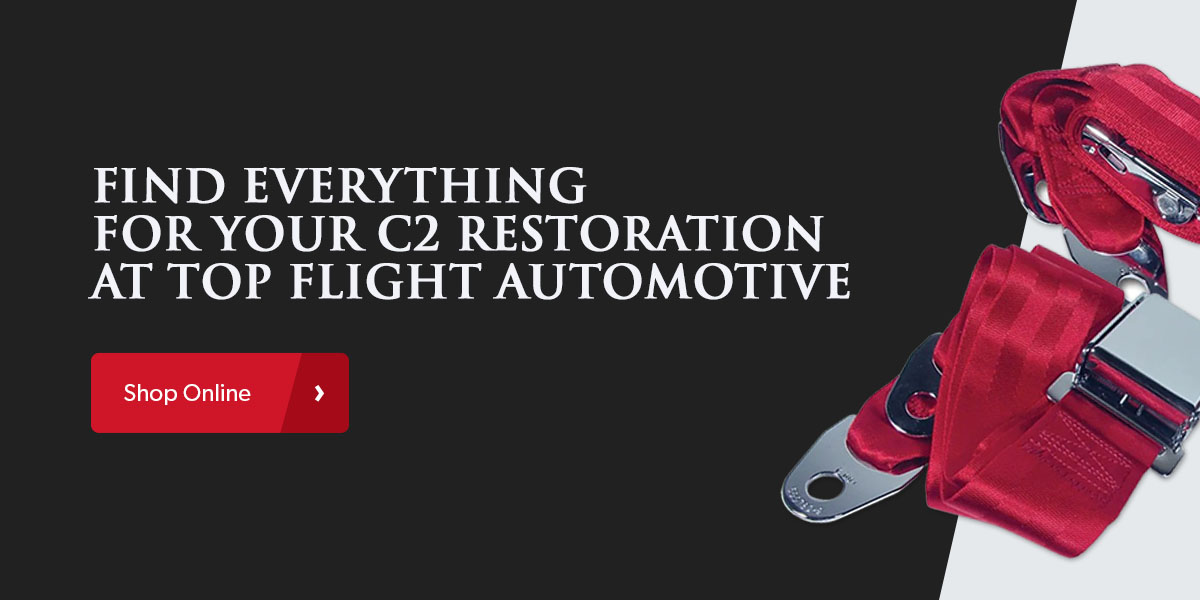 Find Everything for Your C2 Restoration at Top Flight Automotive
At Top Flight Automotive, we can offer you everything you need for your restoration project. With us, you'll be getting experience, reliability and convenience:
Experience: With decades of combined experience at Top Flight Automotive, we know a thing or two about Corvettes. Our sales team can help answer your questions and guide you to the right products for your unique project. Though we have a large selection, we still treat each customer with care.
Reliability: Buying products and tools through independent sellers means you may not know what kind of quality you're getting. At Top Flight Automotive, we make sure all of our products are high-quality. When you buy from us, you can be confident that your parts will last a long time and serve the exact purpose you need them to.
Convenience: When it comes to restoration projects, it's helpful to have one place you can rely on to give you what you need. This will save you a lot of time and help you complete a successful modification project. At Top Flight Automotive, we offer a vast selection of parts and tools that you can browse online.
With the benefits of experience, reliability and convenience, Top Flight Automotive is ready to help you make your C2 modification process successful. Browse our selection of parts and tools to find what you need. Shop online today!