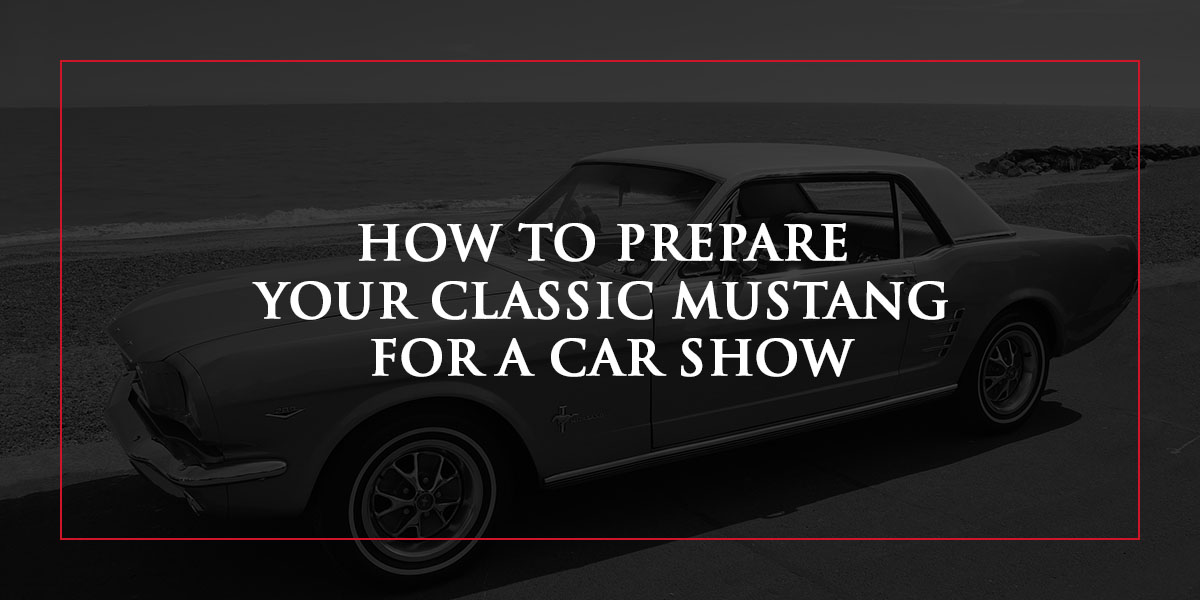 Whether you own a classic 1965 Ford Mustang and want to show it off, or you just enjoy looking at older model Mustangs, a car show is a perfect event for you. These events provide the best opportunity to showcase the quality and beauty of your Mustang while appreciating those characteristics of the other Mustangs around you. You will have the opportunity to meet like-minded people who share similar interests as you, and you'll also know exactly what to expect when you decide to enter your classic Mustang.
What makes car shows interesting for a lot of enthusiasts is that no two cars are ever the same. People add their own distinctive personality and modifications to their vehicles to make their cars unique to them. You'll find great ways to improve the interior, make the exterior pop more and other fun and exciting additions.
Once you finally feel ready and confident to enter your classic Mustang into a car show, there are some important tips and tricks that you should always keep in mind before arriving. Continue reading to learn more about getting your classic car ready for a show.
Traditional Car Show vs. Mustang-Specific
When you decide to enter into a car show, you must choose the appropriate category and know what other vehicles you will most likely go up against. Being aware of this information can help you better prepare your car for the show and focus more heavily on certain aspects that will be most important to the judges.
Most car shows you would consider attending break down into two types. You have the traditional car show where all vehicle types are welcome, or you can enter a Mustang-specific car show where only Mustangs may enter. Knowing the difference between each one is key to having a successful car show.
Traditional Car Show
Traditional car shows allow for all makes and models to enter. You'll find classic vehicles, newer models and an assortment of cars and trucks. However, the car show makes sure that every vehicle has a fair claim to the win. They achieve this fairness by ensuring that your vehicle is competing against other similar vehicles.
Most car shows will separate the vehicles by year or era. Vehicles older than 25 years are considered classic, and cars less than 25 years are considered newer generations. From there, they will place your Mustang in either a stock classification or a modified one.
Stock models are those Mustangs that the owner has not customized. These vehicles are as close to the original as possible, but they work and drive as they would if they had just come off the factory line. Stock Mustangs do not include ones that drive as if they haven't been operated for years. You want your judges to believe that your vehicle came straight from the year it was made. This distinction also includes having the original engine.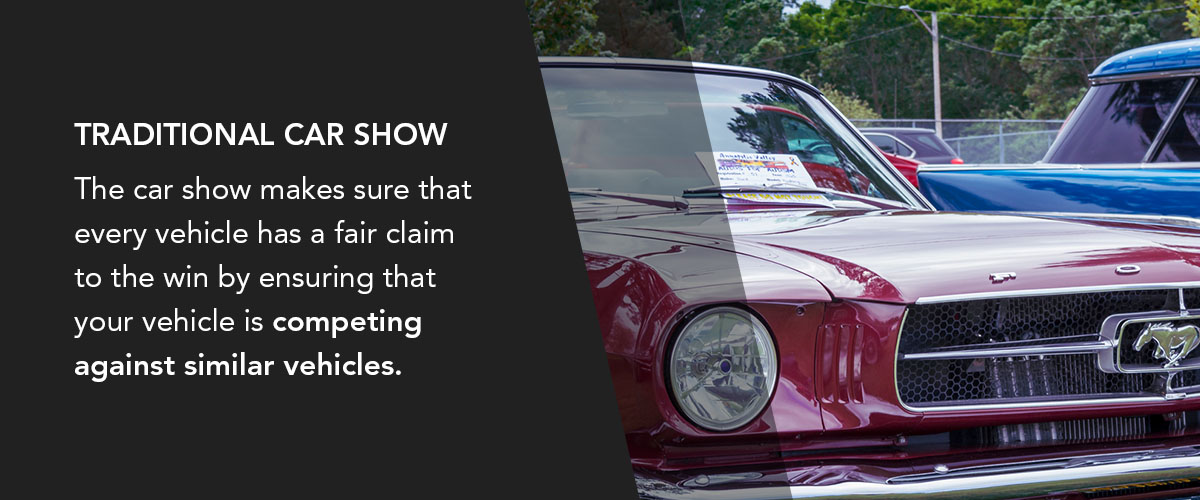 Modified Mustangs are those that have undergone several stylistic changes and updates. Most of these features are specifically for car shows and are not meant as everyday luxuries.
One piece of information to keep in mind is that your Mustang will be competing against classic vehicles of all makes and models. Your Ford Mustang could go against a classic Chevy Camaro.
Remember that each show is different. Each show has its own way of categorizing and separating the different vehicles. You should always check to see where the car show would place your vehicle, so you know what type of competition you will go against.
Mustang-Specific Car Shows
Unlike traditional car shows, Mustang-specific ones will more than likely categorize by body style. If you have a Mustang Mach 1, you will only compete against other Mustang Mach 1's. From there, you might see a similar separation into stock and modified.
If you're entering into your first car show, you might want to consider entering a traditional car show as opposed to a Mustang-specific one. At a Mustang-specific show, you might have a harder time winning the competition as you'll be competing against other vehicles that are almost identical to yours. To win at a Mustang-specific show, you will have to go a long way in ensuring that your Mustang stands out amongst the rest.
Classic Mustang Car Show Preparation
To present your Mustang effectively in a car show, preparation is essential. You want to be sure that you clean your Mustang until it is practically spotless and free from stains and dirt. The judges will want to see your Mustang as if it was on the showroom floor at a dealership.
Knowing how to clean your classic car isn't about giving it a good rinse with your hose and vacuuming the interior like you would with an everyday car. You will need to spend a lot of quality time ensuring that your Mustang is as clean as possible. You should strive to be the cleanest Mustang present to catch the judge's eye.
Mustangs have a lot of different components to them that all need cleaning and detailing, but not to worry. Let's break down how to clean and prepare your classic Mustang and some of the most commonly missed places.
Interior Cleaning Tips
No surprise, but interior cleaning is all about focusing on the inside carriage of your Mustang. As with all cleaning methods, you will want to start high and work your way down.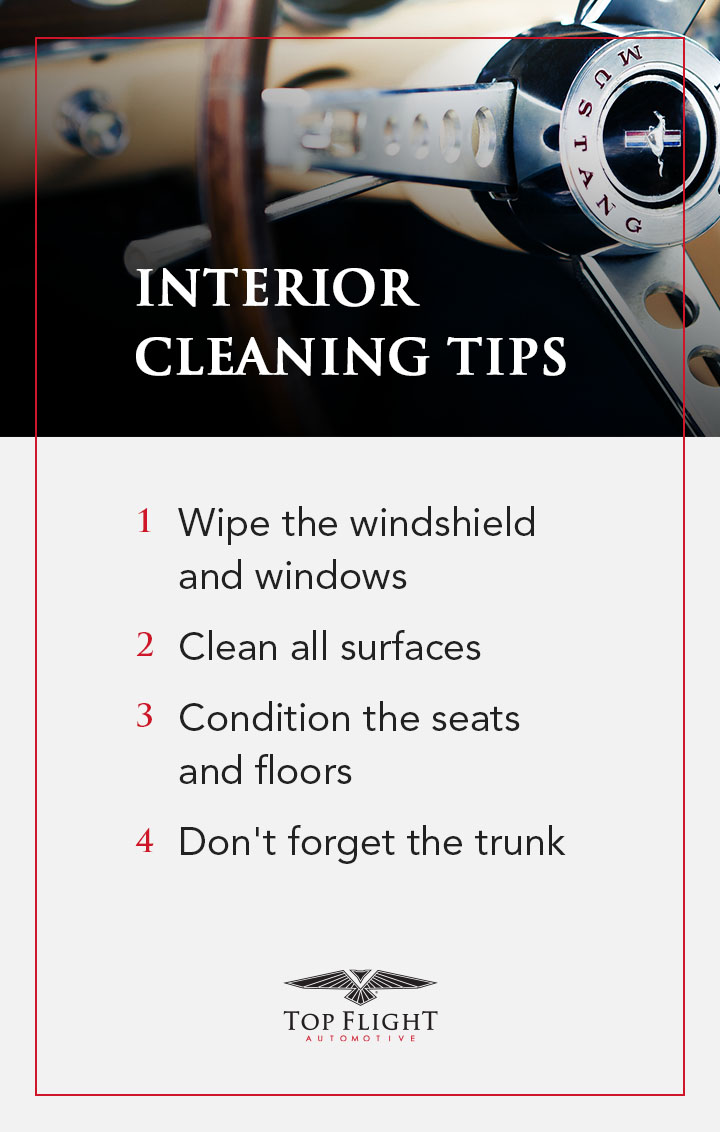 1. Wipe the Windshield and Windows
You should start with wiping down the inside of your windshield and removing any streaks and spots that you notice. The glass should be as pristine as possible. Don't use products like Windex, which are mostly meant for household usage. Instead, find an automotive window cleaner. During this step, focus on the windows and mirrors as well. Even though you'll more than likely have the windows rolled down so the judges can see inside, it's still better to have them cleaned than not.
2. Clean All Surfaces
After, you will want to use a mild soap and water mixture to wipe all of your vinyl or plastic surfaces. These surfaces usually include your dashboard, center console and glove compartment, inside and outside. Don't forget about the steering wheel and the gear shift. While you are cleaning, take extra precautions around areas you've already cleaned. You don't want to have to clean your windshield again because you splashed water on it.
3. Condition the Seats and Floors
Next, you want to clean the seats. Remove any stains that you see with a safe cleaning solution. If they're in bad shape, you might want to consider reupholstering your seats to remove the stains. If you have leather seats, use a proper cleaner with conditioner so you don't damage the material.
Use an automotive carpet cleaner to clean the floors and any mats you might have. You should use an automotive vacuum to run over everything in your Mustang. You want to get as much dirt and debris from under and in-between the seats, as well as under any floor mats. You will also want to dust between the seats, clean the hinges, doorjambs and doors.
4. Don't Forget the Trunk
While you're cleaning, don't neglect the trunk. While you can technically leave it closed during a showing, you can earn extra points by having it open. You'll want to spend some time vacuuming and cleaning it as you would the interior of your Mustang.
If you're worried about any last-minute cleaning supplies you brought along, you can easily find Mustang trunk panels that safely hide your supplies while making the trunk look like it's in great condition.
Exterior Cleaning Tips
Once you have finished cleaning the interior, it's time to focus your efforts on the exterior. You can break down this cleaning into five specific steps.
1. Undercarriage and Engine
You should always begin by cleaning your undercarriage and engine to avoid re-cleaning other areas. In some instances, you may splash degreaser or other cleaning solutions on the rest of your car. There is no point in having to clean these areas twice. You will want to use a degreaser spray along the engine to help remove any residue and debris that might build up. Once you're satisfied with how clean it looks, you can use a silicone-free engine spray to give it that shiny, metallic look.
2. Body
Now, you'll focus on the body of your Mustang. Normally, you would want to work your way down the vehicle, but in this case, you should start by using the appropriate cleaner on the wheels and then go to the roof and work your way down. Make sure you always use an appropriate automotive cleaning agent. Do not use dish soap or anything that isn't specifically designed for vehicles.
Do not take your Mustang through a local, automatic car wash. They could potentially scratch your exterior, and the machine will only clean the surface, missing areas that judges will inspect. Car shows are all about the little details, so hand washing is a must. You can, however, choose to go to one of the manual carwash stations. These stations are perfect for keeping your Mustang out of the sun and preventing cleaning products and water from drying too early and streaking.
3. Drying
Do not let your Mustang air dry when you've finished cleaning. Instead, you will want to use a microfiber towel or a chamois to absorb excess moisture. Air drying or blow-drying will only leave spots and streaks that will force you to have to clean again.
Since you'll be observing your vehicle close-up, take the time to look for any imperfections or missed areas. Afterward, you can apply a tire dressing but do that only when you are certain the wheels are dry.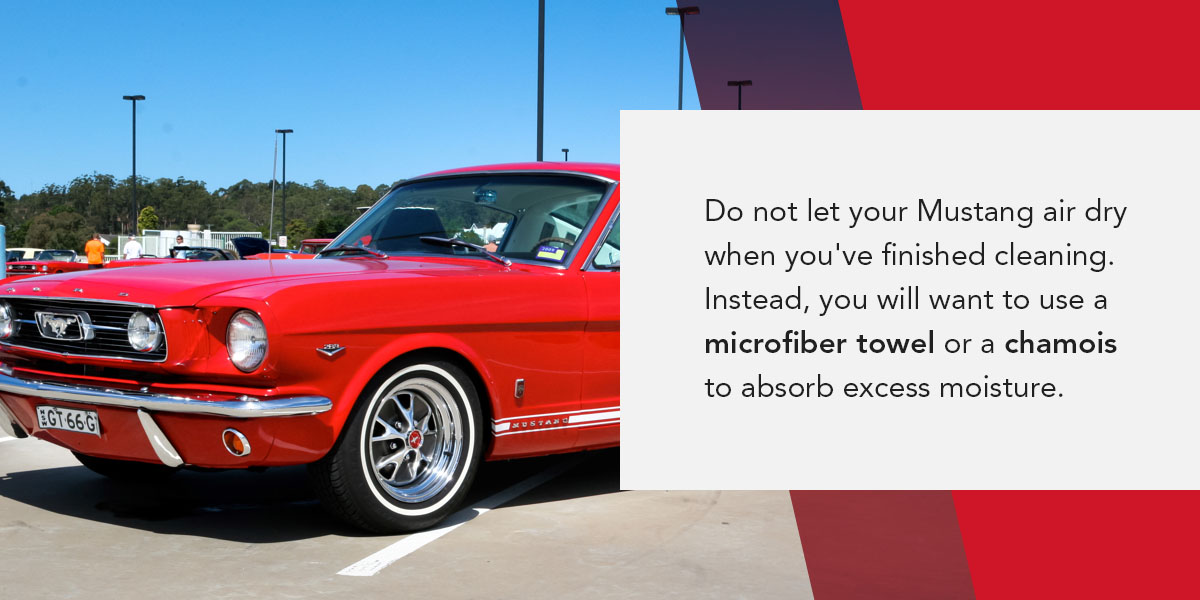 5. Waxing and Buffing
The last step for exterior cleaning is to apply a fresh coat of wax and buff it until it's even and shiny. Before you apply your first coating, you will want to make sure that your body is cool and not hot. The heat and sun will cause your wax to dry faster than you want, making it more difficult to work with. Garages or shady places are best to apply the wax.
Apply the wax in thin, small portions that you can easily control and manipulate as needed. These smaller sections will make it easier for you to buff with a clean towel or foam pads as you go. If you apply the wax to a larger area, you'll have difficulty getting the desired look.
Customized License Plate
If you have the opportunity to purchase one, a customized license plate will only add to the appeal of your Mustang. Traditional license plates can quickly detract from the beauty of your classic Mustang as modern ones might clash with the older aesthetic of your vehicle. If you can, try to find a license plate that mimics the style that people would have used when the car was in production.
Modifications
One of the benefits of a car show is not having to worry about having your Mustang be as original as possible. You can have as many or as few modifications on your vehicle as you want. Just don't stray too far away from the original look, as excessive modifications are something to avoid when preparing your Mustang for shows.
That being said, you will want to focus on modifications that truly amplify the beauty of your Mustang. Some people prefer to use rear bumper inserts and blackout panels to emphasize the existing "Cobra" and "Mustang" lettering.
With whatever modifications you decide to take on, you will need to include either a list of all of the modifications that you've added or a poster that provides context to everything the Mustang has undergone. These lists also serve as a means to inform the judges should you be preoccupied when they arrive.
Important Classic Mustang Cleaning Tips
Before you set off to present your Mustang in a car show, let's look over some final important tips to keep in mind before entering:
Cleanliness is key. Always clean your Mustang ahead of time and bring any supplies you need to do quick, last-minute touchups. These supplies can include cleaning spray, microfiber towels, car dusters, and spray wax.
Have any important documents ready. You will need proof of insurance, registration and your license. You can also include items like entry fees and pictures of your vehicle before and after.
At the very least, your Mustang should turn on and function as a normal vehicle would. You're Mustang may look beautiful, but it doesn't matter if the car doesn't drive. Change any spark plugs, oil and wiper blades. Make sure the battery is charged, and fill your Mustang with gas.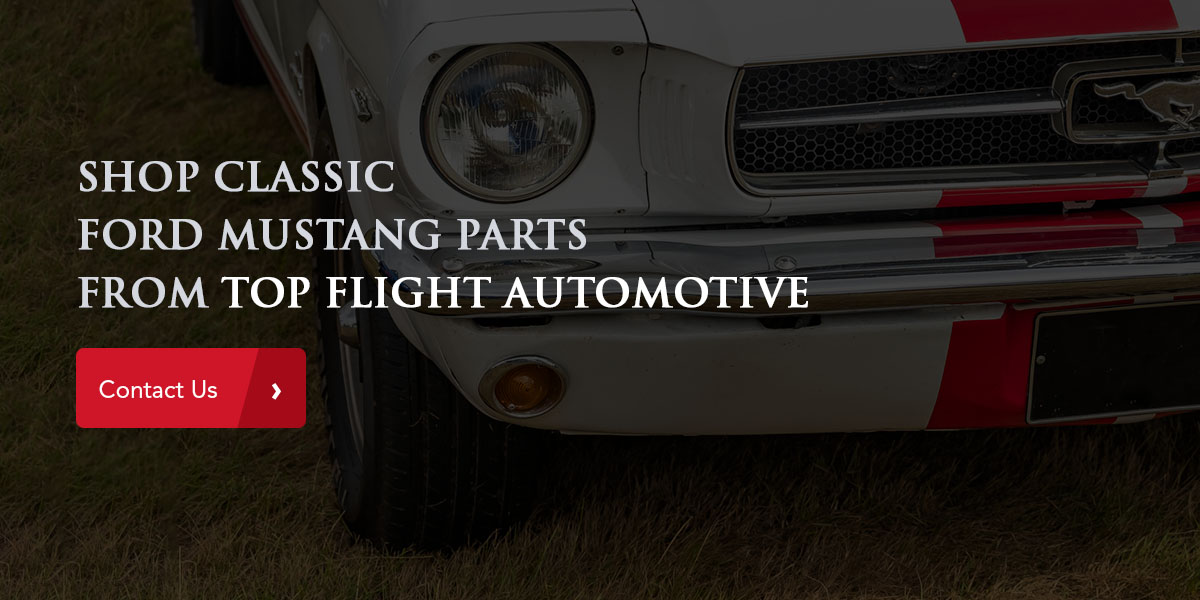 Shop Classic Ford Mustang Parts
When it comes to car shows, every aspect of your Mustang must be in working condition and free of any scratches, stains and other noticeable defects. Accidents can happen, or maybe you bought your Mustang secondhand. Whatever the situation, trust that you can always find the parts you need to restore your classic Mustang to its former glory.
Top Flight Automotive is your one-stop-shop for all things Mustang. From classic parts to more modern ones, Top Flight Automotive has the parts you need to perfectly modify and detail your Mustang to keep it as true to form as possible.
Browse our inventory today and get the parts you need.