NEW PRODUCT RELEASE
1963-1967 CORVETTE BUMPERS
CA Is Proud To Introduce Their Very First Replacement Bumpers For C2 Corvettes!
Features & Benefits: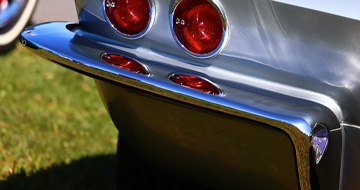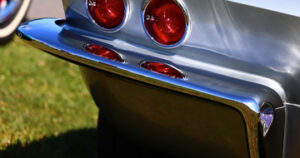 These quality bumpers feature a beautiful chrome finish and high quality steel construction
Available individually or in front, rear, and complete sets
All sets include the needed installation hardware
Bracket sets available separately
NOTE: Every effort has been made to replicate the OEM design and bracket positioning, however fitting may be required to achieve desired fit to your specific car.
With any bumper, it is highly recommended to test fit prior to completing any finishing work on the body. Holes in the fiberglass were set by using the original bumper as an index, so variances in their production lead to slight variances in hole placement(s) on the body during production cycles.
| Part No. | List | Description | Length | Width | Height | Weight | |
| --- | --- | --- | --- | --- | --- | --- | --- |
| 58634 | $484.99 | 1963-1967 Corvette Front Bumper - LH | 7" | 32" | 18" | 13.2 lbs | BUY NOW |
| 58635 | $484.99 | 1963-1967 Corvette Front Bumper - RH | 7" | 32" | 18" | 13.2 lbs | BUY NOW |
| 58636 | $484.99 | 1963-1967 Corvette Rear Bumper - LH | 7" | 33" | 19" | 13.2 lbs | BUY NOW |
| 58637 | $484.99 | 1963-1967 Corvette Rear Bumper - RH | 7" | 33" | 19" | 13.2 lbs | BUY NOW |
| 59450 | $1,699.99 | 1963-1967 Corvette Front/Rear 4 pc. Bumper Kit w/ Hardware | 14" | 33" | 24" | 18 lbs | BUY NOW |
| 59451 | $849.99 | 1963-1967 Corvette Front 2 pc. Bumper Kit w/ Hardware | 14" | 33" | 24" | 18 lbs | BUY NOW |
| 59452 | $849.99 | 1963-1967 Corvette Rear 2 pc. Bumper Kit w/ Hardware | 14" | 33" | 24" | 18 lbs | BUY NOW |